Violence in Jerusalem Puts Pressure on Biden Administration's Israel-Palestine Agenda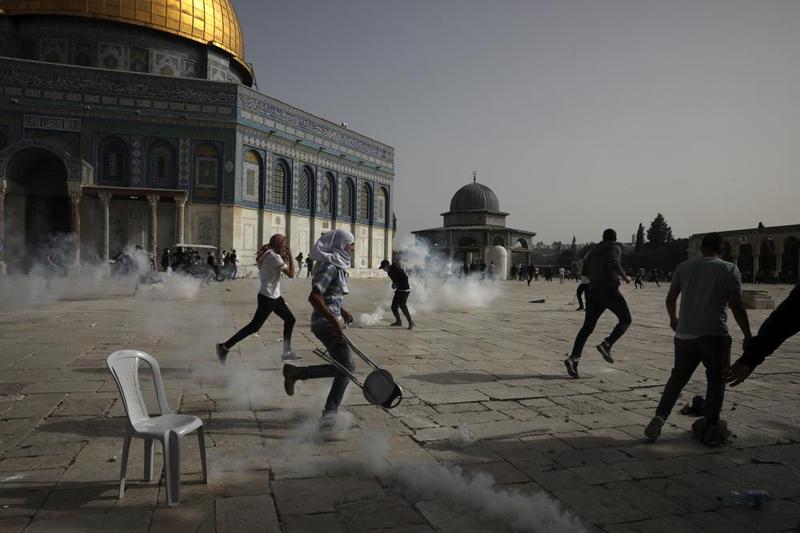 Transcript
[music]
Sarah Gonzalez: I'm Sarah Gonzalez, in for Tanzina Vega. In east Jerusalem tensions have been rising between Israeli forces and Palestinian protestors for weeks. Demonstrations initially started in response to possible evictions of multiple Palestinian families from the east Jerusalem neighborhood of Sheik Jarrah. On Monday, Israeli police carried out a violent raid against Palestinian protestors and worshipers at the al-Aqsa mosque compound. It is the third holiest site in the world for Muslims. According to the Palestinian Red Crescent, more than 300 Palestinians were injured by Israeli police in the raid.
Israeli officials say that around 20 officers and seven Israeli civilians were also injured during the incident. Following the Israeli police's raid on the mosque, Hamas responded by firing rockets into Israel, leading the Israeli military to launch airstrikes at the Gaza strip. Dozens of Palestinians, including nine children, were killed by those airstrikes according to Gaza officials and the tensions continue. Today, Israel Palestine relations have not been at the center of president Biden's agenda but this week's events may change that. Yesterday US state department spokesperson Ned Price called for both sides to stand down but was more forceful in speaking out against the actions of Palestinians.
Ned Price: This is an unacceptable escalation. While we urge deescalation on all sides, we also recognize Israel's legitimate right to defend itself and to defend its people and its territory. It is critical for all sides to ensure calm and deescalate tensions and avoid violent confrontations.
Sarah Gonzalez: For more I'm joined now by Shibley Telhami, professor at the university of Maryland and senior fellow at the Brookings Institution. Shibley, thank you so much for being here.
Shibley Telhami: My pleasure.
Sarah Gonzalez: Let's start with how we got here. There have been attempts to evade Palestinians from parts of east Jerusalem. What's going on with these evictions?
Shibley Telhami: Well, these evictions obviously are part of a plan you could see in terms of what the deputy mayor of Jerusalem says. Part of a plan, essentially, to move more Jews into the city and make sure that city has fewer Palestinians, but technically the issue had centered on this particular neighborhood where settlers say they bought the land from Jewish owners that presumably had it back in the 19th century and that they say that Palestinians moved into this area after 1948 when they became refugees, when they left what is now Israel into the Jordan and they were given homes there. They claim that they own them and obviously the courts support them.
The problem is, of course, twofold. One is that this is under international law and according to the UN and much of the international community, these are occupied territories and therefore Israeli law really doesn't apply. I think that in fact the UN said this would be a war crime, ,the EU said this would be a blatant violation of international law. This, you can't look at it obviously through the acts of Israeli courts when it is occupied territory. Second, even if you do that, if you take the principle of having the land that are now occupied by one party of the other based on who owned it before '48, obviously up to millions of Israeli Jews live on territories that was Palestinian land before.
Obviously there is no such thing here in the implementation. It's implemented over small lands that are said to have been Jewish owned back in 19th century. Yet obviously the Palestinians who lost the properties cannot regain them. That is not just Palestinians who left and became refugees outside Israel, that's even Israeli citizens who were Palestinian. For example, there are two villages, [unintelligible 00:04:31] , which had been evacuated and houses destroyed except for the church. Both of them were Christian Arab villages, [unintelligible 00:04:31]. The only thing that was saved in the village is the church and the cemetery and the Israeli government has absolutely opposed to return to their own villages.
They go to church on Sunday but they can't go back to the lands even though they're actually Israeli citizens that live in the territory. There is obviously asymmetry here and the way this issue is being looked at. Jerusalem, I needn't tell you, is important obviously to both Jews and Arabs, and Muslims and Christians. It happened during the Ramadan period, toward the end of Ramadan. It is clear that the behavior of the Israeli police was provocative, both in terms of closing passage in the Damascus gate but also in assaulting the mosque compound.
In fact, the assault within the mosque compound, the footage that has been shared in the media is footage worse than I have seen ever really in the Israeli action in that area. Even though, obviously, there were times when the escalation between Israel and Palestinian, like in the second intifada, was much worse than it is today.
Sarah Gonzalez: Storming the al-Aqsa mosque, firing rubber bullets, tear gas, stun grenades at worshipers, that's what you're referring to?
Shibley Telhami: Yes. The police looked like it was trying to provoke, not to end, the confrontations. Certainly the escalation over the past couple of days inside the mosque itself in ways that I had not seen before, not even in the second intifada, that was especially provocative. That obviously created a mobilization across the Palestinian community and beyond because the principle at stake here but also because of the timing and not only the apparent provocation, but also because there is a clear and deliberate policy to reduce the number of Palestinians in side Jerusalem and increase the number of Jews inside Jerusalem as a policy. That obviously is something that goes to the heart of the problem.
Sarah Gonzalez: What did you make of the statements put out by the Biden administration yesterday in response to this situation in east Jerusalem? Were you surprised that they weren't more willing to criticize the Israeli Government?
Shibley Telhami: Yes, I was. I say that as someone who understands where they're coming from at some level, that is, this is not a priority issue. We've got our own issues to deal with right now, the pandemic, the economy, racial issues, a lot of bigger foreign policy issues than this one. Plus they're also focused on the Iran nuclear deal which Israel opposes, and they don't want to open another [unintelligible 00:07:25]. You can look at that and say, "Well I understand that they don't want to get too much," but here is a case that the escalation and the violation of international law on human rights is so obvious that if they don't even make a statement of criticism they're losing out on three ways.
Number one, they're losing out because they're looking inconsistent to the rest of the international community. The president said we're going to behave differently than the Trump administration. We're going to restore our advocacy to democracy and human rights. Well, this is a case that is blatant and you're not saying anything about it, let alone doing something about it ,but even just at least saying something about it. Second, it is really sapping some of the energy out of the democratic party activists. A lot of people supported him including progressives and public opinion polls that we've been doing among Democrats show that the democratic rank and file are far more critical of Israel than are the elected officials.
Those are the people who are energized. Maybe they don't look at this as a top priority issue, but they look at it as a prototype or something bigger on human rights and democracy. I think he's undermining the energy that he could get out of activists. Three, the US is not a stander-by in this case. The US is a player. The US is implicated. The only reason why do you have such an asymmetry of power, why the Palestinians are still weak and Israel is just so strong, is America's doing. Not just in terms of the $3.8 billion a year that the US give to Israel. That actually is a small part of what is important to Israel because it's a rich country, they can do without the money.
They can't do without three things that are essential than have been empowering and implicate the US directly. Number one, shielding Israel in the United nations and international organizations from actions by the UN, for example, on violations of international law by using the veto power and being very active in discouraging actions against Israel. Number two, giving Israel the technological edge to maintain its military superiority in the region, which is incredibly important for long-term Israeli asymmetry of power. Three, pressuring and working with and paying incentives to Arab states to make peace with Israel without having to address the Israeli-Palestinian conflict, all of which has resulted in this asymmetry, the consequences of which we are now watching.
Sarah Gonzalez: Do you think de-escalation between the Israeli government and Hamas is possible?
Shibley Telhami: Of course it is. We've seen things that escalated more than this and then stopped, in part because, in the end, I think even now, neither Hamas nor the Israeli government want to see an all-out war. Nonetheless, it's an extremely dangerous situation, let alone obviously a lot of innocent people are getting hurt, both Palestinian and Israeli. Last night, also 31 Israelis were injured from the Hamas barrage. Obviously, more Palestinians are getting hurt, hundreds of injured in Gaza, over 20 killed. Sure, it's possible, but here's the problem. Problem is that both Hamas and the Israeli right are really benefiting from the escalation.
On the Israeli side, the Prime Minister of Israel, we don't know what role he may have played in the escalation. Regardless, he's benefiting not only by distracting from his political troubles and the legal issues that he faces, the trial that he's facing. Especially he's, in a way, preventing his opponents from forming a government by discouraging the Islamist party that was on the verge of joining them to enable them to make government to pause because they're going to be critical of the Israeli military and those actions and their coalition partners will be quite the opposite. They're pausing, so he's benefiting. Hamas is benefiting.
Hamas sees an opportunity here, of course, because it's now more relevant that the Palestinian Authority with Palestinian President, Mahmoud Abbas, is not able to do anything. The Palestinian public is angry with the authority because it postponed an election that was supposed to be held this month. The authority give the impression that Hamas actually would have won, and therefore it gave it legitimacy. Hamas has been very angry with the postponement. In a way this gives it an opportunity to, again, with the Palestinian public and look like it is affecting events more. In that kind of escalation, you don't know whether you can control it.
In theory, you can. I think in the end it could happen. The question is, who's going to help mediate that because you always need people to mediate? The Biden administration has not shown a particular interest, they certainly have not appointed a special envoy to deal with this issue. As I said in the appointments, even in the government, have been very slow in filling out positions related to this issue.
Sarah Gonzalez: Well, compared to some of his predecessors, President Biden has seemingly not spoken out as much against certain actions by Israel towards the Palestinians. How much does it matter when US leaders publicly criticize Israel or don't?
Shibley Telhami: That's a good point. Here's the reason why I think it does matter. Obviously, President Obama spoke against his really action, ultimately he didn't move the needle. The honest truth is that peace between Israel and the Palestinians is not on the horizon. That's not something that even if Biden were to put a lot of energy into it, they reached a conclusion that wouldn't happen. Here is why the rest of it is important. If you say peace isn't possible and you have an occupation that has lasted over 50 years, you have some human rights organizations, including the Human Rights Watch, saying the behavior of Israel in occupied territory fits the international definition of apartheid.
You have 59% of scholars, we have polled scholars who are members that American Political Science Association and the Middle East Studies Association, who 59% of them say that what we now see is a one state reality akin to apartheid. When you have that, then what is incumbent upon you is to at least deal with the human rights issue and the civil rights issue, and the issue of democracy on the ground equality for Israelis and Palestinians. Deal with it at that level. I know that the Biden administration is doing a lot behind the scene, to be fair. It's not like they're not doing things, they're obviously working with Israelis to lower the temperature.
That's not enough because if you reach a conclusion, let's say, to cancel the parade or reroute the march that took place yesterday, but you don't stop it on principle, you're going to face another crisis like that tomorrow, and the next day, and the following day. By putting markers publicly, number one, you're gaining support and credibility and looking consistent. Number two, you're preventing additional crisis from happening down the road. You're limiting the chance that they will happen, not preventing them, but certainly reducing the chance that they would happen.
I think it's very important and that's why I think you can see that many members of Congress, including, centrist like Senator Chris Van Hollen, have been very outspoken in urging the Biden administration to be more critical of the evictions in particular, which is obviously the source of the problem in this case.
Sarah Gonzalez: All right, Shibley Telhami is a professor at the University of Maryland and senior fellow at the Brookings Institution. Shibley, thank you so much for joining us.
Shibley Telhami: My pleasure.
Copyright © 2021 New York Public Radio. All rights reserved. Visit our website terms of use at www.wnyc.org for further information.
New York Public Radio transcripts are created on a rush deadline, often by contractors. This text may not be in its final form and may be updated or revised in the future. Accuracy and availability may vary. The authoritative record of New York Public Radio's programming is the audio record.