Vaccine Versus Variants: The State of the COVID-19 Pandemic in the U.S.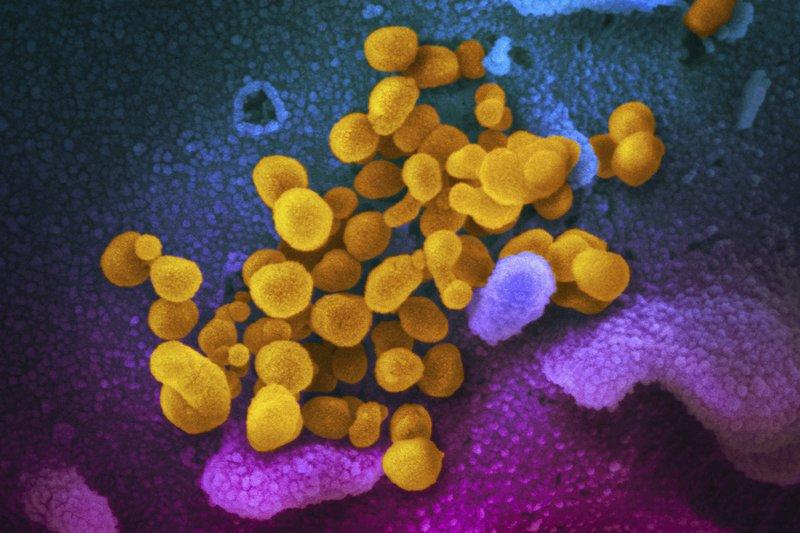 Transcript
[music]
Nancy Solomon: This is The Takeaway. I'm Nancy Solomon, a reporter in the WNYC newsroom in for Tanzina Vega this week. Across the US millions of people are getting vaccinated every day. The latest CDC data shows that 32.2% of Americans have received at least one dose of a COVID-19 vaccine, and around 19% are fully vaccinated. That means there's a growing amount of real-world information on how effective these vaccines are. A CDC study published at the end of March showed that both the Pfizer and Moderna vaccines lower the risk of infection by 90%, two weeks after the second dose.
The latest data put out by Pfizer indicates that their vaccine still provides protection against the South African variant of COVID-19. Alongside the positive vaccine news, there's also plenty to be concerned about. While nationwide Coronavirus deaths are down over the last two weeks, overall cases have been on the rise according to the New York Times. As cases go up, a growing number of states are continuing to move forward with increased capacities for restaurants, movie theaters, and sporting events.
These re-openings are often happening against the recommendations of public health experts. Many of whom say states should be holding off at least a little bit longer to help keep cases down. For more, I'm joined now by Apoorva Mandavillia, science reporter at the New York Times. Apoorva, great to have you back.
Apoorva Mandavilli: Thanks for having me again.
Nancy Solomon: We mentioned that there's CDC data now about the effectiveness of the vaccines in the general population. Tell us more about what the numbers show so far.
Apoorva Mandavilli: So far, the numbers tell us that the vaccines are excellent, really just so much better than we could have hoped on severe cases and deaths. They seem to be very good also at preventing illness at all. What we don't know is whether they prevent transmission from somebody who is infected and who's been vaccinated to another person, and that's been a very key question that we still are hoping to get the answer to. Hopefully, the answer will be that someone who has been vaccinated, rarely gets ill and even more rarely transmits to somebody else, but we just don't know quite yet.
Nancy Solomon: How does this new data compare to what the clinical trials showed?
Apoorva Mandavilli: The new data is showing up basically what the trials showed us. The trials were obviously only in a few tens of thousands of people. There was always some worry that when you translate to millions and millions of people getting vaccinated, maybe the vaccines would prove to be not quite as good, and that really hasn't been the case, they still seem to be spectacularly good. So we're very lucky there. As I said, the only remaining question is how often they might get infected, which also seems to be very low. Then, if they do get infected, how often they might transmit to someone else?
Nancy Solomon: Is there more detail in terms of, because this is the thing that keeps me up at night worrying, is like do we know just how effective it is? Is it less serious the infection when someone does get infected if they've been vaccinated? Has anyone died? Are we seeing deaths still among a small number of vaccinated people yet?
Apoorva Mandavilli: We are absolutely not, and we're not even seeing severe cases so far. I think the vaccines still seem to be what the trials measured, which is severe illness and death, they still seem to be close to 100% effective for that. So that has been really excellent news, and that's true across the board for all of the vaccines, whether that's Pfizer and Moderna, or J&J and AstraZeneca.
Nancy Solomon: That's good to hear. Good news. We need good news. We had a caller asked an interesting question. So let's play that for you.
Randy: I am vaccinated, but I'm holding off on joyous reunions for the time being. I simply haven't found any data or gotten any information that tells me about the efficacy of the vaccines for people with severe underlying health conditions. I have two pulmonary diseases, and I can't really take a chance until I know how safe the vaccine is for people with conditions like mine. So, I keep waiting.
Nancy Solomon: What can you say to Randy about underlying conditions?
Apoorva Mandavilli: Well, it depends what the underlying condition is. In Randy's case, I can see why she's concerned because she's had pulmonary illnesses, and obviously, COVID is a disease of the lungs. She is particularly concerned about that it sounds like. At this point with the rates going up, I don't think that caution is unwarranted for somebody who is at high risk. It's also true for people who are immuno-compromised, for example, people who have some genetic, immuno-compromised situation, or people who are being treated for some kinds of blood cancers. They are at the highest risk, and we are not entirely sure that they produce a very strong immune response when they are vaccinated.
For certain people, it's not a bad idea to continue to be careful, at least until the numbers come way down.
Nancy Solomon: We are continuing to see COVID case numbers remain stubbornly high in some states, and even rising in some places. What explains that recent upswing given the effectiveness of the vaccines?
Apoorva Mandavilli: This is something that experts had been predicting for weeks, that at the end of March, beginning of April, we would see the numbers come back up. That's because there has been a variant of the virus called B117. This is the same variant that was in the UK over the winter break, and that has been spreading in the United States. This variant has been spreading exponentially, growing exponentially. Researchers were predicting, just looking at the numbers that around the end of March, we would start to see that come up. Even though the overall numbers have been coming down, at some point B117 numbers would grow enough that we would start to see those cases go up again.
Nancy Solomon: Do we have a sense of whether the recent rise in cases is connected to states allowing life to come back more to normal, indoor dining, gyms, et cetera?
Apoorva Mandavilli: Absolutely. I think as you mentioned in the intro, a lot of states have opened up because the numbers were going down. At the same time these B117 numbers were going up, and they didn't really pay attention to those, partly because it was hard to see that those numbers were going up because the overall infections were going down, and so lot of states opened up way too soon. Now B117 is finding fertile ground to spread because there are very few restrictions and a lot of places, but still a lot of vulnerable people who have not been vaccinated and who haven't had the disease before.
Nancy Solomon: Earlier in the pandemic, nursing homes were particularly hard hit by outbreaks, and the death toll was quite extreme, how are vaccinations changing that? I read early reports a month or so ago, that death rates in nursing homes were going down, at least in the state of New Jersey, I read that. How is it going overall across the country with nursing homes?
Apoorva Mandavilli: Nursing homes are doing better overall, we are seeing fewer deaths from nursing homes because those are the highest risk people and most of them have been vaccinated, and same for the people who work in those nursing homes. Overall, we've been vaccinating from highest risk conditions, so we should see lower hospitalizations and deaths in this wave if it ends up being a full-wave than we have before. That is a little bit better than any previous waves of the pandemic we've seen where first the cases would go up and then hospitalizations would go up, and then deaths would go up.
We may still see that those curves also go back up with the delay. Hospitalizations look like they're already going up a little bit, but we can hope that it won't be anywhere near as bad as it was before because all of the highest risk people have been vaccinated.
Nancy Solomon: Now that older people are in large part vaccinated, has that shifted the age demographics of who's getting infected and the makeup of the new cases?
Apoorva Mandavilli: It has. Actually, that also plays into why we're still seeing a rise in infections, because we know that even in previous rounds of this pandemic, the people who are getting the sickest and ending up in the hospital, were older people and people who had underlying conditions. The people who were spreading the virus the most were younger people, and most of those people have not yet been vaccinated. We're going to continue to see infections until they are vaccinated and they're not spreading the virus quite so much.
Nancy Solomon: Are we still seeing large racial disparities in terms of both cases and deaths?
Apoorva Mandavilli: We are. That's something that hasn't changed entirely. Hopefully, it will change as greater numbers of people who are Black or Latinx end up getting vaccinated. Those communities are showing a lot less hesitation, a lot less mistrust of the vaccines, and the numbers of people in those communities who are either vaccinated or want to be has gone up quite a bit. Hopefully, as those numbers really increase, we'll start to see that those communities are a little bit more protected than they were.
Nancy Solomon: You mentioned COVID-19 variants earlier. Has there been any evidence yet that there is a variant here that is resistant to the vaccine? I know that they're more contagious, but I think there is that expectation, right? That at some point, we're going to face a mutation that's resistant to the vaccine, has that happened yet?
Apoorva Mandavillia: It has not happened yet. I will clarify that it's because of the word resistant, we don't have any variants that are resistant to vaccines, there are no variants that don't respond to the vaccines at all. What we do have are a few variants with a particular mutation that scientists call Eek, and any variant of that mutation is a little bit less responsive to the vaccines. It's not that they don't work at all, it's not that the vaccines don't work at all, it's just they are a little bit less effective against those variants.
It's possible that over time, especially if the numbers of people infected stay up, that we will see more and more variants emerge. It's possible that some of those end up being even more invulnerable to the vaccines and that we'll start to see a sort of degradation of how effective the vaccines are, but that has not happened yet. The best way to prevent that is by vaccinating as many people as possible as fast as possible.
Nancy Solomon: How safe are reunions, particularly with older vaccinated people at the moment?
Apoorva Mandavillia: People who are vaccinated can get together with people who are not and feel a little bit less insecure than before, but I think everybody should still continue to wear masks.
Nancy Solomon: It sounds like everything that we've discussed that there is reason to be hopeful, right?
Apoorva Mandavillia: There absolutely is, and I think by summer, things will look a lot better. It's just that we have to get through these next few weeks first, and the more careful people are right now, the better those next few weeks will look.
Nancy Solomon: Is their work already happening on a booster say to look forward and say, okay, we're going to need booster shots, or we're going to need to face variants. Is there anything on the horizon that the pharmaceutical companies are working on on that?
Apoorva Mandavillia: Absolutely. As we've heard throughout these mRNA vaccines that Pfizer and Moderna have made are relatively easy to alter. Once it became clear that variants with that mutation Eek are not as responsive to vaccines. Pfizer and Moderna immediately started to test a vaccine for that variant specifically, the one from South Africa and hopefully we'll have results from that soon.
Nancy Solomon: Okay, thanks so much. Apoorva Mandavilli is a science reporter at The New York Times. Thanks so much for joining us.
Apoorva Mandavillia: Thank you for having me.
Nancy Solomon: We asked if you've been able to reunite with friends or family, and here's what you told us.
Robin: Hi, this is Robin. I'm a teacher from Philadelphia. Last weekend, I was two weeks out from my Johnson & Johnson vaccine, so my daughter who is also a teacher and I took a trip up to Mount Kisco, New York to visit my 97 year old dad. My dad who is a world War II vet was vaccinated through the VA. We wanted to take my dad out to lunch, but he was hesitant at first, not out of fear of COVID, but because he hadn't left his apartment for so long. In the end, we convinced him and we all had a wonderful time. We are so grateful to finally be able to see each other again.
John: Hi, this is John from Longmont, Colorado. I've been jabbed once and on 9 April I'm getting my second one. Two weeks following that, which I hear is the time you need for maximum effectiveness I'm going to get an antibody test and pending that I'm going to connect in person with a lot of friends and family. I'm just being really careful, I've got a lot of older relatives. They've all been vaccinated, but just a lot of caution.
Cynthia Collins: Hi, it's Cynthia Collins. We were able to go out for the first time in a year for my birthday last weekend since we had been vaccinated. I got to see my sister and my son and have a wonderful day out on the water thanks to us all being vaccinated. This year looked a lot different than last year for my birthday.
Jodi: Hello, this is Jodi from Charlotte, North Carolina. My husband and I have both been vaccinated and are planning to attend our granddaughter's second birthday party. We missed her first. We're so excited to be able to be there for this special event. We've all been vaccinated, her parents have to and she's just starting to talk so we're so excited to be able to attend
Chris: Hi, this is Chris and I'm calling from San Antonio, Texas, we made the 12 hour trip to Albuquerque to see our grandchildren, first hugs in a year, it was so worth it. Coming from a long line of huggers, going without for a whole year was tough.
Greg: Hi, Greg Deaver Spino, from Phoenix, Arizona, I've been vaccinated so I am ready to see my family, hug my mom and enjoy the company of friends, vaccinated and otherwise in a social setting outside of the pods we have developed during the last year plus of this pandemic. I am a little nervous for those who are not vaccinated, but less so for myself, my mother who is fully vaccinated and 84 on May 3rd. Looking forward to enjoying the company of friends and family whom might haven't seen in quite some time, at least in person.
Matthew Bates: Hi, my name is Matthew Bates. I'm in Beverly Hills, California. Over the course of one week in February, my father and my grandmother, both died of COVID. I've returned back home to Lake Tahoe where my mother lives several times since that happened and it's a calculated risk. We've always been a very close family and now we're closer than ever and it was important to me to be with my mother and my brother.
My mom is fully vaccinated now, thankfully, my brother is fully vaccinated, my partner who has been traveling with me, she's fully vaccinated. I've got the first shot but it is a calculated risk. We've been exceptionally careful throughout this process. To me, it was more important during this time to be with my family that overrode any guidance that we were receiving from the CDC. All we can do is be careful, wipe everything down, wear gloves, double mask, and try to stay out of public as much as possible.
Speaker: My 99 year old dad lives three quarters of a mile away in the Living Center that has carefully followed COVID health guidelines. Since he, my husband, and I have been doubly vaxed, we were able to bring him to our house for dinner for the first time in a year. It is a wonderfully welcome change, but also feels like a guilty pleasure not yet available to all. Hang in there fellow Americans, it is worth the wait.
Nancy Solomon: We always want to hear from you. If you've been vaccinated, are you planning on reuniting with friends or family? You can record an email a voice memo to takeawaycallers@gmail.com or go to thetakeaway.org and click on contact us to record your answers straight into your computer or phone. To see some of the photos that listener sent us off their post vaccine reunions go online to thetakeaway.org.
[music]
Copyright © 2021 New York Public Radio. All rights reserved. Visit our website terms of use at www.wnyc.org for further information.
New York Public Radio transcripts are created on a rush deadline, often by contractors. This text may not be in its final form and may be updated or revised in the future. Accuracy and availability may vary. The authoritative record of New York Public Radio's programming is the audio record.