U.S. Races to Vaccinate Population As New Variants Emerge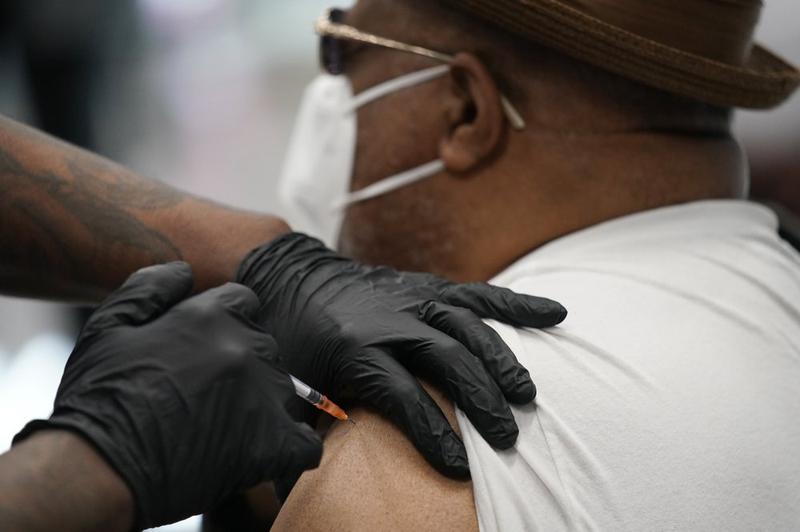 Transcript
[music]
Tanzina Vega: The United States has a long way to go and getting its citizens vaccinated against COVID-19. So far just 5.5% of the population or 18 million Americans have gotten the two doses that experts say are needed for inoculation. Part of the problem is that the rollout of the vaccine across the country has been uneven and wrought with supply chain issues and haphazard distribution mechanisms, from clunky websites to long lines of people waiting around the clock for their literal shot.
These issues have been magnified by deep racial disparities in vaccine distribution, where Black and Latino Americans are less likely to have gotten vaccinated than their white counterparts. It's become a race to beat not only the original COVID-19 virus but new and more contagious variants of the virus that have begun to emerge, all this as the nation grapples with more than half a million Americans dead and more than 70,000 new daily cases in the United States alone.
I'm Tanzina Vega and a check-in on the state of COVID vaccines and treatment is where we start on The Takeaway today. Namandjé Bumpus is the director of the Department of Pharmacology and Molecular Sciences at Johns Hopkins University. Namandjé, great to have you back with us.
Namandjé Bumpus: Hi, great to be back.
Tanzina: Apoorva Mandavilli is the science reporter at the New York Times. Apoorva, welcome back.
Apoorva Mandavilli: Thanks for having me.
Tanzina: Let's start with you Apoorva. The vaccines distributions in the country got off to a rough start, are we seeing some improvements in terms of distribution right now?
Apoorva: We are. We are up to about 1.7 million doses a day, which is a lot better than we were doing. We will continue to hopefully see an uptake in that. I think some of the problems with distribution early on were just because we were figuring it out and it's not entirely surprising that we had some hiccups, given that we've never undertaken a vaccination scheme this big. I think it's good that those numbers are going up and hopefully, they will keep going up.
Tanzina: The process, Apoorva, has been challenging to say the least. I spent many weeks looking for appointments for people including my parents. Have those processes become smoother?
Apoorva: Some have, some have not. I think on Thursday, for example, Massachusetts had this amazing website it was going to roll out and everybody was very excited and then the website crashed and continued to crash off and on throughout the day. That's not so great, but in some other places, things have gotten better and states have started to sort of figure out the systems, make it easier, especially, for seniors, as you pointed out, who can't navigate very complicated websites with a million steps.
The good news is also that the administration is starting to roll doses out to local centers, which is really what we need, ultimately. Pharmacies and high school gyms, churches, community centers, that's really where a lot of people are going to be able to go and get their vaccines. That's really happening much more.
Tanzina: Apoorva, President Joe Biden has said that by the summer he expects to have enough doses so that Americans can be vaccinated more broadly, but based on the current vaccination rates so far, do we have a sense of when people will be vaccinated to the point where we can have this pandemic relatively under control?
Apoorva: Well, if we're talking about adults, I think he's not wrong. I think by the summer, most people who want a vaccine will get at least one dose, but that people who want one is pretty important because there are still quite a few people who are hesitant about the vaccine and have not come around to saying they'll take one. Also, he's not really taking into account children who are just now being tested in clinical trials and we won't have vaccines for them until the end of the year at the earliest.
Tanzina: Namandjé, the vaccine rollout is moving along in the United States, but, of course, as that's happening, we are hearing more about the new variants of COVID-19. Based on what we know, where are the variants lining up against the effectiveness of the vaccines that are currently available?
Namandjé: Definitely, looks like that they are decreasing the effectiveness of the vaccines, at least from the clinical data we have, and also some laboratory-based data on the Pfizer Moderna vaccines. I think an important point still, we'll learn more, as things continue to roll out as more people are vaccinated, but they still do seem to do a good job at preventing severity of disease, hospitalization, and that's an important endpoint. We care about those effectiveness, those efficacy rates, that number. I think the decrease in severity of disease is not captured in that number, it's also a really important consideration. The vaccines are doing a good job of that from everything we can see.
Tanzina: Namandjé, one of the things I've heard, anecdotally, at least from people who have gotten the both doses of the vaccine so far is that the second dose is depending on which vaccine you get can really knock you out. People are reporting feeling really ill. One friend of mine who's a nurse said she was sick for at least an entire day afterward, they're pretty severe symptoms. Is that part of the process right now or do we expect vaccines to be easier to take and easier on our bodies as they pick up?
Namandjé: Yes, so the vaccine is basically teaching our body to respond to the SARS-CoV-2 spike protein to mount an immune response. As part of that mounting of immune response, you're going to have some of the symptoms and there'll be different severity in various people, but things like fever, headache, fatigue are commonly reported. They make sense with our body developing this immune response and they certainly are more prevalent with that second shot. They usually resolve within one to three days, but it's something that we do expect based on the biology, what's happening, but most are mild to severe and will resolve in one to three days.
Tanzina: We mentioned, Namandjé, some of the variants that have been emerging particularly around the world. Studies are showing that, as you mentioned, the Pfizer and Moderna vaccines might have reduced effectiveness against one strain, particularly, the South African strain. I want to play you a clip from Andy Slavitt, who's the senior White House advisor about what he said about this issue last week,
Andy Slavitt: Each of the vaccine companies and I've talked to all of them, both the ones approved and the candidates, have plans to continue to update their vaccines and if need be, create boosters down the road if there continued to be additional mutants, as there likely will be.
Tanzina: Namandje, what does that tell you? Are there going to be additional shots when he says boosters? Are we going to need maybe two or three or four shots at this point?
Namandjé: Yes. We don't know for sure what it will look like, but I think what he said is exactly right, that the beauty of this approach that's being used, so the Pfizer Moderna vaccines, the mRNA technology, the beauty of it, delivering these genetic instructions and make this spike protein. As mutants emerge, we can change that, so we can change the genetic instructions being delivered.
That certainly could be done as a booster, or it could be done as a second generation of the original kind of vaccine that may be has immunity or will give immunity to various variants through changing of those genetic instructions. That's a great thing about how nimble this technology can be. It's something I think that we should be enthusiastic about that will keep these vaccines really being a primary tool for controlling the pandemic, even as variants emerge.
Tanzina: Namandjé, what's the timeline for being able to keep up with these variants, because it feels like we're in a race against time really, as we know viruses mutate, but this feels like every time we think we've gotten ahead there's another variant on the scene.
Namandjé: Yes. I think the important thing is the vaccines we have now definitely, still do decrease severity, which is really important and seem to still have efficacy as far as decreasing symptomatic COVID-19. Getting vaccinated is critical, but as more variants emerge, the laboratory component, as far as making the vaccine towards the variant in the laboratory is something that can be done fairly readily. It'll remain to be seen what the regulatory process would be, and if there would be some shorter process or different requirements as far as clinical trials, but the laboratory component actually can be done pretty readily. That's something that could be nimble.
Tanzina: Let's talk about the rollout, Apoorva because I'm wondering if the emergence of these more contagious variants has affected the rollout. Is there a greater sense of urgency to distribute the vaccine at faster and higher rates right now because of these variants?
Apoorva: There absolutely is. Everybody talks about this as a race between the vaccine and variants, and that's a pretty accurate representation. We're always in an evolutionary race against pathogens and this one is no different. The variants have been emerging faster than anybody expected them to. There is a real sense of urgency to vaccinate people, not just in the United States, but in the rest of the world because even if we're all vaccinated here, but there are variants emerging in other parts of the world that eventually do make the vaccines less effective than they are now, that's going to be a problem for all of us
Tanzina: Apoorva, in this race, we've been talking a lot about the racial disparities that this vaccine and the pandemic have wrought large. We know that the numbers that we've heard about so far from places that are distributing racial breakdowns still show that white Americans are being vaccinated at higher rates than Black and Latino Americans. What does that tell us now about vaccine distribution?
Apoorva: You're absolutely right. The numbers are really hugely different about 64% of the vaccine so far have gone to white people compared with 9% for Hispanic and Latino and 6% for Black populations. That's a very, very big difference and we hear a lot about mistrust, legitimate concerns about trusting the medical establishment.
Tanzina: It's more than that, right, Apoorva? I feel like the mistrust conversation is important, but it's also become a focus and I think this is really not just about mistrust and lack of information, but accessibility, right?
Apoorva: I was just about to say that, that people keep focusing on that, but the real issue is actually access because a lot of the sites are set-up for people who have a lot of time to go and stand in line for hours. There was a scheme in one of the states where if you drove somebody who was older than 75 to the site, you would be able to get a vaccine yourself. Who's got the time to do that other than people who are already relatively wealthy?
I think a big part of reaching these populations is going to have to be to think through those access problems and not keep the conversation so focused around the mistrust. There are actually polls now showing that a majority of Black people offered a vaccine will take it. I think you're absolutely right that the conversation needs to move away from that and some of the counties where these communities of color live have very few pharmacies. They're going to have to be creative and think about community centers and schools and places where people can go relatively easily and get a vaccine relatively quickly.
Tanzina: I was hearing from people who were saying here in New York, that someone they know has an underlying condition and had found a vaccine appointment six hours North of New York City. That just feels outrageous, Apoorva.
Apoorva: It is and who really has the time to do that? It's so a very inequitable and poorly rolled out system, but I will say I think it's getting better slowly, but it's getting better.
Tanzina: Namandjé where do we stand on COVID treatments? We've heard a lot about things like remdesivir, but where do things actually stand in terms of drug therapies?
Namandjé: Things are developing certainly we can use more, but I think that there are folks working hard on it. We've seen recently new monoclonal antibodies getting authorization which seem to be really valuable at least for treating people that are high risk for severe disease. They conversationally focus on the vaccines, but we do have promising things on the treatment front.
Tanzina: I know someone who has COVID-19 and who's had to be intubated with ventilators and it just feels like still at that point where there are still people getting severely ill from COVID-19 that's correct, right?
Namandjé: Correct, yes, we do. That's the importance of the focusing on the vaccines decrease in severity and also that at least for people that are high risk if we can catch it early enough, there are these monoclonal antibody approaches that do significantly reduced hospitalization following treatment.
Tanzina: Apoorva, we've reached a devastating milestone in the United States. Half a million Americans are dead because of this virus and I don't want to spend too much time looking back, but I do want to understand how we got to that milestone and wonder was it a function of how quickly this disease is spreading because of variants? Was it a function of not having vaccine rollout distributions as fast and as well as they needed to go? Was it a function of not wearing masks properly? What got us to this point?
Apoorva: I think the single biggest thing that got us here is a lack of federal guidance and policy that made it very clear to people, how to protect themselves was consistent in the messaging, gave states and individuals, the resources to put those things into place when you can't really ask people to take precautions without giving them the resources to do that.
All of those things combined and all of the misinformation that got out there has caused people to really be confused about what actually works to not believe governments when they say what works and to not take those things into account in their own daily lives. Behavior, both governments and of individuals, I think has played the largest role in the United States facing the numbers it has. All we have to do is look at the rest of the world to see that neither vaccinations nor the virus itself inherently is what causes these numbers to be as high as they are.
Tanzina: Namandjé, where is the FDA in all of this in its roll-out of potential treatments for COVID and also in terms of how quickly it's been approving vaccines.
Namandjé: I think they'd been moving along very quickly I think that they've laid out guidelines. I think that they were open early on about the range of vaccines that they would be willing to consider and by giving these emergency use authorizations, it actually allows the vaccines and the treatments to get to people quicker than even the full approval process. I think that they've been moving things along and that we're seeing even more guidance coming out, that's going to help continue to bring us more vaccines and antibiotics.
Tanzina: Namandjé for the people who do get the virus, are we seeing better survival rates right now? Or is it essentially what we were seeing this time last year?
Namandjé: I think that there definitely are improvements, there's more understanding about treatment approaches, there's more understanding about symptoms and what it looks like, who's more at risk for progressing to severe disease. I think that there definitely are improvements in the approaches and the menu of options for treatment has certainly broadened from when we began.
Tanzina: Apoorva, what are some of the challenges ahead because this pandemic I think this time last year, people thought, "Oh, it'll be a month or two," and here we are more than a year into it. What are the biggest challenges ahead in terms of reaching a certain point of maybe not even immunity, but just some normalcy?
Apoorva: I think variants are really our biggest challenge. I spend a lot of time worrying about that and I know that a lot of scientists spend a lot of time worrying about them. So far we've been okay as Namandjé has said. We see that the vaccines are more or less effective, but the one that I was identified in South Africa has really shown us that this virus has evolved relatively quickly to have some mutations that we know make it a little less susceptible to vaccines and the longer we take to vaccinate people in the United States and the longer we take to vaccinate people in the rest of the world, the more variants we're going to see. Over the next couple of years, if we want to look ahead, that is going to be the single biggest challenge we face.
Tanzina: Apoorva, I'm of the thought that as the warm weather reaches us and people start thinking about vaccines, I suspect there could be another-- This is unscientific, but there could be more people getting COVID as people loosen their restrictions, your thoughts on that?
Apoorva: You're not wrong. I've just been working on a piece where I've talked to a lot of experts and almost everyone believes that there will be rising infections again and perhaps as early as April. Partly, that'll be because people stop being cautious because they see the falling numbers and are celebrating a bit too soon, and partly that's going to be because the variant that was identified in the UK has now really taken root in the United States and it's spreading pretty quickly. It's expected to become the predominant form of the virus in the United States by mid to late March. That will cause cases to go up again.
Tanzina: Keep washing hands, social distancing, and wearing masks, right?
Apoorva: That's right and we have to do all of those much more carefully than we have been because these variants are more transmissible than the one that we've been used to and so we can't really take half measures. We have to do everything we know that stops the virus and we have to do it very, very well.
Tanzina: Apoorva Mandavilli is the science reporter at the New York Times. Namandjé Bumpus is the director of the Department of Pharmacology and Molecular Sciences at Johns Hopkins University. Thanks to you both for joining me.
Apoorva: Thank you for having us.
Namandjé: Great to be back.
Copyright © 2020 New York Public Radio. All rights reserved. Visit our website terms of use at www.wnyc.org for further information.
New York Public Radio transcripts are created on a rush deadline, often by contractors. This text may not be in its final form and may be updated or revised in the future. Accuracy and availability may vary. The authoritative record of New York Public Radio's programming is the audio record.