U.S. Prepares to Reckon with Past Atrocities Against Indigenous Children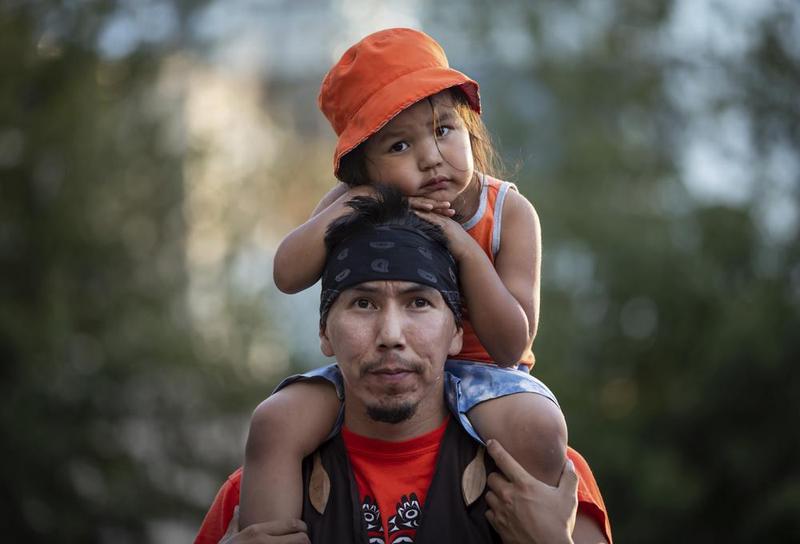 Transcript
[music]
Melissa Harris-Perry: This is The Takeaway. I'm Melissa Harris-Perry in for Tanzina Vega.
Elijah Cummings: We all should be able to agree that in the United States of America we will not intentionally separate children from their parents. We will not do that. We are better than that.
Melissa Harris-Perry: That is the unmistakable voice of the late Congressman Elijah Cummings, speaking in 2018, during a meeting of the House Oversight Committee, convened to discuss the Trump-era policy of separating minor children from their families at the southern border. As a civil rights activist and the son of sharecroppers, I suspect the late representative Cummings knew that his assertion of America being "better than that" was more aspirational than factual. Indeed, our national history is replete with examples of willful separation of children from their parents.
Actress: I was so first to validate the slave trade, my daughter was sold to a stranger. I fell on my knees before Mr. Davison, begged him to buy my daughter from the stranger. His hard heart must have been touched by my agony because he walked over to the stranger and offered to buy my Patience, but the stranger refused to sell. He went away a few hours later. I have never seen my daughter since.
Melissa Harris-Perry: That's the voice of a young actor performing a true story as part of a program titled Last Scene, which was staged in February 2019 by Villanova University's Department of History and Theatre. She's reading one of the thousands of information wanted ads taken out by formerly enslaved people who were forcibly separated from their families during American slavery.
These ads show that even decades after families were scattered by the sale of human beings as chattel, people still wondered about, yearned for, and searched for their loved ones. In 1941, Nikki Nojima Louis saw her father arrested by FBI agents during her fourth birthday party, he was guilty only of being a Japanese immigrant. After the bombing of Pearl Harbor, tens of thousands of Japanese-American families were separated and incarcerated across the American West. Nikki Nojima Louis spoke about her experience in a 2019 interview with New Mexico Public Television.
Nikki Nojima Louis: I've had a childhood in camp, my father was taken away, and I was with my mother in a concentration camp in Minidoka, Idaho in the desert of Minidoka, Idaho, 1 of 10 war relocation authority camps.
Melissa Harris-Perry: 19th-century separation of enslaved families, 20th-century separation of Japanese-American families, 21st-century separation of migrant families, all rest on a brutal government practice, which, for more than a century, forcibly removed hundreds of thousands of Indigenous children from their parents, families, and tribes in both the US and Canada. These children were taken to so-called boarding schools to be stripped of their language, culture, traditions, and identities through a policy of forced assimilation.
Like the newly emancipated who took out newspaper ads for their loved ones, the families and communities of these Indigenous children have never ceased yearning and searching. Last week, US Interior Secretary Deb Haaland announced a new initiative to investigate the "loss of human life and the lasting consequences" of this practice of family separation.
Deb Haaland: I know that this process will be long and difficult. I know that this process will be painful and won't undo the heartbreak and loss that so many of us feel, but only by acknowledging the past can we work toward a future that we're all proud to embrace.
Melissa Harris-Perry: That was secretary Haaland and addressing a virtual conference of the National Congress of American Indians last week. The US government's announcement follows similar efforts in Canada, which resulted in the discovery of the remains of 215 Indigenous children buried outside of boarding school in British Columbia, as reported in late May. In recent days, another 751 unmarked graves were found in the site of a former school in Saskatchewan. Overall, it estimated 6,000 children died at schools in Canada.
According to government officials, many of the children were physically and sexually abused. If we are to be "better than that" as representative Cummings believed we could be, then we must begin by facing and addressing what happened here. We begin here with Nick Martin, staff writer for The New Republic and member of the Sappony Tribe. Nick, thank you for joining us.
Nick Martin: Thank you so much for having me today.
Melissa Harris-Perry: Talk to me about why, why are we now seeing an initiative like this in the US?
Nick Martin: I think there are probably a couple of reasons as to why this moment. First and foremost, being that Deb Haaland is the Secretary of the Interior. Deb Haaland is a citizen of the Laguna Pueblo and is the first native official to be appointed to a cabinet position in United States history. Her presence in the Interior, which oversaw many and funded many of these schools, cannot be overstated. I wrote in a column this past week in The New Republic pointing this out both as a measure and a testament to Secretary Haaland's, obviously, overwhelming support for tribal consultation and listening to what tribal communities need.
It's also an indictment of, I think, every Interior official who came before her in a leading position that chose not to take similar action. As you mentioned, Canada has undergone this already with their Truth and Reconciliation Commission from 2008 to 2015. They're a little bit ahead of the ball on this, this is kind of we're just starting. It's going to be a long road. I think Deb Haaland's presence is, first and foremost, why we're seeing this happen.
In addition, I think the political news around the recent discoveries, both in Canada as well as in the US, you're talking close to or over 1,000 Indigenous children, remains being found within a month. I think that that also, obviously, may be spurred to action plans that were already in place. I think those are the news, in addition to Secretary Haaland's position, I think are the main reasons we're seeing so much action on this right now.
Melissa Harris-Perry: Can you tell us a little bit about the history of these boarding schools, how they came to be, maybe beginning with The Civilization Fund Act of 1819?
Nick Martin: You have to frame it within, I think, the broader context of colonization in the United States. Much of the efforts of colonization were a little bit more discrete to start and weren't quite as organized. What you saw, a lot of the conditions that we can maybe get into here in a second were formed more in these missions that would be church-run, or in these forts, which would be a combination of church and whatever, European government, or eventually would turn into the American government being run.
The idea behind these missions and forts were varied, but they, overall, are being designed, for those was to slowly begin to extract the culture and the language from Indigenous people and assimilate them. It wasn't done in quite an industrialized fashion because Indigenous nations remained very strong Indigenous nations, which they do today as well. I think the problem was that after westward expansion through the mid-19th century, the United States started really taking a hard look at destabilizing, and not just destabilizing, but they actively wanted to remove tribal nations as political entities. As many colonizing forces have done over the years, they recognized that the fastest way to do that is to go through the children. You started with the first, I think, official, federally run boarding school being the Carlisle Indian Industrial School in Pennsylvania, which operated, I think, 1879 to 1918. Then that kicked off a much larger expeditious trend by the United States government, and Canada was also doing its thing at this at the same time. Ultimately, by the end of it, I think we had close to over 350 boarding schools. By this time, it was said and done in the 1980s and 1990s, when they finally transitioned fully into these current Bureau of Indian Education schools that are still operating today.
Melissa Harris-Perry: Pause, they're still operating today?
Nick Martin: Yes. When I say that, I don't mean that they're operating in the same function, but many of the same exact school grounds and school facilities have been repurposed by the Bureau of Indian Education, which, by treaty and trust responsibility, along with things like the Indian Health Service, it is one function of the federal government to provide education for tribal communities.
Melissa Harris-Perry: Talk to me just a bit about what the experience was like for children in these schools under that more oppressive regime that we've just been talking about.
Nick Martin: I want to be really careful here. We are talking about things that happened in the 19th century, but these also happen, there are people alive today, who went through these schools, who live with active scarring, emotionally, spiritually, physically because of the conditions at these schools. I don't want to be overly gratuitous or anything disrespectful towards those experiences.
I think this is maybe more of a meta-commentary than anything, but I do think that, like I said earlier, Canada is probably over a decade ahead of us on this. Just in terms of trying to build some sort of public acknowledgment of just how horrific these schools were for the children that were forced to go there. You're talking in the thousands, tens of thousands, and it was very mechanical. That's where I get when I'm faced with the question of, "Describe what happened there." I foresee over the next 5 to 10 years, there's going to be lots of opportunities, I think, for living survivors to tell their stories in more prominent ways given the platforms that they deserve.
These were places where the children's well-being was the absolute last thought on the list. These were not school, [unintelligible 00:12:01] even call them- we use this term and Canada uses residential schools, we call them boarding schools, the problem that we're going to face over the coming years, I think, and this is something we face a lot with just basic, I think, language impediments, which is that, if you talk to most Americans and you ask them about boarding schools and you just left it at that, their mind is going to some Northeastern prep school, it's a feed into an Ivy League or something like that.
If you ask any Indigenous person, you're getting a completely different reaction. I think that terminology boarding school is- it's so white as to what happened there. These are places where children were literally sold out for free labor to nearby farms and factories where they were- had their hair cut, they had their language stripped from their mouth, or they were physically reprimanded. These were things and much, much worse.
I think that we're going to- just as I take a step out of my body here and looking at 30,000 feet, I do think as we move forward and we try to get into facing the truth of what happened at these schools, we're also going to have to face the truth of how to communicate that to a public that just doesn't have a clue of the recency of it, but also to the extent of how designed it was to do a specific function, which was not the school, it was to be a place of assimilation and cultural genocide, especially genocide is a strong word, but that is what this is about.
This is how you politically erase a people, and that is what the mission was. I think, as we get into discussing the conditions, the terms, the history of it, we also have to keep in mind that it is a present history, and just be cognizant that someone out there might be listening, went through this experience, and I just want to be respectful of them and anybody else who does in these kind of subsequent media coverage as they should. I'm so thankful that y'all are doing it. I just hope that everybody can keep that in mind.
Melissa Harris-Perry: What is this review going to entail?
Nick Martin: It's broken down into several phases. Again, we're functioning off of a three-page document at the current moment. I think we'll get much more details as to what a full-throated review will consist of, in the coming months, but essentially, their goal is to really create a full database of information from survivors, from tribal nations, from these boarding schools.
So much of the information that was out there regarding enrollment, regarding whose child was sent where. That is information that is largely out in the ether. There's no unified sense of being able to connect, because right now we're like-- I mentioned earlier Carlisle Industrial Indian school. It is in the process of returning this entering and returning the remains of children who died and were buried and its graveyard and many of these schools had dedicated graveyards because of just how many children they would lose, or, I guess, rather, I think, you could go stronger as a kill.
The idea here for the Interior is to really connect and unify all of this information that is out there in a way that allows, I think, some grieving and some closure to be found for families, both in terms of having the remains either be returned or be set in a way that is more respectful of their spirits and their families. I think also the idea is to allow tribal nations to really lead the way on what is appropriate here.
You're going to be featuring lots of talks between Interior officials and appropriate tribal government officials over the coming months in terms of, how do we actually set forth a series of goals, or recommendations, or policies that the federal government, or the state government, or the tribal government need to undertake in order to, I think, one, be able to rectify, or not even rectify the situation, but just be able to reach some sense of justice, I think. Right now, these are vaguer terms that I'm using because we're not quite sure what the endpoint of this review is going to be.
It's going to be produced by April of next year, but beyond that, the details of what it actually include, we can only infer based on what Canada's done, and then also just look at what the available options for the Interior are to do within a year, because a year is not a very long time to, I think, put together this information. I think it will ultimately end up being a much larger, longer project.
Melissa Harris-Perry: You've talked a couple of times about us being a decade behind Canada, also pushed by Canada, and some of the recent findings there. How is the Canadian process different than the process that the US seems to be embarking on here?
Nick Martin: I think it was part of the problem that Indigenous people face in the United States, is oftentimes a numbers game. The truth is that the Indigenous populations in Canada are just a much higher percentage. Their ability to bring public awareness to this issue just came about, I think, just on a faster time scale, as well as their ability to then influence-- You had people like Mary Sinclair and these people who are actually senators and sitting members of the federal government when Deb Holland left the House to take over the Secretary of Interiors role, our number of native people in Congress went, I think, from- there's five to four, but then we got two more in the House this year.
It did end up bouncing out, but my point being that it's very low. The ability to do what is necessary in those committees and subcommittees and Grain use them as platforms to bring to light issues that for Indigenous people have never been brought to light fully. It has not really been there for us in the US. This is also a testament to the organizing and hard work of not just government officials in Canada, but all, I think. The Indigenous governments and communities have worked supremely hard to ensure that Canadians of all stripes recognize what happened at these places.
What's happening with Secretary Holland and her team at the Interior now. You work with which you have. Right now, in a sense, we have the Interior, we have this massive federal agency with somebody on top of that, who truly cares. I think that you have to leverage that moment. That is also why you're seeing this boarding school initiative because it's something-- Like I said earlier, we're long overdue for this. I think Secretary Holland recognizes that as well.
Melissa Harris-Perry: Nick Martin is a staff writer for The New Republic and a member of the Sappony Tribe tribe. Nick has reminded us today that history matters, language matters, and representation matters. Nick, thanks so much for joining us.
Nick Martin: Thank you so much for having me.
Copyright © 2021 New York Public Radio. All rights reserved. Visit our website terms of use at www.wnyc.org for further information.
New York Public Radio transcripts are created on a rush deadline, often by contractors. This text may not be in its final form and may be updated or revised in the future. Accuracy and availability may vary. The authoritative record of New York Public Radio's programming is the audio record.