As Winter Approaches, COVID-19 Pandemic Worsens Across the U.S.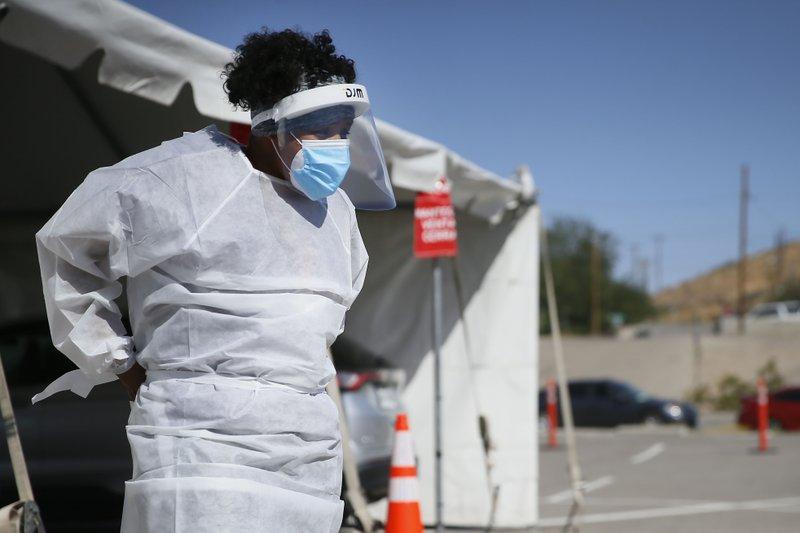 Transcript
[music]
Tanzina: I'm Tanzina Vega, this is The Takeaway and it's great to have you with us. On Wednesday, the United States reached a grim milestone. 144,000 new coronavirus cases have been recorded across the country. Hospitalizations are at an all-time high with many full to capacity, and more than 1,800 Americans died on that day alone. The COVID-19 crisis is officially worse than it has ever been in the United States and governors nationwide are sounding the alarm.
Speaker 2: Across the state, the majority of our regions are seeing far higher rates of hospitalizations for COVID-19 than they ever did last spring. In Southern Illinois, region five has more than doubled.
Speaker 3: I've signed Executive Order 94, advising Wisconsinites to stay home and save lives.
Speaker 4: Primary goals continue to be keeping our hospitals from overflowing and stopping more Marylanders from dying. The capacity for indoor operations at bars and restaurants will be reduced from 75% back to 50%.
Speaker 5: If you look at the line, you look at the trajectory, you know where it's going, it is going up.
Tanzina: That was New York Governor, Andrew Cuomo, who announced a curfew on restaurants and bars and a 10-person limit to indoor and outdoor gatherings at personal residences. The state of New Jersey has also set similar rules into action. Over in El Paso Texas, things have gone from bad to worse, fast.
Bob: A few weeks ago, most El Pasoans probably didn't know anybody that had COVID, and then slowly but surely we all knew 10 or 15 people who had COVID, and slowly, we all knew five or six people who were in the hospital. Now, day after day, we all know somebody who's dying.
Tanzina: That's Bob Moore, the CEO of El Paso Matters, a nonprofit news organization in El Paso, Texas.
Bob: Our crisis really began to build at the beginning of October and has just snowballed since then. For the past week, we've had more than a thousand people hospitalized in El Paso. That's a higher number than most states have right now. We're beginning to see a familiar path here that several weeks after the case counts go up and a couple of weeks after, the hospitalization counts go up, we began to see deaths increasing very rapidly. What's happened here in El Paso is that the county has had to bring in 10 temporary morgues to be able to handle the deaths. It's just absolutely heartbreaking to watch what's going on.
Tanzina: Just as we saw in states across the country earlier in the pandemic, there's been lots of infighting between local officials in El Paso with the county judge and the mayor at odds over whether to have a shutdown in place at all. It's good to remember as Bob pointed out to us that in May, the city of El Paso made a decision to stop enforcing public health orders and educate people instead. Bob says that's only worsen the situation for the community along the border.
Bob: It's a predominantly Latino community and 90 plus percent of the people who are getting sick and dying in this community are Latino. This virus is disproportionately affecting communities of color. The virus didn't create these societal divides that we're seeing, but it has exacerbated them and it has exposed them.
Tanzina: I'm joined now by Ed Yong, a science writer at The Atlantic, and Dr. Howard Koh, former Assistant Secretary for Health in the Obama administration and a professor at the Harvard T. H. Chan School of Public Health. Ed, why are we seeing a rise in COVID-19 infections so recently?
Ed: I think it's somewhat inevitable. The Trump administration has been woefully negligent in its handling of this pandemic. We still lack a coordinated, workable federal strategy to deal with this virus which really ought to be controllable. As you've heard already, lots of options for people to get infected. Indoor spaces like bars and restaurants, and gyms, where the virus very readily transmits between people in close prolong proximity, many of them are fully open around the country. People have traveled, universities have opened so students are going, they're getting infected, taking the virus back to their local communities.
Pandemic fatigue has set in, where people just seem to have habituated to the horror of COVID-19. The fact that there are so many infections and deaths happening on a daily basis, seems to just become part of the ambient background of our lives, another unacceptable thing that America has come to accept.
Taznina: Yet, Ed, we're hearing from-- particularly, we heard from Andrew Cuomo, Governor of New York, at the opening of this segment here, but there are other folks even in New Jersey and other states that are saying, "Let's just close a little earlier. We'll close bars and restaurants a little earlier, gyms a little earlier." To me, that doesn't feel like it's going to have any wide ranging effect. What are your thoughts on some of the measures that states have taken so far.
Ed: They're half-hearted and they're ridiculous. What is the 10:00 PM curfew going to do? It's not like the virus only comes out at 10:01 PM. You've got all those hours where people are still huddling together in bars and restaurants when they're in close contact, where they're talking loudly at each other in indoor spaces. We know that these are the conditions in which COVID most easily transmits. You can't expect to keep those conditions in place and not have the surges that we are seeing right now.
Tanzina: Dr. Koh, what are medical professionals facing right now as the country continues to battle this pandemic and the increasing rates of infection?
Dr. Koh: Tanzina, it's fair to say that we're in the most dire chapter of this pandemic response, 10 months and counting now, unfortunately. You reviewed so nicely, all the trends are going absolutely the wrong direction, shattering records for new cases, hospitals being overwhelmed, test positivity going up around the country. We're getting to the situation, Tanzina, where people usually assume that if they're sick, they can go to a nearby hospital and get a bed and have a medical team taking care of them in the way they need and deserve, but that's not the case anymore.
In too many parts of the country like you've cited some examples in places like Wisconsin and Texas. We're hearing about field hospitals being erected in Massachusetts here, the mobile morgues that are being established as well. This is a time where we need to really rally and double down on prevention and public health as much as possible until a vaccine comes. This is also in the flu season, where we need to maximize prevention there and make sure that everybody's getting their flu shot, because this could get worse before it gets better.
Tanzina: Dr. Koh, we've talked to-- we've spoken, I'm sorry, to a number of medical professionals on the show during this pandemic. I'm wondering if you're hearing from them, that they have largely what they need, personal protective equipment and other ventilators and other things that they need to get through this, and how some of them may be feeling right now. Are their concerns about their own public health and safety?
Dr. Koh: Our frontline healthcare workers have been the absolute heroes for months now. We all knew that with the fall and winter coming, that this would be a very difficult time for us and for the pandemic, but it's very troubling to hear that issues of PPE shortages and supply shortages are arising yet again. There's some concerns whether the National Stockpile has enough N95 masks to carry the system forward. We have to, with a new administration coming on, make sure that there's a national plan, a national effort, coordinating information about what we have and what we will need in the future and make sure that we have a one government approach.
One of the many challenges, Tanzina, that we've had in the months of this pandemic responses, we have not had federal, state, and local leaders working together. This is a time we have to do it. The President-elect, in fact, has appointed a new task force to try to help us get to that very important goal.
Tanzina: Ed, I'm wondering your thoughts because there were some stories this week that we've heard of measures that some states are taking in the face of shortages of medical staff in particular. North Dakota, for example, said it would allow asymptomatic workers with COVID-19 to keep working. What else are we seeing in terms of the drastic measures that are needed right now?
Ed: We just finished reporting and writing a piece on this which should be up soon. I've been spending a lot of time talking to healthcare workers on the frontlines, and I really cannot overstate how bad the situation is for them. COVID patients are among the sickest people that many healthcare workers have ever treated. A typical ICU nurse can deal with two patients at a time, but a COVID patient requires their full attention.
You're having the amount of care of people that an ICU nurse can care for. Those people are also in the ICU for three times as long. Also, a ton of those nurses and other healthcare workers are coming down with the virus themselves, they're taking time off sick. The healthcare workforce is so stretched and so exhausted. One of the problems with this surge is that it has hit so many different parts of the country that unlike previous surges, where, say New York, could seek help from other states or the South could seek help from other states, there aren't reinforcements coming. No one has any reinforcements to send because everyone is completely slammed.
What are you going to do then? You could try and send patients to a different hospital, but all the other hospitals are slammed too. The more the virus moves, the less healthcare workers can move, and the more stretched and exhausted and burnt out they become. I'm really, really worried about the situation for the people who are trying to save everyone's lives right now.
Tanzina: Dr. Koh, to that point, I mean, the CDC has issued back and forth guidance since the beginning of this pandemic. One thing that's remained clear is the importance of masks. Americans, most many are wearing them, some have chosen not to. Dr. Koh, how much of this is a lack of media coverage on the pandemic itself? How much of it is a lack of daily briefings, for example, from the president, just in terms of the fact that it feels like a lot of Americans aren't getting it, that we are still in the middle of a massive pandemic?
Dr. Koh: Oh, that's a great question, Tanzina. In the midst of the worst health crisis our country has faced in the century, we need daily communications from our top leaders, from the White House, and those health messages have to be consistent. One of the troubling issues of the response so far is that the messages have been so mixed, the messages have been so consistently inconsistent. It's so much confusion. Around masks, for example, we need universal mask usage as one nation. We need a united mask effort for the United States. Here we are 10 months and counting into the pandemic response, and we still don't have that.
Now, more and more data has shown that this is very effective in terms of prevention, not only for others but for the wearer, himself, or herself. In a time where people are literally drowning in a rising pool of infection, wearing a mask is a way to turn that faucet off. That's got to be the single message going forward because everybody could still make a contribution on bringing all these cases back down before a vaccine comes forward.
Tanzina: Dr. Koh, let's turn to vaccine news. Early data from Pfizer shows that there is a vaccine that they're developing that they say is 90% effective. What does that mean?
Dr. Koh: We were encouraged by this preliminary news, Tanzina. People may know that there are five vaccine candidates that are going through these final phase three trials. This opening news from Pfizer a couple of days ago, suggests that this one candidate from their company, can prevent infection for about 90% of people. That's very encouraging. We have to stress that these results are very preliminary. It came out in a news release, so we need to see the data.
We need to make sure that independent scientific experts are looking at that data carefully while the trial is completed. We have to also track the safety profile and make sure this is not only effective, but safe. If those barriers can be overcome, and we can cross the finish line with that one vaccine candidate, people are hopeful that this could be distributed, perhaps by the end of this year.
Now, of course, we should stress that this is a vaccine that needs two doses, so that represents a challenge for distribution and dissemination. There's some cold storage issues that we can get into as well, but we are hopeful that if this one candidate crosses the finish line, and there are at least another or two more, we could be able to make these widely available for the American public by the beginning of next year.
Tanzina: Dr. Koh, there have been some mutations of the virus, does that mean that we will have to expect and wait for other vaccines, or will this be something that will look maybe like the flu vaccine, which is updated annually, depending on the strains that are out there?
Dr. Koh: We're very grateful to the basic scientists who are tracking the mutations that are being increasingly described. We do not have evidence yet that mutations lead to a virus that's more dangerous. Although, we have seen now evidence of mutations, for example, in Denmark, in the meat population. I think the global community is following that carefully. We also do not see evidence that mutations make vaccines less effective. We have to track all this going forward, follow the basic science as well as the public health implications and make sure that people get the vaccines and the prevention they need and deserve.
Tanzina: Ed, I'm wondering if some of the news of a potential vaccine, the fact that as you mentioned earlier, a lot of folks are learning to live with this virus as part of our daily lives. Some people are wearing masks, others may not, but it doesn't feel, at least not here in New York, and around, that there is a crisis level concern right now. How do we get more engagement from the public in terms of this issue?
Ed: I actually don't know. I have a possible answer, but I don't think it's one that I really like, which is I just think that unless people really see the scope of what this disease can do, the horrors of the next couple of months firsthand, I'm just not sure how we shake ourselves out of the apathy that we have slipped into--
Tanzina: Ed, as a journalist, though, do you think it's our job as journalists to be keeping the spotlight on this, to be giving those types of reports that are really telling the story? Are we doing enough?
Ed: Yes, absolutely. I think that our entire profession is geared towards the news, we want things that are novel, but the problem is that a pandemic is a long-running marathon of a crisis. The types of advice that we are trying to give to people, the issues that we're trying to spotlight are the same as they were in March and in the summer, largely. The messages haven't changed, but because we are looking for the bright, shiny object on the horizon, I think it's hard to get into this habit of just saying the same things again and again. I struggle to find new ways of saying the same messages to people who are tired and worn out with them.
Tanzina: Dr. Koh, to that point, I think there are people who might be saying, "We can live with the virus. I'll wear a mask if I have to, but I probably won't die from the coronavirus." That feels like it's somewhat limited because you could also get sick, and we've heard of COVID long haulers. What would you like to tell our audience about the long-term effects of COVID-19 if you survived the virus?
Dr. Koh: This is another dimension of this terrible pandemic that we're understanding as scientists and as health professionals. There are growing numbers of people who did COVID, and then they have chronic long-term sequelae. They have heart damage, lung damage, brain damage, neuromuscular problems. This is a challenge that we all need to take so seriously. Back to the response that Ed gave, and I could add to this, is that as a physician, I have learned from caring for patients for years, that when a loved one dies, that's a tragedy. When a loved one dies, and you know that death could have been prevented, that's a tragedy that haunts you forever.
We are seeing that theme playing over and over again now in our country, and we can do something about it. We have to understand that our health is a gift, and it's precious, and it's fragile, and that's where the power of prevention is absolutely critical, especially during this flu season, with the holiday season coming up, and as the winter approaches.
Tanzina: Lots of folks are thinking about holidays and the cold winter months. Is the recommendation that you have as a physician still the same, wear masks, wash your hands, stay home?
Dr. Koh: Absolutely. We want people to enjoy the holidays, but this holiday has got to be different from any other. The number of attendees in any holiday celebration has to be at the absolute minimum with great respect for who is at risk, particularly older loved ones and relatives. The CDC has put out new guidance yesterday on this that everybody should look at. We should apply these principles, protect our loved ones, keep the gathering to the lowest number possible, and get through this so that we can have a brighter day in the future.
Tanzina: And bigger Thanksgiving next year. Dr. Howard Koh is the former Assistant Secretary for Health at the Obama administration and from the T. H. Chan School of Public Health at Harvard, and Ed Yong is a science writer at the Atlantic. Thanks to you both.
Ed: Thank you.
Copyright © 2020 New York Public Radio. All rights reserved. Visit our website terms of use at www.wnyc.org for further information.
New York Public Radio transcripts are created on a rush deadline, often by contractors. This text may not be in its final form and may be updated or revised in the future. Accuracy and availability may vary. The authoritative record of New York Public Radio's programming is the audio record.