The Uproar Over Treatment of Haitian Migrants Continues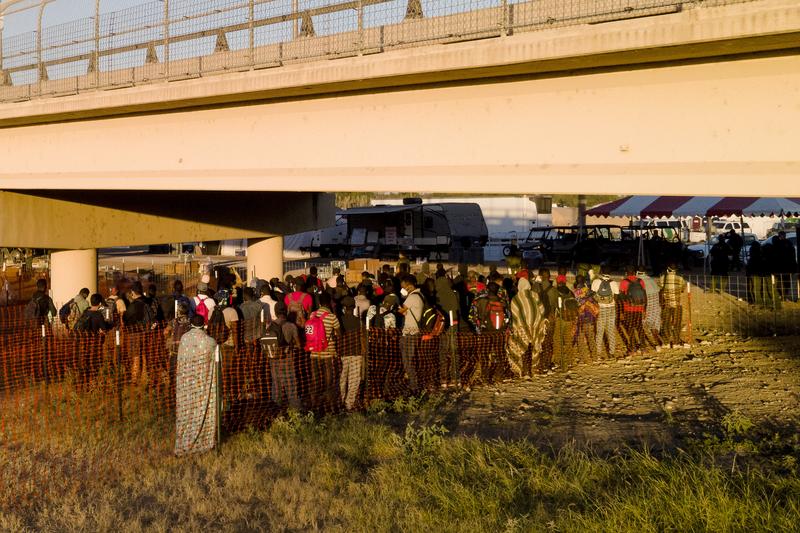 Transcript
Melissa Harris-Perry: I'm Melissa Harris-Perry and this is The Takeaway. On Wednesday, the US senior special envoy to Haiti, Daniel Foote resigned. He made his resignation letter public, in part, through social media. It reads, in part, "I will not be associated with the US inhumane counterproductive decision to deport thousands of Haitian refugees and illegal immigrants to Haiti, a country where American officials are confined to secure compounds because of the danger posed by armed gangs in control of daily life. Our policy approach to Haiti remains deeply flawed, and my recommendations have been ignored and dismissed, when not edited, to project a narrative different from my own."
Now, Foote's resignation comes just days after photos and videos capture officers of the border patrol mounted on horseback, chasing and abusing Haitian migrants. Those border agents have been temporarily suspended, but the White House continued to stand by their enforcement of Title 42. Worth noting that policy has, in fact, been blocked by a federal court and ordered to halt by the end of the month. Here's Jen Psaki.
Jen Psaki: It's also important for people to understand what our process and our immigration process is and what the steps are that are taken. We are still under Title 42 because we are in a global pandemic.
Melissa: As of Thursday, according to the Department of Homeland Security, the number of Haitians in Del Rio, Texas is down from roughly 15,000 on September 18th, to about 7,000. As deportations continue, some have turned back to Mexico and others have been moved to another area for processing. Patrick Gaspard is President and CEO of the Center for American Progress, and he traveled to the border this week. He joins me now. Patrick, welcome.
Patrick: Good day, Melissa. Thank you for having me on in this troubling moment.
Melissa: Let's just start with your experiences. What did you see at the border?
Patrick: It's one of the most difficult things that I've ever experienced. Melissa, I think you know that I am a Haitian-American, and it was difficult to be there and not appreciate that it's only an accident of birth and accident of geography that put me on one side of the fence. When I looked at thousands of Haitians, mostly women with young children, who were living in squalor, who were in incredibly vulnerable condition. I saw one woman who was very pregnant going into contractions while her husband called for help. Thousands of others literally sitting in mud, having their meals in mud, trying to care for their children underneath this bridge.
I want to applaud the volunteers who've come down to lend humanitarian relief, particularly from the World Central Kitchen. It's important to commend the residents of the very small town of Del Rio who have done their level best to lend some kind of support as well, but given that we live in the wealthiest country in the history of humanity, it was very, very difficult to see the circumstances under which people who are seeking asylum from natural disaster, from political violence and economic dislocation are being held at our border.
Melissa: Are you surprised to find conditions like this at our Southern border fairly well into the Biden administration?
Patrick: I was compelled to go to the border because, like most Americans, I was shocked and disturbed by the images of mistreatment and cruelty towards those migrants and asylum seekers that we all saw. We all saw the images. It's important that the Department of Homeland Security and the White House announced yesterday, note, that they're discontinuing the use of horses in that manner. They've suspended the agents who were involved in that violation, but that's what compelled me to go to the border.
We should all be appalled at that. Yes, I continued to be disturbed irrespective of the party affiliation of officeholders that we would append our own norms and treat migrants and asylum seekers in this fashion. I'll remind you, Melissa, that this administration is operating right now in violation of an order from a federal judge who told them that they can no longer continue to use and abuse Title 42 as a way of forcefully expelling asylum seekers.
Melissa: I'm thinking here of Senator Ted Cruz, when he heard that the border patrol would no longer be using horses, he joked about it in a tweet in which he showed presumably, a cat on a unicorn saying, "This is what border patrol would now be like." I thought to myself, the notion that our partisanship, our internal domestic politics, so affects our ability to read a humanitarian crisis. I wonder, again, particularly given your leadership of the Center for American Progress, how do we get to a place where, even across partisan lines, we can see a humanitarian crisis as humanitarian, not an opportunity to score partisan points.
Patrick: The senator's behavior on this and on border issues has been nothing short of irresponsible, and he has stoked some of the worst instincts of our fellow Americans. I'll tell you, Melissa, I appreciate how difficult all of this is. You know that in my past life, I was a senior official in the Obama administration. I've served overseas as an ambassador on behalf of the United States and I know that there are complexities here and there's been a challenge to work in a multi-lateral way with our partners in Latin America to lift up humane border administration.
That being said, there was a time when there used to be a more broad bipartisan consensus on how we receive migrants and asylum seekers. It used to be possible to develop some real consensus between Democrats, Republicans, Independents, and all Americans. I still appreciate in my experiences, and again, with my experiences with Americans at the border in Del Rio yesterday, there is empathy, there is solidarity. There is an ability to see the individual at the border and not a mob. I think the folks in Del Rio that I conversed with and engaged with are a good deal more thoughtful than the Senator has been, so I continue to be encouraged and hopeful.
I will say that in this moment when folks like me and many others-- I accompanied Reverend Al Sharpton to the border yesterday, I will say that, as we've raised dissent, as we've agreed with Ambassador Foote in his characterization of this policy, we've been able to engage openly with Secretary of Homeland Security Alejandro Majorca and other White House officials, who've acknowledged that the images that we all saw were reprehensible and who have taken some action. We continue to call on them to cease and desist from these forced expulsions to go back to humanitarian adjudication of asylum claims.
Melissa, it's hugely important that we have this conversation in the broader context of US foreign policy in Haiti where, regrettably, across multiple administrations, there continues to be support for the worst autocrats who have thwarted democratic progress and civil society activity. We need a change in that policy because that, along with natural disasters, has caused all of this dislocation.
Melissa: I want to take up this issue of natural and man-made or political disasters. If you could reflect for us a bit on that long and quite honestly, bi-partisan set of practices of the US public policy and foreign policy towards Haiti, for folks who haven't followed it, say since the Clinton administration, just give us some of those key moments,
Patrick: It is a long and tortured history, Melissa, that goes back to the founding of Haitian independence when Haiti became the first self-liberated black republic and would not receive recognition from the US, right up through the 20th century where my parents were forced into an exile of sorts from Haiti because of political violence by actors who were completely supported by the United States.
My earliest political memories, Melissa, are of being a child demonstrated in front of Lafayette parking in the White House, or [unintelligible 00:09:25] when successive US presidents put their arms around Haitian dictators and called them friends of democracy who were thwarting communism in the region, even while they looked away at disturbing human rights violations.
More recently, our government, along with others in the region and internationally, continued to support the Presidency of Jovenel Moïse, who was tragically assassinated some months ago, despite the fact that he suspended the Senate-supported violent gangs in the streets who inflicted political violence on his opponents and despite the fact that he was operating out of his constitutionally limited term. The US, following the earthquake in 2010, insisted on elections in Haiti, irrespective of the fact that the vast majority of the population could not participate after nearly 300,000 deaths and millions that just located from their homes and all institutions in the government completely just taken apart by the earthquake.
Since then, there continues to be an insistence more on stability than on democratic norms. I will tell you, Melissa, that I'm partly getting encouraged by a bold, courageous civil society process that's come together in Haiti in the last many months with over 350,000 organizations, labor unions, women's groups, even former gang leaders, who've come together to say that we need Haitian solutions to these problems, we'll build our own resilience and sustainability and we just need the international community to recognize the need to turn away from autocrats and elites who have denied economic opportunity to the vast majority of the country. I hope that in this moment of transition, the Biden administration will lean in to human rights and democracy in Haiti, and appreciate that outcomes in Haiti have a direct relationship to the difficulties that we're now experiencing at our borders. These things are interrelated and must be addressed in a holistic fashion.
Melissa: Now, Patrick, you served as ambassador to another nation where there are more than a few challenging historical points around questions of justice and America's discourse on one hand and our actual foreign policy on another. That's South Africa. As the special envoy to Haiti resigned, which is just unusual that a lead diplomat in that way would feel that need to speak out in that way. I'm wondering what lessons you take from your hard work in diplomacy around South Africa in this case as well?
Patrick: I did have the privilege to serve as US ambassador to South Africa, a country that I first went to during the tail end of apartheid, right after Nelson Mandela had been released from 30 years of confinement. It was a time of great euphoria and incredible hope. It was extraordinary to be able to serve as ambassador after being a young demonstrator against apartheid. I will tell you that one thing I learned in my time in that remarkable republic is that democracy making is hard work. It is a full-contact sport.
I think that South Africans should be rightly proud of the progress that they've made in only 30 years of inclusive democracy in that country. When we consider our own journey here in the US, which was fraught with tension only resolved through civil war, one can appreciate the challenges they're undergoing now and also recognize that that journey requires the real thoughtful support of allies and other nations in partnership. The same is true now for the furtive journey that Haiti is making towards inclusive democracy as well.
Melissa: This is such a core part I remember of my own political awakening of what it meant to be a Black American from our wide diasporan experiences, but protesting apartheid and pressuring our government to do right in particular ways by Black South Africans, as you look now at the crisis at our border, are there specific ways that the broad diasporic Black community in the US, yes, the Haitian-American community, but also our broader Black community, what are some of the ways we can be working to bring pressure, to bring insight, to bring information that supports this growing civil society, Haitian solutions for Haitian challenges?
Patrick: Melissa, I'm always really inspired by your voice on air because you have the ability to widen the aperture. Thank you for bringing the diaspora into this. That is absolutely critical here. I think that diaspora engagement and advocacy has enabled us to make meaningful progress already with the Biden-Harris administration on these issues and on the abuses that we're seeing at the border. It's critical to have continued advocacy.
One appreciates the charity that one has seen from the diaspora community with grants to frontline organizations, but it's terribly important to communicate to members of Congress, to the congressional Black caucus that's led in this, to your Senate leadership that we're all shocked and disturbed by the mistreatment that we've seen. There's a need to end these deportation flights that are in violation of our own constitutional norms as communicated by a federal judge. We have to ensure humane treatment at the borders and access to real asylum systems in this country. In the very first instance, we must have some ability to lift up the best of ourselves and ensure that we end dangerous, unsanitary, and unsustainable conditions at our borders by providing adequate shelter, food, and water.
Melissa: Food, water, and shelter for 10,000 women and children hardly seems like hard work for a nation as wealthy as ours. Patrick Gaspard, President and CEO of the Center for American Progress. Thanks for joining us today.
Patrick: Thank you, Melissa.
Copyright © 2021 New York Public Radio. All rights reserved. Visit our website terms of use at www.wnyc.org for further information.
New York Public Radio transcripts are created on a rush deadline, often by contractors. This text may not be in its final form and may be updated or revised in the future. Accuracy and availability may vary. The authoritative record of New York Public Radio's programming is the audio record.