Two Years Later, Georgia's AAPI Community is Still Healing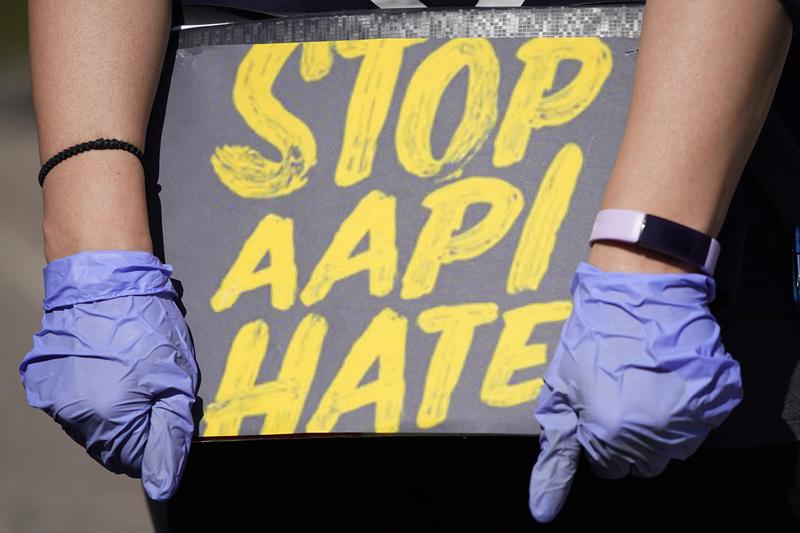 Transcript
[music]
Melissa Harris-Perry: It's The Takeaway. I'm Melissa Harris-Perry.
President Biden: "Just this week, a film about resilience and power of the Asian American immigrant family made history at the Oscars." "We also hear a message we've heard too often, including two years ago this week, after the spa shooting in the Atlanta area: Enough. Do something."
Melissa Harris-Perry: That was President Biden, on Tuesday, honoring victims of the Monterey Park mass shooting that took place just two months ago in January. President Biden's visit coincided with us, here, marking two years since a young white man opened fire in three different Atlanta area massage businesses, killing eight people. Six of them were Asian women.
To talk more about what we now call the Georgia Spa shootings, we spoke with Phi Nguyen, Executive Director for Asian Americans Advancing Justice-Atlanta. Phi organized a memorial this past weekend to remember the lives of the eight victims lost to hate.
[music]
Phi Nguyen: "Leading up to this anniversary, I've repeatedly asked myself, what is the right way to honor the eight lives that we lost in Atlanta on March 16th of 2021?"
We organized a memorial tree planting at Blackburn Park in Brookhaven. We partnered with Trees Atlanta to plant a linden tree, and we wanted to offer this to our community in the hope that the tree can be a living reminder for our community of our growth and resilience, and ability to renew and regenerate even in the face of horrifying violence and trauma.
Melissa Harris-Perry: Obviously, communities are diverse spaces, but talk to me about how in your assessment the community is doing or how aspects of the community are doing.
Phi Nguyen: Overall, the community is still processing certainly the Atlanta spa shootings, and on top of that, we're still processing other violence that our communities have experienced across the country, including recently in Monterey Park and Half Moon Bay.
[music]
City Council Member Yvonne Yiu: "I know teacher Ma, one of the victims and the owner of Dance Studio. We sing and dance together. I cried in the last two days. I'm very heavy-hearted, and teacher Ma favorite song, the name is called Please Follow Me."
"I want to say teacher Ma, although I can't follow you now, but eventually, I would like to follow you to the heaven, and sing and dance with you again."
[music]
Phi Nguyen: Those tragedies at the beginning of this year around the Lunar New Year holiday was particularly triggering and sad and traumatic for folks in our community. There's still trauma and grief, but that's mixed with a sense of determination and a commitment to fighting the systems that are at the root of these acts of violence.
Melissa Harris-Perry: I also want to think about intersections for a moment. I think sometimes loss now two years later are the ways that gender and gender stereotyping not just a question of Asian and Asian American identity, but specifically notions around Asian and Asian American women. I'm wondering if, again, in the grief, in the processing, communities have been also really thinking through those intersections of identity.
Phi Nguyen: Absolutely. We have to think about those connections, and I think that the spa shootings and other highly decivilized acts of violence against our communities have laid that intersectionality bear. Certainly, with the Atlanta spa shootings, that was clearly a form of gender-based violence. When we look at the perpetrators and other incidents, a lot of times, it's men. We have to examine the way that patriarchy is oftentimes a common thread between all of these different acts of mass violence against the Asian American community and against other communities as well.
Melissa Harris-Perry: The organization that you lead is Asian Americans Advancing Justice. Talk to me a bit about what justice looks like in this case, both for the families and in a broader sense, what does it mean to two years later have ideally, I suppose, some sense of moving towards justice?
Phi Nguyen: I think that's a hard question for me to answer because at the end of the day, true justice for the survivors and family members is that their loved ones would still be with them today. For our organization, we really don't believe that carceral systems are the way that we achieve true justice or safety for our communities. I understand how that could feel like a measure of justice within a system that's flawed for our organization. We really don't think carceral systems are how we actually achieve true justice.
Melissa Harris-Perry: What else do we need to be talking about acting on organizing around that we haven't?
Phi Nguyen: I always want to remind people we have to look at the way that systemic and state violence contribute to interpersonal violence. Sometimes when we focus on these highly visible acts of interpersonal violence, we don't focus on the systemic and state violence. When I think about what happened two years ago, I remember that the spa shootings happened right around the time that a voter suppression bill was passed in Georgia, and right around the time when a flight of Vietnamese refugees were deported back to a country that they fled years ago. The proximity of all of those types of violence impacting our community around the same time.
Then the other thing that I want people to understand when we talk about anti-Asian violence is that is very much connected to other violence that Black communities and other communities of color also experience. When we talk about combating anti-Asian violence, we really need to have a broader lens than that.
Melissa Harris-Perry: Phi Nguyen is executive director of Asian Americans Advancing Justice-Atlanta. Phi, thanks so much for being with us today.
Phi Nguyen: Thank you for having me.
Melissa Harris-Perry: All right, we're going to take a quick pause, but don't go anywhere. When we come back, we're talking with Georgia State House Representative Michelle Au about the political power of the AAPI community.
[music]
It's The Takeaway. I'm Melissa Harris-Perry.
Dr. Michelle Au: We are coming up on a sad anniversary on March 16th, 2021. Of course, as many people remember, there was a mass shooting in the metro Atlanta area in which eight people were murdered, of whom six were Asian women. I think that event really was a seminal event for the Asian American community here in Georgia.
Melissa Harris-Perry: You're listening here to Georgia State Health Representative Dr. Michelle Au. In the year since the mass shooting, the number of AAPI state representatives has increased in Georgia.
Dr. Michelle Au: It really pushed a lot of us to become more involved in our communities and in politics, and to become more involved in effecting the kind of change we want to see.
Melissa Harris-Perry: We talked with Representative Au about the political aftermath of the 2021 mass shooting in Georgia.
Dr. Michelle Au: This sad anniversary is, of course, a time to look back on those we've lost, but also to look back on the progress we've made in the Georgia State legislature.
Melissa Harris-Perry: You have talked with some of the families of the victims of the shooting. I'm wondering how they are doing over the course of the past two years. You talked about this push to get involved and that is sometimes a surprising and very painful path that victims' families end up walking after this loss.
Dr. Michelle Au: Yes. I've been in touch with a family members of two, the shooting victims of Robert Peterson, who is the son of Yong Ae Yue, and Michael Webb, who is the ex-husband of Xiaojie Tan. For both of them, obviously, there is a period of hard grief that you go through. To their credit, they have really channeled that energy and that grief into action. They both have been very involved in efforts here in Georgia to move the needle on gun safety legislation.
Many people in the nation are probably aware that Georgia has some of the most lax gun laws in the country. In fact, just last year, the governor signed into law a permitless carry bill, which allows people to carry loaded guns in many public places. Their efforts towards increasing gun safety in this community really serves as a testament to how much they love their family members, that they are putting so much of their time and effort into efforts that would help other people.
Melissa Harris-Perry: What is happening in the Georgia State legislature at this point?
Dr. Michelle Au: To answer that question, I'm going to take us back in time to March 16th of 2021. At that time, in the Georgia State legislature, there were five Asian American Pacific Islander legislators. In the days following the shooting, we dropped a slate of three bills that aimed to address these exact issues.
Two of the bills had to do with increasing language access and cultural competency for our law enforcement officers because we had been seeing, not just in March of 2021, but in the year and years and decades and centuries leading up to that rising AAPI hate that had been sparked by the COVID pandemic.
Two of those bills aimed to increase the ability for Asian communities, immigrant-heavy communities, communities that are sometimes hesitant to engage with law enforcement for many reasons, one of which is language access, to be able to more easily report these crimes so that they could be addressed. Those were two of the bills we dropped.
The third bill we dropped as a caucus at that time was a gun safety bill. What it aimed to do was to introduce a waiting period for firearm purchases. The reason we targeted this safety measure was because the gunman in the March 16th shootings had purchased his firearm that very morning and by that evening had used it to murder eight people.
This was a targeted gun safety bill, and an example of type of bill that's worked very well in other states to diffuse these sort of impulsive crimes of passion, that kind of thing, to build in a cooling off period for people who may be going through a mental health crisis or have impulsive acts, including suicide, and be able to build in a time for people to intervene or for them to step away from that time of extreme emotion. None of those bills moved at all that session.
Melissa Harris-Perry: We often talk about the question of gun safety separate from issues of public health, and I'm wondering if you can, as a physician, maybe frame for us the idea of gun safety and of the legislation that we have around the availability of firearms as a public health concern.
Dr. Michelle Au: I am not an epidemiologist primarily, but I actually do have a master's degree in public health, so this is actually very near and dear to my heart. When I bring forth gun safety legislation, for example, this session, I actually have three gun safety bills that I've been working through, I do tend to treat it as a public health issue because to me it actually does not make sense that we treat guns differently than we treat other public health hazards, like we treat motor vehicle accidents or medication overdoses, that kind of thing, because the strategies that we should be looking at to deal with gun safety are very similar to the strategies that we use to deal with, for example, motor vehicle accidents.
There is no one single solution, no one single bill that is going to address every single cause of gun violence, but as we approach with other public health issues, it really takes a multimodal approach looking at the problem from all different sides and picking away at it in order to solve this issue. I'm just going to use cars as an example because it's very familiar to people that we don't say that the use of seat belts is going to prevent all injuries from vehicular accidents.
We understand that cannot be the case. However, we know that seat belts in conjunction with car seat laws and DUI laws, and better traffic signals, and airbags, all these things layered together, seek to piece by piece, limit and minimize and mitigate the harms of getting into a car accident. One of the bills that is at the foremost, and I think most underlines our approach to this is a public health issue is my bill, HB 161, which is called the Pediatric Health Safe Storage Act.
What it aims to do is to address the number one cause of death in children and teenagers in this country. I'm sure you can guess that cause is gun violence. All this bill aims to do is to require, in Georgia, that anyone who has a firearm that could be accessed by a minor to secure it safely. That's all it does. It's quite straightforward. It seems almost ludicrous to think that we don't do this already, but this is the approach we take that's just very reasoned and very measured, and draw analogies to other public safety measures that we already do on thinkingly.
Melissa Harris-Perry: Tell me about the events that you're working with this week to commemorate this moment.
Dr. Michelle Au: Of course, many other community events have been planned all around the state, but the ones that we are particularly involved in then that are working through our offices at the State House is there is going to be all-day event right next to the Capitol where we're inviting many community guests, community leaders, family members to come speak and remember the events of March 16th, and continue to point people towards action, towards fighting AAPI hate, and moving towards more gun safety legislation in this state.
Earlier that morning, we are going to have a press conference inviting many of these leaders, in particular, some of our legislative leaders to come speak. The very morning of March 16th, we are having that first gun safety legislation hearing, which is not the date that we chose, but incredible happenstance and you almost think that it's a piece of serendipity that to mark the two-year anniversary that we get to show our friends and loved ones the change that we have been working to see for them.
The Friday after March 16th, we have a VIP film screening of a PBS documentary that came out last year called Rising Against Asian Hate: One Day in March, which was very well done and followed many of the family members, activists, community organizers, and state legislators in that year after the shootings and the work that they had been trying to do and the work they'd been trying to do to heal.
Melissa Harris-Perry: Dr. Michelle Au is a representative in the Georgia State House. Thank you so much for taking the time with us today on The Takeaway.
Dr. Michelle Au: Of course, it's a pleasure to be here.
[music]
Copyright © 2023 New York Public Radio. All rights reserved. Visit our website terms of use at www.wnyc.org for further information.
New York Public Radio transcripts are created on a rush deadline, often by contractors. This text may not be in its final form and may be updated or revised in the future. Accuracy and availability may vary. The authoritative record of New York Public Radio's programming is the audio record.