Trump Directs Agencies to End Racial Sensitivity Trainings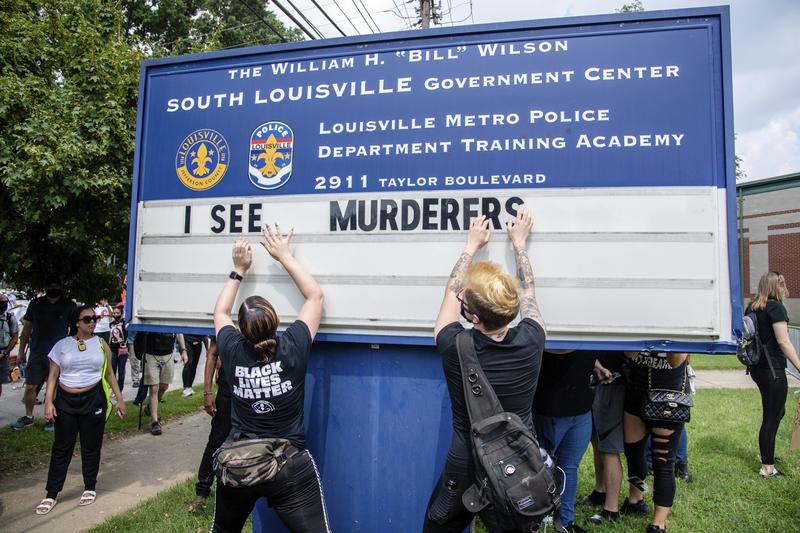 Transcript
Arun Venugopal: It's The Takeaway. I'm Arun Venugopal in for Tanzina Vega. Hope your holiday weekend was restful and free of labor. We've got a big show for you today, including important looks at different cases of police officers in the US shooting people of color. First, we want to take a look at what the Trump administration has done in the wake of recent shootings. Last week, the Trump administration directed the Office of Management and Budget to stop funding for racial sensitivity trainings in federal agencies, calling them "divisive".
President Trump also threatened, over the weekend, to cut off funding from California schools, if they use The New York Times' 1619 Project, which reframes America's history with a focus on the consequences of slavery in their curriculum. Nicole Hannah Jones, the reporter who helped create the 1619 Project for The Times, responded on Twitter, "Do those concerns about cancel culture and McCarthyism and censorship only apply to the left, or do they apply to the POTUS threatening to investigate schools for teaching American journalism? Silence is deafening here."
All this is happening after months of protest against racial injustice and police brutality, and many people disagree with how Trump has handled these tensions. At the height of these uprisings, data show two-thirds of Americans think Trump has made race relations even worse. Joining me today is Tim Wise, anti-racism educator and author of several books, including White Like Me and the forthcoming Dispatches from the Race War. Tim, welcome to the show.
Tim Wise: Thank you for having me.
Arun: Let's take a look at this directive from the administration. What exactly does it do?
Tim: Well, it's questionable as to what it really will do in practice. I'm not really sure to what extent anti-racism trainings had truly been ingrained and institutionalized in the federal governmental structure. I think it's mostly a "solution" in search of a problem, but at least, in theory, what it does is it says that there can be no trainings within the federal government that seek to address issues of systemic racism or white supremacy, racial inequality, if those trainings touch on any of the buzzwords and scare words that the administration likes to use, like white privilege. We can't talk about that. We can't talk about critical race theory, which they don't define because my guess is they don't really know what that means.
Essentially, they just don't want anti-racism training because, as you can tell, the larger analysis from this administration is, number one, racism, isn't really a problem, and number two, any attempt to address it is just those awful Black and brown folks and their white anarchist allies coming to take the America that and love. It's all really political. I'm not sure how many trainings are really going to be shut down. It's more to just give the suggestion that these radicals are coming to rewrite your history books and take down your statues and essentially overthrow the MAGA America that we all know and love. It's really just politically cynical.
Arun: Yes, I can honestly say I did not ever expect to see critical race theory trending on Twitter. [laughs]
Tim: Right.
Arun: Buzzwords that have somehow leaped out of the academic world into the racial discourse, interestingly enough.
Tim: That's just it. My guess is if you were to ask Donald Trump, if you were to ask any of the people who were behind this directive to define critical race theory and were to say, "By the way, if you get the answer wrong, you die," they would all be dead. There's no way that any of them have any idea of what this term means, and yet, they want to use it to scare Fox nation and their base into believing that they're all these radicals who are coming to overthrow the government, when really, what's so fascinating about these trainings-- I mean, I read about the one that had been ensconced as of the killing of George Floyd, there'd been some trainings that were being done. I think maybe one was done at the treasury department or something, and it was really pretty benign stuff.
It was just talking about how we're all conditioned in this culture to buy into certain stereotypes and all of us are affected, not just white folks, other folks are as well, and that we have an obligation to try to get it right. I don't know what's so radical about that. I was actually going to do a training with one particular government agency- two trainings with that same agency in July, those were canceled. This is before this directive had even come out. All I was going to do was have a conversation about how white folks can be better allies and create work cultures that are more equitable. I don't know why that's so dangerous and so radical, but apparently, it is.
Arun: Basically, this directive aimed at avoiding any sort of specific isolation of white people or white history, isn't that part of the point?
Tim: That's what they're saying. That's just it. The training, that Newsweek talks about in a piece they did this week, didn't really single out white people. It said that we're all conditioned to buy into stereotypes and we all have an obligation to do better. My training was going to be looking at how white folks can be better allies, but by definition, the implication of that training is white folks are not inherently awful. We're not inherently racist. We're not irredeemable. We're actually capable of joining together in solidarity with folks of color to make institutions better.
If anything, it seems a very positive argument. If I were going in there just to say, "By the way, here's my white people are evil training," then, I guess, perhaps, they would have a point, but that wasn't what it was. I don't think they really examined any of this. They just decided, "Oh, you're talking about racism and you're talking about undoing racism, and that means you think there is racism. If you say there's racism and Donald Trump is president, you're saying Donald Trump is racist, and therefore, we have to shut all this down." That's the line of thinking here.
Arun: Given that these things happen at federal agencies, you probably have a wide swath of people in terms of political belief and background-
Tim: Sure.
Arun: -do you not get people who feel defensive in these situations and who may elevate those concerns to people who have political power and who just want to scrub the entire thing?
Tim: Oh, I'm sure that's what happened in the case of the trainings I was going to do. I mean, we literally were one day away from doing the first one in the beginning of July. I actually got the link sent to me for the Zoom call or whatever it was, said, "Oh, here's your link for tomorrow. See you then. It'll be great, blah, blah, blah. I mean, literally, five minutes later, I get an email that says, "By the way, this event has been canceled." I'm assuming that somebody maybe finally saw the memo that this was happening, and then, immediately jumped in and said, "This has to stop."
The people who'd been who've been arranging were career civil servants who were going to be there after this administration. They were there before this administration. They weren't political appointees, but Trump has put so many political cronies in these various agencies that when they see this stuff, for political reasons, they run it up the flagpole to squash it because they don't want to talk about racism.
Notice, when they attack these trainings, it's not like they say, "Hey, we don't like your training. We have an alternative model that we think is better for addressing racism." They don't do that. They just say, no, no training. In other words, we're not debating over the specifics about how we undo racism. Those are legitimate debates that people even within the anti-racism community have. What they're saying is, "We're not having any of this talk because we don't think racism is a problem."
Arun: I didn't even know that these things happened at federal agencies. Do you have any sense of how long these have been going on?
Tim: The one that Newsweek talked about and that the administration specifically targeted is very new. From my understanding, the way I read the story, was that it happened or developed in the wake of the killing of George Floyd. I think that it was some of the analysis was spinning off of Robin DiAngelo's book, White Fragility, but I don't know if Robin had actually done any of these trainings with federal agencies or not.
I've been doing this work for 30 years, and I would say, in that 30 years, I've done maybe a half a dozen. I wouldn't even call them trainings, I would just say seminars with various government agencies over that 30 years, but it's never been a pattern of them. I'll get asked to come in and speak to the social security administration, or I'll get asked to speak to the treasury department or something. That's happened before. I don't really think that there's been a deep-seated institutionalized practice of these trainings, whether a Democrat or a Republican was in office, to my knowledge.
Arun: Now, over the weekend, the president also threatened to cut off funding from schools in California if they use The New York Times' 1619 Project. Do you know if it's possible to actually cut educational funding for this reason?
Tim: I don't think that they can legally dictate the terms of local curriculum. It's so funny to have right-wingers doing this. These are the same people that when President Obama was pushing for Common Core, which wasn't a mandated set of curricular items actually, it was just recommendations and suggestions and broad categories of themes, the right lost its mind. "Education should be controlled locally. Local schools should determine what they teach." Now, the same people are saying, "Oh, no, no, you can't talk about this," because they want to go back to the George Washington and the cherry tree fictional nonsense that they were taught as children rather than actually address the history of the country, good, bad, and ugly.
I don't think they have the authority to do it, but the fact that they're even trying just goes to show you that these are people who don't want to teach history accurately. They want to teach rah-rah patriotic nationalism as a substitute for actual history. This isn't about attacking political correctness, it's about attacking historical correctness.
Once again, these aren't actual historians who are attacking the 1619 Project this way. There are historians who disagree with certain elements of the pieces in the project, but they're not disagreeing with the fundamental idea that racism, enslavement, and white supremacy were fundamental and elemental to the founding of the country. No one, who's a real historian, disputes that, but Donald Trump does and his people do because they would rather talk about, again, George Washington and the cherry tree and Daniel Boone and the-- Whatever, I don't know.
Arun: All right. Aside from the fact that it's coming from The New York Times, conservative boogeyman, what is it about the 1619 Project that made it such a big rallying cry for conservatives?
Tim: The one that's obvious is that the whole premise of the project is that you can't understand America without understanding the fundamental embeddedness of white supremacy and enslavement in the founding of the country, but I want to suggest the thing that really gets under their skin, which isn't talked about as much even by those of us who love the project, is one of the key themes in the 1619 Project is Black folks are the reason that we have whatever democracy we have. Whatever moves we've actually made toward democracy and fulfilling the promises of the founders, which they had no intention of fulfilling, the only reason we have that is because of Black people. Essentially, recasting Black folks as true founding fathers because whatever progress we've made, we really owe to them.
That, I think, is what really bothers white folks to believe that we ought to be considering Thurgood Marshall a founding father. We ought to be considering John Lewis, CT Vivian, Rosa Parks, Ella Baker, and those folk's founding fathers just as much, if not, more so than the ones we claim to be that. I think that's what really bothers them, but that's an accurate understanding of history. If we really want to claim the greatness of the country, whatever greatness we have, we owe it to the struggle of people who were left out of that promise at the beginning and who have fought like hell to make it real ever since.
Arun: Tim, we only have about 20 seconds left, do you think this is going to actually have traction even more than, say, the debate over Confederate statues?
Tim: Oh, it's all part of the same debate, I'm sure. Look, this is a strategy now. This is a culture war strategy. Everything the president does or says is about saying it's the traditional America versus these barbarians at the gates who were trying to take everything that you know and love. He's right, it is. It's a debate between those who want to go backward and those who want to go forward. I happen to believe there are more people in this country who wants to go forward, and that's where we're going to be headed, whether Donald Trump and his folks like it or not.
Arun: Tim Wise, thank you so much for being here today.
Tim: Thank you.
Arun: Tim Wise is an anti-racism educator.
Copyright © 2020 New York Public Radio. All rights reserved. Visit our website terms of use at www.wnyc.org for further information.

New York Public Radio transcripts are created on a rush deadline, often by contractors. This text may not be in its final form and may be updated or revised in the future. Accuracy and availability may vary. The authoritative record of New York Public Radio's programming is the audio record.