Trump Administration's Final Policy Actions Could Have Long Term Impacts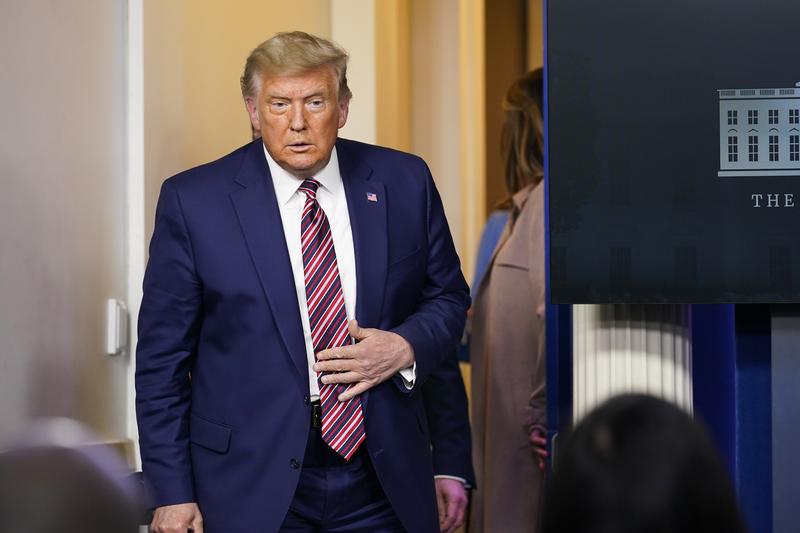 Transcript
Tanzina Vega: This is The Takeaway on Tanzina Vega. The Trump administration has been making public declarations questioning President-elect Joe Biden's win. They've also been using their final weeks in office to quietly change policies that will be difficult for a Biden administration to reverse. According to Politico, White House Chief of Staff Mark Meadows has assembled a list of at least 15 executive orders or actions President Trump can make before Inauguration Day.
The president also has plans to continue appointing conservative judges to open federal seats in the coming weeks further reshaping the judicial branch long beyond President Trump's time in office; taken as a whole Donald Trump's decisions in these final weeks could influence everything from immigration to the environment to US foreign policy. Joining me now is Nancy Cook, the White House reporter for Politico. Nancy thanks for being with me.
Nancy Cook: Thanks so much for having me.
Tanzina: You mentioned Mark Meadows has a stack of about 15 executive actions or orders that President Trump can take before leaving office, which one stand out to you?
Nancy: There's a few different ones. One they are thinking about, or they're trying to finalize a rule that would really restrict and limit H-1B visas that are so key to both allowing people to come to this country to work, but then also just they're really important to a lot of major companies. That's a really key one that they're trying to finalize. There's a lot of discussion about taking really sharp action through executive order towards China, either doubling down on sanctions or trying to restrict apps or computer interfaces that are made out of China, that's a big one.
I think overall, the big picture is just that the Trump administration is really intent on trying to gum up Biden's transition and his efforts to govern when he first comes in. They're trying to do all these sweeping things to both cement their conservative policy and also just give the Biden administration some headaches when they first come into office.
Tanzina: Sounds very diplomatic, and I'm being obviously sarcastic there, but how complicated will it be for President-elect Biden to undo some of these executive orders and actions? When he assumes office, doesn't he also have the power of the pen to undo the executive order with another executive order?
Nancy: He does. The Biden people have said that as soon as he comes into office, they have plans for him to sign tons of executive orders on everything from public health to environmental orders. Really he's going to try to overturn a bunch of the Trump executive orders that way and that's actually really easy to do. What becomes much trickier is, all of these last-minute rules that federal agencies are finalizing, that can take up to a year to undo. You have to do an analysis of them, you have to open them up for comment, there's a whole process.
All of the rules that are finalized, including that immigration rule that I just mentioned, those could take at least a year to undo. That's a really big thing. You have to remember more broadly, the Trump administration is also considering things like withdrawing all the troops from Afghanistan. That's not a rule or executive order but that would be a huge policy shift that would give the Biden administration a major foreign policy challenge to deal with as soon as they come into office, in addition to dealing with things like the recession and the pandemic.
Tanzina: Speaking of the pandemic, there's also limits to how much President-elect Joe Biden's team has had time to spend with the folks who are actually on the Trump administration's COVID-19 task force. Has that changed at all?
Nancy: That hasn't changed and so what we've seen is the Trump administration is still blocking the Biden team's access to federal agencies, which means in addition to people not being able to access briefing books or intel briefings, it means that they are not able to access plans to distribute the vaccine when there's one available. They're not able to access plans about how to deal with a pandemic in the next few months. They're not able to have contact with top health officials, even if the Trump administration has sidelined those people, right now the Biden people don't have access to those people.
President-elect Biden has come up with his own COVID task force, and he has some good people working for him, smart, experienced people, but if you can't access those internal plans, and you can't look at how they'll distribute vaccines. That makes it very hard to walk into a situation on January 20th and just start from there.
Tanzina: You said that President Trump is doing this for two reasons; one to muck up the situation and make it difficult for the Biden ministration to hit the ground running on day one, but the other is to solidify their conservative ideology. Are Americans really the people who are going to benefit from any of these last-minute executive orders or are these executive orders more meant to benefit special interests that have been supporting the GOP, not average Americans?
Nancy: I don't think that they will benefit average Americans at all. Another thing that the Trump administration has been doing is the Treasury Department had this whole lending program with the Federal Reserve that was supposed to help businesses during the pandemic and during the fallout for business at that. Treasury Secretary Mnuchin announced last week that he was going to end that at the end of December. That's another key way that they're going to gum up the Biden administration.
Ending economic aid at a time when unemployment is high, businesses are facing potentially more lockdowns, the moratorium on evictions is ending, that's really just a way that it really hurts the economy and it hurts the Biden team's ability to come in and respond quickly to try to help people who are struggling.
Tanzina: We know that President Trump is not the first president to attempt to put in last-minute executive action plan, but how does his plan compare to other presidents? Is he being more aggressive here?
Nancy: Presidents in the past typically have issued a bunch of last-minute regulations, wonky people call them midnight regulations. It's basically every administration tries to pass like a flurry of conservative or liberal rules and finalize them. Bush did this, Obama did this. That's not unusual. What is unusual at this particular moment is the breadth of things, policy things that the Trump administration is doing.
Major changes on foreign policy like withdrawing troops from Afghanistan and Dina's Treasury fund that I mentioned, all of the flurry of executive orders. The breath is what is remarkable; we haven't really seen that before. Also, just the fact that Trump he won't concede, he's still denying Biden as the winner of the election. That's pretty unprecedented too.
Tanzina: There's the denial, or the lack of a concession, which he's not obligated to do, but then there's the fact that the GSA is not allowed or has not really move forward on making this the official president-elect and making that transition process seamless. The president's lack of a concession is one thing, but there are actual limitations to how much the transition team is actually doing to facilitate the new administration, isn't that right?
Nancy: With the GSA administrator refusing to certify the results of the election, that means that the Biden team can't access millions of dollars in transition funds. They can't get national security briefings, they can't get transition office space, they can't go into federal agencies, they can't get briefing books that the Trump administration and all these agencies would have prepared to tell them like, "Here's the status of all these programs."
It's actually a huge deal because it just means the federal government's so much bigger than the White House, the Biden administration is going to be inheriting all of these different agencies that they'll need to run, that run all these policies that affect all Americans. Everything from like food stamps, to health care, to immigration, and without the Biden administration being able to move ahead with that it really does limit them, and it limits what they can do.
Tanzina: Nancy, does it also present a national security issue for us as we are in a transition?
Nancy: Absolutely. What it means is that Senator Harris is still receiving intel briefings as a member of the Senate, but President-elect Biden has not received those intel briefings. It means he's not in the loop on all the national security threats that the US faces now. He has experts advising him, but they don't have access to the presidential daily briefing, they don't know exactly what is happening. It means that he doesn't have any of that and it just creates a sense of chaos at a key moment for the United States.
Anytime that power transfers from one party to another or there's a new occupant of the White House or the Senate changes hands, that's always a moment when foreign interests could step in and create chaos or do something. You really want everyone to be prepared and on the same page, and it does create a national security risk for the Biden team not having that information.
Tanzina: There have also been a series of firings. We know that the President is not very graceful when it comes to firing members of his administration, but in particular speaking of national security concerns, the Secretary of Defense Mark Esper was just fired. Who else is vulnerable right now?
Nancy: For weeks I have been hearing even before the election that the president really wants to fire the FBI Director Christopher Wray and the CIA Director, Gina Haspel. He is very mad at both of them for feeling like they did not undertake investigations that he wanted. The thing that I'll be watching is, does he fire both the FBI director and the CIA director at the same time as he's denying Biden National Security briefings because that would just create a really, another moment of weakness in our national security, having acting or new people coming into those very key jobs and it would just be a lack of continuity.
Tanzina: Would that indicate that Esper, Wray, and Haspel would not be able to communicate with the Biden team after they take office, or would just make it more difficult if they were fired?
Nancy: It would just make it more difficult if they were fired. Right now, it would take a while for Biden to, even when he does pick, let's say-- news broke last night that he had picked his secretary of state. That's great that he's picked that person, but first, he has to be inaugurated, and then all of those picks have to be confirmed by the Senate. There would, of course, be a lag time in terms of people overtaking the agencies, that's natural.
I think that what transition experts always hope, and this is true of both Republican and Democratic administrations is that there's not a lot of chaos during this time and period. There's not people getting fired, there's not a whole change of leadership multiple times at federal agencies and I think that's what worries people.
Tanzina: Nancy, you mentioned the word chaos, this feels like deliberate chaos in a moment where we are facing as a country, hundreds of thousands of Americans dying from COVID-19, economic insecurity, and the potential for national security disarray. This feels like an added chaos coming from the administration.
Nancy: It certainly is. The president likes to create chaos and he's always thrived on a certain amount of chaos, he is always at the center of it and likes to create it, but I think that this is just a particularly perilous moment because there is the transfer of power and the country is just facing so many things. We're in the middle of a pandemic, which the last time that happened was a hundred years ago. There's an economic downturn.
It's such a fragile moment for the country and when you add on top of that, just the idea that there's not this peaceful transfer of power, that information is not getting to people that it needs to get to, I think it just raises the stake so much.
Tanzina: Nancy Cook is a White House reporter for Politico. Nancy thanks so much.
Nancy: Thanks for having me.
Copyright © 2020 New York Public Radio. All rights reserved. Visit our website terms of use at www.wnyc.org for further information.
New York Public Radio transcripts are created on a rush deadline, often by contractors. This text may not be in its final form and may be updated or revised in the future. Accuracy and availability may vary. The authoritative record of New York Public Radio's programming is the audio record.