What the U.S. Withdrawal from Afghanistan Will Mean for Veterans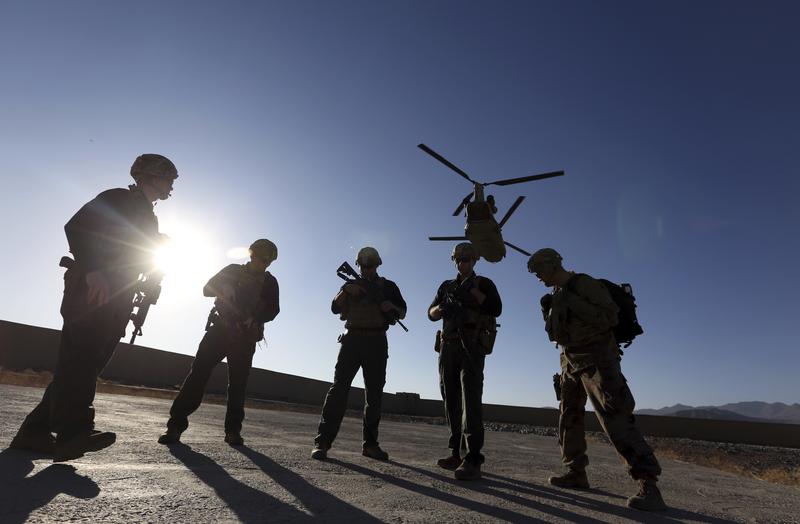 Transcript
Melissa: Okay, everyone, for the rest of this hour, we're going to be talking about our veterans who are returning home from the war in Afghanistan, because the US withdrawal from Afghanistan will be complete as of August 31. Coming home is not the end of combat for many of our servicemen and women. Many veterans of the war in Afghanistan will face physical, emotional, and financial battles for decades.
To get some perspective on this, The Takeaway spoke to a veteran of the wars in Iraq and Afghanistan, a marine, who knows all too well what it's like to return home.
Timothy Kudo: My name is Timothy Kudo, I am a marine veteran of Iraq and Afghanistan. I think the feelings that I've had since President Biden announced that the war was going to come to an end this year have been incredibly mixed. At first, there was a twofold response. One was relief that this war that it's taken so many American and Afghan lives is finally coming to an end, after so much senseless tragedy. On the other hand, given what I experienced over there, the men in my unit who died over there, there's a tremendous sense that everything that we did was in vain.
Melissa: Tim did his best to try to explain to us what he says is simply inexplicable.
Timothy Kudo: When you return and you've killed people and you've seen men die, you've lost people under your command, you realize that, for the rest of your life, you're never going to be the same.
Melissa: For Tim, it's the seemingly never-ending nature of America's war in Afghanistan. This has been so deeply frustrating.
Timothy Kudo: When I got back from Afghanistan, it's around 2011, shortly thereafter, Osama bin Laden was killed. That created a huge mix of emotions, given that my impetus for joining and becoming interested in the military was 9/11, but I realized that the war that I had just come back from was still going on, and it was going to go on for quite a while. We hoped that it would end then, but it didn't obviously. 10 years later, we're still fighting it.
Melissa: For those who serve, the cost of war cannot be calculated on a spreadsheet.
Timothy Kudo: It's very difficult to convey that to someone. Your friends and family, they don't understand it, they'll never understand it. They expect you to be that person that you thought you would be able to be when you come back. When you're not, you have a choice to make of either withdrawing, disconnecting from everyone in your life, or frankly, lying to them. I think that what you end up doing, what most people end up doing is living in that lie a little bit.
It creates a distance that they're forced to live in for the rest of their lives. I think, even now, it's not something that I could talk about or explain to anyone, even if I did talk about it, they would never understand. That creates an incredibly difficult place to live your life. Unfortunately, that's just the way it is. That's what were costs for the person who fights in it.
Melissa: The reality for Tim is this.
Timothy Kudo: There is a kind of moral and spiritual damage that war does, that cannot be dealt with by the government or by anyone else in your life.
Melissa: That was Tim Kudo, marine veteran of the wars in Afghanistan and Iraq. We appreciate his service and we are so grateful for his words. We asked you out there what words of things or encouragement you have for veterans returning from Afghanistan.
Mary: Hi, this is Mary from Philadelphia. Thank you for your courageous and persistent service in a thankless and perilous endeavor. Welcome home.
Leah: Hi, my name is Leah. I'm calling from Waynesburg, Ohio. For the veterans who are returning from Afghanistan, I hope that, when you come back, you be the person that you imagined yourself fighting for. The person who seeks justice, the person who upholds constitutionality, and make your values known to the American people. You've been so politicized while you were deployed, make sure that you're telling us the things that you really value.
Colleen: Hi, this is Colleen from Portland, Oregon. I would like to promise the veterans that we will try to do a better job of taking care of you than previous generations have. You deserve more, and we're going to break the habit that America has of just leaving our veterans out to dry as soon as they're home. We love you and we're going to take care of you.
Ronnie: Hi, I'm Ronnie from northern Wisconsin. I want to say thank you for your personal and family sacrifices that were made while you were overseas. I hope that your service to this country and the support of our military provide for a better place for mankind, not only in Afghanistan but for the world.
Deborah: I'm Deborah from Brooklyn, New York. I cannot possibly thank our veterans enough for their sacrifices in carrying out US policy in Afghanistan. I'm a Vietnam-era vet, so I really understand, on a personal level, the sacrifices that not only the veterans, but their families make on behalf of a country that very often seems indifferent to them. Saying thank you for your service is not enough. We really have to do more.
Melissa: As the final soldiers, sailors, marines, and airmen arrive home from Afghanistan, our nation faces the question of how we can keep the promise that Colleen from Portland just expressed in her call, how can we do a better job for our veterans? With me now to discuss is representative Colin Allred, the Democrat from Texas, and a member of the House Committee on Veterans' Affairs and Foreign Affairs. Welcome back to The Takeaway.
Congressman: So much for having me.
Melissa: And Jeremy Butler, CEO of Iraq and Afghanistan Veterans of America, and a veteran of the US Navy, and still a member of the Reserves. Thank you for being here, Jeremy. Jeremy: Thank you, Melissa.
Melissa: Congressman, I want to start with you. You're a member of the House Committee on Veterans' Affairs. What work are you doing right now to keep that promise that we heard to do a better job?
Congressman: It's a great sentiment and it's one that- a promise that we do have to keep as a nation, to the folks who we deployed to Afghanistan, who did complete their mission, which was to prevent any attacks on the homeland that we saw on 9/11. We know that our veterans who have been deployed to Afghanistan have faced prolong, toxic exposure of varying types. I saw that myself when I was in Afghanistan. Just the air quality in Kabul itself is toxic. It's like breathing out of an exhaust pipe.
The post-9/11 generation of our veterans have been deployed to Afghanistan and Iraq. We are seeing much higher rates of suicide and mental health challenges associated with their service. In the Veterans' Affairs Committee, we've worked to try and address those specific things. We just recently passed out of our committee package of bills that will recognize toxic exposure as a cost of war instead of placing the burden on the veteran to prove that their exposure and their injury related to that was caused by their service.
We're going to create a presumption that that service led to that injury and to that disease, if that's what they're dealing with. We also passed at the end of the last congressional term, they had an act to provide more resources and focus within the VA Health System to address mental health and to try and help us address the tragedy of us losing 17 veterans a day into suicide.
There's more to do. I'm working here locally in my community, we just got a new VA hospital opened last year here in my community, that worked very hard on having a hospital that had been basically abandoned, turned into a VA facility. We are certainly aware of the commitment. In our committee, we're going to do everything we can to try and meet it.
Melissa: Jeremy, according to the VA, this new generation of veterans, and this is a quote, "Characterized by an increased number of reservists and National Guard members who served in combat zones, a higher proportion of women and a different pattern of injuries, such as multiple injuries from explosions than we're seeing among veterans of previous wars." Jeremy, can you help us to understand how those kinds of differences might mean that there are different needs post-combat for this new generation of veterans?
Jeremy: Absolutely. Also, before I start, just to applaud and double down on everything the representatable already said. We work very closely with the House and Senate VA committees, and especially on all those issues that he just discussed. Those are top priorities for my organization and all the members we represent. You're absolutely right, the post-9/11 conflicts have ushered in some new issues, but also resurfaced some of the existing issues that veterans have been dealing with for a long time in terms of things like the invisible wounds of war that we talk about as being some of the signature issues coming out of the post-9/11 conflicts.
We are talking about things that people can't necessarily see. That's like the traumatic brain injuries that come from being around so many concussive forces, not just things like IEDs, but also just repeated gunshots, explosive charges that are used in training and real-world missions by our forces. You've got that, but then that carries over to things like post-traumatic stress, untreated mental health care issues that can be caused by these issues, some of which we know have existed for our Vietnam-era veterans as well, for example.
There's ultimately what we really need to be doing is just to make sure that the VA is ready and prepared to take care of all these things, in addition to the fact that we have many more women serving in combat and on the front lines today. We need to make sure that our VA facilities are able and ready to accept them, to care for them, and to give them the resources that they need.
Melissa: Congressman, is the VA ready? Are the resources there and available?
Congressman: We are certainly working hard to make the VA ready. I think that the VA health system has made tremendous strides in recent years, trying to modernize some of the technology that they use. We're putting a lot of money into facilities. We did that in the American Rescue Plan and we'll continue to do that going forward. We are doing things like the Blue Water Sailors Act which referenced the Vietnam-era veterans face exposures to things like Agent Orange that was previously a difficult thing for them to try and get benefits and covered for.
We've now removed that barrier. We're trying to do the same thing for our veterans of post-9/11 conflicts, but there's always more to do. We also have to recognize the VA is an enormous bureaucracy. It's the largest integrated healthcare system in the country on the VA healthcare side. There's going to be a continuing effort to try and make it more efficient. Let's try and reduce wait times, to try and make sure that we're being more proactive. As I'm sure, anyone who's served would tell you, we have to do more also on the DOD side when our folks are transitioning out of service, to make sure that they're aware of what the benefits that are available to them are, because so many of our veterans don't know what benefits are available to them. We have to do more on the VA side to do that outreach, but we also have to capture while we have them still within DOD, make sure that we're educating them on their way out.
Melissa: Jeremy, I want to talk a little bit about politics. This is typically our politics show, and we've been talking about politics earlier in the show, but it is dicey business to talk politics in the context of military service and our veterans. We don't want to turn veteran's affairs into a question of a partisan political football, and yet, we want vets to be registered to vote, to be speaking in their many diverse voices about what they want. How do we do politics in a reasonable, responsible, non-partisan way on behalf of veterans so that veterans can do it for themselves?
Jeremy: That's a great question. I appreciate. I'll say two things. One, I give a lot of credit to the House and Senate Veterans' Affairs committees of whichever they've [unintelligible 00:12:16] on, because it is one of the few places, I think, within Congress where you'll see real bipartisan working together to make sure that we're taking care of our veterans. It's part of the pleasure of my job, is to get to work with folks on both sides of the aisle, within the House and Senate VA committees, because they really do see it that way. They see it as a non-partisan issue where we really just need to take care of our veterans. It's not to say that partisan politics doesn't come into it. Certainly when you start talking about individual veterans, everyone has a very different voice. You mentioned it. I think it's worth repeating, because a lot of people, especially those that don't have a connection to the military veteran, don't realize how diverse the military, and then therefore by extension, the veteran community, is. It really is a very diverse group of individuals from both sides of the aisle to include independence.
I think understanding that and realizing that anytime you have someone that says they're doing X, Y, and Z for the veterans, or they're doing this for the military, or "I'm taking this stance because of the military," they have to understand that it's a very broad and diverse community, and we need to let veterans speak for themselves because they often are. There's a lot of groups like mine and many others where we spend time on Capitol hill doing things like encouraging members of Congress to connect with the veterans in their community, hear firsthand from them about the issues that they're facing, because it really is a broad range of issues.
We do encourage veterans to get out and vote in a non-partisan way. Many veterans do have a wide range of feelings on different issues. I think what's most important is to let the veterans speak for themselves. The members of Congress say that they're necessarily doing this for the veterans. Question them a little bit more to find out exactly what it is that they're doing and how their actions are going to directly support the veteran community.
Melissa: Thank you so much for that, Jeremy. Congressman, I want to come to you on that because some of these invisible needs, some of these things that end up as political footballs actually have disproportionate impact on veterans. I work with a Diaper Bank here in North Carolina. I have a passion for diapers. I was so shocked to learn that it is our military families and our veterans' families who have some of the highest diaper need, some of the greatest poverty rates in our state here in North Carolina.
I suppose I was a bit naive that those kinds of day-to-day needs are so intense for so many members of our military and of our veterans. How do we address questions of housing insecurity, poverty, and even things as simple as diaper need among our military families and veterans?
Congressman: It's such a good question. It's a real tragedy, one that has concerned me for some time and that we're working on our committee, and it's going to take a whole of government approach, because when you're talking about housing, of course you need to have HUD involved. I used to actually work at HUD in the Obama administration. We worked very hard on trying to end veterans' homelessness.
About a third of all veterans say they had trouble paying their bills in the first few years after they leave their military service, and almost 30% are receiving unemployment benefits. You're absolutely right that we have enormous economic challenges for veterans. One of the things that we've worked hard to try and do, both here locally and nationally in our committee, is to make sure that employers understand how good of employees veterans are and how much of a benefit they can be to their companies.
The best thing to do, of course, for any person who wants to make their way is to make sure they can get into a good job, get into a good career and feel like their needs are going to be met there. Corporate America has, I think, taken some steps in the right direction here, but we have a lot more work to do not to make sure that the talents, the skills that our veterans developed and have from their service, that those are appreciated as much as possible in civilian life, and then, of course, that we fill the gaps on the backside in terms of when something happens, because one in five veterans returning from Iraq and Afghanistan, I've been reported, [unintelligible 00:16:24] PTS.
We know that we're dealing with a very high percentage of folks who are struggling. We have to provide them with the wrap-around services that allow them to then thrive. [unintelligible 00:16:37], of course, talking about are disabled vets who are suffering from injuries that they received over the course of their service. There's so much for us to do, but it has to be every single area, really, of our government to try and provide help, because, I think, part of the commitment to our veterans you've put in harms way has to be that when you're done, we're going to do everything we can as a nation to not only take care of your health, but to take care of your chance to chase your version of the American dream for the rest of your time.
I think that's an ongoing commitment. It's one that I certainly believe in. I think our committee, in a bipartisan way, as Jeremy said, believes in, but we know that there's a lot of work to do, and there were some gaps that still have to be filled. I do think we've made some progress, but there's still much more to do.
Melissa: Jeremy, make this personal for me, for those of us who love and care about, are in relation with, our sisters and brothers and family members of those who have served, not all this can be done by the government, what can we do for those who are returning home?
Jeremy: Thank you for asking that because it's a great question. It is something that I wanted to add to what a representative already was saying. All of these changes need to take place. I think the biggest thing that everyone can do is to know how to help a veteran that's in need. A lot of our veterans might not be eligible for the VA for a variety of reasons, or frankly, they might not be comfortable anymore with using the VA.
They may have had a bad experience and they're just frustrated with the bureaucracy or whatever it might be. I think the biggest thing that everyone should know is where to send a veteran that's in need. There's a lot of resources out there. I will plug certainly just at a minimum IAVA's own quick reaction force. We have a 24/7 hotline, 855-91-RAPID. You can also go to our website to get access. You'll get connected to a veteran counselor who can help you, any veteran, any era, any discharge status and their family members to connect them to the resources that they need.
To the point that you were making earlier, three of the top five reasons veterans come to us for support or financially related, it might be housing, or homelessness, or unemployment, just emergency, financial needs, but three of the top five are financial related. The other two are help accessing the VA and mental health problems. It really does reinforce the fact that these are some of the key issues that our veterans are facing. I think really, at the end of the day, the biggest thing that everyone can do is know where to turn, to help veterans that are coming to them for help.
Melissa: Jeremy, will you give us that number one more time?
Jeremy: Absolutely. It's 855-91-RAPID, or just go to iava.org and you can click on our quick reaction force. They can help you 24/7, 365 days a year.
Melissa: Jeremy Butler, CEO of Iraq and Afghanistan veterans of America, and representative Colin Allred, member of the House Committee on Veterans' Affairs. Thank you both for joining us.
Jeremy: Thank you.
Congressman: Thanks for having me.
Copyright © 2021 New York Public Radio. All rights reserved. Visit our website terms of use at www.wnyc.org for further information.
New York Public Radio transcripts are created on a rush deadline, often by contractors. This text may not be in its final form and may be updated or revised in the future. Accuracy and availability may vary. The authoritative record of New York Public Radio's programming is the audio record.