Why Does Broadway Keep Doing Drag?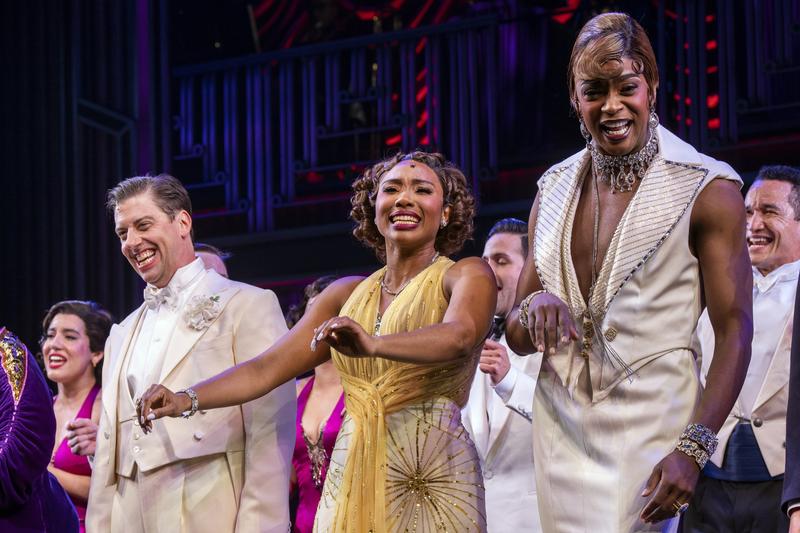 Transcript
[music]
Melissa Harris-Perry: It's The Takeaway. I'm Melissa Harris-Perry.
[music]
Melissa: That's the title song from the new Broadway musical, Some Like It Hot. It's an adaptation of the 1959 movie that starred Jack Lemmon, Tony Curtis, and Marilyn Monroe, with a few notable differences.
Harrison Ghee: I'm J. Harrison Ghee and I play Jerry/Daphne in the Some Like It Hot the Musical, now on Broadway. Jerry is a musician in Chicago. During the Great Depression, he witnesses a crime with his friend Joe. We go on the run. Along the way Jerry finds Daphne, an extension and a fuller version of himself.
Melissa: On the run from the mob during prohibition, Jerry and Joe Don Wigs and women's clothing to disguise themselves, but in this version of the story, the drag doesn't remain a costume.
Harrison: Daphne ends the show in a very non-binary place ahead of their time. They're not words, there's not terminology for it in the 1930s, but it's just this freedom of a fuller version of a human being. These stories have always existed, and we are just doing a 1933 show without the 1933 lens, and not using the trope of men in dresses as a crutch.
Melissa: The 1959 movie has been acclaimed as one of the best comedy films of all time, and a lot of that comedy hinges on one trick, men in dresses. Now, the musical attempts to assuage the tension between historic and often harmful portrayals of drag, and the rich reality of drag as art, self-expression, and everything in between.
Harrison: It is a blessing for me personally to be able to be in such a show and to show people. Even that old-school thing you love there is representation, and there's life, and there's newness, and there is depth, and complexity, and truth, and authenticity.
Melissa: How did drag become and remain such a staple of comedic theater? What do these stories mean during this time of rising hatred and violence against drag performers, and gender-nonconforming folk?
Domenick Scudera: We start in ancient Greece. In those times only male performers were allowed on the stage. They played all of the roles. My name is Domenick Scudera, I am professor of theater at Ursinus College. I specialize in the history of drag performance. I'm also a drag performer.
Melissa: Dominic teaches a class titled The History of Drag Performance from Shakespeare to RuPaul. He gave me a crash course.
Domenick: They used masks at that time and they would trade off the different masks to show the audience which part they were playing. Think back to some of the great Greek characters like Medea and Antigone. Those were played originally by male-identifying actors, and that was the norm in most cultures around the globe for centuries. Women were not allowed on the stage, all the way through till the 17th century. Shakespeare's time as well, all of Shakespeare's plays were performed by a company of men. The characters there were originated by men such as Juliet in Romeo and Juliet, that was a male performer. It was what they would expect. It would be highly unusual for a woman to be on stage.
Melissa: Tell me then how if we were doing the history of drag, how the drag performances of today are different than that exclusionary and troubling history?
Domenick: If we look through many different cultures and times, the reasons why somebody is performing as another gender shifts and changes. Today we are able to have any gender on stage without it being improper. Somebody then to take on a drag role or to perform in drag, when you get to the last say 20 or 30 years, it's become something that is its own art form. Separate from theater say of Shakespeare's time or beyond that. Now drag is its own entity.
RuPaul really did help to make the performance style explode in our culture, and it became more of a tool for empowerment. Mainly gay men and trans women being able to put themselves out in the world in a proud way without feeling shame to say this is who I am. In fact, this is the best parts of who I am that is different than in times past. It's become something beyond a necessity. It's now a choice and the choice is to be a performer who is impervious to criticism.
Melissa: Yet there are these multiple contemporary uses on Broadway in Hollywood. One is that tradition of men in drag playing women characters, but where the drag is a costume but not part of the plot. Another is where drag is actually part of the show itself, so Mrs. Doubtfire, Tootsie, Some Like It Hot.
Domenick: Absolutely. There's a tradition of that if you go back to say Milton Berle in the 1950s on television, very popular, was creating these characters that really when you look back on them are quite demeaning to women, him in a dress is just meant to be funny. More recently when you get to films that have been turned into Broadway shows like Tootsie, or Mrs. Doubtfire, there's some narrative where there's a self-growth in those stories, but yet they still are starting to feel in today's world a little dated. Something like Some Like It Hot which exists in that realm, but maybe one of the characters realizes something about their identity that they hadn't realized before that is tied to gender.
We're starting to see more of that in Broadway shows and other entertainments as well where non-binary and trans identity is allowable in these stories of gender swapping. A few years ago was a Broadway show Head Over Heels which was a Go-Go's musical but they added a non-binary character that was played by Peppermint who is a trans performer and also a drag performer who was on RuPaul's Drag Race. That was the first time that we see a lead role played by an out-trans performer, and the role itself is meant to be a non-binary character. That's something that's really brand new.
Melissa: Come to this moment of 21st-century revision of Some like It hot, and help me understand the value of doing this revision versus, I don't know, maybe just saying, you know what, this show doesn't work anymore. We know things now and understand the ways that harm is perpetuated, so we're just going to set this aside.
Domenick: I feel it's important to recognize where we've come from. You can't ignore the doors that were broken down in the past because we are now so much further along. Even though some of those older tropes are harmful to us today, we have to recognize that in their day they were taking us a step forward that allowed us to get to where we are today. Something like Some like It Hot, that was a very popular movie. It's considered one of the greatest film comedies of all time.
It happens to be about gender-swapping and what that means, and what it can do. We can't ignore that had to have had some impact in its day, but today you don't want to present it perhaps in the exact same way. We want to make sure that we are sensitive to the world that we understand in a more non-binary existence. How that story can still break some ground and still make us laugh, but hopefully make us think as well.
Melissa: As a historian of and a performer of drag, why do you think it is such an enduring art form?
Domenick: When I am in drag and I'm at a drag show, there's something so exciting about being able to take on a persona that is so open, and unafraid, and goes beyond what people will expect of you. Sometimes I surprise myself because I will say and do things that I would never do as a regular person walking around. It opens up so many possibilities on a personal level, but it also allows me to get to know people and connect with people in ways that I would never be able to do otherwise. Because we're suddenly breaking free of the boundaries that we're all asked to conform to in our society.
We're saying we're going to throw those aside and let's just connect as soul to soul rather than a gender to another gender, or something like that. We're throwing aside all of those conformities and expectations, and that allows us to really see each other for who we are. RuPaul always says we're born naked and the rest is drag. Anything that we put on in our daily lives is creating an identity that we want to relate to the rest of the world.
When you become a drag performer, you are choosing often to go outside of what's expected of you. That is not exclusive to male-identifying performers. The gender of the performer isn't necessarily as important as the choice of performance that that person is taking on. Anybody could be a drag performer, it doesn't make a difference what the gender of that person is.
Melissa: Domenick Scudera is a Professor of Theater at Ursinus College specializing in the history of drag. Domenick, thank you so much for joining us.
Domenick: Thank you. It's been a pleasure to talk to you.
Melissa: What does it take to get an authentic gender non-conforming story to Broadway? That's next. It's The Takeaway.
[music]
It's The Takeaway. I'm Melissa Harris-Perry. From Season 9 of RuPaul's Drag Race, that's drag star actress and ambassador for Trans Justice at the ACLU, Peppermint.
Peppermint: Hey, it's me Peppermint.
Melissa: In 2018, Peppermint became the first out transwoman to originate a lead role in a Broadway Musical. She played the non-binary character, Pythio in Head Over Heels. She knows firsthand what an uphill battle it can be to present authentic, gender-non-conforming stories on Broadway. She sat down with The Takeaway to give us her take.
Peppermint: One of the things that I remember is one of my professors telling me that basically they didn't write roles for "People like me on Broadway" and that I really didn't have an opportunity. That wasn't a lie as much as it hurt, it wasn't really something that producers and Broadway creators were focusing on. Many years later after my turn on RuPaul's Drag Race, I had the opportunity to audition for Head Over Heels and it changed my life. It was also really great because the role itself was non-binary. That was historic in and of itself as having a lead character in a Broadway show to be a non-binary character, which is not something that most Broadway shows do. It was a great first foray into Broadway.
Melissa: Then talk to me about Broadway's approach to trans inclusivity and trans representation.
Peppermint: I think many queer people view the arts in general as not only something that could come natural but a safe space. Because it's creative and artistic and it is the business of telling stories, Broadway and Hollywood. What I was unprepared to grapple with was the business of professional theater Broadway, the producers, and the gatekeepers. These are people who are in power, who have been in power, making all the decisions, casting everything from who's in the play to what the play is.
Who's also making most of the money from the play, who probably want to bank on something that they know the majority of people in this country are going to want to go and see or can identify with. You can have all of the queer, or people of color, or disabled, the most diverse group of young human beings coming to perform. The people who really call the shots that group does not look as diverse as the people who are on stage. It never has and it might not for at least a few more years.
Melissa: I want you to talk a little bit about some Some Like It Hot, it features a non-binary star in a role that eventually becomes a non-binary role. I'm wondering if that tells us something about Broadway's approach to representation.
Peppermint: It tells us that Broadway at the very least that the producers and the people who are calling the shots on Broadway are aware that the world is changing, and that it's high time that we make some space. Not to be labor 2020 but most of us had no choice but to really face the music as it were, and really have these conversations that needed to be heard. It was just time obviously. There were certain industries that could not escape it.
That's the world where Broadway paused for the pandemic. Now, this is basically the first year after the pandemic for Broadway I do think where we have come to in taking a moment to really question, because Broadway and Hollywood, and entertainment loves telling their version-- I stress their version of a queer story. The hit movie Tootsie turned into the musical Tootsie. Broadway has a habit of taking movies and turning them into musicals lately.
There was a time when people would sit down and write a story from scratch, but reproducing, and repurposing, reviving previous works was a guarantee that they'll be able to sell some tickets in a world where theater is not the mainstay. There's so many people who've never even seen a Broadway show. The Broadway producers are aware of this, so their answer to that is let's get things that are fashionable, movies that everyone loves.
That's where we are now. I'm taking classic plays and musicals and movies like Pretty Woman, Tootsie, which is about a straight man who has a hard time getting a job and says, "You know what, the best way to make a break in the professional corporate working world is to be a woman." What is the story? He dresses in, I guess, drag and suddenly he's like miss thing, and everyone's like so lucrative and so great.
It says a lot about the world of drag and the world of transness in Broadway. In the story you can be successful as a trans person or a drag entertainer but not in real life. These stories that are classic stories have been brought back to the Broadway stage. Now post 2020, they're like wait a minute, this cast of Pretty Woman in the movie is like 99.99999% straight and white.
The answer for most of them is let's still do Pretty Woman, but just have a Black woman tell that story. Let's have a trans person in this role. Let's have a queer person or a non-binary person in this role. I think this is wonderful progress. It's a wonderful step to hire these actors. Where I would like to see us is us telling our own stories. I don't want to be the Black girl who's cast as Julia Roberts.
What they used to call non-traditional casting is they would basically put a person of color or someone who was a "minority" into a role that was traditionally held by a white person and a heterosexual person and a cisgender person. It still doesn't tell the story of Black America, of Queer America, of Trans America. It doesn't tell that story and I think that's a story that's worthy of being told by us by ourselves.
Melissa: The idea that simply a man in a dress is the punchline. Talk to me about what that means both for drag as a complex performance arts and for trans folks.
Peppermint: If we're starting from the idea that every person is either only a man or a woman, every human being is a straight man or woman, and that nothing else exists. Then it is in that very, very narrow lens, I guess, funny if you see them doing something other than that. When he is in a dress something's wrong or this must be funny. He's pretending to be a woman. That's as far as it goes.
There are drag entertainers, and there's trans people, and then there's people who are neither of those two things, but men that just want to wear something different. All of these worlds exist. When we think of that reality then it's not quite so funny. Especially when we consider that these other groups that I just mentioned can face discrimination, that can turn into violence. Both discrimination systemically and then in your everyday life you can get chased down the street, beaten up, you can become victimized, sexually assaulted.
These are realities for a lot of people. When we the people who will live this life see that reality and then compare it to that moment in Tootsie, it feels really patronizing, and clearly these things are not aligning. The reason why shows like Pose were so historic wasn't just because it was about trans women in the ballroom scene. It was but it was also that many of the people behind the scenes directing, producing, writing were also transgenders. I would like Broadway to be able to enjoy that level of history in that authentic way.
Melissa: Peppermint is actor, drag entertainer, board member of GLAAD, Trans Justice ambassador of the ACLU. Thank you for talking with us today.
Peppermint: My pleasure. Thank you so much, Melissa.
Copyright © 2023 New York Public Radio. All rights reserved. Visit our website terms of use at www.wnyc.org for further information.
New York Public Radio transcripts are created on a rush deadline, often by contractors. This text may not be in its final form and may be updated or revised in the future. Accuracy and availability may vary. The authoritative record of New York Public Radio's programming is the audio record.