Could Ohio's Toxic Train Disaster Have Been Prevented?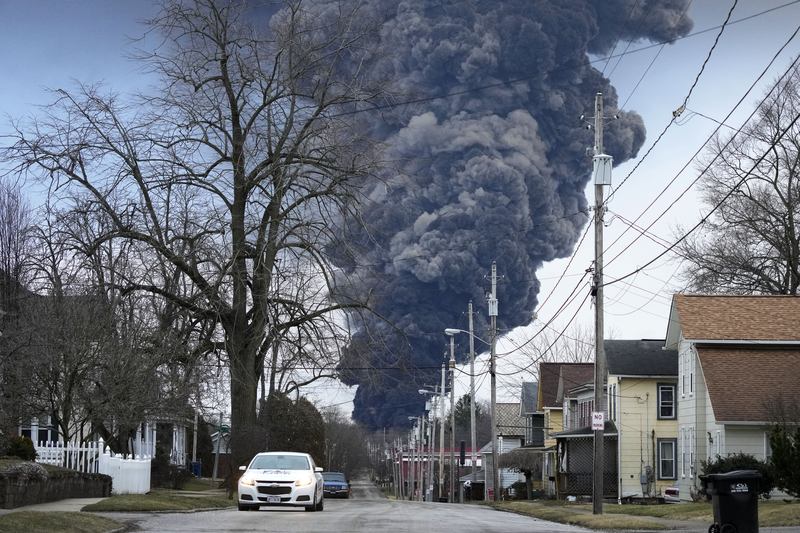 Transcript
[music]
Melissa Harris-Perry: This is The Takeaway. I'm Melissa Harris-Perry.
Resident: It smelled like really, really strong paint thinner, and then his eyes turned bloodshot, and he started coughing, and I was like, "We're leaving," we hurry up and grabbed as much as we could, and we took off.
Melissa Harris-Perry: Two weeks ago, a train carrying toxic chemicals through a small town in Eastern Ohio derailed in a fiery crash. Flames and black smoke filled the sky. About half of the residents in East Palestine and others in surrounding areas were ordered to evacuate their homes, while authorities issued a controlled release and burn of chemicals in the rail cars that were at risk of exploding.
Officials have been monitoring air, soil, and water quality due to the hazardous chemical spill. Last week, nearly a week after the derailment, Ohio Governor Mike DeWine said residents could safely return home. The environmental protection agency has released updates, saying it "has not detected any levels of concern in the community." Residents have slowly started to come back home. School reopened in East Palestine on Monday, but some residents have questioned just how safe it is to return. They spoke with WTAE Pittsburgh News.
Resident: I worry because nobody really knows. This is unusual for this to happen here. Even though they say it's okay now, of course, we're all concerned about it. We are.
Melissa Harris-Perry: Some residents are reporting a chemical smell in their homes.
Resident: Whenever I got back, it still smelled a little plasticky in the air. The second I walked into the house, the air was just heavy. It was thick. It was hard to breathe. I'm asthmatic, so I immediately hit my inhaler. I could tell it was hitting my chest.
Resident: Mattress, all my couches, they just smell of the chemicals, my clothes. We're in the midst of washing everything right now, trying to get the chemical smell out.
Melissa Harris-Perry: At this moment, it seems the only certainty is uncertainty. On Wednesday morning, I spoke with Matthew Cunningham-Cook. He's a reporter with The Lever, a national reader-supported investigative journalism outlet. What do we know about what caused the train to derail in East Palestine?
Matthew Cunningham-Cook: The broader situation is there's 90% less people working on the rails than there were 70 years ago. You have an older workforce that is tired. It's burnt out, and it's treated very poorly by the railroad industry. We've seen this discussion since August.
Melissa Harris-Perry: Matthew, I want you to pause for a second there because I don't want to miss the human connection. I'm not sure I thought that's where you were going to go. We ask that kind of question, and I'm expecting, "Oh, there was this physical thing." You went straight to human beings at the core of this.
Matthew Cunningham-Cook: We can't talk about a lack of safety on the rails if we're not listening to workers. The big thing here is that the rail unions have championed common sense safety improvements, whether it's making sure that rail workers are not working exhausted, one, or, two, are common sense technological improvements. The breaking technology that these trains use comes from 1868, and it's basically a ricochet braking system. The engine brakes, and then the first car brakes, and then the second car brakes, and then the third car brakes, and it's like a locking system, and so it's [makes sounds].
What these new modern electronically controlled pneumatic brakes would do is allow every car on the train to stop at the same time. These brakes are very common on Amtrak trains, and they're required for trains that use nuclear waste hazards, and the rail unions have championed them. The Obama administration tried to expand their use. Trump rolled that back. Biden and Buttigieg have not, at this point, attempted to bring back this expansion of these brakes. Every expert we talked to said that the scope of the disaster could have been significantly reduced or eliminated had these brakes been in place.
Melissa Harris-Perry: We've got tired workers who we've been covering here on The Takeaway, their battle for even a single day of sick leave. We've got tired workers, we've got a smaller workforce, fewer workers, and then you're telling me we are using 19th-century technology for freight trains. Is it massively more expensive to bring in these more-- can we just get to the 20th century, but just more modern braking system?
Matthew Cunningham-Cook: It's less than 1% of the costs that the railroads has spent on stock buybacks over the last decade. It's about a billion dollars to widespread implement ECP brakes. The cost is minimal compared to the massive gains in safety. The issue with less workers is that this 1868 technology is actually designed to have a much larger workforce. When you have this kind of ricochet braking system, you need to make sure that the train cars are in order in terms of weight, that the heaviest car is the closest to the engine, and the lightest car is farthest away from the engine.
Because when you have heavier train cars bumping into lighter train cars, it creates what's called in-train forces, which can trigger the derailments, and the rail union activists who we spoke to also said that they believed that was a contributing factor here, is that the train cars hadn't been put in proper order. When you have 900,000 less people working the rails than you did 70 years ago, that's basically a problem that you're going to have to live with. That's why these rail unions have been so aggressive in championing this revolutionary new technology.
Melissa Harris-Perry: Now, you did say that these brakes are required when carrying nuclear materials, but in this case, this was a train carrying high-hazard materials. Is that right? Talk to me about where that classification is and what kinds of materials were on this train.
Matthew Cunningham-Cook: That's part of the problem, is that this wasn't even classified as a high-hazard train, because they weren't carrying a sufficient amount of hazardous materials to meet that designation. The main dangerous material that they were carrying was vinyl chloride, critical component of creating vinyl, and it's highly flammable, it's highly combustible, and it's highly toxic. When it burns, it can turn into even more toxic things like hydrogen chloride.
The railroad industry, just like we see in other industries, like we saw with the 2008 financial crisis, has really taken advantage of massive levels of government underfunding of federal regulators, like the federal railroad administration or the surface transportation board. Also, frankly, has taken advantage of a lack of vision of the people leading these departments. People like Pete Buttigieg who really had very limited experience in this industry before rising to this position.
Really, it took him 10 days to comment on this, and we haven't heard the type of technical policy wonk type of stuff that we would have hoped to expect from somebody like Pete when he took this when we're dealing with a freight rail system that, frankly, is seeing massive deteriorations in service quality. That's a problem. Even if you exclude the safety issues, railroads are getting far slower than ever before, they're being far more aggressive with bullying their clients than ever before in terms of setting rates that don't make sense.
They're getting slower and slower at delivering things. Really, in my view, you can't look at the inflation that we saw in 2022 if you don't consider the ways in which we're not properly regulating railroads on the one hand, and the way that railroads are treating their workers on the other hand.
Melissa Harris-Perry: Quick break. We're right back with more on the continuing disaster of the Ohio train derailment right after this. This is The Takeaway, and we're talking with Matthew Cunningham-Cook, reporter with The Lever, a national reader-supported investigative journalism outlet. Matthew, you said so many connections there. We got to walk back through some of those.
Walk me through the connection between what's going on at the federal level, and you're calling out the Secretary of Transportation, Pete Buttigieg here, suggesting that maybe there isn't the kind of policy wonkiness, or I'm assuming you're talking about here, really, the technical capacities. What would you like to see from a Federal Secretary of Transportation in a moment like this?
Matthew Cunningham-Cook: Pete's Deputy, Polly Trottenberg, was the commissioner of the New York City Department of Transportation. She was a high-ranking official during the Obama administration. She really understands these issues on an instinctual level. That, I think, is the key thing, is we need somebody like her leading the department who really has deep understanding of these issues.
Now, at the state level, there's really significant issues as well. At this press conference yesterday, Governor DeWine said, "I have no power as a governor." One, which is just totally untrue. Two, he was like, "Congress needs to examine this HH, this high hazard frequency train designation." Which is correct. They do, but Mike DeWine was in Congress for 20 years while all this was happening in the Senate for 12 of those. This was a while ago, but he left the Senate in 2006.
Ohio has tons of railroads, and this is the first time that we've heard the Governor of Ohio speak out about train safety in the aftermath of a huge disaster, and that's a problem too. I think really what we need is this solid technical expertise combined with really understanding that if there's anybody who understands what it takes to make these rails safe, it's the workers doing it. We really need to start listening more to the rail workers when they say, "We need these brakes, we need sick leave, we need compensation so we can recruit newer people onto the rails, and we need a holistic system for analyzing how brittle our supply chains are."
I've said in some of our other media appearances, we were allowed to talk about supply chains from March to May 2020. Then it seems like it got totally pushed to the side again, and the fact is that in a globalized economy where at the same time we've been treating supply chain workers very poorly for the last 40 years, basically, something's got to give. We really need to start having a national strategy for ensuring that we have resilient, redundant supply chains.
That's both ensuring that we have the most modern technology, one, and two, that there's more workers doing this work, and that there's real redundancy here to ensure that when people retire, when people get sick, when there's a disaster, that we have a resilient supply chain system so that Americans can get their goods delivered to them at prices that are fair and affordable.
Melissa Harris-Perry: One last question as we go. Can you hop off the rails for a second and go into the community for me a bit? Talk to me about what you know or don't know right now about what folks are experiencing in the community. I live in Winston-Salem, North Carolina, and just over a year ago, there was a fertilizer plant fire here that released toxic chemicals, reduced air quality, shut schools, displaced people, all of that.
I've really been feeling this, and what these communities are undoubtedly going through, and a year later, there are many in our community-- media moves on, but many in our community still dealing with the effects of the Weaver fertilizer fire. Talk to me about what's happening in the communities impacted.
Matthew Cunningham-Cook: At this press conference yesterday that I attended, I was able to ask one critical question, and I got several emails and Twitter direct messages about it being-- from people in the community and the surrounding area, being like, "Thank you for asking questions because it seems like nobody is asking the critical questions of the administration here in Ohio about whether or not this is actually safe."
What we know is that there's a huge plume of chemicals flowing down the Ohio River right now. There's tons of municipal water systems, including the city of Cincinnati, that use the Ohio River. We're just basically doing it live, figuring out whether or not things are safe as this disaster unfolds. I think there's a lot of fear, there's a lot of anxiety, and I think that's correct. The state and federal government really fell down on the job in Flint. They fell down on the job on 9/11.
I think the press should really treat all claims made by any governmental official at this point with extreme skepticism. That's what we're working to do here at The Lever. We're planning on covering this issue very closely in the coming weeks.
Melissa Harris-Perry: Matthew Cunningham-Cook, a reporter with The Lever, which is a national reader-supported investigative journalism outlet. Matthew, I hope that you will also return here to The Takeaway to continue to be in conversation with us about this continuing story.
Matthew Cunningham-Cook: Thanks so much for having me on, Melissa. I appreciate it.
[music]
Copyright © 2023 New York Public Radio. All rights reserved. Visit our website terms of use at www.wnyc.org for further information.
New York Public Radio transcripts are created on a rush deadline, often by contractors. This text may not be in its final form and may be updated or revised in the future. Accuracy and availability may vary. The authoritative record of New York Public Radio's programming is the audio record.