In Texas, a New Surge of COVID-19 Cases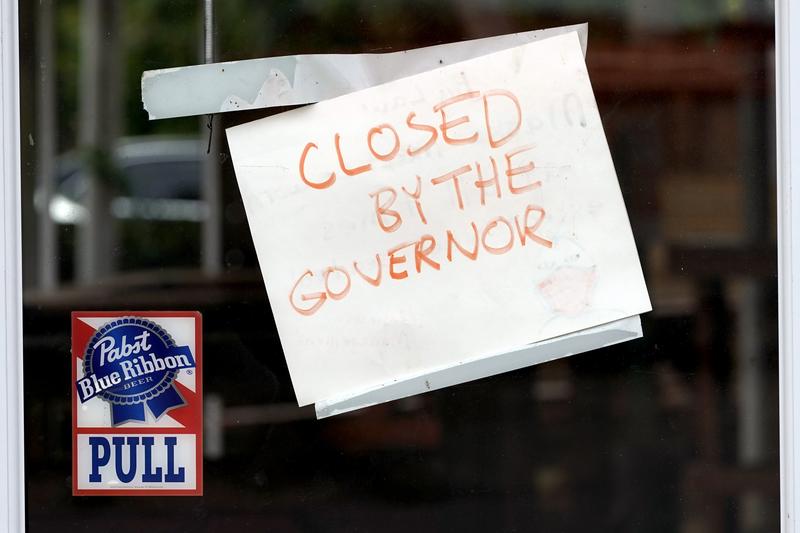 Transcript
[music]
Vice President Pence: Continue to practice good hygiene, wash your hands, avoid touching your face, and wear a mask wherever its indicated.
Male Speaker: COVID-19 is spreading rapidly in Dallas County.
Female Speaker: This pandemic is like an invisible hurricane where all of a sudden, your neighborhood is flooding. Your next-door neighbor's house is underwater, and nobody knows why.
Male Speaker: We were hoping it would turn around by May, but now that everything is going in the wrong direction, it doesn't look like we're going to be over this anytime soon.
Male Speaker: If you were teetering on the brink before it started, then this is the thing that could definitely push you over.
Female Speaker: Look, we've flatten the curve before. Until we stop the bleeding, we will not be in a position to sustainably open. We will not be in a position to move beyond that and move smarter than that.
Male Speaker: I feel if you want to wear masks for your safety as you can. Me personally, I mean, I wouldn't want to choose to, but it's my opinion.
Male Speaker: This is a message specifically for the Governor of Texas and that message is pretty simple. You're leading us to die.
Male Speaker: We need to understand that COVID-19 has taken a very swift and very dangerous turn in Texas.
Tanzina Vega: Texas was hurrying to get back to normal, and then new cases of COVID-19 exploded. On Sunday, Texas marked the sixth consecutive day of more than 5,000 daily new cases of the virus in the state. Over the weekend, Texas Governor Greg Abbott announced new restrictions. Bars that had been allowed to reopen in late May were now being forced to close outdoor events are limited to 100 people, and that marks a sharp turn from Abbott's previous rush to reopen, a plan which began back in late April.
Texas isn't the only state reporting a frightening spike in cases. Across the United States, a record number of more than 45,000 new cases of the virus were reported on Saturday alone. We'll be looking at states and communities where COVID-19 is increasing all this week. Today we start in Texas, I'm Tanzina Vega, and this is The Takeaway. We're joined now by Dr. Erin Carlson, associate clinical professor at the University of Texas at Arlington. Doctor, welcome to the show.
Dr. Erin Carlson: Hello, and thank you for inviting me to join you today.
Tanzina: Jeremy Wallace is also with us, a political writer for the Houston Chronicle and The San Antonio Express-News. Jeremy, welcome.
Jeremy Wallace: Thanks for having me.
Tanzina: Dr. Carlson, why are we seeing such a surge in confirmed cases in Texas?
Dr. Carlson: Well, the two factors that come to mind are reopening and our population size. First, we reopened according to economic pressures rather than public health guidance. Now, I'm not an economist, so I can only speak from the public health standpoint. Public health guidelines were to reopen after a 14-day continuous decrease in cases. However, Texas, like many states, did not wait for that two-week decrease in cases to occur. We did not wait for the fire to go out.
Texas had one of the shortest periods in the nation, 28 days for a statewide stay at home order. Then we reopened while cases were still rising, and before our case counts had peaked and then decreased. As a result, cases skyrocketed. For example, at the time immediately prior to reopening, we had just over 600 new cases a day, and now we are up to nearly 6000 new cases.
Another example is that during the 28 day period of the stay at home order, Texas statewide positive cases increased by 19%, by 144 cases. Now, in comparison, in the month since Texas reopened, our cases have increased nearly tenfold by about 900%. This signals an issue with reopening. We essentially fueled a still burning fire when we will be opening. We continue to fuel that fire by engaging in activities that are increasing transmission.
Tanzina: Jeremy, I want to bring you in here because to Dr. Carlson's points here, the state reopened before it was ready, and we've been seeing-- I mean, even Governor Abbott's response to this, which is closing bars again, but still allowing outdoor events to be limited to 100 people still feels pretty high. Where does Governor Abbott stand right now? He's been doing a pretty extreme about-face, hasn't he?
Jeremy: Well, not so much as you would think. At this point, the only thing he's really done is small limitations. We're talking, he's rolled restaurants back with 75% capacity to 50%. As we know, most of the restaurants couldn't even get to 75% anyhow, because of the social distance requirements. Most of the things he has done has been very limited. He has instead ventured on the side of economic freedom. A lot of the pressure from the right to remain open, and to try to co-exist with Coronavirus.
Tanzina: Jeremy, I want to get a sense on the ground here because you're talking to a New Yorker who experienced Coronavirus. I live in the epicenter of where the Coronavirus was here in New York. Perhaps my perception is slightly piqued because of that, but are Texans not concerned from what you're talking-- The folks that you're talking to about this recent surge or are just people saying, "We want to still gather and go to restaurants and do all of this"? In New York, it was palpable at the peak of the pandemic, the fear at least.
Jeremy: Well, here, there's such a mixed message going on because of the way President Trump and Governor Abbott have approached the virus. They've tamped down the concern, the worry. They've spoken frequently about how we can't over-exaggerate how much the problem really is out there. On the front lines, when you go to the ICU, and the hospitals in San Antonio and Houston, they're filled. They're getting filled up really quick.
San Antonio has less than 400 ICU units total, and we're already over 300 people in those units right now. You can see we're quickly running out of space.
Tanzina: That's the sense that I think a lot of folks may not understand, Dr. Carlson, what are your thoughts on that? I mean, are you hearing from medical and healthcare workers on the front lines in Texas about how they're feeling? Are they prepared to handle this? Is it a similar sense of urgency that's happening in these ICU units that maybe isn't connecting with the reality outside of hospitals right now in Texas?
Dr. Carlson: Absolutely, Tanzina. Now, I can only speak to what's going on in the Dallas Fort Worth area. I'll let my colleague Jeremy in Houston speak to the situation in South Texas. Where I live in work in Dallas Fort Worth, since June, one hospitalization have jumped in Dallas County by 88%. Now we still have adequate ventilators, we still have adequate space.
Currently, the ICU beds in Dallas are not overrun, and there is capacity because elective surgeries have been halted. We're going to use the surgical beds for COVID patients. Certainly, I agree with Jeremy that there's a different sense among healthcare workers and the urgency and what you described Tanzina as palpable, compared to the feelings of the general public.
Tanzina: Jeremy, how would you describe Houston, what's going on there? Because we also understand that the caseload is very high there as well.
Jeremy: Well, there's certainly increasing intensity. I think the elected officials there, the county judge and the mayor of Houston, have been pretty adamant about ringing the alarm of concern there. I think there is an increasing concern level particularly with the elected officials and that's now starting to get into the public a lot more. It's certainly been in contrast to the national message. We just had President Trump just a few weeks ago, impulsive, act like the virus was on its way out.
Clearly in Houston right now, the spike there is just astronomical. I think they're starting to try to do what they can do. What Governor has allowed them to do is to put in some restrictions that allow them to force businesses to require masks. They can't do it city and county-wide there, but they're doing what they can based on the limitations from the governor.
Tanzina: Jeremy, is there not-- We understand that the there are some tensions here between what's really happening and what's being told, but what about local media there? Local media here in New York was critical in reminding New Yorkers not only of the severity of the situation but just making sure that they were showing hospitals and frontline workers on a daily basis. Is local media really telling the stories that need to be told right now?
Jeremy: Yes, I believe so particularly in the big cities right now, you're really seeing that but Texas is a huge place. It's hard to get a sense as to people on West Texas are seeing this in a very different way as people may be in East Texas or in the rural parts. We have such a diversity of state that I think from place to place it's different. In Houston and San Antonio, I can certainly vouch for-- You can't escape without knowing how big of a problem this is.
Still, there's this Texas mentality sometimes that gets in our own good way. [chuckles] We want to be freedom-loving, nobody-- Pence is the same type people, but this is a case in which you have some people in politics who are trying to figure out a way how to rein in some of that. It's been an interesting divide. Even at West Texas, there are places where people were going thinking they were getting away from the virus.
I was looking at Big Bend National Park, which is in this really rural area of Texas and they're having this huge surge of visitors, which has brought the virus to that little small county. They went from having--
Tanzina: Let's talk about that for a second Dr. Carlson, because to that point, I mean, are we seeing what the governor is saying that a lot of these cases are because of congregate settings like nursing homes, prisons, detention facilities? How much of that is true versus part of it is just people not wearing masks, not social distancing, and not following the CDC guidelines?
Dr. Carlson: Well, Tanzina, I can speak to maybe the numbers that that would indicate which side we are with that. I think there are several distinctions we need to make between a genuine increase in cases and maybe a detection bias coming from increased testing or coming from congregate settings. For instance, the case count is beyond the proportion of positives coming from congregate living settings.
In my hometown of Fort Worth where a federal prison is located, we had 636 cases of COVID in the prison. Now, while that may be a shocking number, it doesn't account for the other 10,000 plus cases of COVID in our same county that were not in congregate living. That's one thing we have to keep in mind. Also, the idea that the rate of testing and the rate of testing and congregate living settings, or the rate of testing, in general, it's simply not proportionate to the increase in cases.
Our case counts are rising faster than testing. We have to keep in mind that our test-- The test we're using in the United States, don't make it easy for people to get tested. Until very recently, people in our area and Dallas had to be--
Tanzina: That's not what we're hearing Dr. Carlson from officials, though, that it is easy to get tested, at least here in New York, we're being told that there are hundreds of testing sites, and it's really just walk-in and get what you need when you need it. Is that not what's happening in Texas?
Dr. Carlson: That's certainly not what's happening in Dallas. For instance, currently, people in Dallas are waiting in line in their cars up to five hours before they are tested. We still don't have adequate testing sites for the number of people who need testing. Ultimately, testing is not a convenient process in the United States. People wait in line, and then they wait to get results for several days, and then they have to be retested again because we have a high false-negative rate for persons in the early stages of the disease.
This is a cumbersome process, and one which most do not engage unless it is necessary, and they meet the eligibility criteria for testing.
Tanzina: Lots to unpack there. Dr. Erin Carlson is Associate clinical professor at the University of Texas at Arlington, and Jeremy Wallace is a political writer for The Houston Chronicle and The San Antonio Express-News. Dr. Carlson, Jeremy, thanks for joining us.
Jeremy: Thank you.
Dr. Carlson: Thank you, Tanzina.
Copyright © 2020 New York Public Radio. All rights reserved. Visit our website terms of use at www.wnyc.org for further information.
New York Public Radio transcripts are created on a rush deadline, often by contractors. This text may not be in its final form and may be updated or revised in the future. Accuracy and availability may vary. The authoritative record of New York Public Radio's programming is the audio record.