Texas House Democrats Flee the State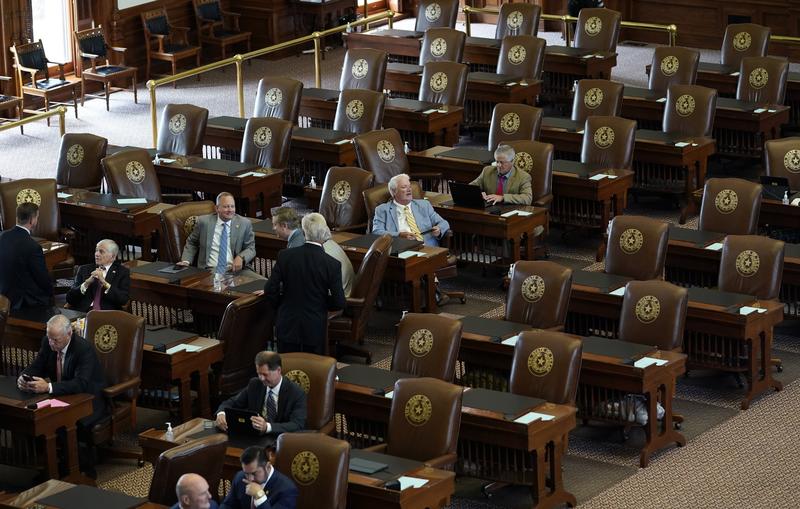 Transcript
Melissa Harris-Perry: This is The Takeaway. I'm Melissa Harris-Perry in for Tanzina Vega.
Speaker 2: We turn now to the urgent manhunt underway at this hour in Texas.
Speaker 3: What I want out of each and every one of you is a hard-target search of every gas station, residence, warehouse, farmhouse, tent house, outhouse, or dog house in that area.
Melissa: On Monday night, dozens of suspects absconded from the Lone Star State in a clearly coordinated action. Video evidence shows they have arrived in the District of Columbia and remain at large. The passionate group is making political demands.
Speaker 4: Today more than 50 Democratic members of the Texas House left Austin and left Texas, not because we want to. It breaks our heart that we have to do it, but we do it because we are in a fight to save our democracy.
Melissa: Now, these delinquents call themselves by a fanciful name of a nearly extinct creature, Texas Democrats. The goal of their swift skedaddle from the statehouse? To deny Texas Republicans the mandated quorum necessary to pass voting restrictions that would narrow access to the ballot for millions of the state's residents. Texas' law and order governor, Republican Greg Abbott, has been unequivocal in his determination to punish these rascals upon their return.
Governor Abbott: As soon as they come back in the state of Texas, they will be arrested, they will be cabined inside the Texas Capitol until they get their job done.
Melissa: Joining me now is one of the fugitive lawmakers. He's a Democrat from Round Rock, Texas, and the youngest lawmaker in the state legislature, Texas State Representative James Talarico. Welcome to the show.
Rep James Talarico: Melissa, thanks for having me.
Melissa: I hope you know that was tongue in cheek.
Rep James Talarico: Of course. [chuckles]
Melissa: Talk to me about this decision. The way that much of it's been reported is that you all fled. Talk to me about that decision to flee.
Rep James Talarico: Honestly, it did feel a little bit like fleeing. To coordinate a logistical feat like this is not easy. It was more than 55 legislators that had to leave the state in secrecy on Monday. Actually, I've told people this, and they don't believe me, but as of 11:00 AM Monday morning, I didn't know where we were going, how we were going to get there, where we were staying. It could have been any part of the country. I knew we had to leave the state of Texas but didn't know where we were going.
Information was shared very carefully with the members of our caucus. It felt a little bit like a heist or a getaway. I don't know what the right metaphor is but it was really something else. A lot of credit goes to our Democratic leadership, including our chair, Chris Turner, who you just heard in your opening, who had to coordinate this and do it in a way where we didn't get caught.
Melissa: Now, the governor has been pretty clear about his intention to arrest and a word I hadn't heard before, cabin, all of you if you return to the state. If you are in fact arrested, will this have been worth it?
Rep James Talarico: Absolutely. This is a lot bigger than us. It's a lot bigger than Texas. As you mentioned, since Donald Trump's big lie that the election was stolen, Republican legislators around the country in state capitals from Georgia to Texas have been pushing these voter suppression bills that would make it harder for people to vote and make it harder for certain people to vote, mostly Black and brown people. As President Biden mentioned in his speech yesterday, this is the greatest threat to democracy since the Civil War.
We're doing our small part as Texans, as elected officials, to try to save our democracy. As you mentioned, we came to D.C. for a reason, and that's to implore, beg, plead, with our federal counterparts to do something and to do something now. To pass For the People Act, pass the John Lewis Voting Rights Act, pass whatever you need to, to prevent bills like the one in Texas from becoming law.
Melissa: Now, the governor has also indicated that he's willing to call back to back to back special sessions from now until the next election. I assume all of you want to get home before 2022. I'm wondering, will this strategy that you all have taken actually work, or are we looking at the likelihood that these restrictions simply are going to pass in Texas?
Rep James Talarico: At a state level, this strategy will not work long term. I want to be very honest about that and very clear about that. The reason we're in D.C. is because we need Congress to act, and if they don't act quickly, if they don't act before their August recess, then this bill in Texas will become law. My constituents who I swore an oath to protect, are going to lose their sacred constitutional rights that that brave Americans have fought and died for since the beginning of this project of ours.
we are meeting with Senator Manchin this week. We already met with Vice President Kamala Harris and House leadership. Those meetings have been very productive. We're optimistic that we may see some movement in our nation's capital, but there is no long-term play in Texas. The only play we have left is for Congress to act and to act now.
Melissa: Are there any Republicans on your agenda for meeting with over the course of the next few days?
Rep James Talarico: We have reached out to Republican lawmakers, including our home state senators. It's a little funny, we fled our state to serve our constituents, unlike our home state senator Ted Cruz, who fled the state to abandon our constituents during a crisis. We're hoping that this is not a partisan issue and in fact, you may know most of the vote against this voter suppression bill, the first time around a few months ago, was a bipartisan vote. One of our Republican colleagues joined with us as Democrats to oppose this bill.
His reasoning was pretty interesting because he pointed out that when Texas had a record turnout in 2020, Republicans did pretty well. This is not about protecting Democratic votes, this is protecting the votes of all of our constituents. I want Republicans to be able to access the ballot box easily. I want them to be able to exercise that God-given right to make their voice heard in the democratic process. I hope this doesn't become more of a partisan fight than it already is. I hope Republican lawmakers meet with us when we're here in D.C.
Melissa: Genuinely, I think you've hit on something that I have found a bit surprising, because not only in Texas but around the country, precisely what you just described occurred. It was not only that there was a massive turnout, there was a massive turnout for both parties. I know you had a little cable news dust-up about who actually won, although I think that's pretty clear. That said, one could make an argument that Republicans won in the sense of bringing out more Republican voters in the last election, and therefore having a great deal of value for the Republican party at the state level. Is there a pathway for making an argument, either to your state cohort of Republicans or to federal Republicans on that?
Rep James Talarico: Absolutely. I work with my Republican colleagues in Texas every day and I live in a Republican-dominated state in Texas, so I can't get anything done in the state capitol unless I work with my Republican colleagues. Many of them, when they're away from the TV cameras are decent, good people who just want to make our state better but the politics are changing in their party, and they're changing fast and they're changing in the wrong direction, unfortunately.
I don't want this to become a poli sci seminar but the Republican Party, I think is becoming a minoritarian party, which is dangerous. If the Republican party doesn't feel they can or should build a majority coalition, then we're going to see more of this radical extremist agenda and they're not going to have a vested interest in ensuring everyone can show up to vote. I guess my point is that it doesn't have to be that way. Not to embarrass my own party in Texas, I'm so honored to be a Texas Democrat and we have a legacy from LBJ to Barbara Jordan to Ann Richards that I hold very dear.
But I'll say in the last election, former President Trump and Texas Republicans actually made inroads into our traditionally Democratic coalition, especially in South Texas, as you remember. I think as a Democrat, I don't want the Republican party to become a majoritarian party, but as a small D democrat, who believes in this democratic project of ours, that we desperately need the Republican party to be a majoritarian party. This is my plea to my Republican colleagues in Texas and across the country is believe in democracy with us, and I think you'll be successful.
Melissa: I feel like I hear the middle school teacher, former middle school teacher in you, in that sense of like the big D and little D democrats. What it means to care about the processes. I want you to talk one more bit about this idea of political theater. That's not quite what you called it, but the ways that media and exposure and all of us looking in in the fishbowl of the State House, impacts what happened for all of you. The governor has said that you all are on a taxpayer junket to D.C. Maybe you could just help folks who may not know how state legislators work. Are y'all making a lot of money and who is paying for this trip?
Rep James Talarico: Great question. We are not using taxpayer dollars for any of this. Most of us have even rejected our state pay, which is a measly $400 a month, but have rejected that pay while we're here. Any travel expenses are being raised by our Democratic caucus the old-fashioned way, with people donating $5, $10, $15. We've raised well over $200,000 for this project already from small-dollar donors. No taxpayer money is being used for this, but to your question about political theater.
This is theater and I'll be very honest with you, Melissa, this is not what I want to be doing right now and I think I can speak for the rest of my colleagues that this is not what we want to be doing, but we have been forced into this position by Texas Republicans. The special session that's happening in Austin, the session that we fled from is all theater. It's a special session composed of conspiracy theories, mythical voter fraud, trans athletes causing problems on sports teams, which we know doesn't occur.
Critical race theory being widespread in Texas classrooms, which we know is also not the case, although we do know historical whitewashing is occurring in our state capitol. We're not talking about public school funding, which I care about as a former teacher. We're not talking about expanding health care or fixing our power grid to ensure Texas don't die again when temperatures dip a little bit. Those would be things we could focus on that would actually improve people's lives.
But Governor Abbott wants to run for president in 2024 and so he and Governor Ron de Santos in Florida are in a race to the bottom, so this has all become theater. It's all very loud and all very silly and I wish that we weren't in this position. Once our Republican colleagues decided to undermine democracy, we felt we had no other option. I would love nothing more than not to be on the phone with you and I would love nothing more than be back at my desk at the state capitol working on an early childhood bill. That's what I want to be doing right now.
Melissa: Texas State Representative James Talarico, you may not want to be on the phone with me, but anybody who name-checks Barbara Jordan, talks about [unintelligible 00:13:12] choice, does a little bit of democratic theory, and is willing to have a complex conversation about media, is absolutely always welcome here. Thank you for joining us.
Rep James Talarico: Thank you, Melissa.
Melissa: We wanted to know how Texas' young voters and advocates would be affected by the Republican plan and what they think about Democratic lawmakers strategy. Yesterday we spoke with three Texans take a listen.
Melanye Price: My name is Melanye Price. I'm the director of the Ruth J. Simmons Center for Race and Justice at Prairie View A&M University.
Maydrian Strozier-Lowe: My name is Maydrian Strozier-Lowe, originally from St. Louis, Missouri, but currently living in Houston, Texas. I am a 2020 Prairie View A&M Alum, and I am an inaugural Marshall Mali NAACP [unintelligible 00:13:59] scholar and went to law school at Texas Tech University in Fall.
Claudia Yoli Ferla: I am Claudia Yoli Ferla. I live in Austin, Texas, and I am the Executive Director at Move Texas.
Melanye: My first thought when they left really was, again? In a climate where there is such a Republican stronghold over the state government, not just the legislature, but also the governorship and also Attorney General, that it seems like this is one of the clearest ways for them to stop the process and force other people around the nation to take a look at what is actually happening and what is so tragic about what's happening in this moment.
Maydrian: The first time it happened, I was actually there. It was funny, the first time it happened we were all at work and so my bosses they represent [unintelligible 00:14:49] Reynolds who was the vice-chair of the Texas Legislative Black Caucus, and we were watching the TV and we were like wait a minute, [unintelligible 00:14:55] Thompson's gone, [unintelligible 00:14:56] is gone. [chuckles] We were like wait a minute, where they at? So everybody's gone. Maybe it was like close to midnight, everybody's gone and so the bill died and so everybody was pretty excited.
Claudia: For us as an organization and for us as a movement, we've applaud the pro voter lawmakers who have once again taken a bold stance for communities. We thank the hundreds of young people who've made this possible through their advocacy by using their voice, showing up to testify and organizing in their communities.
Melanye: The current attention to Texas and I think, to some extent Georgia, what people in these states are trying to say is this is dire. What is happening here is unfair, and it will have generational impact on the politics of these states.
Claudia: Governor Abbott and his anti-voting co-conspirators cannot win on the issues and so what they're trying to do is wage a war on our fundamental voting rights in a cynical attempt to hold on to their power.
Maydrian: I think that the Texas Democratic Party is kind of in a place of-- the Democrats [unintelligible 00:16:04] people we have elected are in a place of it's all or nothing.
Melanye: It's a really scary time now as a professor of whose students are activists around voting rights, to believe that they might become overly frustrated, that they might become unenthusiastic about the future of their voting rights because of the heavy-handedness of the Texas State Legislature.
Maydrian: The hardest challenge that we have as young Democrats is just communicate our message in a way that is heard and taken seriously. We need the advice from the senior people and people who have done it before us. We also need to be able to have a seat at the table and be heard.
Melanye: Our goal is to document these stories and to create networks for students who are activists on their campus to work with other students across the HBCU universe, across the HBCU landscape, so that their work isn't done in silos.
Claudia: We will continue to organize, mobilize, engage the young organizers who have already shown us that they will not let their voices be silenced by cynical anti-voter lawmakers. We know that Texas is ground zero for voter suppression across the country and we will not cede any territory in this fight.
Melissa: The voices there of Melanye Price, Maydrian Strozier-Lowe and Claudia Yoli Ferla, speaking about the fight against voter suppression in Texas. Texas Governor Greg Abbott spent some time during his presser this week trolling the heck out of the president.
Governor Greg Abbot: Compare and contrast this with the state of Delaware, which happens to be the state where the president votes and where they have exactly zero hours of early voting there.
Melissa: On Tuesday afternoon, a fired up and ready to go President Biden joined the fray.
President Joe Biden: Time and again, we've weathered threats to the right to vote and free and fair elections and each time we found a way to overcome.
Melissa: He urged Congress to act.
President Joe Biden: We must pass the For The People Act. It's a national imperative.
Melissa: Okay y'all let's do this. No, but wait, the filibuster. For more on that and just what exactly the Biden administration hopes to accomplish. I'm joined by Seung Min Kim, White House reporter for The Washington Post. Seung Min, welcome back to the takeaway.
Seung Min Kim: Thanks so much for having me.
Melissa Harris-Perry: President Biden seemed pretty energetic in Philly on Tuesday. Now, was he dragged into this voting rights fight or have you been itching for it?
Seung Min: It could be seen as the former, quite frankly, because we've been seeing for some time. First of all, to make it clear, the issue of voting rights has been a very important one to President Biden and his early term in office and obviously has supported these voting legislation that have been stalled in Congress, as you just referred to. He has spoken about the issue, but not in as animated of a way as we saw him in Philadelphia yesterday. Frankly, for the last several weeks, ever since these measures collapsed on Capitol Hill when they were deadlocked in a key vote late last month, activists, civil rights leaders, progressive activists, have been really itching for President Biden himself to specifically do more.
First of all, be more visible, be more forceful, use the bully pulpit to make that case for legislation, for change, and you certainly saw that with this speech in Philadelphia yesterday. Obviously, you see a symbolic importance there and the White House has signaled that he's going to continue to talk about the issue so obviously, I would not rule out further trips around the country to zero in on this issue of voting rights.
Melissa: From a midterm election strategy, I absolutely understand that and it sounds like he's talking to the base. He's talking to Democratic supporters and activists and organizers, but he didn't mention the filibuster, which seems to me like it would be central to an actual legislative strategy on voting rights.
Seung Min: Right, and that was the glaring absence that I think everyone noticed in his roughly 25 minutes speech yesterday in Philadelphia. That you can make the policy case and the substantive case for legislation, for voting rights, but at the same time he didn't talk much about how to get there and what specifically is that obstacle preventing passage of it, which is first of all, two things.
Obviously Republican- nearly unified Republican opposition, whether it's unified opposition among the Senate Republicans for the For The People Act, or the fact that there is only one Republican on board so far, Lisa Murkowski of Alaska, who is supporting, at least taking up the the voting rights revision and working on that piece of legislation. You heard President Biden pressure Republicans in that manner yesterday, but again, as you mentioned, the other major issue is the filibuster.
While a president has no direct power to change senate rules, that is a rule set by the senate and something that is voted on by senators. The fact that he didn't mention it at all last night was this, again, this glaring absence that activists notice, and it wasn't unexpected that he wouldn't mention it because the position-- the President Biden's own personal position on the filibuster is not what activists want. Obviously civil rights leaders, progressive activists who have been pushing for voting rights legislation, want President Biden and Senate Democrats to change the rules so you can pass legislation with a simple majority vote. That is something that President Biden currently does not support nor do all 50 senators.
Melissa: There are some pieces of legislation [unintelligible 00:21:50] actions, like for example the presidential nominations that have to be affirmed by the Senate, that can pass with simple majority. Is it possible to imagine, and is it being taken up anywhere, this kind of voting rights carve out that says, this is central enough to the functioning of democracy that it's going to need to be sort of filibuster free.
Seung Min: The people who have mentioned this potential carve-out issue have been primarily house Democrats, who again, like the president himself, does not have any power over Senate rules. There's actually a lot of questions as to how exactly this carve-out would work. That's a question that we at The Washington Post have been asking some of these members who've proposed this, because it is complicated. How do you write such a rule? How do you make that work?
For example, I've seen comments from lawmakers saying there should be a filibuster exemption carve out for constitutional issues. A lot of things that don't necessarily seem on the surface right away, are constitutional issues, so that seems very broad at this point. If you want to, there's almost always a way to write rules, legislation, whatnot, but that is a question that people who are advocating for this carve out do have to answer. How would it actually work? We would love to see those details.
Melissa: Now, worth pointing out, we do in fact have three branches of government as well as a federal system. Biden did acknowledge that legislation is just one tool but not the only tool. What is he thinking about around- or the administration thinking about around Department of Justice, Attorney General Garland, or for example using the courts?
Seung Min: Right now the Justice Department, particularly after legislative efforts stalled on Capitol Hill, has been a major focus of the Biden administration and their [unintelligible 00:23:45] enforcement of voting rights on the books. More importantly, challenging these new laws in a state of Republican led legislatures when they feel they're unconstitutional. We saw that happen in the Justice Department lawsuit against the state of Georgia, obviously one of several lawsuits challenging that new voting law in Georgia on the books.
The Justice Department is getting in line, and a bunch of these lawsuits as well. I think the administration and obviously Democratic senators on Capitol Hill have made it clear that wherever there is a legal case to be made to challenge these laws, whether they eventually happen in Texas or Arizona or a bunch of these other states, to challenge it in the courts if the Justice Department feels that they have a case. That's going to be a very major focal point of this administration's strategy over the next several months.
Melissa: Seung Min Kim is White House reporter for The Washington Post. Thank you, Seung Min.
Seung Min: Thanks so much for having me.
Copyright © 2021 New York Public Radio. All rights reserved. Visit our website terms of use at www.wnyc.org for further information.
New York Public Radio transcripts are created on a rush deadline, often by contractors. This text may not be in its final form and may be updated or revised in the future. Accuracy and availability may vary. The authoritative record of New York Public Radio's programming is the audio record.