As Tensions Mount Between Centrists and Progressives, Where Does the Democratic Party Go from Here?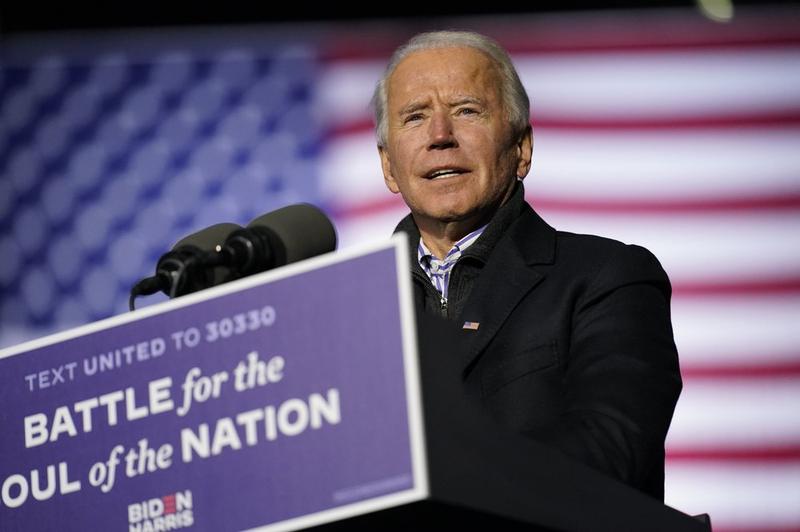 Transcript
Tanzina Vega: After a divisive and tumultuous four years under the Trump administration, President-Elect Joe Biden has called for unity among Americans, but he may have to start with his own party. Here's moderate Democrat and Virginia Representative Abigail Spanberger on a private call with other House members last week following Joe Biden's win.
Abigail Spanberger: We need to not ever use the word "socialist" or "socialism" ever again because while people think it doesn't matter, it does matter and we lost good members because of that.
Tanzina: On the flip side, progressive's like Representative Alexandria Ocasio-Cortez pushed back against claims by centrists like Spanberger on Sunday on CNN State of the Union.
Alexandria Ocasio-Cortez: When we kind of come out swinging not 48 hours after Tuesday when we don't even have solid data yet, pointing fingers and telling each other what to do, it deepens the division in the party and it's irresponsible. It's irresponsible to pour gasoline on these already very delicate tensions in the party.
Tanzina: For more on the tension simmering within the Democratic Party and how the party moves forward, we're joined now by Charlotte Alter, senior correspondent at TIME and author of The Ones We've Been Waiting For: How a New Generation of Leaders Will Transform America. Charlotte, welcome to the show.
Charlotte Alter: Thanks so much for having me.
Tanzina: Also with us is Joel Payne, Democratic strategist, CBS News political contributor, and host of the podcast Here Comes the Payne. Joel, great to have you on the show.
Joel Payne: Good to be with you.
Tanzina: Joel, there seem to be two major camps within the Democratic Party today and we just heard a little bit of that back and forth. What's at the root of all of this?
Joel: What's at the root of all of this is credit and blame. Who gets credit for Joe Biden winning? Who gets blamed for the losses in the House Democratic Caucus? What's interesting to me, and I've repeatedly said this on a couple of appearances in the aftermath of the election, is you can count on Democrats to always snatch the feet from the jaws of victory. This was a good week for Democrats that we're talking about.
You're talking about Joe Biden is going to win by probably nearly five million popular votes over 300 electoral votes. He's going to flip five states. Democrats are going to net two seats in the Senate and they're going to hold the House. Yes, there were some losses, but that is, by any account, a pretty good week in your political evolution as a party. However, the fact that there were some losses in some frontline vulnerable seats for Democrats, that's the genesis of all of this.
I think I probably align a little bit more with Alexandria Ocasio-Cortez's view of the world, which is it's probably not the time really to be cannibalizing each other. I do think that there is an active effort to try to maybe reclaim the party from the Progressives. You've heard not only Abigail Spanberger, but you heard folks like Jim Clyburn being very vocal and trying to assess that blame. We'll see where it all shakes out, but this is the ultimate credit blame game that we're in the midst of right now.
Tanzina: Charlotte, to that point, we've heard a lot about the back and forth here between Progressives and a lot of Progressive voters did not-- Joe Biden was not their candidate, but they voted for him anyway. The sense is that they're going to keep his and Harris' feet to the fire during, particularly, the first 100 days, but how have we seen this division play out in the past week, Charlotte?
Charlotte: I think the big problem for Democrats is that the energy in the party is at one end of this spectrum, on the progressive end of this spectrum, but the swing votes that they need to hold the House to win the Senate and to win the presidency are on the other side of that spectrum. We saw that play out very clearly in the primary when Bernie Sanders had this extremely energetic, extremely organized, and effective base of young and not young, but most young people were with Bernie Sanders in this primary in 2020. They were extremely organized. They were extremely enthusiastic.
They were extremely devoted. They ran a terrific campaign, and yet the places that the Democratic candidate needed to win in order to win the nomination and then win the presidency are simply not that progressive. If only New York and California and big cities like Detroit and Chicago and Minneapolis, if those were the only places that decided political outcomes, then I think we would have a much more progressive policy in this country. I think in some ways, one of the takeaways of Joe Biden's win was that this country is a lot more moderate than many Progressive's wish it was.
Tanzina: Joel, I want to pick up on that because I think that we've talked a little bit about this on the show yesterday, how Joe Biden may struggle to achieve this party unity that he's been looking for. What are your thoughts on that? Do you think that in the first couple of 100 days that there will be some attempts to either placate Progressives or move further to the center?
Joel: Well, I think what you're seeing are the battle lines being drawn out and how this all shakes out this period of assessing what happened. I think it will determine how Biden deals with all the different parts of his coalition. I think if you see that most people arrive at the idea that Progressives pushed too far to the left. I think there'll be less pressure on Biden to whether name nominees to his cabinet that are more progressive or lead with agenda items that are more progressive.
Maybe a Green New Deal type of stuff or progressive taxation, right? Those are the things that the Left wanted in exchange for being loyal to Joe Biden during the campaign. Whether or not Biden has a push to do that earlier on, I think this period that we're within right now where the narratives are being said, I think that that will indicate that. This is very consequential for how Biden will govern this period of time.
Honestly, I do think that, to Charlotte's point, Democrats have to be careful not to alienate that progressive base. Because when you think about cities like Philly, Pittsburgh, Detroit, Atlanta, those are the cities that actually delivered this presidency for Joe Biden. Things like police reform and leveling the playing field between the wealthy and the less wealthy, those were issues that did drive excitement and enthusiasm for those voters. It is a very careful balance that Democrats have to consider.
Tanzina: Charlotte, let's pick up on some of the issues, the specific issues that are at the center of this split between more Progressive Democrats and more Centrist Democrats. Are we talking about things like defunding the police, Medicare for All? What are the real top concern to you for more Progressive Democrats?
Charlotte: Yes, I think we're talking about Medicare for All, we're talking about a Green New Deal, and we're talking about building this 21st-century social safety net that people like Bernie Sanders and Elizabeth Warren ran on in the primary and really captured, particularly, young Democrats with that vision. I think one of the things that Joe Biden was actually very smart about after he sewed up the nomination was that he reached out to some of the top policy people in the Bernie Sanders camp and said, "Hey, come form a task force with my campaign. Let's work together. Let's try to hammer out some places where both the moderate and the progressive wing of the party can find consensus."
That's one of the reasons why, to their credit, the progressive wing of this party really, really got behind Joe Biden in the general election. We did not see the kind of sniping and backbiting that many felt characterize the 2020 general election when some of Bernie's supporters didn't really get on board with Hillary Clinton until the very last minute. That didn't happen this time partly because Biden was very explicit about reaching out a hand and inviting Progressives in to offer their ideas.
Progressives that I spoke to felt like there were places where they were never going to agree, but at least they felt heard, they felt respected, they felt like their position was taken seriously. I think the question now for Joe Biden is, can he maintain that posture as a president? Can he continue to be a unifier as a president? Also, to what extent does being heard placate this wing of the party if they don't actually necessarily get results from that.
Tanzina: That's exactly one of the questions, Joel, that I'll pose to you is that Joe Biden has said, for example, he's not against fracking. He's not for defunding the police. Those are things that are really important to a lot of progressive Americans. How far is he going to be able to take that central stance when it comes to a significant portion of the Democratic electorate?
Joel: That's fair, but I do think that we sometimes get a little reductive in how we talk about these issues. Most people, even most Progressives, don't really talk about "defund the police." Really, what you're talking about is police reform. There was a bill that a lot of moderates got behind in the Senate Democratic and House Caucus that Republicans wouldn't allow movement on. That was a pretty middle-of-the-road bill. There were some places where they reached, but that's really what we're talking about. Jim Clyburn, I've heard him say sloganeering is a problem here. I think there's a good point to that, but I think--
Tanzina: Just to insert here, Joel, I do think it also is particular to this issue, defunding the police. There are those who are straight abolitionists who believe that the police department should be completely abolished and then there are those who consider more what you're talking about, which is a redistribution of funds to social services programs. I think that the folks who want complete abolition are the ones who are not going to be satisfied with Joe Biden's approach.
Joel: That's right, Tanzina. I think what is at issue here is like, how many people is that really? I don't think that that's a majority of Democrats in America who were there or at least enough to where this should be an issue that Democrats should be focusing on a week after a prehistoric election of Joe Biden and going into power in 2021 with a lot of wind at their back. I think that's what Democrats like myself probably would hope is that instead of cannibalizing each other about this, Democrats may be quietly deal with family issues as opposed to spending the entire week after the election talking about this. I think that's what's at issue here.
Tanzina: Charlotte, how much of this is generational? Is it really just a new guard coming in and the old guard and a lot has been made of the old guard just in terms of tenure and even in other areas on both sides of Congress here? We're seeing folks who've been in these positions, including Joe Biden, for more than 40 years. How much of this is a generational divide where it's new folks who are coming in saying, "We want to see some change."
Charlotte: I think that it certainly is generational, but it's not quite as cleanly generational as people tend to think. Absolutely, this progressive wing of the party is characterized by this youthful energy. Young people tend to really favor a Green New Deal, really favor Medicare for All, really favor a free public college. Certainly, people like Alexandria Ocasio-Cortez are carrying that mantle.
The other thing we have to remember is that there also are a lot of young, fresh faces in Congress who are moderates, who are representing the areas that actually make or break the political future for Democrats. For example, in Michigan, Haley Stevens, Elissa Slotkin are also in Congress along with Rashida Tlaib. They have just as much of a vote as she does. They represent just as much as Michigan as she does and they are more moderate than she is.
I think it's a little reductive to say that all young Democrats fall on one side of this progressive-to-moderate spectrum. One thing that I did find in my research for my book, which is largely about this, is that this younger generation that's coming into Washington, they don't always agree on the solutions, but they do tend to agree on what the problems are. These young people who are coming in are more concerned about climate change. They're more concerned about college affordability.
They're more concerned about equitable access to healthcare, but that doesn't necessarily mean that everybody supports the Green New Deal as it's currently imagined or everybody supports abolishing private health insurance in favor of Medicare for All. Progressives tend to sometimes present it as if there's broad uniformity like every young person in America supports this very specific set of legislation exactly as they've been articulated. It's just a little bit more complicated than that.
Tanzina: That complexity, Joel, is something that has honestly gotten lost in a lot of policy conversations, particularly among Democrats and among uber Progressives. I've experienced it myself on social media when talking about things, just asking questions about things like what it means to defund the police where you can become unable to even have a conversation about some of this. Joel, I wonder if Progressives are going to feel very frustrated with the next couple of years because of that real sense of its either this way or no way.
Joel: That's a good point, Tanzina. Look, Progressives struggle to even appreciate the Obama years where you actually had uniformity of government leadership. I worked in Harry Reid's majority leader's office when Democrats had the White House and the Senate and the House. Still, there was a lot of bellyaching from the base. Maybe some of it fair, but a lot of it unfair because there's a difference between governing and campaigning.
When you govern it, there is a certain amount of deal-making that has to happen, which actually positions Joe Biden pretty well. I think one thing that Biden and his team have done well is not over-commit him and they've been very adept at setting expectations even on what happened over the summer related to George Floyd. You saw how Biden responded to that moment.
I actually think he was very agile and he did what the retail politics he needed to do at the moment, but he did not take himself so far out of the mainstream that it was a position that was going to hurt him with the entire coalition. I actually think Biden might be uniquely qualified to manage this moment. Yes, Progressives are always going to be frustrated with the governing process. That is something I have learned from about 15 years in and around Democratic politics at the national level. I imagine that's going to continue into the near future.
Tanzina: Joel, I have to ask you about this campaign in terms of finance, in terms of the amount of money that went into this campaign for the Democrats. There were races here that had seen, especially following the death of Ruth Bader Ginsburg, donations flowing into Democratic Senate candidates and even Joe Biden. How would you characterize how much was spent this year for the Dems?
Joel: They were ungodly sums of money that were spent. Democrats have always had an uneasy relationship with that much money and what we spend on how we elect people. As you know, I'm sure, Tanzina, I'm sure Charlotte can speak to this as well, the Citizens United case was something that was very, very corrosive to a lot of people who vote like me and who think like me, but you also understand that if those are the rules, you have to live by those rules.
I do think Democrats were able to do that effectively this cycle. I think the one thing I will say is that the money raised and the money spent does serve as somewhat of a barometer of energy. I think energy and enthusiasm was high on the Democratic side. That's why you had a lot of money raised. By the way, it wasn't all like Wall Street donors raised money. It was small and mid-dollar fundraisers for people like Bernie Sanders and Elizabeth Warren.
Biden finally got his fundraising apparatus up to that over the summer after he was the presumptive nominee, but it wasn't your traditional bundler-driven fundraising operation that Democrats had. There was a really strong, small and mid-dollar operation at Democrats and that Biden was able to lead. I imagine they will continue to be able to do that. We'll see another test of it, by the way, in a couple of weeks with that Georgia runoff, the double runoff in Georgia with the produce seat and also the open seat that Raphael Warnock and Kelly Loeffler are going to be going after.
Tanzina: Charlotte, to that point, let's talk a little bit about what effect the Biden win, or at least for now, has on the energy and activism that comes from the Left, particularly the progressive Left. Let's look at Georgia. Are there going to be people mobilized to try and turn that Senate race blue, shift the balance of power there? Do you see that Biden's win has actually energized Progressives?
Charlotte: I do think that there's going to be a tremendous amount of energy and money focused on Georgia. I think it's an open question as to whether or not that energy is necessarily fairly characterized as progressive as the way Progressives define it. I don't think either Jon Ossoff or Reverend Warnock are in the AOC style of progressive. I think that this gets back to what I was saying earlier about what works in the Bronx and in Detroit and in the Boston area is not necessarily what's going to win Senate seats in Georgia.
I think nobody knows that better than Stacey Abrams. One of the lessons that Democrats learned very well in 2018 was to let locals do the local organizing, to focus on what works in that particular district, in that particular state, in that particular region without getting lashed to a national narrative. I think that's much harder in a presidential campaign where you do have somebody at the top of the ticket, where you do have the party making nationwide decisions about who it is and what it stands for.
I think that's why you're seeing these tensions erupt because in 2018, it was much easier for Stacey Abrams to run on her issues and Alexandria Ocasio-Cortez to run on her issues and Ayanna Pressley to run on her issues. Those didn't all have to be the same. 2020 required the Democratic Party to come into a little bit more consensus and that's where all this tension is coming from.
Tanzina: Joel, I want to round out this conversation by asking you about the fact that when Joe Biden gave his speech, presumably announcing that they had won over the weekend, at least the electoral college votes, he made it very clear to point out his support from one of the largest voting blocks for Democrats, which is Black Americans. He pointed and said, "You have had my back and I will have yours." I'm paraphrasing there, but what is that going to look like, Joel? How will Joe Biden be able to keep that promise to Black voters?
Joel: I think Black voters will be reminding him of it at every turn. It's really poetic if you think about it. Black voters delivered the primary to Joe Biden when really by all accounts, Joe Biden did not perform well in that Democratic primary. His campaign was always better for the general than for the primary. When he was at the bottom of the barrel in South Carolina, Black voters just looked at the field and just said, "This stops here. This stops now."
Starting in South Carolina and going through those SEC primary states, Mississippi, Alabama, et cetera, they decided that Joe Biden was going to be the standard-bearer of the party. They are the darkest blue bloc of Democratic voters, particularly Black women, and they delivered that primary to him. If you actually look on what happened during the election, they delivered the election to Joe Biden.
Again, in cities like Philly, Pittsburgh, Detroit, Milwaukee, Atlanta, that was Black voters who put Joe Biden over the top in a way that they were not able to do for Hillary Clinton. I think a lot of African-American voters took that personally, particularly, again, those really reliable African-American voters in that block. I think that they just decided that Joe Biden was the only person that could beat Donald Trump and that was the existential crisis. I think that was level one. It was a two-step process. Level one, beat Trump. Level two, be able to hold Biden accountable and I think that they certainly will.
Tanzina: Joel Payne is a Democratic strategist and host of the podcast, Here Comes the Payne. Charlotte Alter is the senior correspondent at TIME and author of The Ones We've Been Waiting For: How a New Generation of Leaders Will Transform America. Thanks to you both for joining us.
Joel: Thank you.
Charlotte: Thank you.
Copyright © 2020 New York Public Radio. All rights reserved. Visit our website terms of use at www.wnyc.org for further information.
New York Public Radio transcripts are created on a rush deadline, often by contractors. This text may not be in its final form and may be updated or revised in the future. Accuracy and availability may vary. The authoritative record of New York Public Radio's programming is the audio record.