"Ted Lasso" and the Rise of Sincere TV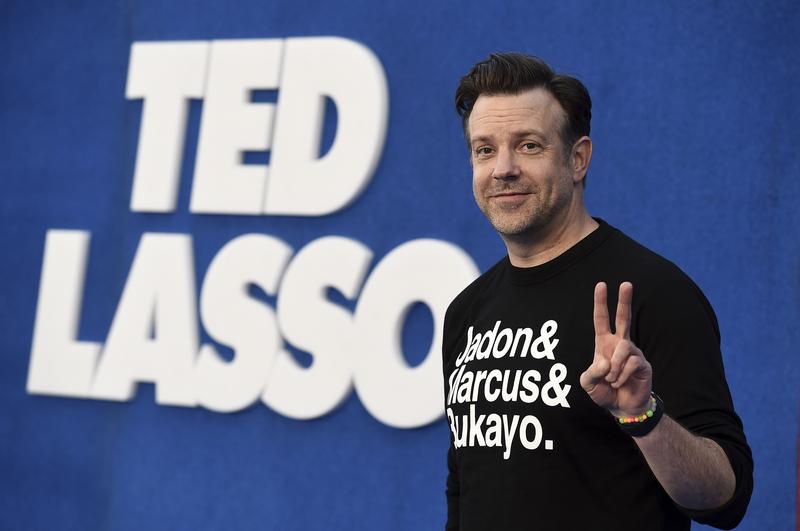 Transcript
[music]
Melissa Harris-Perry: I'm Melissa Harris-Perry and you're listening to The Takeaway.
[music]
If you're anything like me, you've fallen a bit in love with a guy named Ted Lasso. Yes, I'm talking about everyone's favorite fictional football coach.
Ted Lasso: Hey, How y'all doing? I'm Ted Lasso your new coach.
Melissa Harris-Perry: In Apple TV Plus is Ted Lasso, which recently kicked off its second season. Actor Jason Sudeikis plays the title character, a college football coach from Kansas who's hired to coach an English Premier League Soccer Team. Despite knowing nothing about the sport, Lasso wins over almost everyone he meets with his earnest aw-shucks attitude.
Ted Lasso: Hey, y'all played a heck of a game out there. We may not have won, but y'all definitely succeeded. You gave the champs 90 minutes of hell.
Melissa Harris-Perry: The show Ted Lasso is a far cry from the kinds of TV shows that used to dominate the airwaves. Over the past two decades, there's been a shift away from the irony that defined TV comedies like The Office, Curb Your Enthusiasm, and Arrested Development, to this sincerity central to the Ted Lassos of the world. James Poniewozik recently wrote about the shift on the small screen for the New York Times. He's the chief television critic for The Times and author of Audience of One: Donald Trump, Television, and the Fracturing of America.
James Poniewozik: I was originally inspired to think along these lines when I and my colleagues at The Times recently put together a list of the 21 best American TV comedies of the 21st century. That gives you an arc of TV history. One thing that I was seeing in that is that it starts off with shows like Curb Your Enthusiasm, the American version of The Office because we were looking at American comedies, Arrested Development. These sort of very cutting cringe comedy-based shows with an edgy, ironic sensibility.
As you go forward in time to now, you feel the temperature gradient start to warm in these where you get more heartfelt and also excellent, in a very different way comedies like Better Things, a show that I love on FX. It was a little too late for the list, but Ted Lasso now on Apple TV, where you have much more of a focus on empathy and good feelings in a sincere sensibility, which I think reflects a lot of things in larger television and the arts and culture beyond television as well.
Melissa Harris-Perry: Let's pause on these two different concepts ironic and sincere. Talk to me when you say irony, what do you mean by irony in the context of these television shows?
James Poniewozik: I'm glad you asked because I think irony is a much debated and abused term, ever since Alanis Morissette and before. When I'm talking about a TV show, having an ironic narrative or sensibility, I don't necessarily mean cynical or nasty the way many people do it. I mean a disconnect between the authorial intent and the text the content of the story. In other words, in something like Ricky Gervais is The Office, you have a disconnect between how the show sees David Brent, the protagonist, and how he sees himself.
David Brent: A Sergeant Major spends all his time training his men to be killers. He doesn't polish his own boots. He probably does polish their own boots but it doesn't mean I have to do my own filing.
James Poniewozik: He sees himself as the hero of the story. To the show, he's the anti-hero of the story. I think that's much the case with say, the Larry David character in Curb Your Enthusiasm.
Speaker 5 and 6: Tricky or trick?
Larry David: How old are you?
Speaker 5 and 6: 13.
Larry David: You look more like 16 or maybe even 17.
Speaker 5: No, we're 13.
Speaker 6: Can we just have our candy, please?
Speaker 5: [crosstalk]
Larry David: You're 13?
Speaker 6: Yes.
Larry David: Where's your costumes?
Speaker 5: I'm being my sister.
Larry David: You're being your sister?
Speaker 5: This is my costume.
Speaker 6: I'm a teacher.
Larry David: You're a teacher.
Speaker 5: Yes. Can we get to Candy, grandpa, or not?
Larry David: I would like to get a seat in your class.
Speaker 6: Can we have our candy?
Speaker 5: Candy.
Speaker 6: Hello.
Larry David: I don't think so.
Speaker 6: Are you kidding?
James Poniewozik: There's a difference between how Larry David is on the show and how Larry David, the creator of this show, sees their character's actions. It's a storytelling which also relates to things like antihero dramas, like the Sopranos, in which the audience is expected to recognize a detachment between the show's point of view and the character's point of view.
Melissa Harris-Perry: I'm feeling like, to me, Colbert is a great example of this, that what he was saying was actually the opposite of what the show wanted you to believe.
James Poniewozik: The version of Stephen Colbert that we saw on The Daily Show, and then The Colbert Report was patient zero for this television irony and he was a genius. He was a master at it. For years on The Colbert Report, he played himself as a character as started this blowhard commentator, who was oblivious and vainglorious and saying all these things that he himself as a person did not believe.
Stephen Colbert: Now, when I saw the tweet with no context, I understood how people were offended. The same way I as an Irish American was offended after reading only one line of Jonathan Swift's A Modest Proposal. I mean I mean, eat Irish babies? #CancelSwift! Trend it.
[laughter]
James Poniewozik: Part of the comedy, the effect of the show was that you recognize the difference between what the character was giving you, and how the show wanted the character to represent what he was giving you. It was the ultimate ironic performance in that he literally because he was playing himself under his own name here, he had to detach from himself in this work of performance art.
Melissa Harris-Perry: Let's talk about Ted Lasso because I recently found it. I know it's going into second season. We're premiering the second season, but I just found the first season and I did just fall in love with it. At one point, I brought my 19-year-old daughter downstairs, because she's heading off to be a Resident Advisor at her college. I was like, "You got to watch this because it's got great examples of how to be a good team leader."
What gets more sincere than your mom calling you to watch the show to be a good team leader.
James Poniewozik: Exactly. I think that's a great thing that TV can do for us. I had a similar experience to something that I think a lot of my readers have shared with me, which is that Ted Lasso the first season premiered last year, it's been a rough year. I think a lot of people have had this experience of, I was worn down by the pandemic or by all the mean-spiritedness in politics or this or that.
I think there's something that people respond to, in this show, that it's not just an empathetic show, but it's a show about empathy, and how feeling empathetic, having that ability can be powerful in the world and where it works and where it doesn't. I think one thing that makes it brilliant, too, is that it's not just a simplistic, feel-good show where everything automatically works out.
It really challenges the idea of whether Ted Lasso's relentlessly sunny disposition is always healthy or always the best choice in every situation. I think it's also a case that shows that just because a show is less narratively convoluted, it doesn't mean that it's any less sophisticated. I think it's a show that's very smart about the very sincere, direct thing that it's trying to do.
Melissa Harris-Perry: Do you think that that sincerity, that directness, even that complication, within the context of sincerity, is a result of having lived through four years of the Trump administration, which did not feel particularly empathetic, and, of course, the COVID-19 crisis where so many of us are separated in a very sincere and real way separated from our loved ones and hope in not to get back together to start throwing jabs but to actually be nice to one another.
James Poniewozik: I think it's all of that and more. I think, whenever you see cultural shifts, they have many parents. I think there's certainly this aspect of the pandemic when we've been cooped up for a year and a half, largely at home, often with our televisions, that people sought out comfort. They specifically sought out and turned to things that invested them with this sense of community and belonging, and people trying to be with one another in a healthy way.
Then I think that there is-- I don't necessarily know that the political environment inspired every show that fits this category, but I think it affects the reception and the popularity of them that we've been through this political era. Not just have a lot of mean-spiritedness, but often the political weaponization of irony, where, one thing that Donald Trump would often do was this thing of, "Oh, I'm joking, but I'm not joking." Russia, if you're listening, we'd love to see Hillary Clinton's e-mails. Oh, it was a joke. I was being sarcastic," et cetera, et cetera.
I think that there was this political weaponization of this trolling attitude that I think in some sense drove people to embrace a little more sincerity and a little more saying it like you mean it.
Melissa Harris-Perry: If you of course mean what you say even if sometimes what you say is mean, you just have to be accountable for it.
James Poniewozik: That's a terrific way of putting it. Yes, I agree. It is a way of putting yourself out there and standing behind what you say and taking whatever lumps come from it.
Melissa Harris-Perry: Because I may, we have to do this. Is this sincerity move also happening in television and cultural products that are explicitly raced and gendered. Part of what I enjoy about Ted lasso is that he's consistently doing these somewhat surprising-- I almost hate myself for saying this, but these surprising, almost critical race theory turns. He'll suddenly quote someone you would never expect "this kind of country white guy now living in England."
I'm wondering if we can do this sort of sincerity plunge, for example, with a woman as our protagonist or with a queer person of color, or if, part of what irony did was also to provide a little protective shield for those who live at the margins of our norm society.
James Poniewozik: I think it can work both ways, there's different tools irony and sincerity that can be used for different purposes. I think you're absolutely right to pick up on this aspect of it. On the one hand, I think that if somebody sees themselves producing something that is for a new or underrepresented group as you say, the shield and the license of irony and sarcastic humor can often be a kind of defense.
You see this often, sketch comedy and so forth, going back to the early aughts Chappelle's Show and that sort of thing. On the other hand, I also feel that one reason that you have often seen a more sincere mode of television in TV storytelling lately is that more people are being brought in and allowed to tell stories. You can have a detached attitude from somebody like David Brent or Tony Soprano when white guys in stories have had the chance to play all sorts of characters for a long time.
Whereas I think that when you are creating a story about a group that you've seen as being underrepresented, your first choice is not necessarily going to be to spoof or to deconstruct it. I think that a show, say like, Insecure a terrific show like that, or Ramy on Hulu or Master of None or Atlanta. These will often have very complex attitudes toward their characters and their protagonists.
They also have more sympathy toward them than, say something like Arrested Development, which was much more about puncturing the hypocrisies and ridiculousness is of characters like the Blitz. I think this is absolutely a big factor that you're picking up on it.
Melissa Harris-Perry: James Poniewozik is the chief television critic for the New York Times. James, thank you so much for joining us.
James Poniewozik: Thanks a lot, Melissa.
Copyright © 2021 New York Public Radio. All rights reserved. Visit our website terms of use at www.wnyc.org for further information.
New York Public Radio transcripts are created on a rush deadline, often by contractors. This text may not be in its final form and may be updated or revised in the future. Accuracy and availability may vary. The authoritative record of New York Public Radio's programming is the audio record.