Tangerine Records and the Estate of the Legendary Ray Charles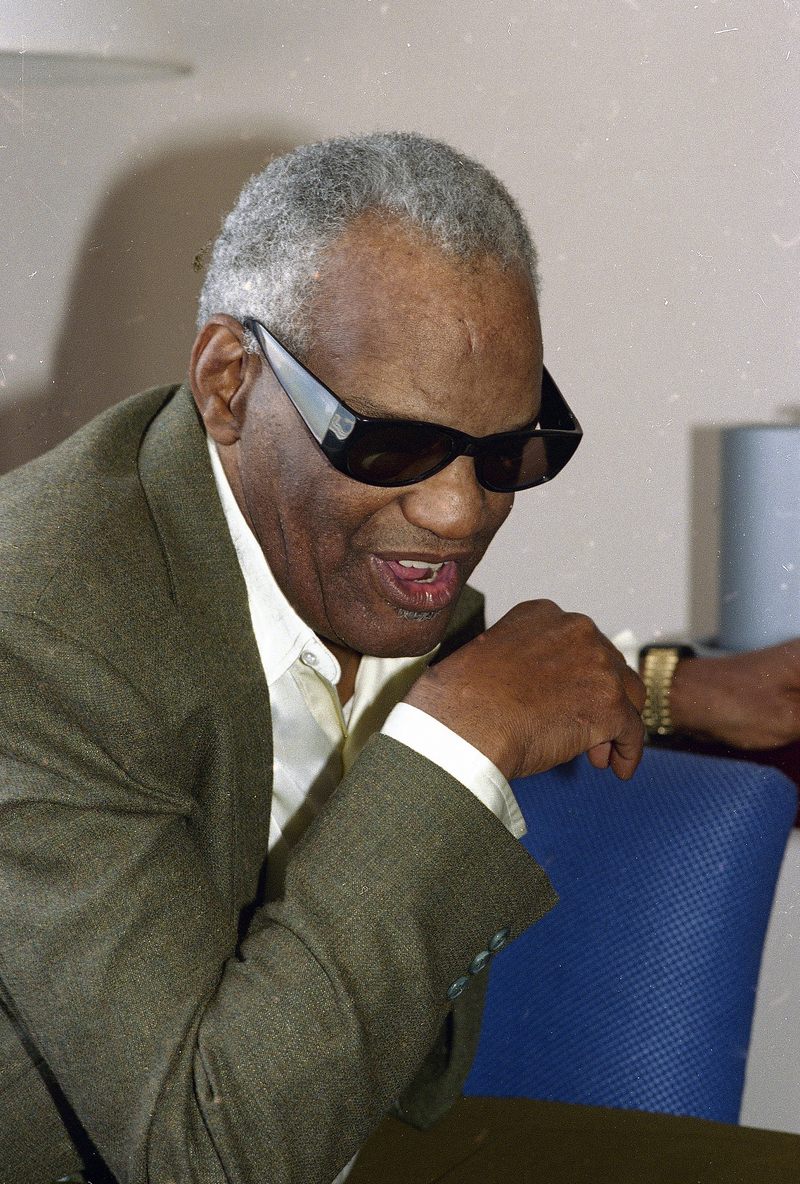 Transcript
[music]
MHP: Hey there. It's MHP, and thanks for staying with us on The Takeaway.
[music]
Ray Charles: Oh, beautiful for heroes proved
in liberating strife-
MHP: We're listening to Ray Charles' revolutionary rendition of America The Beautiful, the groundbreaking album, A Message From The People, which debuted on April 4th, 1972, and marking a pivotal moment in the career of one of the most influential artists of the 20th century.
Ray Charles: America, America may God thy gold refine-
MHP: Through the albums tracks, Charles touched on social injustices like poverty while offering up a hopeful melody for a world torn apart by war, inequality, and dispossession. Many of the issues that Charles sang about in that time still resonate with listeners today. Earlier this month, Tangerine records released the album on Vinyl, CD, and streaming services for the first time in more than a decade. I spoke about the re-release with John Burk, a record producer and head of Tangerine Records who produced Ray Charles' final studio album, Genius Loves Company.
John Burk: One of the albums, it's the 15th anniversary of Ray's most socially conscious album ever, which is A Message From The People. In this album, he tackled societal problems applied to the common man, patriotism, injustice, and it's incredibly relevant today. Songs like, for example, Heaven Help Us All, some of the lyrics of Heaven Help Us All when the bombs begin to fall.
[music]
Ray Charles: Heaven help the man who gave that child a gun, ain't it a shame.
John Burk: When I look at the news, I think, wow, it's just so relevant. Other songs, like, There'll Be No Peace Without All Men As One, Lift Every Voice and Sing, Abraham, Martin and John.
[music]
Ray Charles: Because we're the richest country in the world.
And I just can't understand why we got so many hungry people.
You know, I believe we ought to said something like this. Hey, Mister, you better listen.
John Burk: Hey Mister, which is an interesting song, it was played at a congressional hearing in 1972, making Ray Charles the voice of the common American citizen, who felt that government was ignoring some of their needs. Then there's also the real patriotism of this album. Probably the most significant track In the album is America The Beautiful, which became our second national Anthem. There's just nothing like it ever recorded. One of the most seminal renditions of all time,
MHP: Let's talk about America The Beautiful, because it is a recording, a version and interpretation, a rendering that absolutely alters the very meaning and reception of what those lines even mean. Can you talk to us a bit about what it is, because sometimes I'm experiencing it sonically, but I'm not sure I have the language to describe why it is that America The Beautiful sounds entirely different and hits my sometimes less than fully patriotic ear very differently when I hear him sing it.
John Burk: I guess the first thing I would say is that was the magic of Ray Charles. He somehow embodied so much life experience and put it into his music in a way that was so relatable to all of us. I give an example, one time when we were recording together, I wanted him to resing one little section of one song and it was kind of funny. He said to me, "No, I ain't doing that." We have to admit I was a little intimidated by him sometimes. I didn't push it.
MHP: Seems fair.
John Burk: Then we were using a more jovial mood, we were joking around about something. I said, "Hey, by the way, what do you think about, are you sure you want to revisit that section?" He said, "I told you I ain't doing it." That was the end of that conversation that day. Then finally, a third day, I thought I'd take one more shot at it. He said to me, "Listen, son, that's when I was feeling it and that's what you want."
I think that says everything about the way Ray sang is he put himself inside the song and when he was believing it, that was the performance. Somehow, he found a way to get inside that song in a way that just made it universal. I think that the song, it speaks to the beliefs and the values that we all hope America is going to be and highlights the beauty of that and what we have achieved. It also, somehow, he brings some of the pain of our shortcomings.
MHP: The title of the final studio album is Genius Loves Company. Who cultivated the genius, who helped to bring that genius out of him? I'm thinking of you saying sometimes I was a little intimidated, which seems really more than fair, but I've seen genius at work. Sometimes it responds really well to those who refuse to be intimidated who are like, "Come on. No, no, no. You going to feel it now or what about feeling it this way?" Who could talk to Ray Charles like that? Who could bring that out in him?
John Burk: I wish I could say it was me, but Ray brought it out of him. Ray taught me a lot about how to make that work. I think the other thing that I learned in making that record with him is the real art of a duets record is, how do you find the song and the arrangement that allows both artists to shine in their unique talent? That's the real challenge of a record like that and finding that framework. We went through a lot of songs to find the right songs for each pairing. That was one of the key things was really finding the right song. Then the other thing, which this I did suggest to Ray was, I don't want to do it. We were coming off the Sinatra duets, which were so successful.
I remember saying to him that, "I think that you're one of the few people that can really do a record like that, but I want to do it where you're face to face with the other singers, and we're not doing this remotely." That was a game-changer because when people got in a room with Ray, sparks would fly, especially people of the caliber of talent that came to that record. The other thing that I wanted to do and he was in supportive was, let's only bring people who really get you who really want to do this. I don't want to force any of these things.
Everybody that came to that record really knew Ray, really loved Ray, knew his history, and had the utmost respect for him. Everybody upped their game when you're singing with Ray Charles, as you can imagine,
MHP: He is in the Rock and Roll Hall of Fame. He's in the R&B Hall of Fame. He was inducted into the Country Music Hall of Fame. This has been a theme in many of my music conversations recently, but do we even need genre? Is there a way to recognize just the genius without the genre? What does it mean to be sitting here in Rock and Roll, R&B, and Country? What does that tell us about not only Ray Charles but about the ways that genre feeds or potentially could feed one another?
John Burk: It's interesting, we did this live in Stockholm record came out of a boxset we put together for Ray's 90th birthday called True Genius. The theme of that box was how Ray was able to be incredibly successful in virtually every genre Jazz, Blues. He is considered the genius of soul for creating soul music by combining gospel and R&B. Then he took a left turn and made the biggest crossover country record of the day and actually put country on the map with, I Can't Stop Loving You in his modern sounds in Country and Western albums, was totally game-changing.
Even in those records, it's not just Country music, he selected Country songs but he had Jazz arrangements. He had R&B arrangements. He had Pop, there really wasn't a genre in his nearly six decade of recording that he didn't somehow conquer in his own way or find a way to do it that was uniquely Ray Charles. That was the whole point of that box, and that's how we wanted to put some unreleased material on that box and found and digging through the vaults of-- I missed a lot of stuff in the vaults, but finding something that, first of all, was really, really well recorded that was live.
We found this set in Stockholm that was recorded the same year as A Message From The People, 1972, and thought that was interesting too, so 50 years later, this is another one that really holds up. In 1972, Ray was at the peak of his powers. He was touring Europe, and this one night, which was just so full of great energy and unbelievable performances and some rarities that we started pulling tracks and we thought, "Wait a minute, this could be a whole album on its own." We put that in as a bonus album and the True Genius box and then are just releasing it wide now.
The True Genius title actually came from a quote from Frank Sinatra who said, "The only true genius in our business is Ray Charles." That was the theme there. That's what you were just talking about. The genres didn't really exist to him. Even when he stepped inside of a genre, he bent it and then brought other forms of music in. I think for him, there's good music and what was-- I guess it was-- Was it Ellington that said that? There's good music and there's bad music, and that's it.
I think it's remarkable. I don't know that there's another artist that's done what he's done still. I think it's also remarkable that the genre designation was somewhat an organizational mechanism by the industry. Remember record stores we had Jazz bins, we had Blues bins, we had Pop bins. We had all that, but I think from a musical standpoint, and what we're seeing now, is that audiences don't care as much. Now that we're in the world of streaming, and I think very true of younger generations, the genre designation is not that meaningful. Maybe not meaningful at all, and the consumers seem to be much more open to whatever.
MHP: Across just look at right at the middle of Genius Loves Company. Right. There's Elton John, Bobby Ray, Michael McDonald, Gladys Knight back to back, and James Taylor. Like just right through there, that very notion of and I think maybe BB King and Willie Nelson are next to each other all in conversation with, all in this creation with Ray Charles. It's hard to imagine another artist who could have done that range.
John Burk: Right. Isn't that interesting? The other thing that's interesting about the people that showed up for that record is they all have rated these incredibly distinctive voices. Like when you're Johnny Mathis sing, it's only Johnny Mathis. No one else sounds like him at all. I mean the Elton John. Every everybody you named, Gladys Knight, [crosstalk]
MHP: Michael McDonald. Yes, absolutely.
John Burk: Every single person on that record though had that. Something dawned to me after we had it all recorded and looking at it and putting it together mixing and all that. It seemed like wow everybody has such unique character to their voice, Bonnie Ray, oh my God. Nora Jones, really everybody. James Taylor, who sounds like James Taylor? Funny thing is James told me, "I always wanted to sound like Ray but I don't have that voice."
I thought that was interesting and insightful when you hear James sing because he does do some of those riffs but he has such a different character. It's such a unique character. I've heard people say that James Taylor has a voice of God. It's so pure. Ray's voice was full of grit and just credible character. I think he could uniquely unify all those people. I mean, Willie Nelson to BB King, all of them, and that also illustrates that he really did defy genre designation throughout his career.
MHP: Let's talk about Tangerine Records a little bit. First of all, tell me a little bit more about it so that folks who don't follow that part of music will know a little bit about Tangerine records, and then I want to know what's next.
John Burk: Well Tangerine records is interesting in that Ray was also a maverick in the record business. One of the things he did early on that I don't know if any other artist had done it before is he insisted that he owned his own masters. That was part of a bigger concept of his is that he wanted to own everything. He owned his masters, he owned his publishing, he built his own studio. He bought his own tour bus, he built his offices. He had his own management company. He was literally self-contained and self-sufficient.
When he formed his own label, it was Tangerine records. He had another one too called Crossover, but the first one was Tangerine. This was about him as an independent artist with an independent label. What resonates is I've always been in independent music and we have a new company called Acceleration Music. There are five partners, and our mission is to support independent music and independent labels and independent artists and finding ways to do that.
We've also had a long relationship with the Ray Charles Foundation going back to when I was fortunate enough to produce Ray. We came together and decided to relaunch Tangerine music, which the depth there is incredible because not only does it have Ray's records, everything since 1962 basically. He did release it on different imprints from time to time, but everything came back to him, and that's his label. We're releasing everything on Tangerine now, but within that catalog, there's a ton of other stuff. There's early 5th Dimension, there's early Ike and Tina Turner, there's Percy Mayfield who recorded a lot of Ray's big hits before Ray did.
Ray was doing rerecords, which took off but there's a lot of great jazz in there. It's a really incredible catalog. What's next, and what we're thinking about down the road, is how do we start to reintroduce all that material, because there's a wealth of really beautiful interesting music. I mean, he, obviously, was a great musician, but he also could recognize great artists and great musicians, and he used his platform to try and elevate them and get their music out there. There's that, for sure, welcome material to look into, and then, of course, there's more Ray Charles stuff. There's quite a bit more, so we're talking.
The person who really heads all this up is Valerie Ervin. She's the president of Ray Charles Foundation, and she's the person that Ray Charles and Joe Adams entrusted with managing the legacy going forward. It's a wonderful organization. She's amazing. What they do is the money they generate, they generally give it away for black education and for hearing disorders and research and help in that area.
Ray's philosophy was that being blind is not a handicap, but being deaf would be a major handicap. That's their mission. It's a beautiful thing. They do great work in that area, and then, of course, they had this amazing catalog for everything Ray did since 1960 basically. There was one country duets record and maybe a couple other things that are elsewhere. Then it's all that wealth of catalog from artists that he admired and wanted to put out into the world. Those are the things we're going to be digging into going forward.
MHP: I love this idea of Charles thinking "Ah, who needs sight?" It's the Sonic. It's the sound. It is being able to have the music, that's the key thing.
John Burk: He had this amazing ability he'd walk down the hall, he'd know where a door away was because he'd listen to the echo. He wore hard shoes so there were always an echo of when he was walking and he counted the steps to remember how to get places. Even this is really interesting. In his studio, he could run his studio by himself without anybody there. One of the interesting things about organizing and when we get into the old vaults and the tapes and things like that, Ray was in there doing work. There's no one there but him, so there's nothing documented or written down on a lot of these tapes and the way that he would organize them was by placement.
God help you if you moved to tape. [laughs] You know what I mean? He was just an extraordinary guy and he was able to figure out everything, and obviously, I think that for him it wasn't a handicap. Didn't hold him back at all. The thing that would've been a loss for humanity and culture would've been if Ray couldn't have heard music.
MHP: I love you telling the story of him running his own studio. I'm smiling in my mind just thinking of my director and my board up right now thinking, "Hey, that is no small trick to run that control room on your own." John Burk, record producer, Ray Charles collaborator. Thank you so much for joining us.
John Burk: Oh, really a pleasure. Thanks for having me.
[music]
Ray Charles: -on 'til our victory is won.
Copyright © 2022 New York Public Radio. All rights reserved. Visit our website terms of use at www.wnyc.org for further information.
New York Public Radio transcripts are created on a rush deadline, often by contractors. This text may not be in its final form and may be updated or revised in the future. Accuracy and availability may vary. The authoritative record of New York Public Radio's programming is the audio record.