Takeaway Report: A Teen Vogue State of the (Youth)ion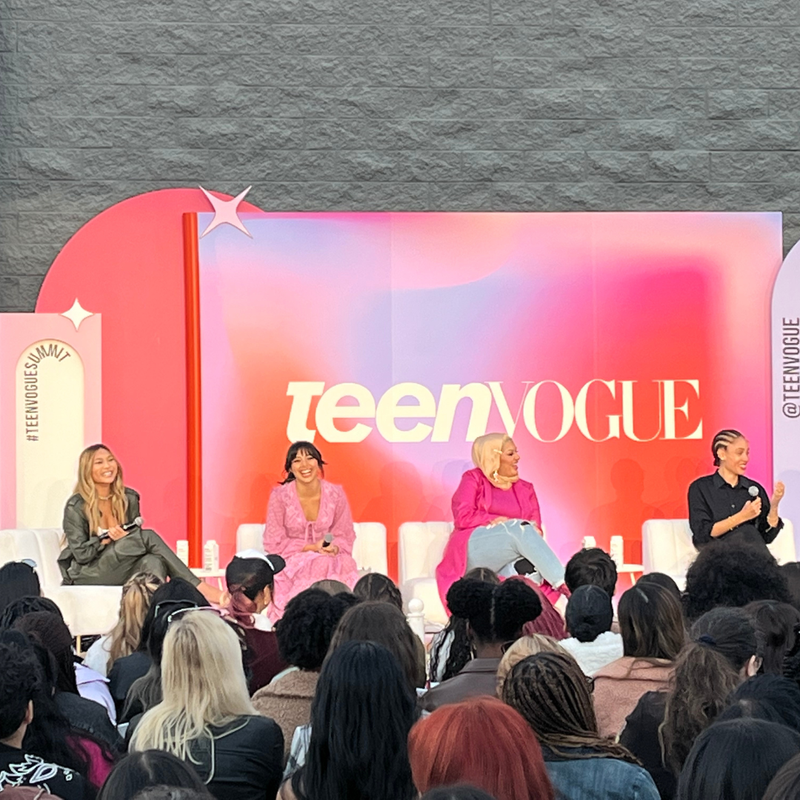 Transcript
[music]
Melissa Harris-Perry: Nearly 20 years ago, back in 2003, publishing juggernaut, Condé Nast launched Teen Vogue magazine. It was envisioned as a little sibling to its namesake and the Bible of high fashion, Vogue. Just like Gen-Z, which was born right around the same time, Teen Vogue enter the world of unprecedented and rapid change. By 2017, the print publication was fully digital, and its content was fully intersectional. Now a standard bearer for diverse progressive voices addressing social, cultural, and policy issues. Teen Vogue sits at the grown-ups' table of American politics.
Zach Bynum: Hey, you all, I'm here out at West Hollywood at Goya Studios at the Teen Vogue Summit.
Melissa Harris-Perry: This past weekend, the 5th annual Teen Vogue Summit, was held in Los Angeles. Organizers describe it as a block party featuring creators, change makers, and ceiling breakers. The Takeaways Digital Producer Zach Bynum and Senior Correspondent of All Things Gen-Z was there.
Zach Bynum: I just walked out, I was greeted by Alison, this wonderful Condé Nast staffer who was helping me get through the day. On to my right here, there's some giant white ropes that you can walk through to the front booth or their ticket you, and then on the other side, there's the huge iconic Teen Vogue fine. Oh, my god, y'all I need to get a picture.
Versha Sharma: A lot of mainstream media, your regular cable news pundits, seem surprised by the results. We were not surprised at Teen Vogue.
Melissa Harris-Perry: This is Versha Sharma, editor-in-chief at Teen Vogue.
Versha Sharma: We're done and we're tired of the old narratives like young people don't vote and young people don't care about the issues. It's untrue. Abortion being a huge issue motivating young people and women, especially to the polls, climate change legislation, student debt relief, all of these issues that the Biden administration actually took action on in the last six months, worked out for them.
Melissa Harris-Perry: According to analysis from the Center for Information & Research on Civic Learning and Engagement or CIRCLE at Tufts University, 27% of young people aged 18 to 29 turned out to vote in the midterms. This is second only to the record-setting 2018 turnout of young voters. While they're not a uniform block, young voters supported Democratic candidates by a substantial 28-point margin, making them the only age group where a sizable majority supported Democrats. This is partly due to the racial diversity among young voters. According to CIRCLE, young voters were the only age group to cite abortion as the issue that most influenced their vote. It's something Teen Vogue editor-in-chief noted even as she excitedly announced her own pregnancy.
Versha Sharma: I am pregnant myself. What is most important to me about that message is making sure that people understand that this is my choice and that this is a choice that I believe everybody deserves. I think the fact that in all five states that had abortion access on the ballot, all five states voters voted to protect access and not restrict rights. There was a clean sweep, it speaks very highly to how much people value access and choice.
Melissa Harris-Perry: The theme of reproductive justice was echoed by Alok Vaid-Menon, non-binary writer and performing artist. Zach caught up with Alok during the summit.
Alok Vaid-Menon: I've been thinking about this in light of the recent midterm elections, where a lot of people are saying that abortion being on the ballot box, made voters mobilize and show up. I think another piece of it that's often missing is I think it's also LGBTQ rights being on the chopping block, that people are slowly starting to wake up to realize that bodily autonomy is under attack.
Melissa Harris-Perry: Back in June, Alok during The Takeaway, after the passing of their aunt, the trailblazing LGBTQ+ activist Urvashi Vaid. Now, Urvashi was an attorney and advocate who led the National LGBTQ Task Force and drew attention to failed US policy responses to the HIV/AIDS crisis. She also advanced intersectional organizing within queer political movements. In LA, Alok talk with Zach about their aunt's legacy.
Alok Vaid-Menon: We actually just had Urvashi's memorial last week in New York City, so it's fresh on my mind. I think that what feels really pressing about this moment is throughout Urvashi's career, she was really committed to getting people to understand that LGBTQ justice was reproductive justice and reproductive justice was LGBTQ justice. I just wish that she was here to see how people are recognizing that interconnectedness, and seeing especially how young people are championing the right to self-determination.
Melissa Harris-Perry: During the conversation, Alok shared with Zach, the analysis and takeaways from the 2022 midterms.
Alok Vaid-Menon: A popular refrain that we've seen in the reproductive justice movement is the idea that sis men shouldn't be legislating on experiences that are not their own, especially the experiences of women. We have to do that due diligence and also reckon with the fact that these are not trans legislatures, trans politicians that are passing these legislations, regulating trans bodies and lives, we have to do the due diligence to actually be like sis people also can determine the self-expression and the ways in which trans people own our own bodies.
I think another commonality is that we recognize that what people do with their own body, the decisions that they make around their own health is up to them, and that morality can't be the parameters, the criteria that we use to juristic how people relate to their own bodies. Right now we see both when it comes to criminalizing abortion and criminalizing trans healthcare, discourses of morality, that translate into legislation, and that should not be a space that we allow in this country.
I do believe that young people are really fed up with the manufacturing of false issues, like trans participation in sports, instead of addressing the real issues like climate apocalypse, housing evictions, economic inequality, and instability, like college tuition. I think young people are jaded and disillusioned by a political system that continues to allocate billions, if not trillions of dollars, to perpetual war and militarism, rather than actually investing in mental health infrastructure, housing infrastructure, and building a more environmentally conscious and sustainable world.
I think that that's reflected not just in voting patterns, but in culture. I think this is where it's also important as an artist to say, we can take the vibe check, we can take the pulse of a country from an election, but that only captures part of it. Actually, look at the art that's being produced by a generation. That's another indicator. What we see, I think, across so many young artists is a championing of self-expression, a refusal of the myth, that conformity, promises security, a breaking up of this concept that if you just play it by the rules, then you'll be delivered something because I think people are realizing that carrot on a stick mentality isn't working for their generation, that they can put in all the time, spend all the money and still be profoundly broke, and profoundly unequal.
What they're actually realizing is that we shouldn't have to wait. We shouldn't have to wait for levity, for pleasure, for joy, for community, for intimacy, for bodily autonomy. These are things that we can claim right now that freedom can't be hypothetical, it has to be a practice. I think that's what I'm seeing. What I really hope is that going for the Democratic Party, rather than just giving a mere acknowledgment on social media, "Thank you, young people, for showing up to vote," what about you actually listen to young people? What about you actually shift your policy platforms? What about you actually investing in young people as the future of this country?
[music]
Melissa Harris-Perry: Okay, we're going to take a quick break, but stay with us. When we return, we've got more from digital producer Zach Bynum's reporting from the 2022 Teen Vogue Summit in Los Angeles. Welcome back to The Takeaway. I'm Melissa Harris-Perry, and we're continuing our report from Takeaway Digital Producer Zachary Bynum, who attended the Teen Vogue Summit in Los Angeles last weekend. While he was there, Zach had the chance to sit down with one of the world's most in-demand supermodels.
Adwoa Aboah: Hi, my name is Adwoa Aboah. I am the Founder of Gurls Talk model. I should probably start saying actor, but trying to be an actor, most importantly the Founder of Gurls Talk.
Melissa Harris-Perry: Adwoa Aboah plays Becks on Netflix, popular British crime series Top Boy. Adwoa recently wrapped the last season and is feeling pretty excited about her expanded role.
Adwoa Aboah: Oh, my God, talk of full circles there. I'm obsessed with full circles at the moment. Like we were talking about, when we finished, when we wrapped Top Boy, I was talking to one of the producers, and I think he's been doing it for so long and it's an end of a chapter for him and I was just like, "Let me just spill my guts this man. I'm sure he just wants to go home, is the end of the day, but let me just tell him what this all means to me. It's like, "When Top Boy first came out, I was living at home, just gotten out of treatment, trying to get my life back together, navigating sobriety and watching this TV show, this Black British TV show, and just enamored by this sheer talent and beauty in the representation."
Melissa Harris-Perry: Back in 2017, Adwoa appeared for the first time on the cover of British Vogue. It was an enormous achievement at a complicated moment. The fashion media landscape was quickly changing and reckoning with its own issues of racial representation among women of color. Adwoa grew up loving fashion magazines, but as the Black woman with freckles and textured hair, she rarely saw women who looked like her. Even as she loved fashion, she found it hard to love herself. Her mental health suffered.
Adwoa Aboah: I first point out language and how integral that's been in me processing my journey with modeling and being in the fashion industry. I think I had this very rose-tinted idea of what it would be like to be a model in the industry, one that was very much dictated on women who I was aspiring to be, who I would never ever look like. That being the backbone of my journey made it a little bit, I suppose, iffy, and a bit complicated because I think my expectations were really high.
I hadn't grown into myself, and I didn't know who I was and that's completely fine at that age, but it was a big old pressure to be entering an industry that was so backwards. I had this idea that I was going to be celebrated and I was going to be welcomed. I think throughout those beginning former years, I didn't really understand why I wasn't getting to where I wanted it to be, but I was quite confused as to why people who I had been starting off with were getting a lot further than me.
I think there's shame. You don't want to be that person who's pointing fingers and envious about other people's success. I think at that time, it was a lot about keeping that rejection and the confusion to myself and just getting on with it. Now I realized how detrimental that was to my whole idea of who I was and my position. Yes, I just swallowed it, I think, a lot of the time. I was just like, "Why aren't I being supported by these publications I've admired for so long?"
I've collected these magazines, and it was only the other day when I was clearing out my bedroom at my mom and dad and I found all these old Vogue magazines. I was flipping through the pages and I was like, this is so sad. This is so depressing that I was looking at these magazines yearning to be part of this industry that there was no space for me within it. Do you know what I mean?
That's why I thank Edward Enninful and Tim Walker, and there are a few others who gave me my big break. Do you know what I mean? The fact is everyone was-- I remember the day I got my British Vogue cover. Everyone was like, "Well done." I was like, "You know what? Actually, finally, I've been doing this for so long now. I've been trying for so long. I felt like really ready for a moment like that."
It felt very surreal, but now seeing how much the industry has changed and being a part of that change, it feels like a win every day when I flip through the pages and I see a girl that looks like myself or I see someone who isn't the most stereotypical model, the most stereotypical idea of beauty. It all feels like a great move in the right direction. It's very sad. I think we're seeing-- There's been a few articles recent about how it feels like we're going backwards in many ways, I think, in terms of inclusivity. That feels quite terrifying.
[music]
Melissa Harris-Perry: Having struggled with depression, addiction, and isolation, Adwoa founded Gurls Talk. That's G-U-R-L-S Talk. It's an online community for young women with the hope of inspiring and empowering each other and sharing their mental health journeys.
Adwoa Aboah: Gurls Talk is a community-led organization dedicated to well being and mental health of young girls and women and anyone identifying as a woman. I wanted to create a space where anything and everything could be discussed. The most taboo subjects could really be pulled apart in a safe environment. I see girls that come to our workshops and our events who have been with us since the beginning.
They've grown with us, and I think that is a testament to everything that I hoped and dreamed Gurls Talk would be. I wanted it to be that-- Because life is life, and it twists and turns and it takes all different types of shapes and that's just life. Do you know what I mean? I wanted Gurls Talk to be that blanket and that cushion for you as you navigate those really integral years of your teens and early 20s.
Melissa Harris-Perry: Adwoa came to the Teen Vogue Summit to talk about the power and importance of self-care.
Adwoa Aboah: If you're anyone who's been through and understands darkness and has been in a point in their life where it feels like there's not a light at the end of the tunnel,
I think you have such a huge amount of respect for self-care because you've worked so hard on yourself to get to the point where you can actually get out of bed in the morning. I have a huge amount of respect for it, whether that be exercise or getting to bed early or taking some time for myself or bettering my relationships with people. It takes its form in all different sorts of way, all sorts of different things, but I have a huge amount of respect for it just because I know how hard I worked to get here.
[music]
Melissa Harris-Perry: You can catch Adwoa Aboah on the next and final season of Top Boy on Netflix, and you can see her on Willow coming to Disney Plus on November 30th. Thanks so much to our guys Zach B. for heading out to LA to report from the Teen Vogue Summit for us.
[music]
Copyright © 2022 New York Public Radio. All rights reserved. Visit our website terms of use at www.wnyc.org for further information.
New York Public Radio transcripts are created on a rush deadline, often by contractors. This text may not be in its final form and may be updated or revised in the future. Accuracy and availability may vary. The authoritative record of New York Public Radio's programming is the audio record.