The Takeaway Answers Your Vaccine Questions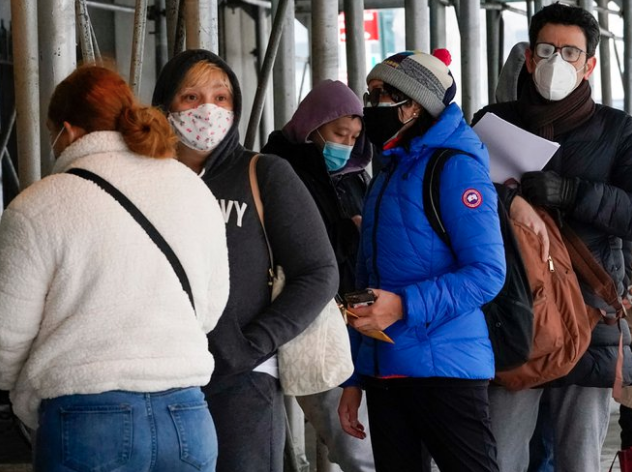 Transcript
[music]
Rebeca Ibarra: Yesterday we got some good news.
Biden: We're now on track to have enough vaccine supply for every adult in America by the end of May.
Rebeca: President Biden announcing a faster pace to potential nationwide vaccination and also a move that may help increase the supply of the vaccines. Merck will aid Johnson & Johnson in production of their vaccine, which was approved last week by the FDA. This collaboration is definitely not normal for the long-time competitors. It's worth repeating, Biden says enough doses for every adult in the country should be available.
Biden: By the end of May.
Rebeca: That said, we're not out of the woods yet by a long shot, with long waiting lists and confusion happening around the country for those still waiting to be vaccinated, and in a state like Texas which is averaging more than 7,000 new COVID cases per day, Governor Greg Abbott made a big announcement of his own yesterday.
Greg Abbot: All businesses of any type are allowed to open 100%. [applause] Also, I am ending the statewide mask mandate.
Rebeca: With the expanding vaccination efforts around the country, what can or should we actually do? How do we avoid slipping back into the danger zone, and even beyond that, what does it mean once you are vaccinated? What habits can return from the before times and what doesn't come back? You have questions, we're going to try to get you some answers. I am Rebeca Ibarra, host and producer of NPR and WNYC's Consider This, in for Tanzina Vega. Breaking down all of your vaccine questions is where we start today on The Takeaway.
To help us out, we have Apoorva Mandavilli, science reporter at the New York Times. Welcome back Apoorva.
Apoorva Mandavilli: So happy to be back as always.
Rebeca: Also, with us is Jennifer Nuzzo, lead epidemiologist for the Johns Hopkins COVID-19 Testing Insights Initiative. Jennifer, thanks for being here.
Jennifer Nuzzo: Thanks for having me.
Rebeca: Let's start with the Biden administration's announcement that the country was on track to have enough vaccines for every adult by the end of May. Apoorva, your reaction.
Apoorva: I think it's not at all unreasonable to think that we would have enough by May. I don't actually think supply's going to be an issue, even maybe in April. I think actually the bigger issue is going to be to get all of the people who are hesitant to get the vaccine.
Rebeca: Jennifer.
Jennifer: Yes, I think that's right. I'm worried about that. I'm also just worried about how quickly states are able to give it out. I think using the pharmacies as the Biden administration has announced they plan to do will be helpful, but there still is going to need to be state-provided vaccines and we know that states have been really all over the board in terms of how quickly they're able to administer.
Rebeca: Before we get listener questions, the news from Texas. Jennifer, what are your thoughts on the state lifting its mask mandate?
Jennifer: I just can't comprehend it, frankly. I understand the pressure that governors are under to open businesses, particularly in the face of falling case numbers, but masks are the pathway to keeping businesses and schools open. Now is not the time for this. We still have dangerously high case numbers. It's great news that they're falling, but they're still dangerously high and I really worry that it's going to set us back.
Rebeca: Apoorva.
Apoorva: Actually, I don't even think in Texas they are falling. They're staying high. They fallen by about 10%, but that could go either way, and as Jennifer said, masks will be the way that we can actually keep things open. When I heard the news, I had this stone drop in my stomach. I just wrote a story about how we may have a fourth wave and this is exactly what's going to get us to a fourth wave.
Rebeca: Okay. Let's pivot. We asked all of you out there to send us your questions about the vaccine and what you can start to do and think about after you get the shots and we want to get to them. I think these first two are probably top of mind for a lot of people out there. I know they are for me. Take a listen.
Speaker 1: I'd like to understand when and how it will be possible for me and my son and my husband to go visit and hug and sit close to my parents who are both in their late 70s. We'll be vaccinated not until sometime well into the summer, but they will have had both of their shots for a long time at that point, and we just want to understand when we can be close because we really miss them.
Speaker 2: Hi, my question is about my parents. They're 81 years old. They live in Montreal, Canada, and they are scheduled to be vaccinated by April. They're really anxious to get to Los Angeles to visit with myself and my 14-year-old daughter. My daughter is the more pressing attraction of course, but my concern is, is it safe first of all, for them to travel once they've had the two shots, and is it advisable for them to stay with us since neither my daughter nor myself will be vaccinated by that time?
Rebeca: Apoorva, what are your thoughts on these questions?
Apoorva: I think as long as they've waited long enough after those two shots for the immunity to fully take effect, it should be okay for them to travel, but still with masks, with distancing, with hand washing. I would not recommend not having masks on just because you're vaccinated, but I think given all those precautions, especially if other people in the family are vaccinated, but maybe even if they're not, they will be okay.
Rebeca: Jennifer, not surprisingly, we have more questions on family. This one however is about newbies.
Talia: My name is Talia [unintelligible 00:05:53] I'm in University Place, Washington. My question is, can my family members who've been vaccinated visit my newborn? Is there a wait time? Could they be carriers of anything? Is there anything we need to do to be extra safe? Additionally, my husband and I are not vaccinated yet, so is that another variable?
Rebeca: Jennifer, what are your thoughts on this situation?
Jennifer: That's a much harder situation to weigh in on, in part because we don't have great data to guide us here. There are two things that make me worry about that scenario, and I very much agree with what Apoorva said about the previous question, in terms of vaccinated grandparents and the safety of their traveling and being with other family members.
In this question I'm worried about the young infant, because while we know that children have been less frequently represented among cases, there is a risk in particular for children under 12 months. We think the vaccines are likely to reduce transmission, but we don't know how much and we don't know if it's complete. I would be perhaps worried about vaccinated people holding and having very close contact with an infant.
Rebeca: Let's play another call from Maeve in Brooklyn, New York.
Maeve: My question is, is it safe for our parents to get together with their friends who are all vaccinated, inside, without masks, after the two-week waiting window, after their second shots? Thank you.
Jennifer: I think small groups of vaccinated people getting together shouldn't be too much of a risk, especially if they don't sit way too close to each other. We know that the risk of transmission from somebody who's vaccinated is not zero, but it's likely to be fairly small, and then when you multiply that for two people for whom the risk is pretty small, it really goes down. That, I think, sounds okay to me.
Apoorva: I agree with that. I think we also have to distinguish where these events occur and if they occur in private, that's great. One of the challenges I think is when people go out in public and there's two components to what we're concerned about. One is about keeping the norms of social distancing until we get more people vaccinated and the other one is the unknown risk to people who haven't yet been vaccinated.
Rebeca: Jennifer, when can we hug our friends again? This question was sent by one of our listeners and I think a lot of us can relate to how hard it's been to just miss that human contact.
Jennifer: I think first of all, if the friends are vaccinated, I do not feel that it's that great of a risk to hug your friends if you're both vaccinated. The Centers for Disease Control are going to be issuing new guidance very soon about what vaccinated people can do and if they say otherwise, I would be inclined to follow it because I think it's important to have a national science body make recommendations and for us to adhere to them based on the evidence that's available, but I think that's a reasonable thing to do.
Rebeca: Apoorva, let's talk outdoor events. We got a couple of questions about this. Here they are.
Kerry: This is Kerry from Oregon and I just learned the fall football schedule and what I'm wondering is if I can go and watch my Oregon Ducks put the hurt on the Washington Huskies on November 6th and scream my lungs out. Maybe if everybody has a vaccine certificate, we could do that?
Tom: Hi, this is Tom [unintelligible 00:09:31] from Vista, California, and I want to know when are we going to start having live concerts again?
Rebeca: Any good news for Kerry or Tom? Are there differences between those two kinds of events, Apoorva?
Apoorva: The outdoor one is my favorite question because then I get to give good news and say, yes, I think would be totally okay by then. In November I think all of the adults who might be there will probably be vaccinated and especially if they can show that they're vaccinated, the risk outdoors we already know is very small. Concerts is a different issue. If it's an outdoor concert, sure, go ahead. But indoor concert, so much is going to, again, depend on ventilation and whether everybody who will gather indoors is vaccinated.
Rebeca: Jennifer, quite a few of our listeners sent in questions asking about transmission. Can you clear up that confusion? What do we know about whether or not vaccinated individuals still spread the virus?
Jennifer: We have good reason to hope that the vaccines will reduce transmission. We don't know fully how much and we don't know for all vaccines. We do have some promising data from some of the vaccines and I think based on what we know about how vaccines work, we would expect to see transmission be reduced by the vaccines. But it may not be and in my view probably likely isn't going to be a completely perfect reduction in transmission.
I think we will still see some level of transmission. We're using the vaccines largely to kind of defang the virus and to reduce, and the trials have shown that it does this quite nicely, severe illness, hospitalizations, and deaths.
In my view, having a vaccine or vaccines that do that, really begin to change our relationship to the virus, and so even to the earlier question about when can these things resume. I think if we are at a point where any adult who wants to be vaccinated is, and we have participation in the offering of vaccinations, I think the fall could look very different than what it is now and we might be doing some of those things that we right now are hesitant to do.
Rebeca: Do we know anything about asymptomatic transmission for those that are vaccinated?
Jennifer: This goes into it. One of the trials did look at the presence of infection regardless of symptoms and there was a good signal there, and we have some reason to think that transmission would be different, but again, we don't have it teased out for all the vaccines. We don't have a sense of how much of a reduction for all the vaccines and we don't have it teased out according to symptoms.
Apoorva: I just want to jump in there and talk about something that I've been obsessing over lately, which is variants. The one variant B.1.1.7 that was identified in the UK, that seems to respond just as well to vaccines as what we've been seeing in the United States. But there are a few new ones, including the one in New York, that have a mutation that some people are worried about.
It's called E484K, or Eeek as they're nicknaming it, but it's the one in South Africa and the one in Brazil, and both of those have now proven to be a little bit less easy to defeat for a vaccine. I would watch that space very carefully.
Rebeca: Apoorva, one listener in California wants to know, what do we do if enough people declined to receive the COVID-19 vaccine and herd immunity isn't reached. What happens?
Apoorva: That's a tough one. Vaccination mandates never work and I'm sure Jennifer knows more about this than I do, but hopefully people will come around as they see that everyone around them is vaccinated and they haven't grown horns or anything and that it's safe. If the really die-hard hesitant people, maybe they will be pressured by businesses or by their kids' schools. I'm not really sure what's going to happen there.
Jennifer: I think we have to maybe start rethinking a little bit what we're doing with the vaccine, which is that if we are able to use the vaccine as the vaccines promise we can do, to take off the table the possibility of being hospitalized or dying from the virus, I really do think that that's going to change how we think about the virus. In my view, first of all, the concept of herd immunity is a really complicated one and it's going to vary by location, it's going to vary by the social habits of the people who get vaccinated and it is not one single end state.
It's a bit more dynamic than I think it's often talked about. I do think that we could be at the point where there is some level of circulation that we are able to live with because we have taken off the table the possibility of people winding up in the hospital. We live with other Coronaviruses. What sets this one apart is the level of the severity of illness that it causes, so this is why I think we're so incredibly fortunate to have the vaccines that we do because that is our pathway to freedom from worry that we could become quite ill from becoming infected.
Apoorva: Again there, I think we have to worry about the variants. If B.1.1.7 really takes off here, I think that can still drive up the numbers for the people who are unvaccinated, obviously not the ones who are.
Jennifer: It's just hard for me to imagine that we're going to get to a point where we stop the virus from circulating. I think we'll have lower numbers and I do think, the other fortunate news about the vaccines that we have is that there is the possibility to change if we do find that there's a variant that is not responsive. I do think even with the news we've had to date, the vaccines still offer a good promise of protection against the variants we've seen so far. Less for sure in some cases, but still promising. I do think that it'd be nice for people not to have to worry about winding up in the hospital if they get it.
Rebeca: I have another question for both of you. One of our listeners in Syracuse, New York asks, my friend is having a wedding in July of 100 people. I will be fully vaccinated and much of the wedding will be outside. Should I go? Apoorva, you first.
Apoorva: Again, if it's an outdoor wedding and this person is vaccinated, it sounds okay, but some of it also depends on how many other people there are not vaccinated. Let's assume that most of the people there are vaccinated, have fun.
Rebeca: Jennifer.
Jennifer: Looking ahead I expect that July, we will be in a better place, but I think Apoorva is right to bring up the variants and the possibility of change, and so I think if you are accepting of the fact that the situation could change quite considerably before now and then, that's an important degree of flexibility to have, but I think right now the idea of vaccinated people attending an outdoor wedding is a reasonable prospect.
Rebeca: We got this call about flying as well.
Katherine: Hi, this is Katherine in Brooklyn. I'm wondering if you all think it will be safe for folks to travel internationally come summer, like August.
Rebeca: Jennifer, start with you.
Jennifer: This is a more challenging situation because the US is really leading in terms of its rollout of vaccine and so if somebody is vaccinated, of course I'm less worried about their traveling. Whether people will be able to travel, whether there will be restrictions or shutdowns in countries that have not been quite as fast to roll-out vaccines, is another story. I think again, if you're vaccinated, the risk is probably limited, but there is of course the possibility that the situation in countries will get worse, particularly with the spread of variants and the slow vaccine roll-out.
Apoorva: If all the people traveling are adults, great, and they're all vaccinated. But if they have kids, it's unlikely they're going to be vaccinated all of them by the end of the year, maybe in the fall sometime. Before they are, kids may not get very sick themselves, but they may pick up something, a different variant that's circulating in a different country and bring it home.
Rebeca: We have one question from listener Jose Hernandez. He asks, are we going to see official vaccine passports in the near future to make travel safer? Apoorva.
Apoorva: Sounds like we are. There are a lot of ethical issues with those but I'm hearing more and more talk about that and some countries have already started to do it, so it wouldn't be surprising and it's not unprecedented. There are other diseases for which, yellow fever for example, for which people have had to show that they're vaccinated in order to come into a country or to go do certain activities.
Rebeca: Jennifer.
Jennifer: I think it's possibly inevitable. I do deeply worry about this. The equity problems are enormous. Right now, the countries that are vaccinating are largely high-income countries and the willingness of these countries to share their vaccine has been quite limited. We are essentially leaving holes of the planet unprotected and then further penalizing them by restricting their ability to travel, which has economic ramifications.
The other thing that I do worry about is that, yes, we have vaccine cards for yellow fever, but we also know that these are forged. Just because we have a passport doesn't mean it's safe. I think if we have the system where there's scarcity of vaccines and penalties for not being vaccinated, we should expect to see compliance and verification issues.
Rebeca: We have a final question from Carmen.
Carmen: Hi, this is Carmen in Potomac, Virginia. One question I have about the COVID-19 vaccine which I am very excited to take is, can I drink the same half a bottle of wine at night that I do every other night after I get the vaccine? Either the first dose or the second dose? Very important question. I need to know the answer to and I think a lot of other people do. Thank you so much.
Rebeca: Jennifer.
Jennifer: Yes, I get it. The pandemic has been tough. There's no guidance to suggest you shouldn't, that you need to scale back on the wine because of the vaccine. I think there are probably other health considerations there, but the vaccine itself should not be the reason why you're scaling, it doesn't have to be the reason why you're scaling back.
Rebeca: Any thoughts Apoorva?
Apoorva: I agree with that. More power to her if she can actually get through a half bottle of wine every day or every other day and still get her work done or whatever she's doing.
Rebeca: Apoorva Mandavilli is the science reporter at the New York Times, and Jennifer Nuzzo is an epidemiologist for the Johns Hopkins COVID-19 Testing Insights Initiative. Thank you both so much.
Jennifer: Thank you.
Apoorva: Always a pleasure.
Copyright © 2020 New York Public Radio. All rights reserved. Visit our website terms of use at www.wnyc.org for further information.
New York Public Radio transcripts are created on a rush deadline, often by contractors. This text may not be in its final form and may be updated or revised in the future. Accuracy and availability may vary. The authoritative record of New York Public Radio's programming is the audio record.