The Supreme Court's Objectivity is Under Scrutiny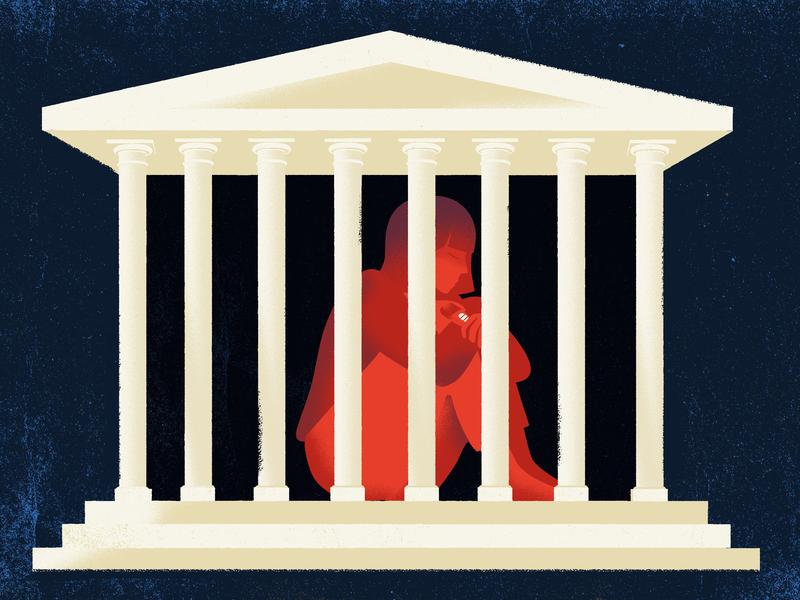 Transcript
[music]
Janae Pierre: Hi everyone, it's Janae Pierre from WNYC in for Melissa Harris-Perry this week. It's good to be with you. Now let's get to it.
[music]
The Supreme Court is back in session this week after a tumultuous term in which it declared the Environmental Protection Agency made it easier to carry a concealed gun, and of course, brought into the constitutional right to an abortion. Key cases on the upcoming docket include similarly high-stakes debates on fundamental laws in the country. Today, SCOTUS will hear oral arguments in the case of Merrill v. Milligan, an appeal from Alabama on the legitimacy of a redistricting map that a federal court deemed to be in violation of the Voting Rights Act because it diluted Black voting power. It's one of two major voting rights cases on the docket.
Also of note, affirmative action. Two lawsuits involving Harvard and UNC will question whether college admissions should be race-blind and the court will hear another case hitting a business owner's First Amendment rights against the same-sex couple's protection from discrimination in a case involving a Colorado web designer.
[music]
Justice Ketanji Brown Jackson: I evaluate the facts and I interpret and apply the log to the facts of the case before me without fear or favor.
Janae Pierre: Joining the bench for these decisions is Justice Ketanji Brown Jackson who begins her lifetime appointment this week. She's the first Black woman and the first former federal public defender on the Supreme Court. Given the court's six to three conservative majority, it's increasing comfort with shrugging procedural norms and the realization of long-fought right-leaning policies trust in the objectivity of the institution is at an all-time low much to the chagrin of Chief Justice John Roberts who said as much at a court conference last month.
Chief Justice John Roberts: Lately, the criticism is phrased in terms of because of these opinions, it calls into question the legitimacy of the court. I don't understand the connection between opinions that people disagree with and the legitimacy of the court.
Janae Pierre: We wanted to know what you thought too.
Katherine: Hi, this is Katherine from Middletown, New Jersey, and I think that the Supreme Court as it stands now is a complete joke and I'm super scared of everything that's about to happen.
Speaker: Very little faith in the Supreme Court today. They have become political.
Speaker: I think my primary thought related to the Supreme Court right now is that I believe there should be no lifetime terms.
Janae Pierre: Joining me now is Melissa Murray. Stokes professor of law at NYU, faculty director of the Birnbaum Women's Leadership Network, and co-host of the legal podcast, Strict Scrutiny. Hi Melissa, Thanks for joining us on The Takeaway.
Melissa Murray: Thanks for having me, Janae.
Janae Pierre: In the clip we played, Chief Justice Roberts said he didn't see a connection between opinions that people disagree with and questions about the legitimacy of the court. Do you see that connection?
Melissa Murray: I think this is a little disingenuous from the chief justice. I think everyone recognizes that the court in overruling Roe versus Wade overruled a precedent that earlier courts had affirmed quite frequently. The only reason why in 2022 this was up for debate, was because the composition of the court had changed dramatically cementing a six to three conservative super majority that now was able to do what it had wanted to do many years earlier, which is to overrule Roe v. Wade.
The question of the court's legitimacy is not just about decisions with which people don't agree, but the fact that those decisions are linked to the political composition of the court.
Janae Pierre: Let's talk about some of the cases. First, let's start with Merrill v. Milligan. Tell us what that's about.
Melissa Murray: Merrill v. Milligan is a challenge involving Alabama's redistricting map. To understand this case fully, you really have to go back to 2013 in Shelby County v. Holder, where the court dismantled the Voting Rights Act pre-clearance regime, which required states with a history of suppressive voter laws to go to the Department of Justice to first pre-clear any changes to their electoral processes. The court overruled the pre-clearance requirement in Shelby County v. Holder, which really cleared the way for jurisdictions to pass a whole range of voting laws, including laws that prevent people from giving water to those standing in line when they're waiting to vote.
As the court did this, they made it very clear that even though the pre-clearance requirement was being dismantled, individuals still had the opportunity to litigate or challenge voter laws that were suppressive under Section 2 of the Voting Rights Act. Section 2 prohibits election practices that result in a denial or abridgment of the right to vote on the account of race. The question here is in drawing those redistricting maps, did the Alabama legislature do so in a way that was designed to dilute the political power of African Americans in that state, which is 27% African American?
Janae Pierre: Let's talk now about Moore v. Harper. Can you briefly explain what this case might mean for elections in this country?
Melissa Murray: This is a very important case, and again, you need some context in 2019 in Rucho v. Common Cause, the court concluded that federal courts cannot hear claims of partisan gerrymandering. This is drawing legislative districts to give one particular political party an advantage. The court said that federal courts couldn't decide this, but it could be decided by state courts interpreting their constitutions or alternatively through state redistricting commissions.
In Moore v. Harper, North Carolina's legislature drew their districting map and the state Supreme Court said this violates the North Carolina constitution's provision for fair and free elections. At this point, the North Carolina legislature challenged the state court's decision in a federal court arguing that state courts under the elections clause of the federal constitution don't actually have the authority to interpret state constitutions in a way that has any impact on electoral processes at the federal level. The United States Supreme Court said that it couldn't decide, partisan gerrymandering gave it to the states.
Now this state legislature is arguing that the only entity at the state level that can deal with federal districting is going to be the state legislature itself. There is no role for state supreme courts or other bodies or even the state governor to interpret state constitutions in a way that promotes fair and free elections. This is going to have seismic consequences for federal election law more generally because it means that any election law, even quotidian laws like voter registration or mail-in ballots that were promulgated by state courts or the governor or anyone but the state legislature are now called into question.
This theory, which is known as the independent state legislature theory, was first aired at the Supreme Court in the 2000s Bush v. Gore, but it only had three votes there. Only three justices signed onto this. Now it seems that there are at least four justices willing to take this theory seriously. The real question is whether the Chief Justice or Justice Barrett who are a little unclear about where they stand on this will actually go along to form a five Justice majority to essentially take this question out of the hands of state courts and leave it exclusively to state legislatures.
Janae Pierre: What about cases on affirmative action? How do they argue admissions policies meant to limit racial discrimination are actually creating it?
Melissa Murray: This is something that the conservative legal movement has been doing for a long time, and it was best exemplified in 2007 when Chief Justice John Roberts in another case said the best way to stop discriminating on the basis of race is to stop discriminating on the basis of race. They very much view affirmative action as race discrimination. These two cases Students for Fair Admissions v. Harvard and Students for Fair Admission v. UNC are going to be challenging two critical issues.
One is whether Title six of the Civil Rights Act of 1964, which prohibits race discrimination, why those who receive federal monies would prohibit Harvard from considering race in its admissions policies. Second, whether the equal protection clause of the federal constitution would prevent a public institution like the University of North Carolina from using race. Again, this is like the Dobbs and Roe situation that we saw the last term.
Affirmative action has been upheld by the court for many years as early as the 1970s in a case called Regents of the University of California v. Bakke and as recently as 2016 in a case called Fisher v. the University of Texas. If the court overrules the right to use race in admissions proceedings, and I think that it will, I think the real question is how do they write this so that it doesn't seem like this is simply a question of political will and having the right composition on the court and really a question of law.
Janae Pierre: Now, let's look at a case on free speech protections. This one involves a graphic designer who opposes same-sex marriage. Melissa, this one feels a lot like the 2018 case of Masterpiece Cakeshop, which I might add also happened in Colorado. How is this different and what are the implications here?
Melissa Murray: It's not really different factually, In fact, it really is a follow-on to Masterpiece Cakeshop and it's important to remember that in Masterpiece Cakeshop, the court didn't actually answer the question of whether civil rights protections for LGBTQ persons actually trumped religious liberty. They punted on that question, leaving it open. This case will take it up.
Here Lori Smith, who owns a graphic design firm that designs wedding websites does not want to provide those services for same-sex weddings and more importantly, she actually wants to put a message on her website explaining that she does not provide those services for same-sex couples. She asked the court to review two questions. One, a religious liberty question, whether the requirement that institutions doing business in the public in Colorado serve all comers, whether that violated her right to free exercise of religion, and secondarily, whether the civil rights law that requires her to serve all comers actually violates her right to free speech because it essentially compels her to support something that she does not.
The court did not take up[unintelligible 00:10:35] on the religious freedom question. That perhaps is a rare bit of restraint from this court that has been quite maximalist on its questions of religious freedom, but it did take up the free speech question. This is going to be a major case that will have huge repercussions for individuals who are LGBTQ or simply same-sex couples trying to live in the public sphere.
Janae Pierre: What other cases will you be watching this session?
Melissa Murray: A set of cases that hasn't received the attention that it really deserves is four cases that deal with federal Indian laws and federal Indian rights. The cases which are consolidated under the title Brackeen v. Haaland deal with the constitutionality of various provisions of the Indian Child Welfare Act. The ICWA is a federal law enacted in 1978 that does, among other things, establishes minimum standards for the removal of native children from their families and establishes a preference that native children who are removed from their families be placed with extended family members or in native foster homes.
The law was a federal response to tribal complaints about the long history of state child welfare officials removing native children from reservations and placing them in boarding schools or with white families. For a long time, the ICWA affirmative action has been in the crosshairs of conservatives who argue that the law impermissibly discriminates against White foster and adoptive parents.
The court is now poised to take up two questions, whether the provisions of the ICWA, which require state officials to observe minimum standards and placement preferences violates the 10th Amendment's anti-commandeering doctrine. Secondarily, whether the provisions of ICWA that prioritize placements with native families violates the equal protection clause. That last question is a really tricky one because historically native status has been treated as a political rather than racial category.
To determine that these preferences violate the equal protection clause would completely upend that history of treating native tribes as political sovereigns within our own boundaries and instead treat native status as a racial category subject to the equal protection clause. A really important case hasn't gotten a lot of play. It will have huge consequences for tribal sovereignty in a wide range of areas.
Janae Pierre: Thinking back to the previous session and looking ahead to this one, I'm wondering, is the court making these big impactful decisions at a more rapid pace, or does it just seem that way?
Melissa Murray: Yes. My colleague Leah Lipman at the University of Michigan says that this is the YOLO court, you only live once. It's a court with a six to three conservative super majority, and they're trying to take advantage of it. There really is no other way to understand their behavior. Typically, Supreme Court terms tend to oscillate in terms of their sweeps. A term like last term, which was filled with blockbuster cases would likely be followed with a quieter term with fewer bombshells and minefields. That's just not the case. This court is at full tilt taking on these hot-button issues that will have enormous consequences for the lives of ordinary Americans.
Janae Pierre: This session is also the beginning of Justice Ketanji Brown Jackson's appointment to the bench. Any thoughts on what she'll face in terms of pressure to define herself?
Melissa Murray: That's a rare glimmer of hope for progressives in this country with regard to the court. I think her appointment to the Supreme Court was a real high point of last year and there weren't a lot of high points for us court watchers last year, but she faces a really hard road ahead. She's part of a hobbled liberal minority of three.
Interestingly, this liberal minority contains two women of color and another woman. In a way, it does reflect in a very profound way the multiracial democracy associated with progressive politics. It doesn't have the numbers at the court right now. I think the real challenge for Justice Jackson is trying to navigate her way through this six to three conservative supermajority, find opportunities to build coalitions with some of her colleagues on the right, and perhaps simply hold her powder for a time when she might be in the majority.
In this regard, perhaps the model for her is paradoxically Justice Clarence Thomas, who for many years was out in the wilderness waiting for that six to three conservative super majority to take shape. Now, it is here. He's really enjoying some job satisfaction. I wonder if her view of this right now isn't to simply just keep her head down, do the work and wait for the moment, maybe many years in the future where a progressive supermajority might come into being.
Janae Pierre: Over the weekend. The New York Times editorial board wrote the following, I'm going to read this here. "The court's rulings are now in line with the views of the average Republican voter, in the process the court has unmoored itself from both the constitution it is sworn to protect and the American people its privilege to serve. The court's right-wingers are calling balls for one team and strikes for the other."
Melissa, do you agree? What can be done about the court skewing right?
Melissa Murray: I do agree that the court has skewed right. I think most people would say elections have consequences and this is one of those consequences. I think it's more than that. The political climate surrounding the Supreme Court has really accelerated and intensified over the last 10 years. A lot of this is a question of politics, not of law. It's actually unheard of before 2016 to imagine a political party stonewalling the President on a hearing for a nominee to the Supreme Court.
Of course, before the changes in the Senate voting rules, it would've required a super majority for anyone to be appointed to the Supreme Court. The fact that a simple majority is now required means that on both sides of the aisle, you can put up a more extreme nominee in terms of ideology because you don't have to actually court votes from the other party. This has all created a landscape in which the court feels a little bit like a political football, and it is feeling unmoored from the law and the Constitution because it feels like it is a product of our politics.
Janae Pierre: Melissa Murray is a Stokes professor of law at NYU, the faculty director of the Birnbaum Women's Leadership Network, and also she co-hosts the legal podcast, Strict Scrutiny. Melissa, thanks as always for bringing your legal insight to The Takeaway.
Melissa Murray: Thanks, Janae.
[music]
Copyright © 2022 New York Public Radio. All rights reserved. Visit our website terms of use at www.wnyc.org for further information.
New York Public Radio transcripts are created on a rush deadline, often by contractors. This text may not be in its final form and may be updated or revised in the future. Accuracy and availability may vary. The authoritative record of New York Public Radio's programming is the audio record.