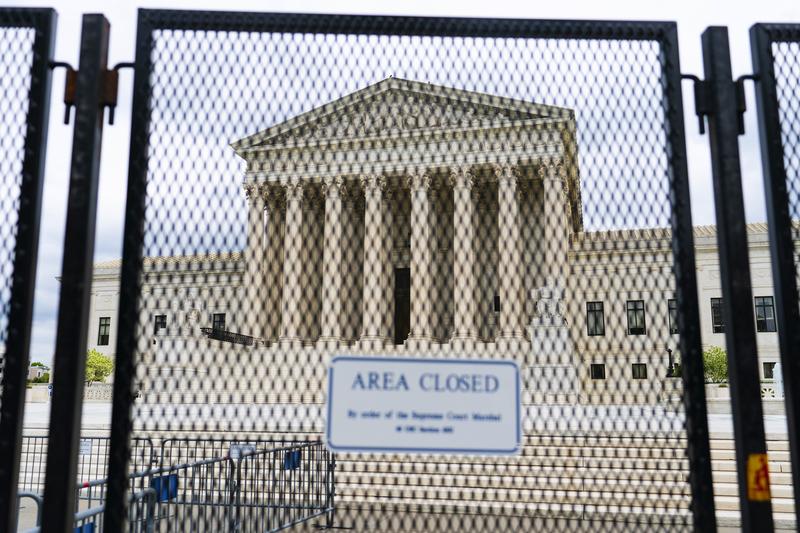 Transcript
Melissa Harris-Perry: It's The Takeaway. I'm Melissa Harris-Perry. Thanks for spending part of your day with us.
[music]
Speaker 2: Oh, yay, oh, yay, oh yay.
Melissa Harris-Perry: This has been an unprecedented term for the US Supreme Court with a firm majority of five conservative justices. The nation's high court has considered cases with decisions likely to reverberate across all areas of American life and governance for decades. First amendment issues of religious freedom, second amendment concerns about the regulation of gun ownership. Core governance matters about the power of federal agencies to enforce regulations and of course, the question of whether the constitution protects the right to seek and choose an abortion.
The court is of course issuing these rulings while still in the shadow of a shocking leak of a draft opinion and now with armed guards providing 24-hour protection at the private residences of justices. James Romoser is editor of SCOTUSblog, an outlet tracking and analyzing cases before the Supreme court. Thanks for being here, James.
James Romoser: Thanks so much. Happy to be here.
Melissa Harris-Perry: Okay. Obviously, Dobbs v. Jackson Women's Health Organization is the big one we are still waiting on. Can you give us a sense of your thinking on this?
James Romoser: Yes, that's right. Like the rest of the nation, I'm certainly awaiting this opinion probably more than others. It is of course a challenge to Mississippi Law that bans abortions after 15 weeks of pregnancy. Over the course of the litigation, the case has become a direct test to whether Roe versus Wade remains the law of the lands and whether the constitutional right to abortion at the federal level will remain standing. Of course, a couple months ago, there was a leaked draft opinion that showed that at least initially and privately five justices were prepared to issue a ruling directly overturning Roe versus Wade and abortion rights at the federal level.
That of course is not a final opinion of the court. On rare occasions, sometimes votes do change as negotiations continue while the justices are debating the final opinion. That's where things stand. Certainly, when the Dobbs opinion comes down, I think you're going to see a ton of attention on the court as you already have in the past few weeks. The ramifications will be really hard to overstate because dozens of states are prepared to entirely roll back abortion rights if they haven't already done. [unintelligible 00:02:57] is handed down.
Melissa Harris-Perry: I've one more question on Dobbs around timing. I'm not asking to look into a crystal ball here, but rather if there is anything relative to the previous decisions of this magnitude in terms of when they tend to show up in the court's release of decisions. Does it tend to be earlier, middle, or later or isn't there a historical pattern to that?
James Romoser: Historically, cases of this magnitude come down at the very end of the term, typically the very last day of the term or maybe sometimes the last week of the term or in some cases the final two weeks of the term. Usually, they tend toward the very, very last minute. That's because with cases of this magnitude, justices care the most about them and they work right up until the last minute to finalize the majority opinion and the defense. There's a ton of negotiation behind the scenes.
With this court, anything is possible as far as timing. Typically, the big cases, they come down right at the end. We now are entering the home stretch of the Supreme Court term on Tuesday. This case really could come down at any time.
Melissa Harris-Perry: Let's talk about West Virginia v. EPA. How important is this case from an environmental and a regulatory standpoint?
James Romoser: It's potentially very important. It depends on what the court does. This is a case challenging the ability of the environmental protection agency to pass broad regulations to combat climate change. If the court issues a broad ruling as some red states and the coal industry have asked, it really could hamstring the ability of that agency to make rules on climate change. Indeed a ruling could even potentially hamstring many other federal agencies to pass regulations and policies affecting all sorts of areas of government.
Now that being said, there are many issues regarding jurisdiction and other technical problems in the litigation. Under normal circumstances, I would expect because of those technical and jurisdictional problems, the court would not issue a sweeping decision and in fact might not even decide the merit to the case. Now again, this court is somewhat unique compared to even the makeup of the court in past years and past decades.
Anything is possible. I think a narrow ruling that punts on this issue is very possible nonetheless. Of course, I think we will continue to see litigation about climate change and the power of the EPA to regulate it coming up. Even if we don't see a broad ruling on the merits this term, stay tuned.
Melissa Harris-Perry: Okay. I want to stick with this one for just a moment. Do I hear you saying that it could affect the capacity of federal government agencies to regulate full stop?
James Romoser: Yes, that's right. Certainly past broad and sweeping regulations. That's because the case at its heart is not just about climate change, it's about the power of the EPA and the power of federal agencies rate large. It involves this complex legal doctrine known as the major questions doctrine. The basic issue is whether a federal agency can regulate in an area that is considered a so-called major policy area. If Congress hasn't been crystal clear about exactly what it wants the agency to do.
There's a lot of problems with that doctrine because for example, "Who defines what a major policy area is?" Well, the answer is that the Supreme court does. Another question is, who defines when Congress is crystal clear or when Congress is so ambiguous that a federal agency might not have the power to pass policies, but this current Supreme Court, we've seen in case of a case is highly skeptical of the power of federal administrative agencies. They've already begun to cut away at agencies power.
Yes, it will affect not just the EPA, but it'll affect agency's ability to regulate in the areas of healthcare, of food safety, of workplace safety rules, really across the administrative state.
Melissa Harris-Perry: Let's talk about state power, in this case around gun laws. The nation's eyes are still very much on Uvalde. SCOTUS is expected to decide a case regarding New York's State license requirement regarding concealed carry. Can you walk us through that a bit?
James Romoser: It's a challenge to New York's concealed carry regulations. Basically, several New York State residents have challenged the gun control law there as violating the second amendment and specifically the second amendment, right to bear arms. If you remember from your civics class, the second amendment says that people have a right both to keep arms and bear arms. In a case about a decade ago, the Supreme Court interpreted that first phrase, keeping arms very broadly and said that in general, citizens have a right to keep weapons in their own homes for their self protection.
Now this case is the follow on to that. It's about bearing arms. That is the ability to carry guns outside their home for self protection without having to show a very special need or a personalized need for self protection, which is what the New York Law requires and which is what many other state and city gun control measures require. These citizens are saying those gun control regulations go too far and they shouldn't have to show that special need. They should be able to carry a concealed handgun without making that heightened showing.
Melissa Harris-Perry: All right. Let's talk a bit about religious freedom here. We just did a little second amendment. Let's pop back up to that first amendment. Kennedy versus Bremerton School District, this is the case about the football coach.
James Romoser: That's right. This case comes to us out of Washington State. There was a public high school football coach who was in the habit of kneeling at the 50 yard line on the field after games and praying. Some students would join with him in his prayer. The school district asked him to stop basically. The reason the school district asked him to stop was because the district felt that some students might feel coerced into joining him in prayer. It was a Christian prayer and the school district felt that under the establishment clause of the first amendment which prevents government including public schools from establishing or endorsing religion, the district didn't want to be seen as endorsing any religious practice and they didn't want students to feel coerced into joining him. The coach responded that free speech and freedom to exercise religion don't disappear inside the schoolhouse gate, that he has a first amendment right both a free speech right and a freedom of religion right to exercise his own religion even in a school setting.
That's what the challenge is about, if the court rules in favor of the coach, that will open the door to more religious practice within schools I think by teachers.
Melissa Harris-Perry: How straightforward is that case? Are there strong predictions among writers and endless at SCOTUSblog about this one?
James Romoser: I have to say this is actually not straightforward at all, and that's because although the legal issue sounds simple, there are significant debates about the underlying facts. The coach himself describes his practice as briefly kneeling to say a silent private prayer. The school district says that's not what was going on at all, that there were crowds of 10, or 20, or 30 people all joining him with these prayers, they became a significant public spectacle, they became very disruptive, students did feel coerced to join.
The underlying debate really changes how one sees the case, and how one is likely to analyze the case. Typically the Supreme Court is not really a fact-finding court. That's supposed to be left for lower courts, and the Supreme Court is supposed to decide only the legal issues. As this case has come up to the justices, there are really sharp disagreements about the facts before you can get to the legal analysis. It's hard to predict what the justices will do with that.
The oral argument was pretty complex for that reason and you saw the justices struggle with the fact that there are these disagreements. Now that being said, the six to three conservative majority on the Supreme Court, we've seen has been highly accommodating of religious rights claims from people who want to practice their religion. If I were a betting person, I would expect some ruling on behalf of the coach.
Melissa Harris-Perry: We're going to take a quick break right here, back with more on the Supreme Court and upcoming and recent decisions here on The Takeaway.
Welcome back to The Takeaway. I'm Melissa Harris-Perry. While we are still waiting for a number of big decisions from the Supreme Court, we've already seen some important opinions come out this term. Joining me once again to walk us through them is James Romoser, editor of SCOTUSblog. James, let's talk about some of the cases [unintelligible 00:13:13] have been trained on Dobbs have nonetheless come out, US v. Vaello Madero. Can you walk us through that one?
James Romoser: That case has been a little bit under the radar. It was decided a couple months ago. I think it's actually pretty important. Basically, it involves a federal program known as Supplemental Security Income. This is different from social security. This is essentially a safety net program that provides cash benefits to older Americans, at people who are blind or disabled, who can't support themselves.
What Congress did in this program is it made these benefits available to residents of all 50 states, but it excluded residents of Puerto Rico. Even though of course residents of Puerto Rico or American citizens and one such resident of Puerto Rico Mr. Vaello Madero who actually previously lived in New York City and received these SSI benefits lost the benefits when he moved to Puerto Rico to be with his family. He challenged the exclusion of Puerto Rico from the benefits under the Constitution's equal protection clause. He basically says, "Equal protection means that Congress has to treat all American citizens equally."
This came up to the court and the court held eight to one that Vaello Madero was wrong, that actually Congress can exclude Puerto Rico from this sort of benefits. The ruling does open the door for the federal government to treat Puerto Rico and the other territories differently in all sorts of federal programs. Justice Sonia Sotomayor was the the longest center in that case.
Melissa Harris-Perry: Let's talk about another one around federal oversight which we were talking about in the context of the EPA case, [unintelligible 00:15:01] what happened there?
James Romoser: Yes. This is a case involving a federal border control agent who was attempting to question a suspected non-citizen near the US-Canada border outside and in. The innkeeper intervened and asked the border patrol agent to leave his property. A dispute arose and the innkeeper claims that the border patrol agent wouldn't leave and violated his fourth amendment rights, and then, later on, retaliated him by prompting IRS investigation in a way that was a violation of his first amendment rights.
The innkeeper sued the border patrol agent for a first amendment retaliation a claim and for a fourth amendment violation for an illegal search and seizure. The basic question is whether citizens have a right to sue federal officers for constitutional violations. There's a federal statute that allows people to sue state officials like state or local police officers for constitutional violations. There's no similar statute to sue federal officers. There is this old case in the Supreme Court in which the Supreme Court basically said, "You have an implied right to sue federal officers for constitutional violations."
However, over the decades, the Supreme Court has cut back and cut back and limited that case very strongly. In this case, the Supreme Court again ruled against the innkeeper [inaudible 00:16:55] he does not have a right to bring these claims because it involves a special context involving border enforcement. Basically, it's almost diminished that prior case almost into oblivion to the extent that most people now feel people don't really have a right to sue for civil damages, if a federal employee violates their constitutional rights.
Which is very interesting because if you have a right it would seem like you should also have a remedy to enforce that right, but the Supreme Court [unintelligible 00:17:27] said in the federal context, "When it comes to federal officers, you can't sue for money damages for constitutional violations."
Melissa Harris-Perry: I do want to look at just one more case here. That's Ramirez v. Collier around this question of a Texas death row prisoner, and again the questions of religious rights in that context.
James Romoser: Yes, exactly. This was a case that was decided again a few months ago. There was a man in Texas on death row, and he brought a religious rights claim because he wanted to have his minister with him, physically present with him in the execution chamber while he was being executed. Indeed he wanted his minister to be able to pray aloud and place his hands on him as he was being put to death.
He said this was a very important component of his religious faith. The state of Texas said, "No, we're not going to allow that. We're not going to allow you to have your minister lay hands on you or pray above you during the execution." The prisoner brought a religious rights claim and the Supreme Court ruled in his favor and said that he did indeed have a right to have his pastor with him at his execution.
I think what you see in that case is a tension between this Supreme Court's disfavoring of claims from people on death row versus the court's accommodation of religious liberty claims, and here religious liberty won out.
Melissa Harris-Perry: It's exactly at that time because this was also an eight-one decision. It does feel on such a divided court that an eight-one decision feels perhaps a bit surprising. One of the key questions I just want to understand as we're at this point in the calendar, is there anything that binds them together? Is there a way that we can describe what this court is and perhaps most critically for the current chief justice is the thing that this court is, the thing that the chief justice wants it to be?
James Romoser: Yes. John Roberts is a very [unintelligible 00:19:45] man. I think it's hard to answer that question. I think frankly this is a very basic answer but it's the truest answer. The overarching theme of this term is that this is an extremely conservative court, and it reaches conservative outcomes in the vast majority of politically salient cases.
Melissa Harris-Perry: James Romoser, editor of SCOTUSblog. I know it's a very busy time for you and again thank you for taking time for The Takeaway.
James Romoser: Thanks so much.
[music]
Copyright © 2022 New York Public Radio. All rights reserved. Visit our website terms of use at www.wnyc.org for further information.
New York Public Radio transcripts are created on a rush deadline, often by contractors. This text may not be in its final form and may be updated or revised in the future. Accuracy and availability may vary. The authoritative record of New York Public Radio's programming is the audio record.