The Supreme Court Reinstated Trump's 'Remain in Mexico' Policy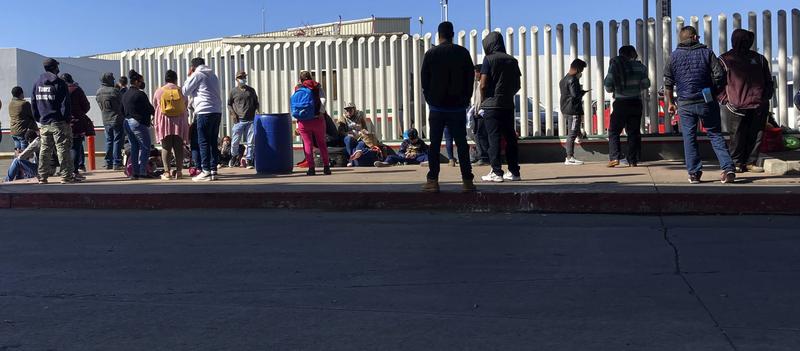 Transcript
Melissa Harris-Perry: This is the takeaway. I'm Melissa Harris-Perry.
Speaker 2: These American service members who gave their lives, it's a overused word, but it was totally appropriate they were heroes. Heroes who've been engaged in a dangerous selfless mission to save the lives of others.
Melissa Harris-Perry: On Thursday two deadly terrorist attacks near the Kabul Airport in Afghanistan killed dozens of Afghans, and, at least, 13 US military members. It was the deadliest attack on US military forces in Afghanistan in roughly 10 years. US officials say that an Afghanistan based affiliate of ISIS was behind the attack. These violent attacks underscore the severity of the situation on the ground in Afghanistan, even as the Biden administration scrambles to evacuate thousands of people by August 31st.
Earlier this week the Biden administration told Refugee Aid Organizations to prepare to resettle as many as 50,000 Afghan refugees. While much of the recent focus on migration has shifted to the Middle East, the Supreme Court this week ruled that the Biden administration must reinstate the Trump era immigration policy known as Remain in Mexico, which forces many asylum seekers to wait for US asylum hearings in Mexico.
This ruling comes at a time when the Biden administration is already being criticized for holding over other Trump era policies, including one called Title 42, which allows customs, and border protection officials to expel migrants without the option of claiming asylum, in order to prevent the spread of COVID-19 in holding facilities. Children and some families are exempt.
Even though, President Biden campaigned on the idea of a more humane approach to immigration, his administration's policies themselves are starting to look a lot like those of his predecessor's.
Here to help us understand all of this is Sergio Gonzales, Executive Director of the Immigration Hub. Welcome Sergio.
Gonzales Sergio: Thank you for having me.
Melissa Harris-Perry: Camilo Montoya-Galvez, who is immigration reporter for CBS News. Welcome to the takeaway Camilo.
Camilo Montoya-Galvez: Hi Melissa. It's good to be back.
Melissa Harris-Perry: Camilo, let me start with you. Can you break down the Supreme Court decision on Remain in Mexico, and what that means for the Biden administration?
Camilo Montoya-Galvez: Sure. Melissa, for context the Remain in Mexico policy was a Trump administration program that required more than 70,000 non-Mexican asylum seekers to wait in Northern Mexico for their US immigration court hearings. Many of them found themselves in squalid tent camps, and in dangerous border towns and only about 1% of those enrolled in the program were actually able to secure asylum. It was a policy that was strongly condemned by Democrats and by advocates for asylum seekers.
When president Biden took office in January, he quickly suspended Remain in Mexico, and stopped returning migrants under the program. Then, earlier this summer, Secretary of Homeland security, Alejandro Mayorkas, terminated the program formally through an order. Texas and Missouri challenged that termination at court, alleging that the Biden administration had failed to comply with the administrative law when it terminated this program. That it also failed to consider what they believe to be the benefits of the policy, and their ICE policy was successful in stemming the flow of migrants coming to the US Mexico border. The number of apprehensions in 2019, once this policy was implemented, did a plummet after the creation of this policy.
A federal judge in Texas agreed with these two Republican-led states earlier this month, and ordered the Biden administration to reinstate this program until they can detain all asylum seekers who are subject to what is called a mandatory detention. Now the Supreme court has refused to suspend this judge's order, which now requires the Biden administration to reinstate this policy, and they're working on exactly doing that, but they need Mexico's cooperation rather, because again, these are non-Mexican citizens who are being returned to Mexico.
Melissa Harris-Perry: Well, thank you so much. I think that's helpful to understand that context to get what is happening here, but, Sergio, can you make this human for me? What does this mean for asylum seekers?
Gonzales Sergio: This is a devastating ruling. Not only do we very much disagree with the decision on the legal grounds found by the Supreme Court. Basically forcing the Biden administration to negotiate with a foreign government in setting foreign policy, but the human impact here is incredible. We're talking about thousands of individuals, families, and children, who are going to be forced back to wait in these very dangerous conditions. There have been many documented cases of children who have been raped, who have been abused, who have been even murdered as a result of the Remain in Mexico policy.
This is something that was challenged legally under the Trump administration successfully, and courts found that this policy was illegal. It violates international and national laws. This is why the Trump administration and Steven Miller, who was the president Trump's chief immigration policy advisor, moved to the illegal Title 42, which we'll talk about later. By the fact that now we're going to potentially be going back to this policy is simply impossible to comprehend. This is why advocates, and why we are really pushing for the Biden administration to do everything possible to minimize the impact of this ruling, and also, make sure that they still have the ability to end Remain in Mexico through other means, which they do have the authority to do that.
Melissa Harris-Perry: I want to ask you on exactly that, because it's one thing to say that a policy must remain in effect, right? It's important to follow a decision of the courts. We do have multiple branches of government for a reason, but on the other hand, I think we all know that there can be policies that are in effect, but are ineffective on purpose. Is there a reason to think that the Biden administration is going to aggressively reinstate this policy?
Gonzales Sergio: Well, I believe that the administration is currently deliberating how they're going to pursue this issue, and how they're going to respond to this decision. I do think they have a lot of tools in their toolbox in order to both comply with the court decision. Basically, the court said that they need to comply in good faith, but again, this requires cooperation with Mexico, so there have to be talks with Mexico about what this would look like. There also have to be other considerations, like studying detention, studying the people who are in the program. There's a lot of legal tools that the administration has in order to actually be in compliant with the court.
The administration also has the ability to issue a new memo that would end the program. We're really encouraging the administration to not stand up a new type of MPP or an MPP light, but instead make sure that this program has ended through issuing a new memo.
Melissa Harris-Perry: Camilo, let me come to you for a moment, because this language of asylum right now, although this policy that we're talking about is on our Southern border, this question of asylum, and of refugees and of those who are seeking protection within the context of the US is undoubtedly going to get connected to what is happening in Afghanistan, and particularly, to the violence that we saw yesterday. I'm wondering if you can just help us understand a bit what making a claim on asylum in the US is even like right now.
Camilo Montoya-Galvez: Sure. For people who come to the US, Mexico border who cross without authorization, they can seek asylum regardless of how they cross, and to obtain asylum, you have to meet this legal threshold, Melissa. You have to prove that you are persecuted or that you fear persecution if you're in your home country based on your religion, political views, race, nationality or membership in a social group, like the LGBTQ community. There are some migrants from Central America, and other countries, like Venezuela, Cuba, Nicaragua who have been able to be granted asylum by US courts, but the majority are not at the border.
Refugee status is a different matter. Refugee status is for people who are waiting in third countries, and who also fear being persecuted in the countries that they fled from. What we know is happening to evacuated Afghans, is that all of them are being taken to US bases in the Middle East and Europe, and they're undergoing security screenings there. Some are being resettled here in the US. Many of them have special immigrant visas, which is a program for Afghans who help the US war effort, and those folks, will get automatically green cards when they come here to the US, and their spouses and children will also get legal status. They won't have to make a case for asylum here.
There are some Afghans who are being resettled here under something called Humanitarian Parole, which only authorizes their entry. These are Africans who have not completed their special immigrant visa applications, or who are not eligible for them, but who still fear that they could be persecuted by the Taliban. They would have to seek asylum or other immigration benefits once they arrive here in the US.
Melissa Harris-Perry: Sergio, help me to think through this a little bit from a political perspective, because we know that immigration remains this very tenuous difficult. It's not at all bipartisan issue within the US right now. I'm wondering as the Biden administration is looking at these questions about how to address the Remain in Mexico policy reinstatement and how to address this resettlement of Afghans here in the US, what sort of political calculations they're making on these questions?
Camilo Montoya-Galvez: Well, I guess, I want to step back for a second and look back to the Trump administration, in order to answer that question because we saw that President Trump really used immigration as his primary political weapon and way to mobilize his space. That had been certainly a element of the Republican party prior to Donald Trump, he literally launched his presidential campaign on an anti-immigrant platform. Remember him calling Mexican immigrants, rapists and criminals. Throughout his presidency, he and his administration took over 1,000 executive actions and administrative actions on immigration alone. Not only was there a huge political focus in using immigration as a way to divide the country in a way to play to the Republican base, but it also was used as a policy issue to attack immigrants, to undermine rights, to block people from coming into the country, to massively increase detentions and deportations of immigrants.
There was some question after President Trump left office, if the party would continue to go down this route of nativism and xenophobia, or they might turn a corner and there might be more reasonable actors, like there have been in the past, like the John McCain's of the past, who would actually negotiate on immigration from a less extreme right point of view? That certainly, has not been the case. The GOP and Republicans have continued to use this as the primary way that they are trying to weaken the Biden administration politically and the Biden White House knows that.
Despite that fact, I would say that the Biden administration has taken over 100 actions, at this point, on immigration alone. They've started to roll back a lot of Trump policies, while there still remain many in place. We saw the rolling back of things like the Muslim Ban, things like the Public Charge Rule, that basically was a wealth test for immigrants who wanted to come into the country.
There is tremendous devastation and damage that needs to be undone. We would really like to see Biden administration continue to move aggressively and even more quickly and swiftly, in order to not only undo what was done under the Trump administration, but actually, put in place a lot of the things that the president himself committed to during his campaign to build a new and fair immigration system.
Melissa Harris-Perry: Camilo, let me come to you on something that Sergio had mentioned earlier, and that's really about the conditions at sites where people are being told to Remain in Mexico. What is the situation at the border like right now for unaccompanied minors?
Camilo Montoya-Galvez: Sure. The Biden administration, while it has reversed several Trump era policies, including this Remain in Mexico program, that it is now being forced to reimplement, has continued to site this public health law known as Title 42, that was first invoked during the Trump administration back in March of last year, to expel migrant adults and some families with children to Mexico without allowing them to seek asylum. This is a public health order that was authorized by the Centers for Disease Control and Prevention, and the argument behind it is that if all migrants are allowed to stay in the US and to seek asylum here, border patrol facilities are going to become severely overcrowded, and that is going to be a conducive environment for the spread of the Coronavirus. It is a public health argument, though obviously, advocates and some public health experts dispute that argument, especially because it was implemented during the Trump administration, which had sought to restrict asylum for four years.
Unaccompanied children are now exempted from this Title 42 policy. The Biden administration declined to expel these children to Mexico on humanitarian grounds. It has been transferring most of these unaccompanied children to the Department of Health and Human Services, which has shelters and other emergency facilities at military installations and work camps to house these unaccompanied minors, most of them teenagers from central America. They are the only population of migrants that currently are not being expelled Mexico.
The vast majority of single adult migrants are still being expelled. Some families with children are being expelled under Title 42, Melissa, to Mexico, but most are being briefly detained by border patrol officials and then released to NGOs and shelters, where they're tested for the Coronavirus. Then, they were allowed to go to their respective destinations in the US to continue their immigration proceedings. It really depends on the demographic group.
Melissa Harris-Perry: Sergio, as I'm listening to Camilo talk about these conditions, these circumstances, and repeatedly using the word expelled to understand what's happening at our border, can I ask from a practical matter, although the discourse is very different under the Biden administration, is immigration policy truly different under the Biden administration, than it was under the Trump administration?
Sergio Gonzales: I believe it is. I believe it is. I think that there was massive human devastation and destruction to our immigration system under President Trump. From working with the every day advocating to the administration every day, we have seen a massive change, in terms of a roll-back of a lot of hideous policies and also, them start to take the necessary actions and building blocks of increasing immigration into the country, of increasing legal pathways to immigration. I am very happy to say, and very supportive of the fact that the president has really leaned in to a path to citizenship being included in the Democrats $3.5 trillion human infrastructure package that was passed. The original version has not been passed fully, but the congressional Democrats have started moving on that. That really has been a major campaign by immigration advocates and others undocumented communities for over 30 years.
Without being said, I will say there are still very hideous policies that were created for the purpose of stopping immigrants from being able to come to this country by President Trump and Steven Miller that remained in effect and Title 42 is a center point of that. We have advocated for the Biden administration to roll back this policy. There should be no reason that Title 42 remains in effect. The public health officials, human rights experts, have all come out against the use of Title 42 and have said that it was simply a pretext by Stephen Miller, in order to stop immigrants from being able to come into the United States. There are other ways, in fact, that we can address the public health concerns, instead of simply putting a complete block across our border from asylum seekers and migrants being able to barely be able to make a case to come into the country.
With that being said, there is a lot, a lot that needs to be done. We haven't even talked about, still, the number of people sitting in detention centers, and the fact that we still have these private detention complex, as it exists across our country. There's a lot that needs to be done, but I will say that there is definitely a remarkable difference from where we were under the Trump administration.
Melissa Harris-Perry: Camilo, let me pick up on that. We've been talking about what's going on at the border, but I'm wondering about deportations and certainly, President Trump was quite critical of immigration and used a number of policy tools. President Obama also deported a record number of unauthorized immigrants in the country. I'm wondering where we are on that right now.
Camilo Montoya-Galvez: Sure. President Biden during the campaign trail, admitted that the Obama administration made a mistake in not moving fast enough to curtail immigration arrests and deportations of immigrants without criminal records. The Biden administration tried initially to implement at 100-day moratorium on most deportations, when President Biden took office, but that was blocked by a judge in Texas stemming, again, from a lawsuit filed by Texas.
Texas has been very successful in blocking some of these Biden administration immigration policies. The Biden administration has also established new rules that instruct Immigration and Customs Enforcement agents to focus on immigrants who may pose a threat to the public or national security, as well as recent border crossers for arrest and deportation. This basically, would spare everyone else who is here without legal permission, but who doesn't have a criminal record. Even those rules were recently blocked by a federal judge in Texas. Again, this court case also stems from another lawsuit filed by Texas.
The Biden ministration has been trying to curtail immigration arrests and deportations, but it has seen those efforts curtailed and hindered by lawsuits from conservative states.
Melissa Harris-Perry: Camilo Montoya-Galvez, an immigration reporter for CBS News. Sergio Gonzales is the Executive Director of the Immigration Hub. Thank you both.
Sergio Gonzales: Thank you.
Camilo Montoya-Galvez: Thank you.
[00:20:10] [END OF AUDIO]
Copyright © 2021 New York Public Radio. All rights reserved. Visit our website terms of use at www.wnyc.org for further information.
New York Public Radio transcripts are created on a rush deadline, often by contractors. This text may not be in its final form and may be updated or revised in the future. Accuracy and availability may vary. The authoritative record of New York Public Radio's programming is the audio record.