The Supreme Court Ended Biden Administration's Eviction Moratorium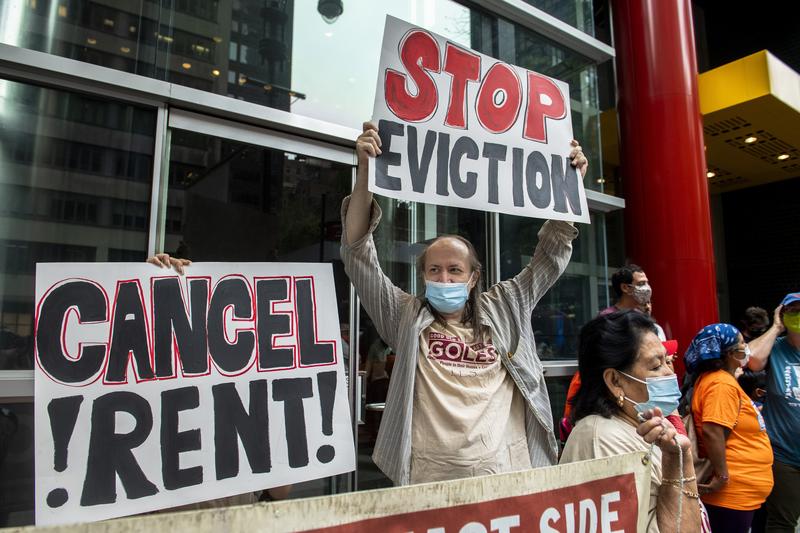 Transcript
[music]
Arun Venugopal: For months now, the Biden administration has been extending a federal eviction moratorium to protect parents struggling to pay their rent during the pandemic, but now the moratorium is over, really truly over. That's because the Supreme Court ruled last week that the CDC has overstepped its authority and that for the moratorium to continue, Congress would need to authorize it. That's unlikely to happen as White House Press Secretary Jen Psaki told reporters on Friday.
Jen Psaki: What we're trying to do here is prevent people from being evicted from their homes. If there were enough votes to pass an eviction moratorium in Congress, it would have happened. It hasn't happened.
Arun Venugopal: While the White House says it's working with States on solutions, hundreds of thousands, potentially millions of tenants across the country are now at risk of losing their homes, including tenants in the State of New York, where more than 830,000 households are behind on their rent. We're joined today by Cea Weaver, campaign coordinator of Housing Justice for All in New York. Cea, welcome to The Takeaway.
Cea Weaver: Thanks for having me.
Arun Venugopal: Also with us is Peter Hepburn, assistant professor of sociology at Rutgers University-Newark and part of the Eviction Lab at Princeton University. Peter, welcome back to the show.
Peter Hepburn: Thanks for having me on.
Arun Venugopal: Cea, from your perch, what's the significance of this Supreme Court ruling?
Cea Weaver: Well, it's really just devastating. As you said, 830,000 households or more really are behind on rent in New York and 77% of them are people of color. The thing that's most painful about all of this is our state also has $2.7 billion in rental assistance money meant to solve this problem, and we've been unable to spend it. This is a real wave of evictions that should be preventable, but for some reason has not been prevented.
Arun Venugopal: Yes. Let's get back to the failings of the state in that regard in a bit. Peter, what is the administration's position been so far on the eviction moratoriums?
Peter Hepburn: I think they were, to me, very concerned at the end of July about the potential of extending it and then having it struck down with the understanding that Justice Kavanaugh had issued an opinion earlier this summer suggesting that they were basically allowing the moratorium to stay in place temporarily with the understanding that it wouldn't be extended.
That's what led to the confusion at the end of July and the beginning of August when the moratorium briefly lapsed and then a new version of it was extended. I think they were expecting this to happen and knew that they were only buying a few extra weeks with the last extension.
Arun Venugopal: The president himself indicated that he didn't think it was going to hold up to scrutiny. What's your take on that? Did you think that he was correct in that?
Peter Hepburn: It certainly appears that he was. I'm not a legal scholar. I can't speak to the Supreme Court's reasoning on this, but certainly, the justices had tipped their hand that this was unlikely to survive further scrutiny and indeed it did not.
Arun Venugopal: Cea, what kind of eviction protections have been in place during the pandemic here in New York?
Cea Weaver: In New York state, we have benefited from a very strong eviction moratorium that has protected thousands of households from losing their homes in the middle of the pandemic. Tenants have been able to file a declaration of hardship, effectively preventing any eviction from moving forward in the state of New York. I think that this has been critical, not just for keeping people housed, but for preventing the spread of COVID-19 and making sure that people can stay healthy during the pandemic.
Arun Venugopal: One tenant representative I spoke to a few weeks ago said that a lot of this hangs on whether people actually know about these protections, are we seeing a problem of people just self-evicting and putting themselves out there?
Cea Weaver: Yes, absolutely. To put some numbers on that, for example, of those 830,000 households who are behind on rent, only about 170,000 of them have actually applied for rental assistance, either because they don't know about it, or because of some fear, or reluctance. If you're in that situation, you're very likely to simply be bullied out of your home.
Arun Venugopal: Then what happens? What are you seeing in terms of when people feel like they have no recourse, where do they go?
Cea Weaver: It's really hard to say, some enter the shelter system, some go to live with family, they double or triple up. Some they disappear, we don't know what happens. Households that are self evicting, that are choosing not to interact with the vast network of affordable housing advocates and social service providers that exist in New York, we don't know what happens to them. It's terrifying. It's heartbreaking.
Arun Venugopal: That's here in New York. Peter, what are you seeing in terms of the national landscape?
Peter Hepburn: I think it's a similar picture but without many of the resources and supports that we're able to offer here in the city. If you're going through this process in Greenville, South Carolina, you maybe don't have that network of resources that's available and the outreach to people who are potentially at risk of losing their homes. I think that's going to make the whole process that much harder.
This is happening at a time when rents are increasing across the country, and the availability of affordable housing has never been more limited. That means that people who are losing their homes right now are going to have fewer and fewer options available to them. With that mark of an eviction on your record, you're going to end up settling for worse housing in a worst neighborhood.
Arun Venugopal: That's something that actually tracks you over the course of your life. If it happens once, it's not something you can shake off.
Peter Hepburn: No, it's very hard to do that. In the case of a credit report, you have the possibility of going and trying to correct the record. With evictions and with a tenant history, there's no way to correct an incorrect record either. Even a filing that hasn't resulted in an eviction can follow you for quite a long time.
Arun Venugopal: Now, Peter, I know you're not a legal scholar, but to the extent you understand it, the Supreme Court's decision was split on ideological lines, correct? What did the, I guess, the minority have to say in terms of trying to extend the moratorium?
Peter Hepburn: The minority appeared to be very cognizant of current public health conditions and concerned about the possibility that a wave of eviction filings and evictions could lead to a further spread of COVID-19. I think there were a number of good studies that were conducted on the summer of 2020, and worked throughout last year, showing that when state-level moratoria ended and you saw evictions pick up in those localities, that COVID-19 cases also increased at the same time.
There's a good argument to be made that the doubled-up, tripled-up housing that Cea was talking about, or the increased use of homeless shelters. Those are exactly the circumstances that don't allow for social distancing and that encourage the spread of COVID-19.
Arun Venugopal: The court rule, it was basically liberal wing of the court, which was trying to extend it. New York's own eviction moratorium had a run in as well with the Supreme Court recently, what happened there?
Cea Weaver: Yes, it was slightly different. In the federal moratorium, the Supreme Court essentially ruled that the CDC had overstepped its authority. When it came to the New York moratorium, what the court said is that because landlords were not given a chance to challenge the hardship declaration that tenants could file, that landlords were not being awarded a due process.
That's almost, in some ways, I think that's almost worse. What they're saying with the New York moratorium is actually that the moratorium shouldn't be in place at all. That's just really terrifying when we know it's something that, as Peter has said, is saving lives during a pandemic and is preventing people from the lifelong negative impacts that an eviction can cause.
We're hopeful that in New York state, our legislature is going to reconvene this week, address their weaknesses of our moratorium that the Supreme Court raised, and put, hopefully, some new protections in place.
Arun Venugopal: Now, Peter, the Supreme Court's ruling was just a few days ago, but to your knowledge, are we already seeing people get evicted across the country?
Peter Hepburn: There was a significant backlog of cases in some jurisdictions where the CDC moratorium that had been in place allowed cases to be filed and some jurisdictions were conducting hearings. Some were even continuing to issue evictions despite the moratorium. What I'm concerned about today, tomorrow is that there are going to be jurisdictions that have gotten cases all the way up to the judgment stage and just haven't issued writs. Haven't sent sheriffs out to actually evict people, but I think we could be seeing that in some places as early as today.
Then over the coming days and weeks, I'm concerned that we will see a big upsurge in the number of cases that are being filed. These are the cases that landlords held off on filing over the course of the last 11 months when the CDC moratorium was in place. Especially in areas where the dispersal of emergency rental assistance has been slow, I think we're going to see a big jump in the number of cases that are being filed.
There are places where if you have applied for rental assistance, that case can't move forward. There are still states that have state-level protections in place and hopefully, New York rejoins that list this week, but the protections right now is as few as we've seen since the start of the pandemic.
Arun Venugopal: Are you particularly worried about certain parts of the country that might have, I suppose, stronger real estate lobbies, landlord lobbies, people who are just really pushing for these evictions to start ramping up?
Peter Hepburn: Absolutely. There were broad variations in landlord-tenant law across the country prior to the pandemic. We know that there are some states where it's riskier to be a tenant than others. If you're in Houston, you have fewer protections against eviction under normal circumstances than you do here in New York. I think places like Florida, like Georgia, Ohio, and Texas, where they don't have a lot of protections normally, those are places that we could see a big upswing in eviction cases very, very quickly.
Arun Venugopal: Peter, is Congress planning to step in and do its job? What's likely to happen on the federal front?
Peter Hepburn: I would be surprised if there was congressional action at the federal level, at this point. If there were votes for this in Congress, we would have seen action already. I just don't think that's going to happen. Which means that, at this point, it's up to the states.
Arun Venugopal: What's with this inaction in Congress? Why are they not addressing this?
Peter Hepburn: Well, I think, first of all, it's important to recognize that there were a tremendous number of eviction cases occurring in this country prior to the pandemic. In 2016, there were 3.7 million eviction cases filed in this country. Over the last 11 months with the CDC moratorium in place, there've been half as many as we would normally expect.
We have seen policy responses that have helped to keep the overall number of eviction cases much lower than normal. Congress has taken action to appropriate over $46 billion in emergency rental assistance, which is a vast sum of money. We're talking there nearly the annual budget of the Department of Housing and Urban Development.
There has been action, but I think now there, especially with the Supreme Court's decision, the options that are available to the administration are limited and Congress's willingness to take on this issue is apparently pretty limited as well.
Arun Venugopal: Cea, let's get back to the issue of New York State and what seems to be the inaction of the assembly, the legislature that is to step in and really offer resources. What would that look like and why hasn't that really kicked in so far?
Cea Weaver: Well, I am hopeful that this week with a new governor and the legislature returning to session for the first time since June, we will see some movement on increasing eviction protections for renters during the pandemic and getting rental assistance money out the door. In New York, we're also quite lucky because we, before the pandemic, had some of the most robust tenant protections in the country.
Tenant protections that were hard fought for and hard to win. We are in a better place than most here in New York, and it's still not a really good place. We'll see what happens this week when the legislature reconvenes and what our new governor is willing to do.
Arun Venugopal: Our new governor would be Kathy Hochul, who replaced Andrew Cuomo just a couple of weeks ago. What messages has she offered on this issue?
Cea Weaver: This is really the first issue that has come across her desk. She was just appointed governor early last week, and what she inherited was a longstanding housing crisis with 92,000 New Yorkers homeless, hundreds of thousands behind on rent, and a completely colossal failure of a rental assistance program.
From the jump, she has been confronted every single day with this crisis. I think that she knows that she's going to have to take action and do something different to really turn the page on this COVID-19 rent debt crisis.
Arun Venugopal: All right, no honeymoon period for our first woman governor. Let's hear from a landlord representative now. This is Jay Martin of Community Housing Improvement Program or CHIP. He represents several thousand building owners.
Jay Martin: There are many procedures put in place to protect tenants to allow them to apply for this fund to delay the eviction proceedings. Property owners are not in the process of wanting to throw people out during a global pandemic, they're simply requiring funds to keep the housing that they're providing for free functioning.
There's been no delay in their property taxes, there's been no delay on their mortgage payments too, all those arrears and all those ability to defer their mortgage payments, that's gone over with. They still have to pay their mortgages, they still have to pay their property taxes. The only way that they can continue to function from a legal and business perspective is to file these eviction paperwork proceedings.
Arun Venugopal: Cea, help me understand this. On one hand, he's saying that basically that landlords are put in the awkward position of having to keep on making their mortgage payments and their property taxes. On the other hand, he's saying, this is more of a formality. We're not looking at this like this deluge of eviction proceedings. Let's take the first part before we get to the second one. Are landlords, in fact, in an awkward position of having to keep on doing this, and why is that given that we're almost a year and a half into this pandemic?
Cea Weaver: The reality is that New York's Eviction Moratorium both includes an eviction moratorium and a foreclosure moratorium. The fact that landlords have no protections during this moment is simply false. They have the same ability to defer payments as renters do. Again, an eviction moratorium doesn't mean that the rent is not eventually due. It just means that as the pandemic precedes, you're not going to be taken to court for that back rent.
Landlords are actually in the same boat vis-a-vis their mortgage payments here in New York State. That part of the moratorium, the foreclosure moratorium was not struck down and that is still in place. That's just important to note here. The second thing to note is that landlords are adjusting a much stronger financial position than renters on the whole, by virtue of the fact that they own property, they are able to get access to equity. They're able to get access to savings and wealth that renters on the whole, largely, don't have. I'm sure Peter could say more about this just in general, but landlords are much more financially stable than renters, and it's somewhat insulting to be told that that's simply not true.
Arun Venugopal: Peter, you want to weigh in there?
Peter Hepburn: Yes, I agree with Cea entirely that the typical renter in this country has little or nothing in the way of savings to rely on whereas the typical landlord obviously has the wherewithal to purchase and hopefully maintain an apartment building. There's a vast difference between those two positions.
While there have been obviously considerable delays, especially here in New York with the dispersal of emergency rental assistance, the money that is out there, and that is available should be more than enough to make up for the full rental arrearages that we've seen in this country over the course of the pandemic. It's not as though the money isn't there and that that money won't be going to landlords. The financial case for needing to file an eviction right now is pretty weak.
Arun Venugopal: Cea, real quick, are we likely to see lots of people out on the street in the coming months or a year from now?
Cea Weaver: I certainly hope not. We are going to fight as hard as we can to prevent that from happening. That means increasing outreach to sign people up for rental assistance, it means fighting harder in the legislature than ever before to extend eviction protections and making sure that tenants know their rights, but I think what Peter raised earlier about the crisis of eviction that existed in this country and in the state before the pandemic is the thing that's hanging over all of our heads.
Prior to the eviction moratorium, over 100 people were evicted in New York State every single day. Those are just the evictions that happened in the court. Lots and lots of people self evict. We are certainly afraid of the long-term crisis of poverty that the pandemic has caused, and people's long-term ability to pay their rent.
It's not just emergency rental assistance that we need. The fact is many, many, many more people are unemployed, many, many, many more people are now underemployed and unable to afford their rent. This crisis is going to have lasting impacts beyond what these emergency interventions like emergency rental assistance and eviction moratoriums can really solve for.
Arun Venugopal: Cea Weaver is a campaign coordinator of Housing Justice for All in New York. Peter Hepburn is an assistant professor of sociology at Rutgers University-Newark and part of the Eviction Lab at Princeton University. Thank you both for joining us.
Cea Weaver: Thank you.
Peter Hepburn: Thank you.
Copyright © 2021 New York Public Radio. All rights reserved. Visit our website terms of use at www.wnyc.org for further information.
New York Public Radio transcripts are created on a rush deadline, often by contractors. This text may not be in its final form and may be updated or revised in the future. Accuracy and availability may vary. The authoritative record of New York Public Radio's programming is the audio record.