Students Organizers in Florida Want School Resource Officers Replaced with Restorative Justice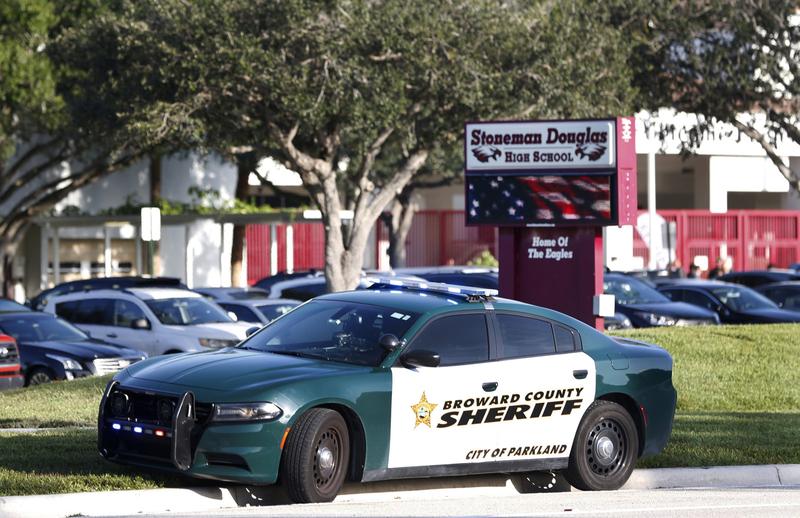 Transcript
Cindy Rodriguez: You're listening to The Takeaway. I'm Cindy Rodriguez. At the end of January, a series of violent actions by school resource officers against Black students in Central Florida were caught on camera, leading to an outcry in the local education system. In one incident at a high school in Eustis, Florida, an officer who had been trying to break up a cafeteria fight tased a student, knocking her to the ground. According to local television station WFTV, the officer is not being punished for his actions but the student has been charged for allegedly hitting the officer.
In another, at Liberty High School in Osceola County, Florida, an officer body-slammed a 16-year-old girl, knocked her unconscious and then handcuffed her. The officer is currently under investigation but on paid leave. Now, a number of students and other local organizers are calling for the removal of armed resource officers from all Florida schools.
With us to discuss this are two of those students, Valeria Perez. She's a student at Osceola County School for the Arts and president of its March For Our Lives Chapter, and also with us is Aryana Brown, student at Lake Sumter State College in Lake County, Florida. Thanks to both of you for being here.
Valeria Perez: Thank you.
Aryana Brown: Thank you.
Cindy: Valeria, let's start with you. Tell us a little bit about your high school and what's your interaction with the school resource officer is like?
Valeria: Yes. I'm from Kissimmee, Florida. Even right now, my interaction with the officer is very minimal. The only time really me and my peers see them, fortunately, is parked outside of our school. When we walk into school, sometimes they'll walk into the building and walk out, but there's really no interaction or patrolling ever. We just see them really residing by their cars. Definitely, my experience being on campus with the officer present is different, peers who are Black and my friends who were at the school board meeting with me even talked about how they feel like. They have to hide their true presence and tone down their personality because they never know how an officer, or the one we have on school that day, may perceive them. That's obviously incredibly disheartening because no students should have to go to school every day feeling threatened or feeling that they have to adjust themselves because they never know what situation they might be put in, like those students were.
Cindy: Aryana, you're in college now, but you also have had experiences with school resource officers and have spoken out. Can you talk a little bit about that?
Aryana: Yes. I actually went to a private school and at my school we didn't have student resource officers. We only had volunteers that would come in and watch our campus. Now, this is why I advocate for this problem because if we can do it for private schools and have people actually there to help students and actually protect them rather than harm them in certain situations, then we should be advocating for them to change the SROs and have them there to be more of guardians rather than people to fear or be scared of when you're at school. If I could go to high school and graduate freely, then people and public schools should be able to do the same thing.
Cindy: Valeria, these videos that we mentioned earlier, what was the reaction at your high school?
Valeria: It was incredibly emotionally overwhelming for a lot of my peers and just extremely alarming because seeing a grown man be able to body slam a child is scary. I think what was even more disheartening was the reaction from school board officials, from the police department, because there never really seemed to be this prioritization around the students' safety and her needs because no officer in that position of power should be able to slam a child like that and be able to go back to work the same day and not face punishments at the [unintelligible 00:04:04] that the students are facing even.
Cindy: Tell us a little bit how you envision that in your school.
Valeria: I think what a lot of that looks like is prioritizing really the safety of students. I think a big conversation that's been happening for a while when we look at that is defunding the police, especially, with the Black Lives Matter movement this summer protesting the need for it, mainly because there's so much money being allocated towards officers.
We basically wanted to reallocate the money that's going to officers back into restorative justice programs and into mental health services and services for teachers, mainly because when we have officers in schools, they're mainly used in this position for extreme measures like mass shootings, when in reality they've proven to be more harmful than helpful on a daily basis because they're threatening the lives of students and we've seen this repetitive use of excessive force in other schools throughout the years.
Really, when you look at it, we want to make sure that we are prioritizing the needs of students on a day-to-day basis. What that looks like is investing these resources back into services that help students. For example, a study done by the ACLU actually talks about how there are 1.7 million students in schools with police officers but no counselors, and this is as recent as 2019, and even 3 million students are in schools with police but no nurses and 6 million students are in schools with police officers but no social workers.
When you hear the numbers, it's just incredibly alarming that why would we not have mental health counselors to help out with the needs of students that police officers are there in place to prevent or there to treat, especially because we realize that police officers in schools aren't as good at deescalating situations like mental health counselors are.
When we use these counselors and when we reallocate that money towards services like restorative justice programs to deal with the needs of students in those situations, we're able to not only create a safer learning environment but also be able to teach kids how the real world works and respect their needs and respect their boundaries and their safety in school.
Cindy: Aryana, you just said that you went to a private high school. Did your private high school have some of these things that Valeria is speaking about?
Aryana: We did have counselors, more or less like a student guidance counselor that was always there for us. They were really close with the students. Not only also because of the fact that it was a smaller school, but we always had our coaches and our teachers. They were our counselors. They were taught how to talk to us whenever we needed help. Even the volunteers that would be the security guards on campus, they would have conversations with us and actually be there and make it feel like they're not there for us, but they're actually there because they are protecting us and making us feel safer, not making us feel like our lives are threatened every day that we go to school.
Cindy: Valeria, what has been the response from school officials so far to your demands?
Valeria: Basically, what we understand is the school board stated that they understand the severity of the situation, that of course they wouldn't-- Obviously, that situation is frightening. Actually, what we heard when we were at the protest, my peers and I, was we had a school board member come up to us and he told us that there is this committee that he was organizing to rediscuss the policies related to school resource officers.
Cindy: That was Valeria Perez, a student at Osceola County School for the Arts and president of its March For Our Lives Chapter, and Aryana Brown, a student at Lake Sumter College in Lake County, Florida. Valeria, Aryana, thank you so much for joining us.
Valeria: Thank you.
Aryana: Thank you.
[music]
Cindy: The presence of a police officer in a school is not an anomaly for high schools in Florida. Nearly half of all schools in the US have a school resource officer stationed there. While a few members of Congress have vowed to place more police officers in schools around the country for security, some experts say it is better to remove police officers from school. With me now is Christopher Mallett, a professor of social work at Cleveland State University, and he's been studying the prevalence of school resource officers nationwide. Chris, thank you for being with us.
Chris Mallet: Hi. Thanks for having me. Nice to be back.
Cindy: Chris, let's break down some basics. What's the difference between a school resource officer and a regular police officer?
Chris: Normally in most school districts, nothing. SROs as they're commonly referred to, are 95 times out of 100 officers from your local police district.
They're simply contracted to be housed basically at the schools and often they go from one school to the next.
Cindy: They're within the PDs in different localities but do they carry guns? What sort of weapons do they carry if they carry any?
Chris: Yes, it depends. Normally they're going to be fully armed unless there's an agreement between the district and the police district to change that, but they're fully [unintelligible 00:09:48] at all times.
Cindy: Okay. What are their duties?
Chris: Most of the time it is law enforcement. Many school districts will try to expand that role. Maybe a small percentage, 40% or so of the police officers will do other roles such as maybe mentoring, maybe teach a class on safety, [unintelligible 00:10:12] trainings, but primarily it's law and order.
Cindy: Okay. I don't want to downplay the importance of state safety because it's very important for students to feel safe in order for them to show up to school every day, but when you saw those videos, what was your reaction to the videos? Could they have been handled differently?
Chris: Yes, I think they can. Every so often, couple times a year, we get a video like that that comes out that sparks the national outcry as it should because there's no reason that any minor misbehavior or even a major misbehavior should lead to what we saw a couple weeks ago in Florida. Unfortunately, my reaction was that I've seen this for many years periodically, and that the intention comes but then it actually leaves, and there is not much change or permanent change other than the reaction to the event.
Cindy: How should these situations be handled?
Chris: Most of the time, any incident on campus is not a serious or a violent threat. It could be handled by school personnel, mental health counselors, school counselors, but the presence of a police officer really does change that dynamic most of the time.
Cindy: I don't know if you heard the preceding interview but one of the students talked about shifting resources away from the SROs to things like having guidance counselors or mental health services at schools. Is that something that you advocate for as well?
Chris: I would in almost all circumstances. It's pretty rare that you have an actual serious crime problem on a school campus and in those cases, which again are rare, a police officer may be a good choice, but 95% of the time that's not going to be your best option. There's a lot of dollars that go in a school budget paying for SROs, and it probably is much better to shift or start to make conversation to shift those dollars to mental health work, prevention work, violence prevention, because they really do work with young people.
Cindy: Is this conversation happening amongst lawmakers or others?
Chris: It was last summer. After the George Floyd incident, you had seven or eight school districts that did discontinue their contracts with police departments and they don't have police officers on campus anymore. San Francisco, Denver, a few others. Chicago and LA talked about it, they didn't do it. But since then, the movement or that conversation has really died and so the impetus seems to have left policymakers since that time.
Cindy: You haven't seen-- Do these videos reignite that conversation?
Chris: They do, and since we're talking about it now and others are, will it lead to lasting conversation or any amendments to the use of police officers on campus? I don't know. I was more optimistic last year, but the [unintelligible 00:13:28] for law and order or that perception of what it means even though the evidence isn't there, is pretty strong in those communities, so I don't know.
Cindy: Have you looked at where SROs get placed? Do they get placed in schools that are predominantly Black and brown schools versus white schools?
Chris: They're disproportionately in schools that are majority Black and brown, yes, and they're disproportionately then in schools that are in poor school districts also.
Cindy: You've been looking at this issue for how many years would you say?
Chris: I've been writing, researching and looking at it for about 15 years and I've been involved with young people in schools in various roles for about 25.
Cindy: Do you see any difference in the conversation today versus even five years ago?
Chris: We didn't have this conversation as strongly five years ago. In that sense, maybe there's a hope, but I'm optimistic about schools and how they've handled change and keeping kids in school. I'm optimistic about the justice system itself moving toward rehabilitation, but this one issue seems to really be tough. Time will tell. I will keep my optimism but I don't think I'm hopeful.
Cindy: Chris, we're going to leave it there. Christopher Mallett is a professor of social work at Cleveland State University. Thank you so much for joining us.
Chris: Thanks for having me.
Copyright © 2020 New York Public Radio. All rights reserved. Visit our website terms of use at www.wnyc.org for further information.
New York Public Radio transcripts are created on a rush deadline, often by contractors. This text may not be in its final form and may be updated or revised in the future. Accuracy and availability may vary. The authoritative record of New York Public Radio's programming is the audio record.