Spy in the Sky: What to Make of China's Balloon Surveillance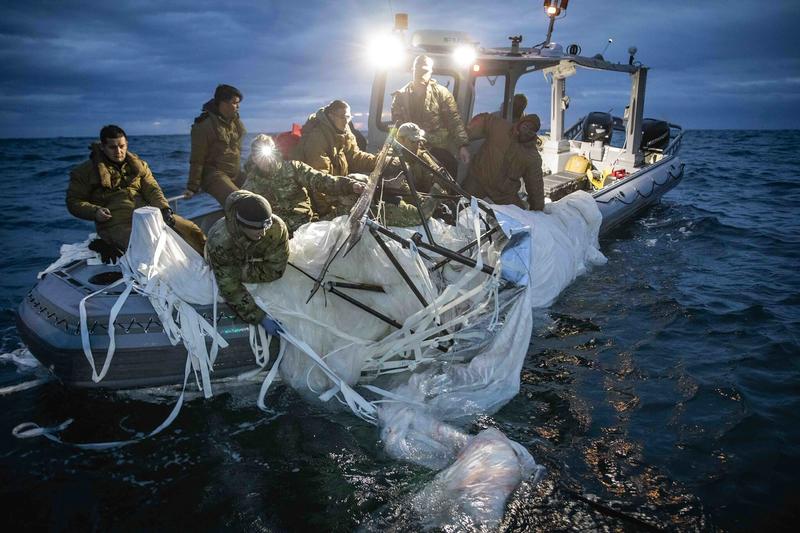 Transcript
[music]
Tracie Hunte: Hi, everyone. This is The Takeaway.
I'm Tracie Hunte from WNYC Sudios, in for Melissa Harris-Perry. Melissa is back with you all tomorrow. Good to be with you today. If you haven't noticed, maybe you're busy watching that incredible Rihanna concert in the middle of a football game, it's been a busy weekend up in the North American skies. Specifically, after last week's Chinese balloon incident, other objects have been shot down by American forces.
There was one over Alaska, another over Lake Huron, and another object was shot down over the Yukon, in Canada. It's a literal trend of UFOs. They were apparently not just balloons, and we don't know, or at least we haven't been told, whom they belong to, or what they were doing up in the sky. It's frustrating, but something we can talk about is how last week's Chinese balloon incident shows us some real issues with US-Chinese relations. We're going to talk about it.
Antony Blinken: Beijing violated international law and US sovereignty with the presence of a Chinese surveillance balloon in US airspace.
Tracie Hunte: Last Wednesday, Secretary of State Antony Blinken offered more details about the Chinese surveillance balloon that flew over the continental United States, until President Joe Biden ordered a US military jet to shoot it down.
Antony Blinken: There is an ongoing operation to recover the balloon's components. We're analyzing them to learn more about the surveillance program and we already shared information with dozens of countries around the world. We're doing so because the United States was not the only target for this broader programme, which has violated the sovereignty of countries across five continents.
Tracie Hunte: Now, that balloon was discovered just the day before Blinken was set to go to China for a high-stakes diplomatic visit, but with tensions rising, that meeting was postponed just hours before Blinken was set to depart. President Biden talks about the issue in his State of the Union address.
President Joe Biden: I'm committed to work with China where we can advance American interests and benefit the world, but make no mistake about it. As we made clear last week, if China threatens our sovereignty, we will act to protect our country, and we did.
Tracie Hunte: He also called out Chinese President Xi Jinping by name.
President Joe Biden: Name me a world leader who changed places with Xi Jinping. Name me one, name me one.
Tracie Hunte: We wanted to find out more about this. On Monday morning, I spoke with Gordon Chang, author of The Coming Collapse and The Great U.S.-China Tech War. Gordon, when you heard about this Chinese surveillance balloon, were you surprised?
Gordon Chang: I was surprised about the brazenness of the operation. This is flying over US sensitive sites, some of the most sensitive that we have. I didn't think the Chinese would be that bold. We do know that China has this balloon surveillance program and it is quite extensive, but I was just really taken aback by what they thought they could get away with.
Tracie Hunte: I know. How concerned should Americans be about this, actually?
Gordon Chang: We should be extremely concerned. We don't know the Chinese intentions here, and what led them to do this, but none of the explanations are good. For instance, it's possible that the Chinese military now is so politically powerful, that they can do what they want, or it's because Chinese ruler Xi Jinping wanted to humiliate the United States, to show the world that we are incapable. Whatever explanation it is, it shows that China is pushing the United States in ways that will have severe consequences.
Tracie Hunte: Do we know what surveillance they would have been getting from this balloon?
Gordon Chang: I think that they were looking at our ability to launch nuclear weapons. For instance, this balloon hovered over Malmstrom Air Force Base in Montana, F.E Warren, and also Minot. Those are our only three fields for our Minuteman three intercontinental ballistic missiles. This balloon passed nearby Offutt Air Force Base in Omaha, Nebraska. That is where Strategic Command is headquartered, and the balloon also passed fairly close to Whiteman Air Force Base, which is the only home to the Air Force's B-2 strategic bomber.
That suggests they're looking at our ability to defend ourselves with our deterrent. I'm sure they saw other things as well. Clearly, the Chinese were focusing on that aspect of our military.
Tracie Hunte: According to US intelligence, this Chinese balloon was part of a more extensive surveillance program that spanned five continents. Can you tell us why this would be worth the risk to China?
Gordon Chang: Well, China gathers a lot of information. I think that the Chinese right now, one possibility we have to consider, is that they do not believe that we Americans are prepared to defend our country. Now, we may think that that assessment is incorrect, but it doesn't matter what we think. It doesn't matter whether the Chinese are wrong, what matters is what the Chinese think.
Obviously, they did not believe that it would trigger the reaction that it did, which shows you that Beijing is living in this somewhat parallel universe, and you have a military establishment there, that is, I think, getting so powerful, that it could push the rest of the country to war. If we want to parallel, look at 1930-ish Japan, where the Army and the Navy took over the Japanese political system, and then plunged the world into World War II. That's something that we have to be mindful of.
Tracie Hunte: You don't believe that they actually thought this surveillance program would be discovered?
Gordon Chang: I don't think that they could have thought that this huge balloon, carrying a payload, which is three school buses, as it's called, would not be seen. It can be seen with the naked eye. Clearly, they thought that we would discover it. Now, these smaller balloons, the ones that we shot down Friday, Saturday, and Sunday, we don't know if those are Chinese, but those are so small that they probably thought they could get away with that.
Indeed, in the past, the Chinese have sent balloons of that size across the US, and we did not detect them. We've only detected it now, after we've gone back over the radar tapes and looked at the anomalies more closely. They thought they can get away with the small ones, clearly.
Tracie Hunte: President Biden decided to not immediately shoot down this balloon until it had passed over North Carolina and was over the Atlantic Ocean. He cited safety concerns and said the balloon did not pose the threat of a major security breach. In your view, should he have shot it down sooner?
Gordon Chang: I think that he should have. There's two issues here though, Tracie, one of them is that, according to the White House, the commander-in-chief was not informed of the balloon intrusion until the fourth day of the intrusion, and by that time, the balloon has steered over the lower 48 states. Now, Montana is relatively uninhabited, but this balloon could have been shot down over Alaska or Western Canada, which were completely uninhabited.
Once it got to Montana, I would have shot it down, because the risk of intelligence gathering was large. I can understand Biden's decision not to do so, but I don't think the administration is correct when they say that the Chinese didn't learn a lot, because they learned something really critical, Tracie, and that is-- They saw the reactions of specific general officers, and the reaction of NORAD, North American Aerospace Defense Command, and the US military. That is invaluable.
Tracie Hunte: Okay, we're talking about last week's China's spy balloon incident with Gordon Chang. Stick with us on The Takeaway. All right, we're back with Gordon Chang, author of The Coming Collapse of China. Help us understand a diplomatic fallout out of this incident. What does this mean for US-Chinese relations?
Gordon Chang: Well, immediately, it meant that Secretary of State Anthony Blinken did not go to Beijing on the trip that was scheduled for the 5th and 6th of this month, that has been "postponed." I believe that it's going to take some time for that chip to be put back together. I think talking to China right now is not the right thing to do. China is not in the mood to talk to us, or deal with us in good faith. Sending the Secretary of State to the Chinese capital sends all the wrong messages.
It feeds an already inflated sense of Chinese self-importance, and it shows Beijing that there's no cost for engaging in provocative activities. We did put five Chinese companies and one Research Institute on the Commerce Department's Entity List, and that's a step in the right direction, but it's grossly inadequate, because China has a doctrine of civil-military fusion, which means the military has access to everything any civilian institution has, which means that the military will be able to get whatever it wants.
Even though these six entities can no longer deal with them without permission from the Commerce Department.
Tracie Hunte: Does this signal a new era in this tension between US and China?
Gordon Chang: That's a great question. President Biden obviously thinks it won't, and I think that the one thing that the president should be criticized for, with the Chinese spy balloon incident, is signaling to China that there'll be no cost of great significance. He said on two occasions, including one to Judy Woodruff of PBS, that this will not change the nature of China-US relations. This obviously should, considering the nature of what China did, and we should be imposing severe costs on China, disproportionate costs on China, to prevent this activity from continuing.
Tracie Hunte: How does Taiwan factor into all of this?
Gordon Chang: I think that, as people have said, Taiwan is now even more nervous than it was before the Chinese balloon incident, because it showed a flabby and clearly inadequate response on the part of the military. It's good that the military tightened things up and shot down those three unidentified objects, on Friday, Saturday, and Sunday, which shows that we're learning. It also shows that the US military and the President of the United States are not prepared to deal with the challenges from China.
China is much more malicious, much more bold than we thought. That was clearly evident from the response to the balloon that entered our airspace on January 28th.
Tracie Hunte: During his State of the Union address, Biden had this to say about competing with China--
Pesident Joe Biden: Today, we're in the strongest position in decades to compete with China, or anyone else in the world.
Tracie Hunte: How accurate is that?
Gordon Chang: That is not accurate. We were much better prepared to deal with China, for instance, at the turn of the century, when China was not, for instance, in the World Trade Organization. The president talks about China as a competitor. Yes, it is a competitor, but the better term would be adversary, and an even better term than adversary would be the one that the Chinese use for us, which is enemy. People's Daily, which is the most authoritative source in China-- When People's Daily talk, China is talking.
In May 2019, People's Daily declared a "People's War" on America. That's the framework that we should be using to think about our relations with China. The president does not view it in those terms, and therefore, he is not taking those steps that are necessary to defend us from a hostile Chinese regime.
Tracie Hunte: In your view, how should the US proceed on this issue?
Gordon Chang: We need, as I mentioned, to impose disproportionate costs on China, because-- We don't know where those last three balloons came from, but obviously, China and other parties have more balloons than we have sidewinder missiles, which costs $400,000 a piece to knock down a object. I believe that we need to go after China's other means of spying against the US. For instance, they conduct substantial spying activities from their four consulates and the embassy.
I would show the Chinese that this has got to stop, by ordering the closure of the four consulates and the stripping down of that big embassy on Connecticut Avenue in Washington, by expelling most of the diplomats there. We do that, we show China that we are determined to protect ourselves from spying. Yes, that is disproportionate, but this whole notion of proportionality has led us into this disastrous situation, where we do not impose costs on China that are meant to stop the Chinese from doing what they're doing.
We can see that that policy, in fact, although it sounds good to the ear, is not working. We need to try something new, and that something new has got to be more drastic.
Tracie Hunte: Gordon Chang is the author of The Coming Collapse of China and The Great U.S.-China Tech War. You can find him on Twitter as Gordon G. Chang. Gordon, thanks so much for taking time with us today.
Gordon Chang: Thank you so much.
Copyright © 2023 New York Public Radio. All rights reserved. Visit our website terms of use at www.wnyc.org for further information.
New York Public Radio transcripts are created on a rush deadline, often by contractors. This text may not be in its final form and may be updated or revised in the future. Accuracy and availability may vary. The authoritative record of New York Public Radio's programming is the audio record.