The Sound Revolution of Black Country Music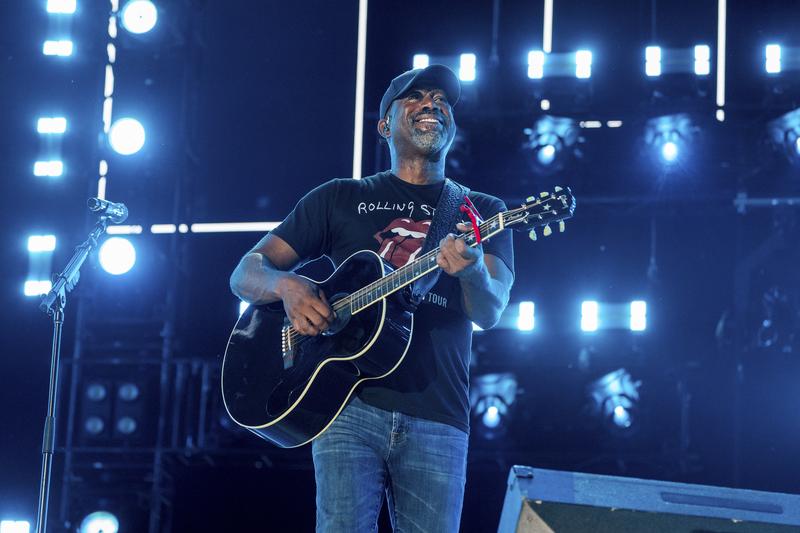 Transcript
[music]
Janae Pierre: Welcome back to The Takeaway. I'm Janae Pierre in from Melissa Harris-Perry. Coming from New Orleans, I know that the influence of Black people touches many genres of music, including country. Take a listen. We can go all the way back to the great Charley Pride-
[playing part of Charley Pride's You're Still the Only One I'll Ever Love]
So I lost the only girl I ever loved.
Janae Pierre: -to Darius Rucker, yes, that Hootie and a Blowfish guy.
[playing part of Darius Rucker's Alright]
Don't need no five star reservations
I got spaghetti and a cheap bottle of wine
Don't need no concert in the city
Janae Pierre: -to contemporaries like Rissi Palmer.
[playing part of Rissi Palmer's Country Girl]
Come Sunday morning palms up in praise
It's all about my mama 'nem and how I was raised.
Janae Pierre: A new book looks at the subject of Black country music.
Francesca Royster: I'm Francesca Royster. I'm the author of Black Country Music: Listening for Revolutions, and a professor of English at DePaul University in Chicago.
Janae Pierre: Melissa Harris-Perry spoke with Francesca about all things Black country music, including an artist you might not immediately associate with the genre.
Melissa Harris-Perry: Can we just start with Tina Turner?
Francesca Royster: Yes.
Melissa Harris-Perry: I love what you do here with Tina Turner in terms of getting us to-- you're weaving together these multiple themes, some around Ike and Tina's music, some around Tina's own music, and some of it for scholars of Black feminism who will recognize the work of Darlene Clark Hine and dissemblance. It's a lot to do in a text, but maybe give us a sense of how Tina Turner is telling us a story about Black country music.
Francesca Royster: I would love to do that. Tina is my idol, of course. I came to Tina after ordering an album on eBay. Tina turns the country on. I didn't know that she had recorded a solo album that is completely made of country music covers. This was an album that was made in 1974, and it was at a point in her life when she was on the verge of leaving Ike Turner. I really think of it as a set of freedom songs for her. She had definitely recorded music referencing herself as a country girl, and Nutbush City Limits is definitely the song that speaks to that that she recorded with Ike & Tina review.
In that song, she's really talking about the town that she came from, the sense of everyday rhythms of the town, but also this underlying sense of surveillance.
[playing Tina Turner's Nutbush City Limits]
Twenty-five was the speed limit
Motorcycle not allowed in it
You go to the store on Fridays
You go to church on Sundays
They call it Nutbush, little old town
Oh, Nutbush
They call it Nutbush city limits
Francesca Royster: Tina Turner accesses these connections to country life, country living, and also this experience of surveillance sometimes. Then uses them to think about Black female experience, especially the culture of dissemblance, this idea, this mask that everything is okay, that, in fact, everything is copacetic. Sometimes for Tina Turner, the mask of sexual availability is a way of covering or masking this deeper experience. For me, this country album and the way that it really taps into deep feeling and sometimes mourning and grief can be a way of looking behind the mask, which I just think is really magnificent. Sometimes she's underestimated in this ability to do that.
Tina turns the country on. This country album includes a cover of Kris Kristofferson's Help Me Make It Through the Night. She has songs by Dolly Parton and by TJ Morris. Sometimes these songs are either about rural spaces, like the Bayou Song, or they're just accessing these country ballads. She really gives her own spin on them in ways that I think are surprising and revealing.
Melissa Harris-Perry: To begin our conversation about Black country music with Tina Turner, I think, hopefully, there were some people who were like, "Wait, what?" Talk to me about why it's been difficult to lay claim and to reclaim the long history of country Black folks.
Francesca Royster: Because we're definitely there. It's just something that I knew deep within me, talking to my family, I knew my grandmother loved country music. There was a country show that was made in Chicago called the National Barn Dance, and my grandmother who was a Chicagoan, but very country herself loved that music. I knew that the banjo was an African instrument, and the banjo might be the consummate sound of country.
I think, like you said, that it's been hard to lay claim to it. Some of it has to do, I think, with the history of the ways that country music has been claimed as a soundtrack to authentic white experience, and really, as a tool sometimes of white supremacy depending on whose hands it's in. Definitely, in the way that country music has been marketed, from its early years in the 1920s as being hillbilly music, and that is separated from race music and the blues, there's just this way that it's always been claimed as this white space and white sonic space, and even a white physical space where people gather to listen.
When you look beyond that history, you find out the ways that old-time music, blues, some of the music that was really appropriated for minstrel shows, like those performative traditions, the instruments themselves, the songs themselves, the stories have been sometimes a borrow and sometimes appropriated and the roots of Black performers really gets erased. When Black folks now are encountering country music, they might not know that deeper history of shared roots.
I think there's a texture of feeling, an archive of feeling that is partly about racial separation, racial segregation, even racial violence that country music sometimes has been wrapped up in. Then you add to that the ways that the industry has made it really difficult for Black artists to make it into the mainstream. There's been an insistence of keeping country music Black folk pretty much to the margins up until very recent times. All of that I think creates an atmosphere and a culture that has been difficult to play for Black people.
Melissa Harris-Perry: Country music, but also just countryness. A lot of what I also love about this book is it's a scholarly text, where you're doing a lot of scholarly theoretical work and reclamation. It's also just enough, no more in there, just enough of your own story that it stays very human for us. There are these moments you write about you and your sister, just putting on your Tina Turner wigs or growing up in Nashville and the way that-- You can't really be from Nashville [unintelligible 00:08:49] and not have a certain country about you. It's very much how I feel as a Black southerner. I'm a little bit country.
Francesca Royster: Thank you, Melissa. My own roots, they're from the Black migration, where just a couple of generations back there were folks who are deeply country, from Arkansas and Louisiana and Texas. Also, for myself and my family for a little while, we are in Nashville and it's everywhere, in advertisements and field trips and anything. It was hard not to have a knowledge about country music. Also, I had my favorite people that I liked even as a kid, Dolly, of course.
I think that country music can also speak to the experience of rural life as well. It's not just southern, but also rural. In the book, I included-- a point in my life when I lived in a college town in Pennsylvania, but very much connected to rural spaces that I traveled in. In that chapter I was writing about Valerie June and her music became a soundtrack for what it felt like sometimes to navigate the ghosts of racism in a state and in a region where Black people once lived but do not live anymore. Just wondering what happened to the Black people in Central Pennsylvania? Country music has been a way to access that country experience that can be very much South Side, Chicago, or can be Nashville, or even rural Pennsylvania.
Melissa Harris-Perry: South Side, Chicago, or as I used to call when I lived there, "Oh, this just up Mississippi."
Francesca Royster: [chuckles] Right. Exactly.
Melissa Harris-Perry: Cold Arkansas, that's all this is. [laughs]
Francesca Royster: Exactly.
Janae Pierre: We're going to take a quick break, but when we come back, Melissa and Francesca talk about another artist who has country influences all up in her music.
[music]
Janae Pierre: We're back with The Takeaway. I'm Janae Pierre in for Melissa Harris-Perry. We've been listening to Melissa's conversation with Francesca Royster, author of Black Country Music: Listening for Revolutions. They also talked about another artist who's reclaiming her country roots and did so on one of country music's biggest nights.
Francesca Royster: We talked about Tina Turner, you've dropped My girl Dolly Parton, but you know we're going to have to talk about Beyonce. Talk about the Queen, the King B, and the Chicks and Daddy Lessons, and what we learn about the politics of blackness and country music in that moment.
Francesca Royster: Absolutely. That premier of Daddy Lessons on CMT Awards, I think. The performance of Daddy Lessons with the Chicks was so timely because it was just a few days before the election that eventually [unintelligible 00:12:21]. Then we have the performance of a pop diva on this determinedly country music space and they rocked the house.
[playing Daddy Lessons song]
With his gun, with his head held high
He told me not to cry
Oh, my daddy said shoot
Oh, my daddy said shoot
With his right hand on his rifle
He swore it on the bible
My daddy said shoot
Oh, my daddy said shoot
Francesca Royster: The performance itself is just so wonderful, whether it's like thinking about Beyonce's divahood, really taking control of the mic and leading the audience, her collaborations with the Chicks. This was also the Chicks, formerly the Dixie Chicks return to country music spaces after being boycotted for their progressive views a few years before. It was already a loaded performance, even if it was just the Chicks, and then bringing on Beyonce.
Then the song Daddy Lessons itself is really claiming, I argue at least, a Black outlaw identity because the daddy in that story is a daddy who is tough in these ways that a lot of country music daddy's are tough, like claiming the right to arm, arming yourself and self-defense, putting a little whiskey in your tea and no apologies about it. Beyonce is really claiming that daddy, which is also, by extension and her performance of it, a Black daddy. To me, I think that's a really powerful way for a Black woman to think about and maybe even think critically about Black masculinity, violence, like some of the appeal of some of those visions, but also a way to think about the presence of violence as well in the Black community.
In that performance, I think what she's doing is claiming Black Texas southern girlhood and womanhood. The response I think was sometimes enthusiastic, but also, there was tension there. Natalie Maines has even written about the fact that she will not return to this award show anymore because of the treatment that Beyonce got in this space backstage from other country artists.
Melissa Harris-Perry: When it's your Black daddy telling you to exercise your Second Amendment, it brings up politics with it and a politics of a kind that in order to face it, you have to face a whole bunch of different aspects of violence, gendered violence and racial violence, and as you point out ,in that moment, the realities of both existing and future political violence.
Francesca Royster: Yes. To me it just gave an opportunity to think about the convergence of those things, which is something that I think Beyonce in her career has done, and that whole Lemonade album, which I know you've also written about, she's really accessing the history of violence in Black people as well as against Black people, but also interpersonal violence and how racism and white supremacy and the culture of violence also destroys us in terms of our personal lives and relationships and our sense of self.
I think Daddy Lessons is just poised at a really interesting place on that album as a way of thinking about what are these older ideas about what manhood should be, and Black manhood? Then how does that connect to our freedom songs in the ways that we are healing ourselves and healing our relationships? It's just interesting to bring in the Chicks in that conversation too because they're also artists who have also talked about violence through Goodbye Earl. That's it.
Melissa Harris-Perry: Let's go ahead and mosey on down to Old Town Road with Lil Nas X. [laughs]
Francesca Royster: My pleasure.
[playing Lil Nas' Old Town Road]
I got the horses in the back
Horse tack is attached
Hat is matte black
Got the boots that's black to match
Riding on a horse, ha
You can whip your Porsche
Melissa Harris-Perry: We're in a space that is Black country and queer. Let's talk about this.
Francesca Royster: I love Lil Nas X because of his boldness and his queerness and the ways that as he was taking on country music and some of the gatekeepers of country music, he also chose that time to come out as a gay man. I think that it's incredibly brave, and his tools for doing that are his own out outrageousness and his sense of humor, which I think you can find in Old Town Road itself. I really hear that song as a song about just wanting to find a escape, a safe place, but also really taking the traditions of the cowboy and the strength of the cowboy and having that strength lend a hand to this desire to come out, basically.
I think it's a really beautiful song. Then later with Montero, he totally takes takes up space and brings out his own queerness and unapologetically takes on the criminalization of queerness and gayness in that album. I think he's just a really wonderful and thoughtful artists. Sometimes he's characterized as someone who is a dismissible pop icon, but I really find that he's very intelligent and very funny in the ways that he's bringing his critical eye in ways that feel also very queer.
Melissa Harris-Perry: Why does it matter? What difference does it make to lay claim to and amplify this experience of Black country music?
Francesca Royster: That's a great question. Some of it is really thinking about our history as Black people in the United States, our contributions to the musical landscape, and the ways that-- I feel like in the marketing of music, sometimes we are pushed to the edges of things. That is an issue of finances and it's an issue of imaginative freedom. I think that that is one reason that it matters. We should all feel free to make and occupy any musical space that we want, but also lay claim to a history that is part of the ingenuity and creativity of an art form, and country music is one of those things. When I was writing this, I really had my daughter in mind, who doesn't have the kind of nose in her head that I think adults have about what music is cool. She has her own personal tastes, of course, but she doesn't feel shame or this feeling like, "This is too country for me," or "This is too white for me."
I really hope that she keeps that spirit. To me watching her exercise for freedom and whatever she's interested in, is something that I really hope for everybody. That does take recovery work and it takes creating spaces of safety sometimes for fans and also for performers and it takes talking about the history and getting it out there and thinking about this is not a natural segregation of this musical form, it's totally circumstantial and it's about power and history.
Melissa Harris-Perry: Francesca Royster, author of Black Country Music: Listening for Revolutions. Thank you so much for joining us.
Francesca Royster: Thank you so much, Melissa. Take good care.
[music]
Copyright © 2022 New York Public Radio. All rights reserved. Visit our website terms of use at www.wnyc.org for further information.
New York Public Radio transcripts are created on a rush deadline, often by contractors. This text may not be in its final form and may be updated or revised in the future. Accuracy and availability may vary. The authoritative record of New York Public Radio's programming is the audio record.