As Some States Move to Abolish the Death Penalty, South Carolina Brings Back Firing Squads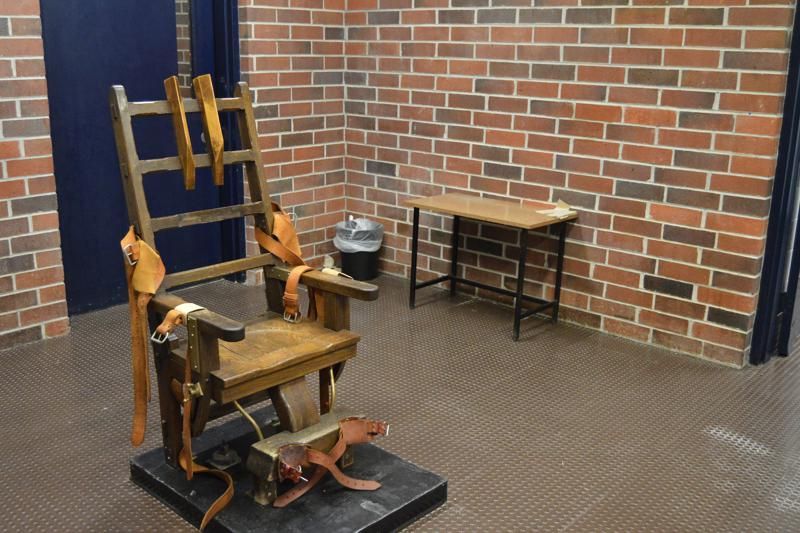 Transcript
[music]
Matt Katz: I'm Matt Katz, a reporter at WNYC in for Tanzina Vega all week. This is The Takeaway. We're going to start today by talking about the death penalty, a topic that has grown increasingly divisive in recent years. While some states like Virginia and Colorado have recently moved to abolish it, others have looked for ways to continue executing people on death row, even as some of the execution methods have become increasingly difficult or even impractical.
Last week, South Carolina entered the fray, Governor Henry McMaster signed a bill requiring people on death row to choose between firing squad or the electric chair if lethal injection isn't available.
Governor Henry McMaster: The death penalty, which has been in South Carolina for I think, since the very beginning, was not able to function because of the way our particular one was written, and that is now been accomplished. It's been fixed so that justice may proceed.
Matt Katz: Mississippi, Utah, and Oklahoma are the only other states that currently allow the use of firing squads.
Justin Bamberg: There's no humane way to kill a human being. I don't view the firing squad are any better than the electric chair, lethal injection, or otherwise.
Matt Katz: That was South Carolina State Representative Justin Bamberg on MSNBC speaking in opposition to the new law. Under South Carolina's previous law, lethal injection was the primary mode of execution, but there's been a shortage of those drugs in recent years as manufacturers have grown weary of being tied to the death penalty. That's led to a major slowdown in executions for South Carolina, which hasn't carried out an execution in roughly ten years.
There are currently 37 people on death row in the state, with three of them having exhausted all of their appeals. What will this new law mean for South Carolina, and how does it fit into the current state of death penalty policies nationwide? For that, and more, we're joined now by Victoria Hansen, reporter for South Carolina Public Radio based in Charleston. Victoria, glad to have you here.
Victoria Hansen: Hi, there. Thanks for having me.
Matt Katz: Oh, absolutely. Also with us is Maurice Chammah, staff Writer at The Marshall Project and author of "Let the Lord Sort Them: The Rise and Fall of the Death Penalty." Maurice, welcome back to the show.
Maurice Chammah: Hi, thanks for having me. Great to be with you.
Matt Katz: Good to be with you, too. Victoria, we'll start with you. It's been about 10 years since the last execution took place in South Carolina. Why the delay, what's been going on?
Victoria Hansen: Well, Matt, as you mentioned, right there off the top, the problem has been that the state has not been able to get the chemicals needed for lethal injection from pharmaceutical companies, especially without a shield like other states have that protect the identity of the company that sell the drugs for execution. As you mentioned, while lethal injection is the default method, the choice was between lethal injection and the electric chair, but without those drugs, they couldn't carry out the executions.
As they debated this most recent legislation, this newly passed legislation, there were three different inmates who had exhausted all their appeals on death row, execution stayed, who could not be put to death because they had not chosen the electric chair.
Matt Katz: Now they will have a choice to choose between the electric chair and firing squad and they will be presented that choice when it's their time, is that how this is going to work Victoria?
Victoria Hansen: That's how it's supposed to work. Again, legal injection is still an option if it is available, and that is a big if. Again, the inmates must decide between the electric chair and the firing squad with the electric chair now being the default method. The electric chair is now the default method of execution. It was last used in 2008.
Matt Katz: Is there a firing squad ready to go? Is it already up and available to do this, or do they have to work that out?
Victoria Hansen: No, there is no firing squad. In fact, the state needs to create one. The Department of Corrections is looking to other states that currently use this method like Mississippi, Oklahoma, and Utah. There's no word on just how long this will take, what it will cost, but here's the catch, the state may be able to carry out executions by electric chair even if a firing squad is not available because while inmates do have a choice, the electric chair again is now the default method.
Matt Katz: Maurice, Victoria mentioned these three other states that do use firing squads, how frequently are firing squads used in those states?
Maurice Chammah: Very rarely. It's only been used in the last 50 or so years in Utah. The last time was in 2010. Then before that there were a couple of times going back to the 70s. Utah will end up being the source of expertise for South Carolina and other states who try to carry out executions this way. Similarly, the electric chair, although used a little more frequently, and used more than 100 times in the past half-century or so, is pretty rare. Tennessee is a dominant state now that uses it. Most states still use lethal injection, because they have managed to find those drugs.
Matt Katz: What has been the issue with finding the drugs for lethal injections? What are the concerns from the pharmaceutical companies that provide the drugs?
Maurice Chammah: Sure. About 10 years ago, activists who oppose the death penalty prevailed on pharmaceutical companies to stop letting their drugs be used for this purpose. They helped them enact, what were called distribution controls so that the drugs wouldn't get into the hands of prison agencies. The prisons scrambled in response and started enlisting, sometimes actually overseas sources, some of them went to India and Europe to try to get sources of drugs. Sometimes they would enlist small independent compounding pharmacies to make pentobarbital and other lethal injection drugs.
You would hear these salacious stories of them buying the drugs with cash, taxpayer money going in a suitcase. Some illicit-sounding scheme to get the drugs. This was all generally considered legal, but as Victoria said, even small independent pharmacies don't necessarily want the PR problem of being the source of execution drugs. It's gotten harder and harder for states to get these drugs and also more and more expensive. Recently, Arizona was on record for paying more than $1 million for execution drugs.
Matt Katz: Maurice, you've done so much reporting on the death penalty. I'm curious about the people who will be firing these bullets in these firing squads. What mental toll do executions tend to take on the people who are tasked with observing them or carrying them out?
Maurice Chammah: That's a good question. We know broadly speaking that the experience of working at an execution, not just strapping the prisoner down to a lethal injection gurney or electric chair but even escorting them into the room, interacting with them the day of their death is horribly traumatic, it exacts a really intense mental toll. Many of the executioners that I interviewed for my book, many of them managed to get on with their lives, but none of them describe the experience as being other than very, very difficult. Some of them retired or had to go into therapy or even had nervous breakdowns from the experience.
I think that the firing squad because it is such a dramatic form of execution, and it looks so violent, will be hard for people to watch. I think the fact that it's hard to watch is maybe part of why it has not been more popular over the last 50 years. Because logistically and to speak frankly, it is a more sure-fire method of execution than lethal injection.
Matt Katz: Victoria, you recently spoke with South Carolina Governor Henry McMaster about this new law. What did he have to say about it?
Victoria Hansen: Yes, the governor says this is necessary. They've been tried to do this for some time. He says the families of victims need to get the justice that they were promised in court. Most Republicans have been in favor, some say they were conflicted. Even though this was not a debate about the death penalty itself, if they have been pro-life where [unintelligible 00:08:28] talking about bills, about abortion, how can they not be pro-life when it comes to capital punishment. I have to mention, already, there have been lawsuits filed.
Matt Katz: Maurice, people sometimes are sentenced to die but are later exonerated, found to be innocent for their crimes. There was a case recently in Arkansas, newly uncovered DNA evidence would have exonerated a Black man there who was executed in 2017. How significant of a factor are wrongful convictions in the argument against the death penalty?
Maurice Chammah: I think that wrongful convictions have long been a big driver of opposition to the death penalty. At this point, there's been roughly one exoneration, one person freed from death row because they were innocent for every eight executions, which is just a very high rate of error. I have seen that this argument that the system gets it wrong sometimes is especially compelling to conservatives, to Republicans. Some Republicans came out against the firing squad bill in South Carolina. In Oklahoma, they've been filing bills that make it easier for death row prisoners to make arguments of innocence in court.
There are many bills around the rest of the country and state legislatures brought by Republicans that would limit who get the death penalty. I think there's this increasing realization that if as conservatives they oppose big government out-of-control taxpayer spending and the government's ability to swoop in on your life and limit your liberty, that the death penalty is the ultimate example of that. Matt Katz: Maurice, nationally during the 2020 campaign President Biden said he would work to pass legislation ending the death penalty at the federal level. Has he done anything in this regard since taking office?
Maurice Chammah: He has not. A group of Democratic lawmakers in Congress have brought a bill recently. The first Republican signed onto that bill. Tere is this bill kind of active in Congress, but Biden himself has not done a whole lot. His priorities have been elsewhere. There is quite a bit that he could do even behind the scenes. He could help improve defense for those facing the death penalty at the state level, he could just issue a moratorium, he could even go so far as to commute the sentences of those on federal death row which I think would be a fairly controversial thing to do.
My sense is that at the moment in Congress, it still feels like a fairly partisan issue, and Biden, as we have seen in other cases is not eager to wade into what can feel like cultural war battles.
Matt Katz: Victoria, who's on death row in South Carolina? What are the racial demographics?
Victoria Hansen: There are 37 inmates who are currently on death row, 19 of those are Black.
Matt Katz: That's got to be reflective of those who are on death row nationally, right Maurice?
Maurice Chammah: That's true. It's now been pretty well shown that the death penalties roots go back many years. Some of those roots are in lynchings and the lynchings that disproportionately targeted Black Americans. That continues to be true, not just in the disparities on death row being more Black prisoners but also if a victim is white, it's often been found that it's more likely that the defendant will get the death penalty regardless of their race. There's a lot of ways in which race skews who ends up getting the ultimate punishment.
Matt Katz: Victoria, before I let you guys go, what are you watching for next when it comes to South Carolina death penalty cases?
Victoria Hansen: A couple of things. As I mentioned, that lawsuit filed behalf of two of the inmates whose executions have been stayed because of the lack of chemicals. This law is retroactive and they claim it's unconstitutional to have a method of execution changed by a law that did not exist when they were sentenced to death. The other is the third inmate whose execution was saved, Richard Moore. The state supreme court is now hearing his case again. He was tried by an all-white jury.
Matt Katz: Victoria Hansen is a reporter for South Carolina Public Radio and Marie Maurice Chammah is a staff writer at The Marshall Project. Guys, thank you so much for joining us and explaining this issue to us.
Maurice Chammah: Thanks for having me.
Victoria Hansen: Thank you.
Copyright © 2021 New York Public Radio. All rights reserved. Visit our website terms of use at www.wnyc.org for further information.
New York Public Radio transcripts are created on a rush deadline, often by contractors. This text may not be in its final form and may be updated or revised in the future. Accuracy and availability may vary. The authoritative record of New York Public Radio's programming is the audio record.