Should the Summer Olympics Take Place During a Pandemic?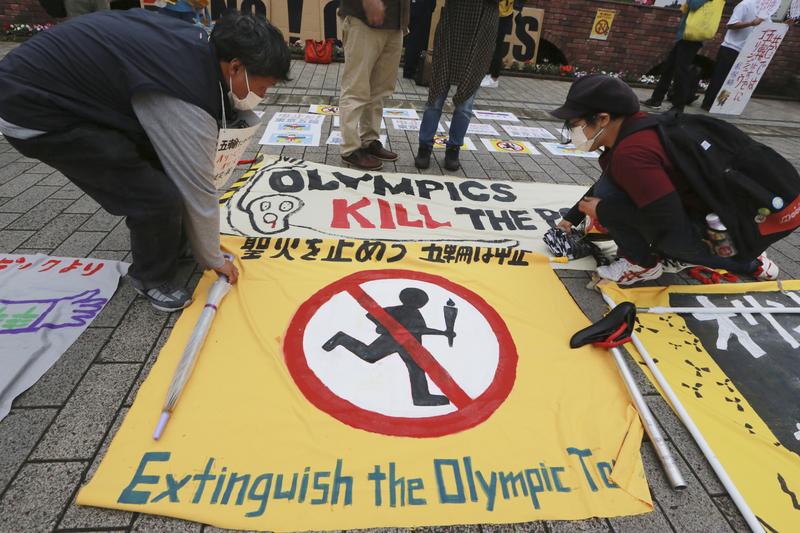 Transcript
Matt Katz: I'm Matt Katz in for Tanzina Vega. This is The Takeaway. The Summer Olympics are scheduled to take place in Tokyo, Japan this July, but some have raised questions about whether it makes sense to gather the world's foremost athletes during a global pandemic. The 2020 Tokyo Olympic Games were supposed to happen last summer but were postponed due to the coronavirus.
Today, less than 2% of the population in Japan is fully vaccinated, and the country is currently experiencing a surge in cases. Some are weighing the public health concerns stemming from the pandemic and what could happen if athletes traveling from hotspots bring the virus with them, and they're weighing that against the benefits associated with hosting such a prestigious event. With me now is Jules Boykoff, former professional soccer player and professor of Politics and Government at Pacific University in Oregon. Jules, welcome back to The Takeaway.
Jules Boykoff: Good to be with you, Matt.
Matt Katz: We also have Jen Kirby, foreign and national security reporter at Vox. Hi there, Jen.
Jen Kirby: Hey, Matt, how are you doing?
Matt Katz: Doing well, thank you. Thank you both for being here. Let's get into this. Jen, what does the pandemic look like on the ground in Japan right now?
Jen Kirby: Right now Japan is seeing one of its worst surges of the Coronavirus, comparable to about January of this year when it's on another big surge. Right now Tokyo and several other prefectures in Japan are under emergency orders that are going to be in effect until the end of May. Of course, as you mentioned at the top, the vaccination rollout in Japan is going rather slowly right now. Less than 2% of the population is fully vaccinated right now.
Matt Katz: Jules, how do residents of Japan, given the stats we just heard, feel about whether the game should go on?
Jules Boykoff: Well, more and more, we're seeing people across Japan just saying no to the games. Poll after poll has shown that people across the country do not want to host the Olympics this summer. Many are asking now for full cancellation of the Olympics in the neighborhood of 60% of the population in some polls, and this is unparalleled in the political history of the Olympics.
There's also an anti-Olympics movement that's gaining more traction and holding events regularly and gaining more people to come to those protests. Across the country, we're seeing a push back against holding these Olympics during pandemic conditions.
Matt Katz: Jules, wrote an op-ed in the Times titled, Sports Event Shouldn't be a Super Spreader, Cancel the Olympics. I'm just going to read a quick quote from this article in the New York Times, "It's time to listen to science and halt the dangerous charade. The Tokyo Olympics must be canceled. The situation is crude but clear. Olympic organizers are not willing to sacrifice their profits for public health." Can you expand on that, Jules? What are the Olympic organizers thinking here, and why do you think it's so problematic?
Jules Boykoff: Sure. Medical officials in Japan and across the world are clamoring for these Olympics to be canceled. Don't get me wrong, Olympic athletes are absolutely amazing to behold. I love watching them myself, but the Olympics are a wholly optional sporting spectacle, not some essential service to humanity.
I argued that pushing ahead with the Tokyo Games means possibly creating a really dangerous petri dish that could affect people in Japan and outside of Japan. If you're wondering why the Olympic steamroller continues to rumble forward, I argued in that piece, there's essentially three reasons and that's money, money, and money. I'm only being slightly facetious here. There are other factors in play, national pride and trying to follow through with an event that is difficult to do during a pandemic.
There's also the fact that geopolitical rival China is slated to host the controversial 2022 Beijing Winter Olympics in less than nine months from now, but it's rarely so obvious that big money is fueling the five-ring machine. The International Olympic Committee, which is the Lausanne, Switzerland-based group that oversees the games, they're perfectly content to stage a made-for-TV event that would allow it to collect the enormous broadcaster revenues that keep the Olympics afloat. Let's not forget that broadcasters give about 73% of the International Olympic Committee's overall revenues. Another 18% come from corporate partners.
Even if there's no one in the stands, even if no one can come from overseas to watch the games, the International Olympic Committee for in a made-for-TV event can still have that money rolling into its coffers.
Matt Katz: There's money and then there's health. Jen, is there any consensus from the international public health community about whether or not these Summer Olympics should be canceled?
Jen Kirby: I think as Jules said, most public health experts would say hosting an international athletics competition in the middle of the pandemic is not really really a great idea. Of course, it could be the biggest fear, again, is the super spreader event that people come from all over the world potentially bring variants with them or they even goe spread them over from where they came.
Even though foreign fans will not be allowed to attend the Olympics this year, you're still going to have thousands of Japanese, people who are going to be staffing the Olympics, working the Olympics, and so their health and safety is a concern. There's a concern from medical doctors in Tokyo that the health system may be overwhelmed, not just from Coronavirus, but the incidental things that happen when you have a summer festival like heat exhaustion. At the same time, I've spoken to a few public health experts who seem to feel that this event is going to go forward whether it's a good idea or a bad idea.
The focus then needs to be how do we make this event as safe as possible, whether it's through vaccinations. Right now, the Japanese-- sorry, the Olympic plan is to have a semi bubble, there's no quarantine, but athletes need to have a negative test before they come. They'll be tested while they're there. The question is, can we pull off an Olympics similar to an NBA season or an Australian Open event? The answer is, nobody's really quite sure yet, but if there's a way to pull it off safely, then that really needs to be the focus if they're going to move forward.
Matt Katz: Jen, they're not mandating that these athletes be vaccinated to show up, right?
Jen Kirby: No, that is not going to be mandated. For example, in the United States, they're encouraging athletes to get vaccinated, but it's not mandatory. Some other countries have said, like Italy and Australia, that they will vaccinate their athletes. Pfizer did say they are going to donate vaccines to athletes around the world. Then it also raises the question we have of vaccine shortage, is this the priority for who we need to be giving vaccines to, and healthcare workers and vulnerable people around the world also don't have access?
Matt Katz: Want to go back to you, Jules, in your New York Times op-ed, you mentioned the additional strain that the Olympics would place on Japan's nurses. What's your concern there?
Jules Boykoff: Yes. The nurses across the country and doctors as well are very concerned that they're already overstretched right now, their health care systems. People in Japan are already dying at home because they don't have the ability to go into places because there's not room for them. I argue that it's time to listen to these medical professionals. For many spectators, what's most alluring about the Olympics is their audacious impracticality with thousands of athletes from many sports coming together from around the world to compete in a single place.
However, nurses and doctors are arguing that during a global public health crisis, this has potentially lethal consequences, and I think they're right. Pressing ahead with these Olympics really risks drinking poison to quench our thirst for sport. There's the possibility and not the assurance but the possibility of a super spreader catastrophe. That's not worth it for an optional sporting spectacle. These nurses have been saying they're going to be tens of thousands of people coming into the country. Just the athletes alone with the Olympics is around 11,000.
The Japanese Tokyo organizers just announced the other day that they're going to limit the amount of other people like officials from the Olympics to 90,000. That's still a lot. We're talking about 100,000 people coming into the country, none of whom are required to be vaccinated, coming from places like the United States, Brazil, India, elsewhere that are really struggling with Coronavirus right now, and so health officials are definitely sounding the alarm right now.
Matt Katz: Jules, there won't be fans, right? That's a significant modification.
Jules Boykoff: That's correct. They will not be allowing overseas fans. They have still not decided as to whether they're going to allow Japanese fans to go to the games and watch from the inside.
Matt Katz: Jen, if international spectators aren't allowed to travel to Japan for the games, what does that mean for the tourism economy in Japan? Will they be getting much of a benefit from these games anyway?
Jen Kirby: Right now it doesn't really seem so. Part of the Olympics or I think the goal of hosting the Olympics is to showcase your city, and of course, you want to invite in foreign fans who are going to go to your hotels and eat at your restaurants, and that isn't going to happen this year. The other appeal is that they love your city so much and then they come back.
Matt Katz: Right, and then you can make Tokyo this attractive destination. They come back in a post-pandemic world but of course, there won't be Olympic Games when they come back. Jules, how do athletes who are slated to participate in the Olympics and have been training for this virtually their entire lives, feel about the possibility of postponement or cancellation this idea that you've proffered.
Jules Boykoff: Well, the only complicating factor really for me is that canceling the Olympics means depriving athletes of a chance to shine in Tokyo on the big Olympic stage. The Olympics are a huge pedestal for women athletes, for example, they get a high profile at the games and that's wonderful. The Tokyo games this summer were also slated to include trans athletes, really raising the profile of trans people, which is important I think in this moment.
Also, there's the serious potential for athlete activism this summer, riding the zeitgeists of the Black Lives Matter like extended moment. As a former Olympic-level athlete myself, I can definitely appreciate how difficult the situation is for athletes. A canceled Olympics would be absolutely devastating, no question about it. Arguing in the New York times for cancellation brings me no joy whatsoever when I think of these Olympic athletes.
Reading the piece and I think about all they've done to try to reach their five-ring dream, I don't expect them to like what I have to say, let alone agree with it, but I hope that one day they'll appreciate where I'm coming from. I think it's important though to point out that the international Olympic committee has foreclosed the option of further postponement of the Olympics, making cancellation the one clear option in my mind.
The other thing I would just say to these athletes is that there's a larger struggle happening right now around athlete rights. There's groups like Global Athlete that are fighting for athlete rights and I'd like to work with them. I'll continue to fight for athlete rights. I think athletes absolutely deserve a bigger slice of the Olympic money pie. As it stands right now, they only get 4.1% of the revenues compared to sports like the NFL, the NBA, English Premier League of soccer, who their athletes get between 40 and 60% of revenues. 4.1% for Olympians compared to 40 to 60% for other athletes. These Olympics are embedded in a larger struggle for athlete rights and I'll continue to fight for those rights alongside them.
Also, should these games ultimately be canceled, I think it's really important for all of us to put some muscle behind pressuring Olympic organizations around the world to increase funding for mental health support and counseling because our athletes absolutely deserve that. It's going to be very difficult if these games are ultimately canceled for them.
Matt Katz: Especially because in four years, if there was a cancellation, some of these athletes would no longer be eligible or even be able to play anymore. Their prime, I imagine, is right now, there's a small window there, right?
Jules Boykoff: That's exactly right. The other thing about it, Matt is that while a lot of the high profile athletes, some of them who have actually spoken out, wondering out loud whether we should actually host these games like Naomi Osaka, while those high profile athletes are actually insulated financially, there's a number of athletes from lesser-known sports who for them cancellation carries serious sting.
Some of them have actually resorted to opening GoFundMe pages to try to scrounge up the money needed to realize their Olympic dream. For them, the Olympics may be their one chance to raise their profile, to attract sponsors, and cancellation could spur both financial and psychological strains. I would say also the Tokyo organizers have been issuing these playbooks. They call them playbooks for athletes. If you're an athlete that looks at these playbooks that talk about how to be safe in Tokyo, I would imagine that you'd start to feel a little bit alarmed. It makes it clear that these athletes are basically participating in the Olympics at their own risk.
It sounds like the International Olympic Committee and the organizers in Tokyo are paving a path for a COVID-19 waiver which would mean that athletes would essentially be signing away their right to pursue legal recourse if something go awry while they're in Tokyo. There's a lot for athletes to be thinking about right now. It's a very challenging time for them.
Matt Katz: Jules, what kind of costs are associated with the Olympics? This is a mind-boggling number?
Jules Boykoff: That's right. The Tokyo Olympics are a perfect example of Etch-a-Sketch economics, where they say during the bid phase that it's only going to cost $7.3 billion and in reality, now it's costing in the neighborhood of $30 billion. Costs have absolutely escalated through the roof and postponement really hasn't helped, but that's become par for the Olympic course.
I think there's more people that are aware of that high spending. There's more people that are aware that the Olympics bring displacement and forced eviction. There's more people that are aware that it brings militarization of public space in the host city. There's more people aware that it brings a certain dose of greenwashing.
The Tokyo Olympics have really stripped the varnish off the Olympic project. Moving forward, it's going to be fascinating to see what happens.
Matt Katz: Jules Boykoff is a former professional soccer player and professor of Politics and Government at Pacific University in Oregon. Jen Kirby is foreign and national security reporter at Vox. Thanks to you both.
Jen Kirby: Thanks, Matt. Have a good one.
Jules Boykoff: Thank you.
Copyright © 2021 New York Public Radio. All rights reserved. Visit our website terms of use at www.wnyc.org for further information.
New York Public Radio transcripts are created on a rush deadline, often by contractors. This text may not be in its final form and may be updated or revised in the future. Accuracy and availability may vary. The authoritative record of New York Public Radio's programming is the audio record.