SHElection!: The Michigan Governor's Race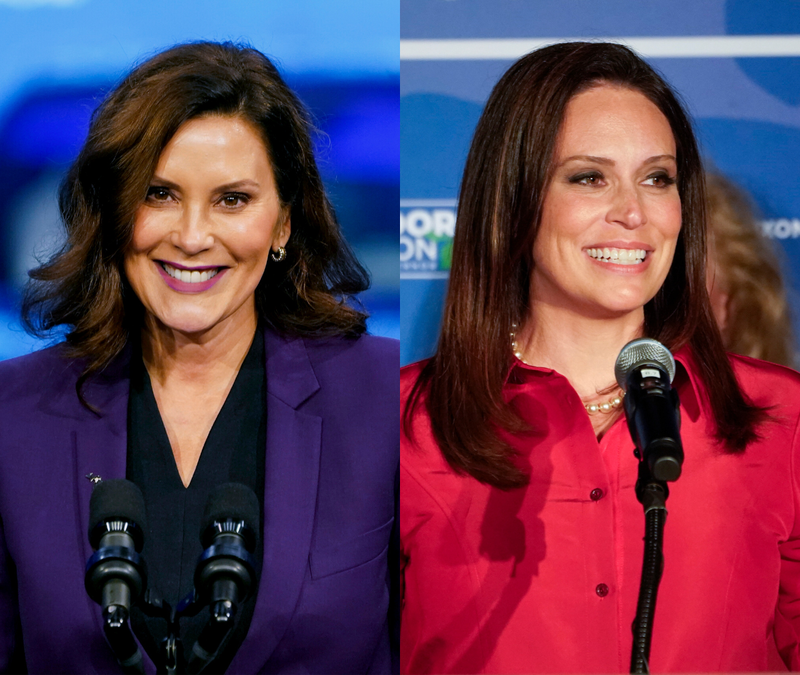 Transcript
Melissa: Hey there, it's Melissa. This is The Takeaway. In just 40 days, voters will determine the direction of American politics by choosing winners in thousands of elections across the country, including who resides in the governor's mansion of more than half of US states. 36 gubernatorial seats are being contested this year, and one of the most interesting matchups is the battle to lead Michigan.
The race to serve Michigan as governor is a SHElection A race where both candidates in the general election are women, which is why the Michigan's governor race is the next installment of The Takeaway, SHElection special midterm series. It's our partnership with the Center for American Women in Politics with support in part from the MS Foundation for Women.
Simon Schuster: I think the incumbent Gretchen Whitmer is obviously the better-known candidate in this race.
Melissa: This is Simon Schuster, in addition to having a amazing name for any book lover, Simon is senior political reporter with M Live.
Simon Schuster: She's looking to have a second term here in Michigan, and widely regarded, I'd say perhaps begrudgingly by her opposition as a shroud politician. Governor Whitmer was in the Michigan legislature by the age of 29, served in the house, and then the Senate, ultimately becoming Senate minority leader before being term-limited out and briefly serving as a county prosecutor before running in 2018. She was part of the vanguard of the 2018 Blue Wave, saw basically three different women actually sweep into the highest executive offices in Michigan.
Gretchen Whitmer: Thank you, Michigan. I am incredibly humbled that you put your trust in me to be your next governor.
Melissa: After winning in 2018, Governor Whitmer quickly became a star in her party, and in 2020 delivered the Democratic response to President Trump's final State of the Union address.
Gretchen Whitmer: I'd need a lot more than 10 minutes to respond to what the President just said. Instead of talking about what he is saying, I'm going to highlight what Democrats are doing.
Simon Schuster: From there, of course, through the COVID-19 pandemic you saw her become thrust onto the national political spotlight and rise in prominence.
Melissa: Now, the challenger in this SHElection has a very different political path than the incumbent Governor.
Simon Schuster: Tudor Dixon, her Republican challenger is relatively new to politics. She's a figure who saw her political star rise during the presidency of Donald Trump. She basically came to Providence as a presenter and commentator on real America's voice which is a hard-right conservative network that hosts other hosts such as Steve Bannon. She was actually even the host during January 6th, 2021. We have live coverage of her reactions to these events. She had previously worked at a steel foundry that her father had owned in Muskegon, Michigan, and had also helped produce conservative documentaries with her longtime friend Kyle Olson, who's also working on her campaign.
Melissa: At the start of the primary season, 10 candidates were seeking the Republican nomination, but half were disqualified when it was discovered that their nominating petitions included tens of thousands of forged signatures. Now, the early Republican front runner and the Republican candidate with the biggest campaign budget, well, they were among those disqualified early and suddenly Tudor Dixon was leading a much narrower field and then on May 23rd--
Simon Schuster: The most influential conservative family in the state, the billionaire DeVos family endorsed her.
Participant: Dixon picked up a big endorsement in the Republican primary, [unintelligible 00:03:56] DeVos and family members including former US Education Secretary, Betsy DeVos.
Melissa: On July 29th, a former President Trump added his official endorsement describing Dixon as "pro-God, pro-gun and pro-freedom." A few days later, Dixon won the Republican nomination, but even with the backing from the DeVos family and from former President Trump, campaign resources are lopsided. Whitmer didn't face a primary challenger and was able to amass a significant campaign war chest. Here again is political reporter, Simon Schuster of M Live.
Simon Schuster: Earlier on in the election, the DeVos family said that they were all in and willing to spend tens of millions of dollars to see, and this sticks in elected, but this isn't something that we've seen to have materialized. Now Gretchen Whitmer is a politician with a national fundraising platform. She's become something of a fundraising juggernaut over the last two years. Thanks in large part to the prominence that she gained during the COVID-19 pandemic. As a result, she's raised an unprecedented amount of money for a gubernatorial election in Michigan.
She has as of the last filing period, $14 million cash on hand, whereas Tudor Dixon only had about half a million dollars. She's largely relied in fact on an outside group, a super PAC called Michigan's Families United to run most of the ads for her campaign while she's been spending most of her own campaign account on the core functions of a candidacy. It's created quite a lopsided dynamic. Whether that cavalry is going to come in, that tens of millions of dollars of support from the Republican side is going to emerge for Ms. Dixon is far from certain and seeming increasingly less likely.
Melissa: Now, Whitmer's conservative opponents have cried foul pointing to donations that seem to exceed limits for individual contributions. Either way, the reality remains, Whitmer has much more to spend on advertising, and she's spending it to remind Michigan voters that she understands their struggles. She's doing this by leaning into her identity as a woman.
Gretchen Whitmer: Both my girls are in college now, but I'll never forget those early days, juggling a newborn, a mom with cancer, a full-time job. It was a lot. All over Michigan, people are facing those same struggles.
Melissa: With fewer dollars to spend. Dixon is relying more heavily on earned media. It's an incentive really to be just a bit more outrageous so as to earn free coverage on the news and keep her name in front of voters. Dixon did this effectively earlier in September when she used her address to the annual CPAC conference to make light of a 2020 plot to kidnap Governor Whitmer. In August, two men were convicted of conspiracy in the case, and Dixon used it as an applause line.
Tudor Dixon: Gretchen Whitmer sure is good at taking business hostage and holding it for ransom.
Melissa: Mean? Maybe, but it got Dixon on TV news all across the state. Of course, there's been a flurry of advertising by third-party groups on behalf of both candidates.
Participant: Most people hadn't heard of Tudor Dixon until Betsy DeVos and her family spent millions to promote her, because Tudor Dixon's tax plan would give DeVos and other billionaires millions in tax breaks.
Participant: I guess we're going to have to fix the damn Roseville, all right?
Melissa: The work we'll focus on I, US and M numbered routes, not local roads.
Melissa: Even with all the noise in this SHElection, one issue remains dominant.
Participant: If you take Tutor Dixon at her word when it comes to outlying abortion, she's told us exactly who she is.
Participant: Are you for the exemptions for ripen incest?
Tudor Dixon: I am not.
Jenna Bednar: In Michigan, there is a law on the books that makes abortion illegal, which is currently on hold. This is a big issue. Hi, I'm Jenna Bednar. I'm a professor of political science and public policy at the University of Michigan. The governor has come out very strongly in support of abortion rights. In fact, suing to prevent the 1931 law from going into effect, and Mrs. Dixon is opposed to abortion access.
Melissa: Professor Bednar explained that Michigan voters are in a unique position this year. Not only will they decide the state's governor, they're also going to vote on a ballot measure, which could ensure that access to abortions is protected by the state's constitution.
Jenna Bednar: Tutor Dixon tweeted out well, with this ballot measure, you can go ahead and support abortion rights and support me, and that certainly is a little bit confusing given how firmly she has stated her opposition to abortion. She is trying to introduce some complexity into the way people are approaching their voting this fall. I really think that right now both sides are trying to play with how do we affect turnout? How do we affect who turns out and how do we encourage some people perhaps to stay home? Given that abortion seems to be such a mobilizing issue, trying to find ways of causing people to stay home and not participate is probably a strategy on the Republican side.
Melissa: The candidates in the Michigan gubernatorial race are scheduled to debate each other on October 13th, but Jenna isn't convinced that this debate will be decisive.
Jenna Bednar: For those who view the debate, it just reinforces ideas about the candidates that they had coming into it, so they no longer really are for changing people's minds and persuading voters. Then this gets back to, well, then what is the effect? If it's not changing anybody's minds, the effect really is about turnout. One thing that those who participate in debate strategically might try to do is cause supporters of the opponent to lose confidence in their candidate of choice to some extent.
For someone like me who's a professor and I really care about informed citizens and that they approach their voting decision with as much information as possible. I no longer feel the same way about debates that I used to, where this is a moment where voters can learn a lot of positive things, new things, and instead, it's a place for mud slinging and trying to keep voters from participating.
Melissa: Just how Michigan voters participate in elections. Well, that's part of the story here too, as political reporter Simon Schuster explained.
Simon Schuster: Another thing that occurred in 2018 was the passage of proposal three, which ushered in no-reason absentee voting. That means that a lot of Michigan voters are going to be voting well before November 8th. Local clerks are going to have ballots in hand for absentee voters, september 29th. Tudor Dixon, who again, is facing a significant financial disadvantage on airwaves, wants to get in front of voters as quickly as possible, especially if they have absentee ballots in hand.
She has been fighting to have a debate. She wanted one September 24th or anytime in this last final week of September. Whitmer in her campaign has refused to budge on this. I think it's to her advantage as well to run out the clock, even if that means that the public isn't going to get to hear from these candidates face to face.
Melissa: We're going to take a quick pause, but don't you debate about whether or not to stick around. Stay with us because when we get back, we're going to talk about how the definition of a real woman has become part of this SHElection. More on the race from Michigan Governor in just a moment. It's The Takeaway.
[music]
Melissa: I'm Melissa Harris-Perry, and I'm back with more of our SHElection midterm series. Here on The Takeaway. We've been talking about the campaign to be governor of Michigan, a matchup between the incumbent Democrat, Gretchen Whitmer and her Republican challenger, Tudor Dixon. Tudor Dixon, much like the governor, has emphasized her identity as a woman and as a Mother.
Dixon's campaign website describes her as, "A businesswoman, breast cancer survivor, and working mom of four girls." I talked with Jenna Bednar, professor of political science and public policy at the University of Michigan, and Jenna pointed out how this woman-centered candidacy also shows up in Dixon's policy positions.
Jenna Bednar: In addition to abortion, K through 12 education is a major issue in this election. The governor has been talking about new ways of increasing teacher salaries and other ways of improving schools. Tudor Dixon is trying to remind voters of all of the ways that they were really annoyed with the governor during the pandemic, including school closures and mask-wearing.
Melissa: In Michigan, the fact that both gubernatorial candidates are women with daughters has not neutralized gender as a campaign issue. In July, Tudor Dixon appeared on Fox News.
Tudor Dixon: You know what? It's interesting because we are hearing people say this could be the epic race in the middle of the country having two women battle out the conservative mom, and she's referring to herself these days as the far-left birthing parent.
Melissa: Simon Schuster, senior political reporter for M Live offered some insights about what Tudor Dixon is saying here.
Simon Schuster: She's attempting to use the Governor's own words against her, and it speaks to the culture wars that Tudor Dixon has been leading in on, especially in regards to education. While I think ideally right when any challenger candidate is facing an incumbent, they have an advantage in that the incumbent has a record that can be attacked. Learning loss during the pandemic is very real, along with third-grade math and reading scores.
I think where Tudor Dixon has spent a lot of her time is talking about "radical sex and gender theory", and the idea that children are being indoctrinated in our classrooms, and that parents are having control over their children and their children's lives taken away from them in the benefit of, she referred to students as lab rats in a laboratory experiment by radical political activists. When she says birthing parent, it's because she's trying to take these progressive ideas about gender and sex and that Whitmer has at times embraced, but now avoids talking about because of public opinion reasons.
Highlight them and try to focus on this. Abortion I think is a really powerful issue for the Governor because there's a Trump card that's going to be on the ballot in the form of a constitutional amendment, and this is something that occurred outside of the Governor's power. She incessantly says that she's "fighting like hell" to protect abortion access for all Michiganders. It's not something where she has to defend her record. Education is, I think, a much more complicated issue for the Governor.
It's where Tudor Dixon has seen a bit of an opening. I think that it's worth touching upon, given that this is the SHElection series, the contrasting depictions of motherhood that we're seeing in this race because Gretchen Whitmer is someone who's really talked about domestic violence, sexual assault, and reproductive rights as a through line throughout her political career. Well, before the MeToo movement in 2013 actually.
She disclosed on the floor of the Michigan legislature that she was a survivor of sexual assault and talked about her own experience with that and its importance in regards to ongoing legislative controversies at the time. The tenor that she sent, the tone that she struck throughout this candidacy is about her wanting to defend her own daughters and their access to reproductive rights.
Tudor Dixon has done much the same thing but from a different perspective. She has four daughters herself, and she seized on this issue of education and economy, saying that she wants her children to feel safe in schools and not face indoctrination from progressive theories and be exposed to things that could be damaging to them at a young age. At the same time, she wants to make sure that her children can grow up in a state that has ample economic opportunities so that they don't have to flee to elsewhere.
Melissa: Jenna, for your students, for your undergraduates, in particular, do they care? Do you think this notion of women competing at this level against one another in this space resonates in the same way that it might for those of us who actually remember Geraldine Ferraro running for the American Vice Presidency, for example?
Jenna Bednar: I will say that my students think that it's not just the Governor, but our Secretary of State and our Attorney General. They think they're cool and they're inspiring and amazing and strong and exciting. I hear it from them in the way that they talk about the leadership in Michigan, they're proud of it and they find these women really smart and yes, they want to be them.
Melissa: Our thanks to Jenna Bednar, professor of political science and public policy at the University of Michigan, and Simon Schuster, senior political reporter for M Live.
Copyright © 2022 New York Public Radio. All rights reserved. Visit our website terms of use at www.wnyc.org for further information.
New York Public Radio transcripts are created on a rush deadline, often by contractors. This text may not be in its final form and may be updated or revised in the future. Accuracy and availability may vary. The authoritative record of New York Public Radio's programming is the audio record.