SHElection! Midterm Coverage Begins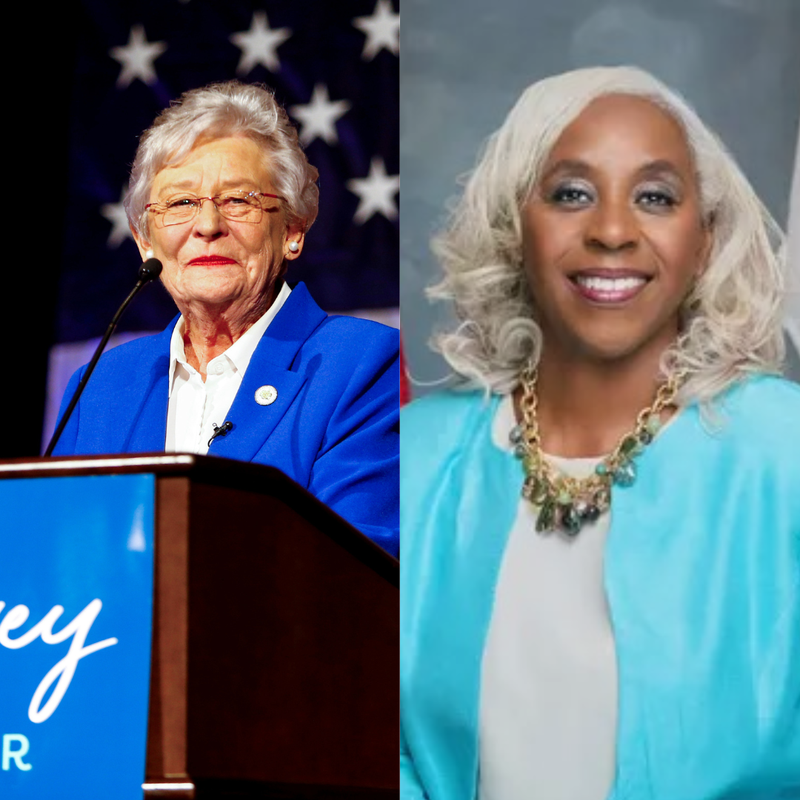 Transcript
[music]
Melissa Harris-Perry: I'm Melissa Harris-Perry. Thanks for starting your week with us on The Takeaway. Today we're going to begin with a conversation about the midterm elections here in the US, but before we get to that conversation, we want to situate it within the larger context of a very busy few days of news from around the world.
Canadians are reeling after one of the deadliest mass killings in the country's history. Two men killed 10 people and wounded at least 18 others in a stabbing spree at the James Smith Cree Nation in Saskatchewan. Reports indicate that beginning early Saturday morning, Myles Sanderson and Damien Sanderson begin to kick in doors on the indigenous reservation, stabbing whomever they found inside. The men attacked and assaulted people in at least 13 separate locations. Assistant commissioner Rhonda Blackmore of the Saskatchewan Royal Canadian Mounted Police briefed the public on Saturday afternoon.
Rhonda Blackmore: Our thoughts are with the many victims deceased and injured, their family, friends and communities. It is horrific what has occurred in our province today.
Melissa: On Monday, one of the alleged killers, Damien Sanderson, was found dead. As of Tuesday morning, authorities continued to search for the second assailant, who they indicate may be injured. Canadian officials also indicated that some of the victims likely were purposely targeted, while others appeared to have been attacked at random, and at this point, no motive for the violence has been disclosed.
Although deadly violence has increased in recent years in Canada, it remains unusual compared to here in the US. Even at its peak, Canadian homicide rarely exceeds the rate of 2.5%. Compare that to the US where the murder rate is typically nearly three times as high. At least one resident of Saskatchewan described the deadly attacks as causing a tsunami of trauma.
Deadly fears of a different kind of disaster were renewed this weekend in Ukraine when the country's largest nuclear power plant lost its connection to the main grid as a result of continued Russian bombardment. This, despite the presence of UN investigators who arrived last week. Frank Gardner, a security correspondent with BBC news, explains what's at stake.
Frank Gardner: Remember that this is a power plant right in the middle of a war zone. It's the threat to the power supply that keeps the reactors cool. Interrupt that for a long period of time and there is the risk of overheating and the accidental release of radiation.
Melissa: In the UK on Monday, the Conservative Party chose a successor for prime minister Boris Johnson. Today, Liz Truss will become the third woman to serve as prime minister of Great Britain. Like Margaret Thatcher and Theresa May, the women who preceded her, Liz Truss is a Tory. A Conservative described by most observers as hawkish in international affairs and staunchly committed to free market economics, which means really tax cuts as a tool of economic growth, but during the country's prolonged political battle over Brexit, Truss switch sides.
She first opposed Britain's move out of the European Union, then fully embraced it, becoming a vocal Brexit supporter. That switch left some British observers wary of her core ideological commitments and political allegiances, but Truss was crystal clear in her message on Monday.
Liz Truss: I campaigned as a Conservative and I will govern as a Conservative
[applause]
And my friends, we need to show that we will deliver over the next two years. I will deliver a bold plan to cut taxes and grow our economy. I will deliver on the energy crisis, dealing with people's energy bills, but also dealing with the long term issues we have on energy supply.
Melissa: This is where we find ourselves. This is the world that Americans inhabit just over 60 days from the 2022 midterms. To be clear, weighty issues are not solely the domain of international politics. There are very real concerns right here at home. The Supreme Court decision that reversed the right of Americans to choose an abortion. The rising cost of living and the continued struggle of working Americans to make ends meet. The very real consequences of climate change that communities are already experiencing. Concerns about violence, crime, public safety and policing.
Bruising battles over rights, access, identity and education, and of course the COVID pandemic is not over. Then last week, president Biden added to the list the possibility that one of our country's two major political parties just might represent an existential threat to our own democracy.
Joe Biden: Quality and democracy are under assault. We do ourselves no favor to pretend otherwise.
Melissa: So yes, the 2022 midterm elections come at a critical juncture. The outcomes could be definitive of our collective future. But sometimes this midterm cycle has lacked, let's call it gravitas.
Speaker 6: I believe in Jesus, guns, and babies.
Speaker 7: Colorado needs a bull, not a [unintelligible 00:06:00]
[music]
Melissa: We are zooming in to look at some of the choices midterm voters will have on their ballots this November when they decide all 435 seats in the US house of representatives, 35 seats in the US Senate, and 36 state gubernatorial races. Let's do the numbers here. Of those 506 contests for governor, US Senate and the US House, 43 are quite unique. In these races, all of the candidates in the general election are women. These 43 races are the focus of a new partnership between The Takeaway and the Center for American Women in Politics.
From now until election day, The Takeaway is going to bring you the story of the 2022 midterm elections, with a special focus on the congressional and gubernatorial matchups featuring all women candidates, and together we're going to discover what these she-lections tell us about the present and future of American politics.
With me now is Kelly Dittmar, associate professor of political science at Rutgers University, Camden, and director of research and a scholar at the Center for American Women in Politics. Kelly, welcome back to The Takeaway.
Kelly Dittmar: Thanks for having me.
Melissa: Let's start with the really big picture. Do midterms matter?
Kelly: Of course. They may matter now more than ever as we think about the most important issues that are being debated across the country. Most often in state legislatures, governor's offices and those seats will all be up this election. They'll be able to determine the future as it pertains to abortion, education, voting rights. This is another really important election and it'll set us up to determine how we go into the next presidential race as well.
Melissa: This is another really big picture question here. Thinking about this with the UK now under the leadership of its third woman prime minister. How would you assess the state of American women's political leadership right now?
Kelly: We have seen progress in the last few cycles, especially in terms of women's political representation. Many cited the 2018 election as a quote-unquote 'wave of women'. It's true that we saw significant rise in women's candidacy and ultimately their success in that election. That continued though not at the same pace in 2020, but if we look across levels of office, women are still less than a third of elected officials at every level. If we go down the list, women are about 27% of Congress.
They are 31% of statewide elected executive officials. Only 9 women serve as governors in our 50 states. There are about 31% of state legislators. When we think about women as being over 50% of the population, we've still got a lot of work to do in our elections and in putting women in political power to the degree that they truly represent the constituencies that they serve.
Melissa: We're going to dig into our particular she-lections in just a moment, but of course most women who are running for these crucial offices, are running in races where their opponent is not a woman. Let's just look at this in the broadest sense. Talk to me a little bit about Black women who are running for office this year. I'm thinking here specifically of Stacy Abrams contending for governor in Georgia, and Sherry Beasley seeking the US Senate seat in North Carolina.
Kelly: If we look at Black women's candidacies overall. Black women, again, have set new records as candidates for the House, for the Senate and governor. As you noted, when we're looking at the US Senate in particular, we're talking about an institution, one of the most powerful institutions in American politics that currently has no Black women serving in the Senate. By the way, in all of history, we've only had two Black women serve in the Senate.
This is an area of a huge lack of representation for Black women and so, paying attention to the Senate races as you mentioned, Sherry Beasley in North Carolina, one of the most competitive. Also watching for Val Demings, who's running for the US Senate in Florida against Marco Rubio. Another race to watch to see if we can at least close that gap or increase the number up to at least two Black women serving in the US Senate.
In the gubernatorial contests, we have 12 Black women who are actually major party candidates for governor, Stacey Abrams really being the one who's seen as the most competitive and likely to potentially win that seat. If she wins, she'll be the first Black woman to serve as governor, and also she was the first Black woman just to be a major party nominee for governor in 2018. We're talking about another place where there's really been a lack of representation for our history.
Melissa: Right. I don't want folks to miss that. When you say the first Black woman to serve as governor, you don't just mean in Georgia, you mean full stop. The first Black woman to serve as governor in the United States.
Kelly: In the United States of any party.
Melissa: It's also worth noting that the Black women candidates you mentioned who are running for the US Senate, Val Demings, Sherry Beasley, these are happening in the south. The two women who we had previously. Black women we had previously in the US Senate out of California. Obviously now, vice president Kamala Harris, and Carol [unintelligible 00:11:48] who came out of Illinois. Is there anything we should be thinking about, given that our current candidates for these Senate races are coming out of the Southern States?
Kelly: Definitely. We have to think about the dynamics of these races, of the constituencies that are voting in these elections. We are going to see in these states, particularly North Carolina and Georgia, higher Black voting population that can have a significant influence on the outcome. We saw that with Stacy Abrams in 2018. Black voter turnout might be especially significant in that race and that's something she has strategically been incredibly effective at mobilizing that vote and also bringing a cross-cultural coalition of voters to back her.
Also, I think just thinking about the cultures and the history of these states in terms of segregation and racism. That has not gone away. These candidates are also facing in some ways, additional barriers and hurdles with some voters, especially in the most rural areas, to really put forth the fact that not only are they the best candidate, but they can win in these Southern States.
Melissa: All right, we're going to take a quick break and we'll be back with more of our midterm she-lection analysis with Kelly Dittmar.
[music]
You're back with The Takeaway. I'm Melissa Harris-Perry and today we're beginning our in-depth coverage of some of the most interesting races of the 2022 midterms, where both candidates are women. Still with me is Kelly Dittmar of Rutgers University Camden and the Center for American Women in Politics, our partners for coverage of what we're calling the 2022 midterm she-lections.
Kelly, let's talk a little bit about these races where both candidates, and in one case, all three candidates are women. There are 43 of these races. Is that a big number or small?
Kelly: It's not a record. We have seen a higher number of particularly US House contests that have been women versus women in our history, but it's growing. This is a trend that we're seeing more women versus women races across contests. In the case of, for example, gubernatorial contests, where we have five of these women versus women races, that is a record and that's a record by a lot.
We've only ever had two women versus women gubernatorial contests in the same year before. In all of history, we've only had four women versus women gubernatorial contests, and this year we have five. It depends on the level of office but we're seeing this become more normal, if you will, to see women running against each other in general election contests.
Melissa: Of course, it does leave open the other way of looking at it, which is to say, how many races are we looking at where the candidates are all men, so man-on-man action happening.
Kelly: I think that this is an important point of context because we can celebrate and look to the increase of women versus women races across these cycles, again, as a point of progress, but they're still less than 10% of House and Senate general election contests. Whereas male versus male contests are the plurality of House, gubernatorial, and even the majority, 55% of Senate contests already determined for this fall. The norm here is still to see men running against men.
What's unique about thinking about women versus women contests of course, is that we pay attention to them in part to point out the normalization of male versus male races. That we haven't actually stepped back and thought about that very much, and thought about how men have been so dominant in our elections to the point that we accept it as the norm.
Melissa: Now, candidates don't just appear. They're recruited through either self-recruitment or often from local parties. What can we understand about places where both the Democratic and the Republican parties recruited women to run. Are there any patterns?
Kelly: We're watching this as well to consider whether or not this is a strategy or that this is self-motivated. I say that because it could be that we have seen women increasingly run in contests and run successfully against other women because they saw the success of women and they thought, "Okay, I can do this too, and in fact I'm better and so I want to combat this incumbent woman," for example.
We have seen that in some cases when candidates talk about what motivated them to run. That's more self-motivated than it might be recruitment. Certainly, you have to look at the success of women in recent elections. They have won the most competitive contests. They have flipped the greatest number of seats for Democrats in 2018, and for Republicans in 2020. You have to believe that the parties have looked at that and said, okay, well maybe it makes more sense to recruit and support women candidates.
What we saw in 2020 was that of the five incumbent Democratic women who lost house seats, four lost them to Republican women. Whether or not the party actively recruited them or not, or they were encouraged by the party, I think there is some sense that if you run a woman in the same seat, maybe there is something in that electorate that is working to the advantage of women.
Whether it's just generating enthusiasm, donations, or even helping at the ballot box, a presumption or a thought among some practitioners that pitting a woman against a woman might provide some advantage, or take away some advantage from the opponent. I think it's sometimes the wrong assumption, but in some cases, we certainly see that, I think, influencing party recruitment.
Melissa: Kelly, I want to think a little bit about what that might look like from a strategic practice point. I want us to take listen to two moments of extremely high-level women running for office. In this case, the two most recent women who vied for the American vice presidency, both of them running against male incumbent vice presidents. Republican Sarah Palin back in 2008 and Democrat Kamala Harris in 2020.
Sarah Palin: Ah, say it ain't. Joe. There you go again, pointing backwards again.
Kamala Harris: This is important and I want to--
Speaker 1: [inaudible 00:18:34]
Kamala Harris: Mr. Vice President, I'm speaking.
Melissa: All right, so we've got Sarah Palin doing the, "Say it ain't so, Joe," after she'd come out on stage initially and said, "Can I call you Joe?" Clearly she'd been sort of holding onto that zinger. We've got vice president Harris doing the, "Mr. Vice president, I'm speaking, I'm speaking." I'm wondering if there's a way that the intersection of how a woman can stand up for herself against a male candidate, and maybe particularly the intersection of Republican partisan identification. Does that play differently if two women are running against one another? Does it turn into a different perspective from maybe how the media covers it?
Kelly: Yes. I think that there is a concern often among male candidates who are running against women that still persists, though this might be going away. I think as you noted, there might especially be a partisan difference in the concern that if I attack a woman or if I'm too confrontational, especially in a debate setting where you're face to face, that that may make me appear as a bully and disrespectful of women, and that there's norms of civility and norms of being especially respectful or lifting women on a pedestal, that could appear to be violated if I go too tough, if you will, against a female opponent, in contrast to how a male candidate might confront another male candidate.
You see that I had done interviews with a lot of consultants for my first book who said that to me. "When we're running against a woman, we're extra careful." That changes the strategy of men. To your point, when it's woman versus women, I think some of that goes away. I'm not worried that I'm going to appear as a bullying man against a woman, that I'm particularly sexist. I have to be concerned about other things, but that particular fear may at least lessen in those contexts.
Melissa: Now you may remember that back in March, we partnered with [unintelligible 00:20:39] to bring you a series on women leading locally. Back then, we met Philadelphia city council members, Helen Gym and Kendra Brooks. The two council members were models of almost sisterly support among women in elected office.
Kendra Brooks: Helen and I go way back from when we used to say-- I used to say we are just moms. I don't know if she remembers this. When the fight for Still [unintelligible 00:21:03] first happened, she was the first person I called and she was on a train to D.C to be awarded by president Obama and I was like, "I need your help." She said, "Soon as I get back to the city, we're on it." The fight around the school, we spent long nights in church basements and people's houses, organizing a community.
Melissa: In our new partnership for the 2022 midterms, the women we will meet are not one another's supporters, they're each other's opponents, and these are the races we're calling the midterm she-lections. Kelly, we heard there from Kendra Brooks. She said, "Way back when Helen and I used to say we were just moms." Can you talk to me about how motherhood politics enters into this question of women running in general, but especially when they're running against one another.
Kelly: When we think of women versus women races, I think it's important to remember that just because there are two women in a race, doesn't mean that gender is quote-unquote 'neutralized'. In the same way we wouldn't assume that gender doesn't matter just because two men have run. We've seen that in all of our history.
One of the ways in which you can think about gender mattering differently when there might be two women in the race, is to think about issues like motherhood. Where in some cases both women will be mothers and they might both use that to different ends to talk about their policy motivation, or the reason that they're running for office, or to even present a contrast with their female opponent, potentially to say that they're a better mother. Then we get into the quote-unquote 'mommy wars' that can play out both on the campaign trail, but also in our general public.
The other ways that we've seen this occur in women versus women races, is we've seen cases where you have a mother running against somebody who's not a mother. Certainly that brings up other gender stereotypes and expectations. Why isn't she a mother? Does that indicate something is wrong with her? Does that not align with principles of a particular party or morality or ethics that some might be thinking about in these contests?
We saw that for example, in a 2010 contest in Oklahoma, where you had one woman candidate who was a mother and one wasn't, and the one who was talked about it as a credential for office that her opponent didn't have. You can use motherhood always as a credential that brings you lived experience and perspective that you can apply to policy, but when running against another woman, especially one who might not be a mother, you might also use that as a contrast to say this is a credential that she doesn't bring.
Melissa: Kelly Dittmar is scholar at the Center for American Women in Politics, an associate professor at Rutgers University, Camden. Kelly, can't wait to be talking about these races over the next couple months. Thanks so much for joining us today.
Kelly: Thanks for doing this series.
Melissa: We've got to take a quick break but stay with us. Later in the show we're talking about a woman who made history in a very different kind of competition.
Copyright © 2022 New York Public Radio. All rights reserved. Visit our website terms of use at www.wnyc.org for further information.
New York Public Radio transcripts are created on a rush deadline, often by contractors. This text may not be in its final form and may be updated or revised in the future. Accuracy and availability may vary. The authoritative record of New York Public Radio's programming is the audio record.