SHElection!: The Arizona Governor's Race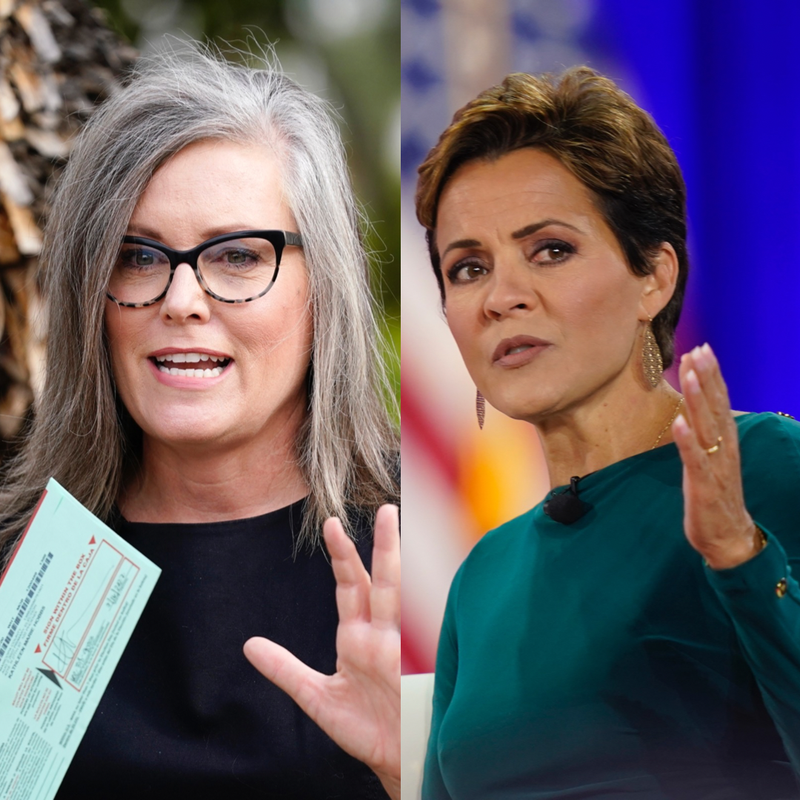 Transcript
[music]
Melissa Harris-Perry: Welcome to The Takeaway. I'm Melissa Harris-Perry, and it's good to have you with us today. We're starting out with another edition of our special midterm series, SHElection! In partnership with the Center for American Women in Politics and with support from the Ms. Foundation, we're bringing you these contests where both candidates in the general election are women.
Let's head on over to the great state of Arizona where two women are facing off in a fascinating contest to serve the state as governor. Now, the state's current Republican governor is term-limited, so both women in this contest are challengers. Secretary of State, Katie Hobbs, is the Democratic nominee and Kari Lake is the Republican candidate. Whichever candidate wins, she will be the fifth woman to serve as governor of Arizona. In fact, if that seems surprising, five women governors, it's because it is.
Arizona is pretty unique when it comes to women in elected office. Right now, 55% of statewide elected executive office holders are women. Between 1997 and 2014, three women served sequentially as governor of Arizona, Jane Dee Hull, Janet Napolitano, and Jan Brewer. Yes. Jane, Janet, and Jan, back to back as governor of Arizona. Let's talk to a couple of Arizonans who know a thing or two about politics.
Stacey Barchenger: My name is Stacey Barchenger, I'm a State Politics Reporter at The Arizona Republic in Phoenix.
Gina Woodall: I'm Gina Woodall, and I'm a principal lecturer at Arizona State University in the School of Politics and Global Studies.
Melissa Harris-Perry: Stacey started out by setting the stage for us.
Stacey Barchenger: Happy to do so. This is my life right now. Our Republican nominee is Kari Lake. She is a former television news anchor. She worked here in the Phoenix market for almost 27 years, most recently on the Fox affiliate, Fox 10. Our Democratic nominee is Katie Hobbs. She is currently Arizona's Secretary of State. Prior to winning that role in the election in 2018, she had served in the state legislature. Prior to that, she worked as a social worker and then also as a lobbyist on various women's rights and reproductive health issues here in Arizona.
Melissa Harris-Perry: Now, Stacey, how did each candidate become the nominee? What was their pathway from what they were doing to what they're now doing in terms of running for this position?
Stacey Barchenger: It's a great question. They have very different stories. Kari Lake resigned her position, left Fox 10 because she felt that the media was not basically doing a good job anymore. Then months later, declared her candidacy for governor. She has not run for elected office before. On the other hand, you have Katie Hobbs who has this trajectory in elected office going from a more local position in the state legislature to statewide office as Secretary of State. She really rose to national prominence in defending the 2020 election of Joe Biden here in Arizona and across the nation, and then sees this opportunity to run for governor as another step up in a political career.
Melissa Harris-Perry: Now, Gina, in the study of politics within political science, the notion of what constitutes a quality candidate had long been something we operationalize simply with the binary variable of had they held previous elected office. Do you think that that's even a good proxy measure these days for-- By quality a candidate, we meant with a higher likelihood to win. Is that still a good proxy measure or are we now looking at a circumstance where in fact the name recognition, for example, from having been a local television personality might be an even better likelihood of winning qualification than having previously held elected office?
Gina Woodall: I think that's a great question. I think ever since the 2016 election political scientists, there's all sorts of new things, new phenomenons going on. I think that the latter is true. I think that the fact that, as Stacey said, Kari Lake has immense name recognition. She was in the market. I remember being a young teenager and I remember seeing her on my television set, and now I'm 45 years old and I absolutely know who she is. I would know who she is just by that name, I could picture her face. This was prior to all of this. I think that old measurement it's probably not the best measure to use anymore because we have this unique candidate in the same vein as Donald Trump.
Everybody knew who he was, he was on TV. Everybody knew his story. Kari Lake, although very different in terms of her professional life than Donald Trump, kind of the same name recognition, at least for the state of Arizona.
Melissa Harris-Perry: Gina, one more piece on this. You talk about this being a unique circumstance, but it's particularly unique because it's the gubernatorial race in Arizona where apparently that's just a woman's job now. A woman's place is in the governor's mansion in Arizona, right?
Gina Woodall: Absolutely. We have a good history in the state of Arizona. We've had back-to-back female governors. Arizonans don't seem-- It doesn't really matter what traditionally has been done. We will vote in the person who we'll feel will do a good job. The gender in that regard, really for Arizonans, does not matter.
Melissa Harris-Perry: Stacey, let's talk about this particular race. It's an interesting point to hear Gina make this point about gender because, in fact, not only are these back-to-back women serving as governor but sometimes a Republican and sometimes a Democrat. You had a woman Republican that handed off to a woman Democrat who handed off to a woman Republican. It's not clear that it's even an interaction, for example, of party and person, but let's talk about this particular race. There's a decision here for the candidates not to engage in a debate. How did that happen?
Stacey Barchenger: We are one of many states that has had debate drama, this election cycle. Every year the Arizona Citizens Clean Election Commission, which is a state department, partners, up with our PBS affiliate to do a debate series. They do it for all statewide offices, legislative races, and a US Senate race as well. Of course, we all anticipated that our gubernatorial candidates would do a debate on stage together. The Democratic nominee Katie Hobbs, didn't want to do that format. Her campaign's take was that Kari Lake was too brash, too much misinformation.
Especially about the 2020 election, they pointed to a debate in the GOP primary that even as we reported it, it was light on policy and very heavy on attacks. At one point, someone made a joke that it should have been an SNL skit, which isn't too far off the mark. Katie Hobbs had asked for changes to the format of the debate. The commission didn't want to do that. They think there's value in seeing your candidates talk back to each other, set the record straight.
Ultimately, Katie Hobbs decided not to participate in that event. As we know it now, just about three weeks before early voting starts here in Arizona, Arizonans will not get a chance to see their two candidates for governor going head to head.
Melissa Harris-Perry: Gina, what do you make of that? Stacey is absolutely right that Arizona is not the only state where there is more than a little bit of debate drama going on with statewide candidates. This is also a moment when many on all sides and from multiple ideological positions are asking about the quality; the health of our democracy. No matter who you want to see win, you want the system, democracy to win. What does it convey when two candidates for governor can't come to an agreement about a debate?
Gina Woodall: That's a really good question. I think that you understand, or at least I do, strategically why the Hobbs campaign wouldn't want to debate Kari Lake, because Kari Lake is very polished. Kari Lake was on TV for over two decades. She looks great on camera, she's charismatic, she's very comfortable in front of the camera, and she says some extreme things.
I understand strategically why Katie Hobbs might not want to debate her, given that Katie Hobbs has more of a reputation as more of a policy wonk, more of a workhorse from her years in the legislature. I understand that, but it does not look good I think for the Hobbs campaign now. Of course, the Hobbs supporters I think are still going to support Katie Hobbs. It's the independence in Arizona that are really going to determine the outcome of this election and in particular women. Women that live in the Suburbs.
Phoenix is one big Suburb now in particular. I think that it doesn't bode well for the Hobbs campaign, not saying that Kari Lake will definitely get independent female vote, but if Kari lake goes, because she's still going to go on television, and if people do tune in and if she tames down some of her extremist rhetoric, voters might say, "Maybe she just did that for the primary." I think that it's something that we just will have to see what happens.
Melissa Harris-Perry: It's certainly not entirely unprecedented, but it is again one of these moments raising new questions about what we might think of as conventional wisdom about how to run a campaign or what constitutes good strategy or troubling strategy at any given moment. Stacey, it's funny as we talk about the health of democracy. It also always comes up for us, especially as we're putting together election coverage.
We'll start talking about issues and I'm always like, "Ugh, I would love to think that voters vote about issues, especially in midterms," but I'm not sure it's true, but let's go ahead and say that voters do in fact know and cast their vote based on issues. What are some of the key issues and maybe where there are particularly where there are clear points of disagreement between these two candidates in this election?
Stacey Barchenger: Absolutely. I'm an optimist. I think voters do pay attention to issues here. We have been covering those issues for those undecided independents who remain in the race. Top issues for voters consistently here are education, border security, and immigration. We are right on the border with Mexico. This is constantly in the news cycle here. Also, water. Arizona and the west are in a drought. We really need to look over the next years and decades about where our water supply is going to be coming from.
On these three issues, you do see some vast differences between Katie Hobbs and Kari Lake. On the border, Katie Hobbs is very quick to acknowledge that this is a federal issue. Immigration reform has to come from the federal government and has put forward a plan that really is helping around the edges, giving state resources to social services and hospitals down by the border that really need backup.
Whereas you have Kari Lake who is pledging to declare an invasion. It's an untested legal theory that is being pushed by Trump allies that would allow the state to essentially take matters of immigration into its own hands. This would be the State of Arizona using its own law enforcement officers to deport people, which sometimes the Lake campaign acknowledges is just a legal test. If this happens, if she is elected, the State of Arizona is going to be immediately sued. We will see what happens after that.
The other thing that I think we have to talk about is after the Dobbs decision, abortion is really an important issue for voters here. Again, you have two candidates who are just night and day far apart on this issue, Katie Hobbs has been pressed about if she believes there should be any government restrictions on abortion, and I don't think we have a clear answer on that. Whereas you have Kari Lake who has said she is pro-life, she believes in exceptions for victims of rape and incest and to save the life of the mother. Really is totally opposite of Katie Hobbs on this issue that we know is going to be very important for voters this cycle.
Melissa Harris-Perry: I want to zero in Stacey, one moment on the immigration question and the test cases. Is there public conversation right now, maybe particularly among voters, but also potentially from either of the candidates about the strategy being taken by the governors of Florida and Texas in terms of sending migrants to other locations primarily in blue cities and states and most recently to Martha Vineyard?
Stacey Barchenger: Absolutely. This is something that Kari Lake has actually been outspoken about. She said it on Fox News last week. She said it locally to-- She does not support that strategy. Her take is that by spending millions of taxpayer dollars to move migrants and asylum seekers around the country, you're just furthering the problem. That it would be better to detain those people and deport them. This is something that we saw the Georgia Congresswoman Marjorie Taylor Greene also parroting over the weekend as well.
Melissa Harris-Perry: I want to let you in Gina as well on this question of issues.
Gina Woodall: I just wanted to comment on something that Stacey said that I think is really important. That's obviously the Dobbs's decision. I think Katie Hobbs if she comes back to that issue, particularly in October I think that it might speak to these independents. Particularly female independents in Arizona because of Kari Lake's views and in support of the Dobbs decision and in support of all restrictions on abortion, except for those three instances which Stacey discussed.
I think that's a really important issue. It's an important issue nationally, and it's an important issue for Arizona. All the polling shows that the majority of Arizonans support abortion rights with exceptions, of course not unrestricted. I think that that is an issue that it would be really strategic and smart for the Hobbs campaign to bring up. In terms of how the candidates are presenting themselves on issues.
As Political Scientist Content Analysis, you look at their websites and you look at their commercials. When you go to the candidates' own websites. When you look at Kari Lakes, the top three issues right on her website she has an issues button, but right on her website, it was vaccines and COVID mandates. She's definitely against those. Then don't California or Arizona election integrity and being pro-life.
Those are the main issues that she showcased. Then, Katie Hobbs, it's more nebulous her website, but she's talking about border security and talking about education in terms of doing away with Governor Ducey's voucher expansion. I think that some of these issues are critical and when you are running for governor this is an executive office. The issues that the candidates really need to be perceived as competent on are some hard issues. Some issues that they need to be seen as tough on, and they need to be seen as competent on like border security, like the economy. Then, of course, education's important too.
Melissa Harris-Perry: Stacey, voting is going to start in less than 50 days in Arizona. This is in part because of mail-in ballots. Can you talk a little bit about the actual functioning of the election system there, has that been at all a contentious issue given that it has been a contentious issue in so many other places in the country?
Stacey Barchenger: It definitely has been a focus here. I'll start with the very basics. Arizonans have for about three decades, predominantly voted early and by mail. That means that the election really starts in about three weeks. Even though for the rest of the country, it might be November 8th. We start voting very early. It also creates panic for deadlines in the news business, but that's okay.
That is how the election systems typically work here in Arizona and how they have worked for decades. Of course, since 2020, you have seen Republican candidates especially just really questioning the security of that voting method. This is another area where Kari Lake and Katie Hobbs are vastly different. You have Kari Lake who even prior to winning her primary, said she had detected stealing going on. She's refused to provide any evidence of that.
She has repeated false claims that the 2020 election was stolen and calls Joe Biden an illegitimate president. On the opposite side, you have Katie Hobbs who has made a name for herself by being the state's chief elections official and going on national news frequently to defend the system to declare Joe Biden the rightful president, she certified the election here. As much as Katie Hobbs is trying to take a forward look that 2022 is not about 2020. That's just really impossible to do when you have Kari Lake frequently returning to the election two years ago as one of her main campaign issues.
Melissa Harris-Perry: Gina, did you want to jump in on that one as well?
Gina Woodall: I absolutely agree with everything that Stacey said. It is impossible to pretend that 2020 didn't happen at least in the State of Arizona. Kari Lake, it is one of the main things on her webpage, how she is presenting herself, saying that election integrity, talking about the illegitimacy of the 2020 election and of President Biden. She is portraying herself as very tough. Again, if we talk about how women generally want to portray themselves or what, in political science, we talk about traits and issues so these types of feminine traits or male traits.
Kari Lake has in some of her newer commercials when she's standing with the sheriffs, but they're definitely highlighting these counterstereotypical traits. Being tough, being decisive, being hard, being aggressive, particularly Kari Lake, and when it comes to this issue. Then Katie Hobbs is also portraying toughness. She's talking about her experience.
She has a lot of experience, a pretty traditional trajectory as Stacey had discussed in politics, and then also talking about how she too can be tough, particularly when it comes to the border and then in defending the system, defending our elections, and the State of Arizona.
Melissa Harris-Perry: This is part of our SHElection! midterms series. Gina, as you were just talking about this question of traits and these historically, or maybe stereotypically confirmed notions of masculinity or femininity being part of this, I'm just also interested in-- One of the questions we've been trying to think through is how women are recruited to run and how parties, not just voters, but how parties and organizations really encounter, think about, talk about women as candidates.
Again, because Arizona is the place where this particular role, the gubernatorial role, the governor's seat, which has proved so elusive in so many states for women. Just wanting to end this conversation with having both of you maybe weigh in a bit on maybe what Arizona is getting right whether from the right or from the left in terms of ensuring real candidates who can really win, run for the highest offices in the state. Gina, maybe I'll start with you and then I'll end with you, Stacey.
Gina Woodall: Yes. Katie Hobbs was a graduate of the Emerge Program. Emerge is a group that helps train pro-reproductive rights Democrats to run for office. She was a graduate of that program and she started her political career after graduating from Emerge. The State Republican Party here, there are some rising stars in the Republican Party that are more in the vein of Kari Lake and Donald Trump so time will tell whether or not how far they go.
As we can see historically in Arizona, gender has not been an obstacle. This is going to be, we will have a fifth female governor in an executive office. We may have a female attorney general depending on how that race goes. We've had women in top offices before in the 1990s, it was called the Fab Five. That is something that Arizona I think has always been open to and is because I believe the electorate is more open-minded about that. As long as the job gets done, it does not matter as much as to the gender of the candidate. I'll leave it at that.
Melissa Harris-Perry: Stacey.
Stacey Barchenger: Yes, I'm not sure what to add. One of my favorite Arizona women in politics fun facts is that after we became a state in 1912, male voters immediately put a constitutional amendment on the ballot and gave women the right to vote. It was the first referendum here in our state history and I think that goes to what Gina is saying about Arizonans love women candidates.
The Republican side, like we've talked about Kari is a, I guess an outsider candidate of sorts. She hasn't come through any structured political training. She really just has a lot of qualities that make her a very strong candidate. It's just one of the ways that she's very different from Katie Hobbs, excuse me. I think one of the things that voters are going to have to consider and think about over the next couple of weeks as they get their ballots and drop them off, or send them back in the mail.
Melissa Harris-Perry: I got to just note this. How frequently in this conversation, both Gina and Stacey, the Katie-Kari, Kari-Katie has happened just as-- Both of you were following this very closely and suddenly I realized, "I wonder if that will affect voters as well."
Gina Woodall: That's a really good point because they both do refer to themselves by their first names, so Katie, "Hi, I'm Katie," and Kari, "It's Kari." Although she has both of her names large on her signs. It definitely could mix some people up for sure, especially maybe our older voters.
Melissa Harris-Perry: Yes, absolutely. I remember the primary race between, in Georgia, the Democratic primary between Stacey and Stacey and you were like, "Here's a dissertation waiting to be written about this one."
[laughter]
Gina Woodall: That's right.
Melissa Harris-Perry: Stacey Barchenger is state politics reporter for The Arizona Republic and Gina Woodall is principal lecturer at the school of politics and global studies at Arizona State University. Thank you both for joining us and we will definitely be watching this race very closely.
Stacey Barchenger: Thank you.
Gina Woodall: Thank you so much.
[music]
Copyright © 2022 New York Public Radio. All rights reserved. Visit our website terms of use at www.wnyc.org for further information.
New York Public Radio transcripts are created on a rush deadline, often by contractors. This text may not be in its final form and may be updated or revised in the future. Accuracy and availability may vary. The authoritative record of New York Public Radio's programming is the audio record.