A Shadow Looms Over Qatar For The World Cup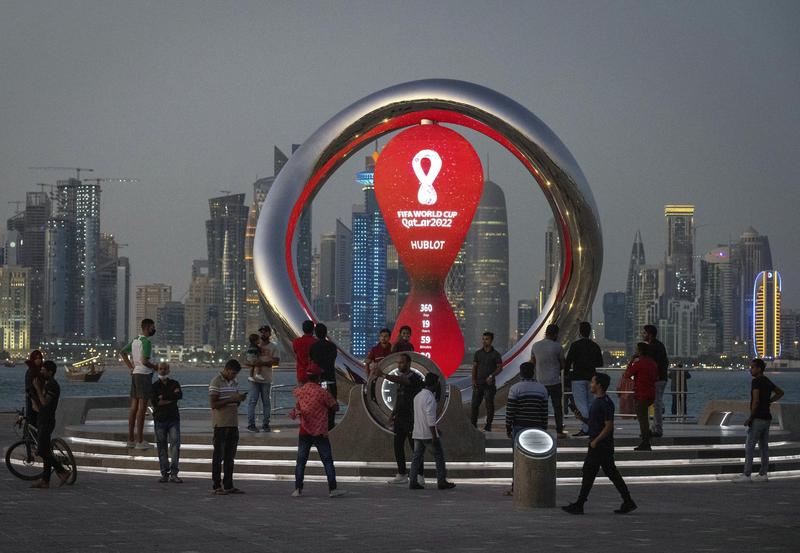 Transcript
[music]
Brigid Bergen: Welcome back to The Takeaway. I'm Brigid Bergen filling in for Melissa Harris-Perry.
The 2022 World Cup kicks off this Sunday. It's expected to attract an estimated five billion viewers, that's more than half of the entire world's population. All those eyes would make it the most watched televised event in history. That also means a lot of attention will be on host nation Qatar, and not just for the drama on the field but for all the controversy off the field casting a shadow over this World Cup.
Speaker 1: We have learned that the decision to host the World Cup in Qatar has resulted in the suffering and in the harm of countless of our fellow workers.
Speaker 2: These migrant workers who have suffered are not just numbers. Like the migrants that have shaped our country and our football, they possess the same courage and determination to build a better life.
Brigid: That's a recent PSA released by the Australian men's national team who will be competing in Qatar. Qatar's selection as the host nation itself was mired in controversy from the beginning.
There were claims of bribery and corruption in its selection process and since then the controversies have only continued. The country had to build its World Cup infrastructure from the ground up. That includes stadiums and hotels for fans. To do that they hired an estimated 30,000 foreign laborers. Now according to multiple human rights organizations, those migrant workers have faced forced labor, unsafe working conditions, squalid living conditions and human rights violations in Qatar.
It doesn't end there. Human rights organizations have also blown the whistle on Qatar's record of restricting speech, women's rights and LGBTQ rights. Just last week Qatar's FIFA World Cup Ambassador Khalid Salman told a German media outlet that homosexuality is, "Damage to the mind." All of this has sparked calls for protest and boycott of the games from the international community. With me now is Roger Bennett, founder of the Men in Blazers Media Network and co-author of Gods of Soccer. Roger, thanks for being with us on The Takeaway today.
Roger Bennett: Brigid, it's a joy to be with you.
Brigid: First let's talk about the off the field considerations for this year's World Cup. Refresh our memories. How and why was Qatar awarded this World Cup?
Roger: This is a World Cup and the World Cup is, I always like to think of it as a bar mitzvah, which is soccer to which the whole world is invited. It's a thing of joy, it's a thing of wonder. It's stopped wars. It's given the world some of its greatest collective memories.
The question why is it in Qatar, this state which is smaller than Connecticut, how do you take this jewel of a tournament and stuff it into such a tiny and truly unfit for purpose--? Because of the heat, it's a desert nation, they've had to lift this World Cup out of the normal summer in which it resides fling it into this odd November window.
The short answer it is a shock. I'm still trying to work out how did this happen. It happened partially because FIFA, the organizing body of world football who's meant to oversee and grow the game and self-govern awarded it to Qatar who are said to have given huge amount of bribes.
We just did a show World Corrupt, in which we asked the same question and we interviewed a Department of Justice spokesperson, Matthew Miller from the time, he went over to the bidding process to watch it and he called it, "The most corrupt thing he had ever seen," and then he paused and said, "and I broke through in New Jersey politics."
The short answer is brazen corruption. Football is a game that brings such joy on the field but off it the overseers, like so many sports, bureaucrats, when you back up trucks of cash, they will do your bidding.
Brigid: Wow. Can you talk a little bit about how the country went about building the infrastructure to host the tournament and the concerns surrounding that?
Roger: Qatar, in the summer when the World Cup is typically played, it's 120 degrees. In their bid, which FIFA zone analysis of each of these bids, United States are expected to win the rights to host this World Cup and they analyze all of the bids. FIFA's own analyst said that the Qatar bid was not fit for purpose. They had this crazy idea that yes it's hot but will have remote controlled fake clouds that will come in and block the sun.
There was one stadium that they proposed to be built in a city which itself had not yet been built. Once they won the World Cup bid in 2010, by the way Russia got the other bid. Vladimir Putin's Russia in 2018. This was back to back autocratic nations.
Truly a shame for football, but once they won the bid they had to go about building eight stadium in this tiny state and it's been a real Fire Festival of building to try and get ready. It's still not clear, and the World Cup kicks off on Sunday, that things are going to be ready in time.
There's the incredible footage coming out of just tents being flung up in the desert, shipping containers for fans. One and a half million fans to send and they're trying to make many of them pay $200 a night to sleep in a shipping container. To do that kind of building in this state where there's only 330,000 citizens, Qatar relies upon foreign workers and a huge amount of migrant labor was imported.
The Guardian reported that 6,500 foreign workers in building in just incredible conditions over the past 12 years to make this nation tournament ready. 6,500 foreign workers have lost their lives building the hotels, the transport, the roads and of course the stadia making this which we're about to watch, these 64 games for our edification, for our entertainment truly a World Cup that's soaked in blood.
Brigid: Wow. Roger many of the countries going to Qatar have spoken out against the Middle Eastern country and FIFA. What kinds of protests have we seen so far and what types of demonstrations or acts of protest might we expect for the tournament next week?
Roger: Brigid this is heartbreaking. I want to say the thing that draws me to football, the thing that draws millions to football, why we watch is for joy, for transcendence. We watch to see Lionel Messi just trot past five defenders and slap the ball home deliriously, to see Alex Morgan score against England and their mime drinking tea. Sport is meant to be a diversion, a thing of wonder.
To talk about it like this is just a heavy, heavy weight. I feel for the players. These players have dreamt of playing in a World Cup since they were kids. They didn't ask to be dragged into this geopolitical quagmire where every single press conference they are now asked what protest he did.
What do you think about the LGBTQ plus situation which is dark and twisted? What do you think about the press freedoms? Today Danish television were broadcasting live that security swarm them and threaten to smash their cameras.
That the press freedoms, that the human rights abuses, the women's rights abuses, and that's where football is. It's a World Cup that is going to have to be viewed in split screen on the field and also off it.
Brigid: We're going to pause for a moment and we'll be right back with more World Cup on The Takeaway after the break.
[music]
Brigid: We're back on The Takeaway I'm Brigid Bergen in for Melissa Harris Perry.
The 2022 World Cup kicks off in Qatar on Sunday and we've been speaking with Roger Bennett, founder of the Men in Blazers Media network and co-author of Gods of Soccer. Roger I want to play what one British MP, Luke Pollard said to the UK's foreign minister in parliament last week.
Luke Pollard: "Thank you Mr. Speaker. I declare interest as a massive gay but as an England supporting homosexual it is not safe for someone like me to watch the World Cup in Qatar because of the human rights abuses of migrant workers and Qatar's LGBT population. I personally don't think Qatar should ever been awarded a major sporty competition. Will the minister back, the home nation's captains and wearing a rainbow arm band when they play at the World Cup?"
Brigid: Roger, Qatar's record on LGBTQ and women's rights is a big concern, obviously. World Cup officials have downplayed the country's history of misogyny and homophobia but officials in Qatar have stayed firm on their stances towards these groups.
I'm wondering if you think women or fans who are part of the LGBTQ community should be concerned for their safety when traveling to watch the games in person?
Roger: The LGBTQ+ question is one of the greatest shadows hanging over this World Cup. In Qatar same sex relationships and the promotion of same sex relationships are criminalized.
No one knew how this is going to go down for the World Cup itself. Last week a former Qatar international footballer who's an ambassador for the Qatar World Cup was doing an interview with German television where they described homosexuality as a derangement of the mind.
The interview was immediately stopped but it aired all over Germany. One of the leading German players, an incredible human being, Lyon Goretska, who speaks out regularly on political issues anti-fascism and the like.
He immediately responded to these statements saying this is oppressive. This gives a human image from another millennium. It's not what we stand for. Again these footballers they're athletes they're elite athletes, but many of them are trying to work out what they should do in this moment, and they're all working out.
Many of the European teams and the United States team are working out what statements they can make. Eight of the European teams want to wear armbands when they take the field. The Danish team have a kit, a jersey, one of which is black for mourning.
That's the statement they're going to make. The whole Australian team made incredible video, a stunning, long, thoughtful geopolitical analysis of the issue. I do expect that that issue in particular is going to be one that the football world is going to speak out loud, proudly about.
Brigid: I also have to wonder to what extent you think Islamophobia is also a play here with a predominantly Muslim Middle Eastern country hosting the tournament. Are you seeing signs of that at all?
Roger: There's so many incredible Middle Eastern nations with true footballing histories that could, and I hope soon will, host the World Cup Tournament. Egypt. What an incredible footballing tradition. Algeria, Tunisia. There are so many hosts that could be having the eyes of the world upon them.
To conflate the two is to ignore the bribery that led to Qatar getting the World Cup, to ignore the fact that it's just not fit for purpose. A tiny, tiny state. It would be like having March Madness lifting out and saying, "It's going to be in Bahrain this year." Then we get to the LGBTQ issue, the women's rights issue, and the 6,500 thousand human beings who have lost their lives.
You have to ask, as you did at the beginning, why would Qatar even want this? To a large degree, Qatar and the Gulf regions use sports, owning sports teams, owning live golf, the new golf competition using F1, Formula One motor racing, as a megaphone to announce themselves to the world.
It's called Widely Sports Washing to try and make you think of Qatar not in a human rights abuse way, but to think of it as Lionel Messi doing wonderful things with Neymar and Mbappe. Instead, and this is what's going to be fascinating about this World Cup. This could be the Streisand effect times a hundred. None of us were talking about human rights abuses.
None of us were talking about the Kafala system of modern slavery with immigrant workers. None of us were talking about LGBTQ abuses in Qatar. It could be that this is a World Cup where the joy of it will be soulless, but we will leave knowing that we cannot let this happen again.
Brigid: Let's shift gears a little bit and talk about the actual competition now. Aside from the off-the-field considerations, what are some of the big storylines you're watching for on the pitch this year?
Roger: This is the split split screen dilemma of the World Cup. The World Cup this year, it's the best of times, the worst of times. I do hope that when a ball is kicked off, and as sports fans, we immediately become anesthetized, mesmerized, and forget all the off-the-field darkness.
As sports fans, we almost have to hold both without cognitive dissonance and hold them both there. There are so many incredible footballing storylines. This will be the last World Cup for Lionel Messi and Christiano Ronaldo. Lionel Messi, the Argentinian gem, Ronaldo the Portuguese, almost a petulant show pony. Two of the goats to have played the game.
If you've not seen Ronaldo think of a bottle of Drakkar Noir in human form. Lionel Messi, who is his counterpart in the modern greats, almost looks like he's just wandered out of Supercuts. just a tiny diminutive Argentinian. He has never dominated the World Cup in the way we expect our greats to drag Argentina once into the final but is often wilted, leaving in tears, almost the pressure of Argentina's expectations. The weight of the shirt has carried him down.
At the age of 35, he's playing some of the most delirious, joyful football of his career. The Argentinian's teammates are humming around him, and that's the storyline going into it.
If Argentina can win a World Cup for Lionel Messi in his final tournament, and he doesn't exist in tears like Prince This is what it sounds like when Doves Cry, it will be a truly year. It would be a truly glorious symphony of transcendent heroes' poetry.
Brigid: Can you tell us anything about the American team this year? What can we expect from Team USA?
Roger: God bless. This is an amazing young team. We did not qualify in 2018, which is a huge shame on our nation. In reaction, our youngest 17, 18, 19 year olds all moved on mass to Europe to try test themselves at the club level for the best, against the best. We actually have the greatest glut of individuals, the greatest talent. Christian Pulisic who plays at Chelsea. Tyler Adams, who plays at Leeds United in the Premier League, alongside Brendan Aaronson who they call Medford Messi from Medford, New Jersey. These are kids. They're ebullient. They're too young to be afraid.
They absolutely swagger around. They have not truly found their best as a collective. They are in a group with England, mighty England on November the 25th. They will face each other in a game of true wonder. I think coming out of the group with where they play a true geopolitical quagmire. They're in a group with England, our former colonizers. We're in a group with Iran in a game which is going to be soaked in geopolitical backstory, and Wales.
I don't think we have a geopolitical beef of Wales. I'm not aware of one. Maybe that comes in Welcome to Wrexham season three, and I'm not aware of it. Just getting out the group for this young US team will be a triumph because the World Cup is going to be hosted in the United States, Canada, Mexico. Pretty much in the United States in 2026. That's the tournament where football will truly come home.
Brigid: Wow. Well, lots to watch both on and off the field. Roger Bennett is the founder of the Men in Blazers Media Network and co-author of Gods of Soccer. Roger, thanks for your time today,
Roger: Brigid, courage.
[music]
Copyright © 2022 New York Public Radio. All rights reserved. Visit our website terms of use at www.wnyc.org for further information.
New York Public Radio transcripts are created on a rush deadline, often by contractors. This text may not be in its final form and may be updated or revised in the future. Accuracy and availability may vary. The authoritative record of New York Public Radio's programming is the audio record.