Senator Joe Manchin's Moderate Grip on Washington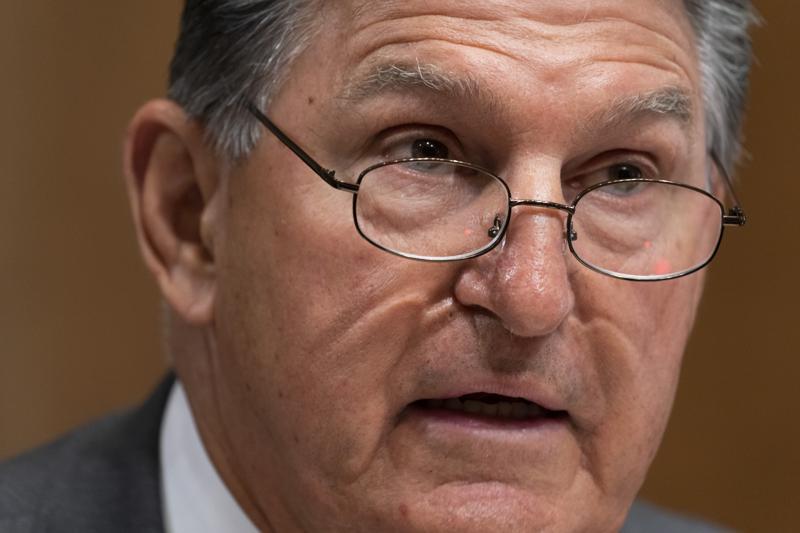 Transcript
Man 1: Joe Manchin.
Man 2: Senator Joe Manchin, he's a Democrat.
Female 1: Senator Joe Manchin.
Man 3: Joe Manchin, Senator Manchin.
Man 4: Joe Manchin of West Virginia, Joe Manchin.
Female 2: Joe Manchin from West Virginia. Joe Manchin.
Melissa Harris-Perry: Manchin, Manchin, Manchin. These days, West Virginia Senator, Joe Manchin, is the center of the Washington, DC political universe. It's not because he's the Senate's most senior member, it's not because he represents the most populous state. It's not even because he's used favors to strategically amass credit with dozens of his colleagues like the way Lyndon Johnson did during his years as master of the Senate. Nope. Joe Manchin is important because he is the Democrat least likely to vote like all other Democrats.
Song: One of these things is not like the others.
One of these things doesn't belong.
Can you tell which thing is not like the other by the time I finish this song?
Melissa Harris-Perry: Manchin was the only Democrat to vote yes on Brett Kavanaugh. He was the only Democrat to vote no on DACA and he was the only Democrat to vote yes on confirming Jeff Sessions as Attorney General.
Still, it would be wrong to see Manchin as a Democrat in name only. During his time in the Senate, he's voted with most Democrats more than 70% of the time but 70% is not going to cut it for President Biden, who has laid out an ambitious agenda and seeks to expand the social safety net, universal preschool, additional funding for HBCUs, and providing free community college for two years are just a few of those wishlist items, but moving forward on those outstanding pieces of legislation won't be easy.
Mitch McConnell: "100% of our focus is on stopping this new administration."
Melissa Harris-Perry: Senate Minority Leader, Mitch McConnell, at a press conference in May.
Mitch McConnell: "100% of my focus is on standing up to this administration. What we have in the United States Senate is totally unity from Susan Collins to Ted Cruz in opposition to what the new Biden administration is trying to do to this country."
Melissa Harris-Perry: Senator Manchin has also drawn the ire of progressive voters and progressive members of Congress. Here's what Democratic freshman, Congressman Jaamal Bowman, said about Senator Manchin on CNN earlier this week.
Congressman Jamaal Bowman: Joe Manchin has become the new Mitch McConnell. Mitch McConnell, during Obama's presidency, said he would do everything in his power to stop Obama. He's also repeated that now during the Biden presidency by saying he would do everything in his power to stop President Biden. Now Joe Manchin is doing everything in his power to stop democracy and to stop our work for the people, the work that the people sent us here to do.
Melissa Harris-Perry: Senator Manchin doesn't see it that way.
Senator Joe Manchin: "I'm not a roadblock at all. The best politics is good government. I can't believe that people believe that if you just do it my way, that will give us the momentum to get through the next election, but when you do something that everyone tags on to and I've seen good things happen that people voted against it took credit for when we went back home. We won't give this system a chance to work. I am not going to be part of blowing up this senate of ours, or basically, this democracy of ours or the republic that we have."
Melissa Harris-Perry: Manchin's push for bipartisanship above all else have prompted plenty of side-eyeing and hair-pulling frustration from Democrats but Joe does not care. Literally, back in 2017 when Democrats tried to pull Manchin into alignment with party priorities, Manchin responded by telling the Charleston Gazette-Mail, "I don't give a [beep]. Do you understand? I don't give a [bleep]. I don't care if I get elected. I don't care if I get defeated. How about that? If they think that because I'm up for election that I can be wrangled into voting for [bleep] that I don't like and can't explain, well, they're all crazy."
Let me ask a question, does anybody remember that viral video from 2011 about the similarly independent honey badger?
Randall: "This is the honey badger. Watch it run in slow motion. The honey badger has been referred to by the Guinness Book of World Records as the most fearless animal in all the animal kingdom. It really doesn't give a [bleep]. Honey badger don't care, just takes what it wants. Oh my God, watch it dig."
Melissa Harris-Perry: Joining me now is Dave Mistich, Senior Reporter for West Virginia Public Broadcasting. Dave, welcome to The Takeaway.
Dave Mistich: Glad to be here.
Melissa Harris-Perry: I just characterized Senator Manchin as a little bit of honey badger, doing what it is he wants to do, being independent. What does he in fact care about? I'm sure he cares about something.
Dave Mistich: I think genuinely he does care about the state of West Virginia. I think that if you talk to Senator Manchin, you'll hear oftentimes him saying that if there's a vote in Washington, he has to come back to West Virginia and explain the reasons for voting for it to his constituents. I think that you hear that time and time and time again from him.
While I think his voting record upsets a lot of people, including a lot of progressives here, and even sometimes people in the middle here, he really genuinely does believe that he has to justify every vote that he takes here to the people.
Melissa Harris-Perry: I feel it can be tempting, especially for maybe national observers and commentators to describe Manchin as really lacking anything in common with Democrats, but that does feel insincere to me. I want to take a moment and listen to him talking back in March about the minimum wage on this week.
Senator Joe Manchin: "President Joe Biden knows how to get a deal done. The bottom line there is not one senator out of 100 that doesn't want to raise the minimum wage. 7.25 is sinfully low. We must raise it. I agree with President Biden when he says if you go to work every day you should be above the poverty guidelines. Well, the poverty guidelines to be above that if you're going to work and working full-time should be at $11 base. That should be your base. Then we index it with inflation to make sure it never gets back in this political conundrum we have right now. It shouldn't be a political football."
Melissa Harris-Perry: There is the senator making a case for raising the minimum wage, but he's also making a case that $15 an hour is untenable. Is this about Manchin lacking political courage or is it that everyone else is lacking good political sense?
Dave Mistich: I don't know. I think one way that Joe Manchin can be described, at least, in his own way of thinking is that he tries to be pragmatic about everything. I think that clip right there examples the way that Senator Manchin I guess tries to hedge between two different sides and tries to find the middle between two different arguments. I think that that's just one example of many that you'd hear from him.
Melissa Harris-Perry: Dave, I kif of love that, it's almost hard for you to keep calling him Senator Manchin that you slip into Joe because that suggests to me that he must be-- I live near West Virginia, but not in West Virginia. It suggests to me he might be a friendly guy, a pleasant person to be around. Is that part of his charm relative to the huge margins by which he is reelected regularly?
Dave Mistich: Right. Well, I think that-- and I've been trying to catch myself as a matter of respect there, and I'm glad that you pointed that out. I think that the senator is very personable. I think he's really approachable. You mention these large margins. I think it's important to point out that in 2018, he had a primary challenger in Paula Jean Swearengin, a very progressive candidate, who won the polling 30% of the vote.
I think that for a lot of people here in the state, that was a moment where people realized that maybe he wasn't able to be taken down in his seat, but there was definitely a realization that there was a movement, I guess, in a direction other than him, maybe even against him. When people talk about Senator Manchin's security in Washington and in the Senate, I think that that's a very complicated answer, and maybe not a yes or no whether or not he say it.
Melissa Harris-Perry: I'm wondering about this difference that we hear between pragmatic, bipartisan, reach across CIOs, Senator Manchin in the way that he self describes, versus Senator Mitch McConnell saying, "Look, 100% of our people are together, and we are all trying to stop the Biden agenda from moving forward." Again, does that suggest that Manchin really is pragmatic, or is he not realizing the senate that he's currently part of as opposed to maybe a senate that operated differently 20 or 30 or 40 years ago?
Dave Mistich: I'm not so sure about that. Again, back to the beginning, it's like-- I said that Senator Manchin has to come back and justify everything to the people of West Virginia. I think it's important to realize that he is the only statewide Democrat in the state as of now. West Virginia is an extremely red state at this point and leans conservative on most issues.
I think that Senator Manchin has always kept in mind what the will of West Virginia has been like and the way that his constituency is leaned. That's not to say that he's voted counter to that at all or a counter to a wider group of Democrats and their priorities. I think it's important to keep in mind the way that the state looks here in West Virginia.
I think that with all this national media attention on Senator Manchin at this point, there's a lot of people that I see either on Twitter or I talk to in person. They're kind of flabbergasted by the amount of attention all this is getting, because Manchin has always been a character to sort of complicate things or to run counter to what most people would expect just given his political affiliation.
Melissa Harris-Perry: Wondering for West Virginians if it's also surprising to find yourselves as the fulcrum state, the focus of so much national attention.
Dave Mistich: Yes, I think that-- and I'll speak for other reporters here. I think a lot of us feel like we're the Joe Manchin whisperers when at the same time it's not as complicated to people here as it is to the national media, but at the same time, that's not to say that there's not a lot of people here that are fascinated by the amount of power that he's wielded and the effect that he's had on the function of the Senate and legislation as a whole.
Melissa Harris-Perry: Dave, as a southerner myself, I appreciate your wisdom there, like, "It's not that complicated national media." [chuckles] Dave Mistich is a Senior Reporter for West Virginia Public Broadcasting. Thanks for coming to do a little bit of Senator Manchin whispering with me today.
Dave Mistich: Hey, no problem. Thanks.
Melissa Harris-Perry: Now, West Virginia is currently a trifecta state. That means Republicans control the state House of Delegates, the state Senate, and the governor's seat, but honestly, that's relatively new. In fact, it took Governor Jim Justice, who ran for office as a Democrat to switch his party affiliation in order for the trifecta to take hold in 2017. What's going on with Democrats in West Virginia?
As the West Virginia Democratic party tries to modernize and diversify, they're discovering just how hard change can be. Recently, state Dems formed an affirmative action committee. Yes, I know, it's kind of an odd term, but this is probably because of the requirement for all state delegations to have such a committee was initially imposed by the DNC back in 1974 when Gerald Ford was president. West Virginia is just now getting around to forming their committee.
Senator 1: We were ordered to have an affirmative action committee in 1974, it's 2021.
Senator 2: The adoption of the affirmative action plan without the involvement of the affirmative action committee. I'm lost on that. I don't see that there's any authority.
Senator 3: We did not have any Hispanics, any Black people, or anybody that's actually on the current affirmative action committee drafting the draft.
Senator 4: Why are our affirmative action members not part of this conversation? I'm mystified by that?
Senator 5: I'm concerned that we are actually deepening the "do do" in which we find ourselves with the National Democratic Party.
Melissa Harris-Perry: Phew. That's sound from a meeting of West Virginia Democrats earlier this month. To learn a bit more about the Democratic party dynamics in West Virginia, I sat down with Hollis Lewis, the newly-minted co-chair of that affirmative action committee, and also co-chair of the Black caucus. I asked Hollis what it means to be a Democrat in West Virginia in 2021.
Hollis Lewis: That's a great question. Like you just said, we're looked at as a risk state, but we have not been. That's a new revelation. As until maybe a couple of years ago, we were definitely a blue stripe state. That was kind of our history. Even our governor, he ran as a Democrat and flipped to a Republican.
I think what it means to be a Democrat now is that we're trying to find our identity. We're trying to re-establish ourselves. I think that to your previous question, you have sort of the veteran group and you have the mergers of the younger group, and we're trying to find a balance between one another.
Melissa Harris-Perry: Hollis, you have said a mouthful there, because that is truly what is going on in so many state Democratic parties and maybe most, especially in the south, because of the ways that race works. I've always thought West Virginia is fascinating because you all exist because of the civil war, right? West Virginia was "Nope, we're about to be free. We are going over here and joining the union, peace out, Virginia." Can you talk to me about what race within the Democratic Party is feeling right now for West Virginia Democrats?
Hollis Lewis: I think, and not only just here in West Virginia, I would think nationally what we're trying to do, particularly this-- and I'm just speaking for myself as a Black person. What we're trying to do is that we want to continue to represent the party. We want to continue to uplift this party, but we're sort of at a crossover road in which we have to have our voices heard.
No longer can we sit back and vote and get our Stacey Abrams on and do all these amazing works to uplift this party and bring it to prominence and not have our voices heard. Not only just not have our voices heard, to be at these tables and not just be at these tables, but actually be a contributing and valued member at these tables.
Melissa Harris-Perry: Talk to me about the caucuses. They are in certain ways 40 years late because you all were meant to have already had the identity-based caucuses, and the affirmative action committee as an edict from the larger DNC, but you're here now. Since they exist, what are you hoping to accomplish?
Hollis Lewis: Basically what we want to do is that we want to bring our perspective to the table. We want to be a part of the process and let the party at large know that, hey, not only are we here, we have a lot of voting members and we feel like we can be the ones to reach those voters. We want to be the ones, not only just reach the voters, to educate the voters.
We want to cultivate candidates. Candidates who, again, may look different from traditional candidates, or may just have a different perspective from traditional candidates. We want to have sort of a multifaceted approach into making sure that our voices, our perspective, our racial identity, sexual identity, whatever is uplifted within the party, but also still work to move the party forward.
Melissa Harris-Perry: It's interesting to me to hear you talk about it in those ways, particularly in these terms about how, not only the voters, but also the candidates potentially being groomed for positions both in the state and perhaps the federal level could change.
It makes me wonder if Senator Manchin's decision not to support the For the People Act has less to do with what's going on in DC and more to do with what's going on in West Virginia. Is there, in this tension within the party, a concern that bringing in those new voters and new faces might unseat existing Democrats who hold power?
Hollis Lewis: I think anytime you are trying to do something that's different, anytime anything is changing, you're going to be-- If you're used to doing things a certain way, there's always going to be a level of apprehension, right? I think that we're in a position now not only just within the politics, but we're in a position now with our current drug epidemic. We're sort of at the center of opioids and all these crazy pills and heroin and everything like that.
We're at a crossroads in which we have to start to cultivate new talents, not only that, but you count our age demographic, which is maybe slightly higher than some other states. Finally, just like a look towards the future we have to, if we want to maintain young people here, we want to track young people to come here. We have to start to look different, we have to start to move different, and we have to start thinking different about how we look, not only within the context of our party but within the context of the state and the nation and world at large.
Melissa Harris-Perry: I just want to clarify this for our listeners. You are obviously holding these leadership positions within the party, but you don't currently hold an elected office. Let me just ask, are you thinking about running at some point?
Hollis Lewis: Maybe we'll see. It may be something that--
Melissa Harris-Perry: That's a yes, my friend.
[laughter]
Hollis Lewis: It might be something that happens in the near future, but for now I'm here now, so we'll see.
Melissa Harris-Perry: If you had an opportunity to sit down with Senator Manchin and to talk with him particularly about the For the People Act, what would you want to really be able to get across to Senator Manchin about the position you'd like to see him take?
Hollis Lewis: If I had a conversation, I would just try to let's push everything to the side. Let's not concern ourselves with the bill filibuster bipartisanship or anything like that. I would say, "What do you want the future of West Virginia to be?" To pass something so monumental, so historic, and you are the deciding the tiebreaker vote. That looks very good upon just like changing the narrative and the stereotypes that a lot of people think about our state and the people in it.
If we want to be a state that has a future, we've lost, we're losing population by the dozen, our cities are slowly shrinking. If we want to be a state that actually has a future and that can attract companies from the economic development here, then I think these-- not just this, but these are the steps we have to take.
We don't want to be looked at upon as a state that, again, that people are already having these preconceived notions about. We want to be looked- we're forward-thinking, we're about the future. That's the messaging that I would have.
Melissa Harris-Perry: Hollis Lewis is co-chair of the West Virginia Democratic Party's Black Caucus, and co-chair of the Affirmative Action Committee. Hollis, thanks so much for joining us.
Hollis Lewis: Thank you so much.
Copyright © 2021 New York Public Radio. All rights reserved. Visit our website terms of use at www.wnyc.org for further information.
New York Public Radio transcripts are created on a rush deadline, often by contractors. This text may not be in its final form and may be updated or revised in the future. Accuracy and availability may vary. The authoritative record of New York Public Radio's programming is the audio record.