Senate Hearing Highlights FBI mishandling of Gymnasts Abuse Claims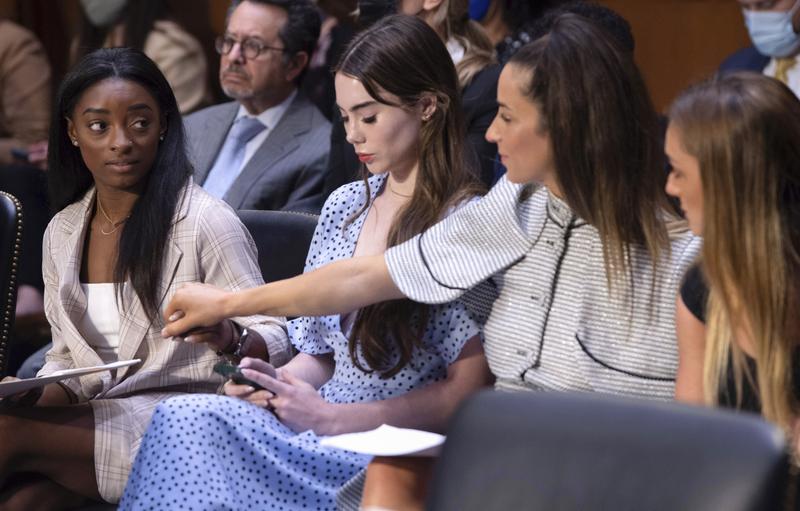 Transcript
Melissa Harris-Perry: I'm Melissa Harris-Perry and this is The Takeaway. On Wednesday, Simone Biles, McKayla Maroney, Maggie Nichols, and Aly Raisman testified before the Senate Judiciary Committee. All are champion gymnasts. All are survivors of sexual abuse committed by the former USA Gymnastics physician, Larry Nassar. In 2018, Nassar pleaded guilty to sexual assault and is now serving up to 175 years in prison, but he is not the only perpetrator who harmed these athletes. Here's Simone Biles.
Simone Biles: I blame Larry Nassar and I also blame an entire system that enabled and perpetrated his abuse.
Melissa Harris-Perry: An entire system. Now, the purpose of Wednesday's Senate hearing was to determine the extent to which the FBI contributed to that system. The testimonies publicly aired the shocking findings of the report from the Office of the Inspector General. After receiving tips about Nassar's abuse, it took more than 17 months for the FBI to even follow up. The special agent in charge of the Indianapolis office, Jay Abbott, actually interviewed for a job at USA Gymnastics, after hearing direct testimony from a gymnast about being abused by Nassar. The pain, suffering, and anger of survivors was readily and righteously apparent in these testimonies. Here's McKayla Maroney.
McKayla Maroney: By not taking immediate action from my report, they allowed a child molester to go free for more than a year. This inaction directly allowed Nassar's abuse to continue. What is the point of reporting abuse if our own FBI agents are going to take it upon themselves to bury that report in a drawer? They had legal legitimate evidence of child abuse and did nothing. If they're not going to protect me, I want to know who are they trying to protect.
Melissa Harris-Perry: Maggie Nichols.
Maggie Nichols: In sacrificing my childhood for the chance to compete for the United States, I am haunted by the fact that even after I reported my abuse, so many women and girls had to suffer at the hands of Larry Nassar. USA Gymnastics and the United States Olympic and Paralympic Committee and the FBI have all betrayed me and those who were abused by Larry Nassar after I reported.
Melissa Harris-Perry: Aly Raisman.
Aly Raisman: Over the past few years, it has become painfully clear how a survivor's healing is affected by the handling of their abuse. It disgusts me that we are still fighting for the most basic answers and accountability over six years later.
Melissa Harris-Perry: It was Simone Biles, who asked the question posed by Rachael Denhollander, the attorney, retired gymnast, and survivor who first broke silence about Nassar's abuse.
Simone Biles: How much is a little girl worth?
Melissa Harris-Perry: With us now is Rachael Denhollander. She's a speaker and author of the book What Is a Girl Worth?: My Story of Breaking the Silence and Exposing the Truth about Larry Nassar and USA Gymnastics. Rachael, thank you for being here.
Rachael Denhollander: Thank you so much for having me.
Melissa Harris-Perry: What was your reaction to the powerful testimony from those champion gymnasts we heard from yesterday?
Rachael Denhollander: I am incredibly proud of those women and what they have accomplished. It's also an incredible wait to hear over and over again to sit with the reality that so many little girls could have been saved and the reality that we weren't just fighting an abuser, we were fighting an entire system. Unfortunately, this is the story that so many sexual assault survivors know. When I did come forward to the police in 2016, I came with a thick file of evidence. Character witnesses and prior disclosures and my medical records and actually a legal memorandum where I laid out Michigan law, and I argued the case right there for the detective and the prosecutor.
The reason I did this is because I was 100% confident in 2016 that this is what we would find. That we would find multiple layers of cover-up and corruption. Because this is the story so many sexual assault survivors face, it is incredibly difficult to get law enforcement to take reports of sexual abuse seriously. What we saw yesterday is just a blown-up image of what survivors go through every day. We have got to start asking the question, how we hold law enforcement accountable for this kind of gross negligence and corruption, and how we do a better job with our training and our education, and our cultural response so that this doesn't keep happening to little girls and women and little boys all over the country?
Melissa Harris-Perry: Rachael, as you talk about that file that you came forward with, it occurs to me, is that why you went to law school? Is that part of the motivation, that capacity to be able to advocate for yourself?
Rachael Denhollander: It actually wasn't. I decided to go to law school when I was 10 because I wanted to protect children, but I can say that the training was invaluable. I can't imagine trying to navigate the legal system and to fight the system when you don't have that kind of legal training. In the end, the only reason anything happened in our case was because we had an incredible detective, Detective Andrea Munford, who pursued the investigation so quickly. She did more in one month's time than the FBI managed to do in 17 months.
Then we had an incredible prosecutor, Angela Povilaitis, who took our files, and she said, "I'm going to fight for every one of them," and she kept her word, but most survivors don't have that benefit. To try to navigate our justice system without any kind of legal training, not even knowing what's normal, what to expect, and then to be fighting the detectives and the prosecutors the entire time, it's just an untenable situation for survivors. It's trauma upon trauma for them.
Melissa Harris-Perry: That distinction that you just drew for us between the Michigan law enforcement officials who you were able to work with. You wrote about in your Washington Post piece that, in fact, they did get more done than the FBI did in the same period of time where they did basically nothing. What does that at least suggest to you about what was going on at the FBI?
Rachael Denhollander: I think it's absolutely clear. In the 15 months between when there's four women first reported their abuse and then when I reported my abuse, that's what made it hit headlines and actually blow up. That's what forced the FBI's hand to pretend that they have been doing something. In that 15 months, they did essentially nothing. Larry was in that exam room, abusing little girls every single day. It was also 15 months between when I made my police report and when Larry pled guilty. In that 15 months, Andrea and Angela were able to process over 100 police reports, started Title IX investigation. In 48 hours, Larry was out of the exam room permanently.
They found the CSAM on his hard drive. They secured a plea deal that protected every single one of our voices. What that tells us when you put it side by side is that this can be done. We can fight child abuse. We can stop sexual assault. We can stop abusers. We can only do it if we have law enforcement and prosecutors who want to do the right thing, who are trained to do the right thing, and who are motivated to do the right thing. We clearly did not have that at any of the three field offices who received reports of Larry's abuse.
Melissa Harris-Perry: McKayla Maroney spoke of her abuse being diminished, that she was made to feel irrelevant, unimportant by the FBI agents with whom she spoke. That, again, when you talk about what Andrea and Angela were able to do out of Michigan, what, systemically, can we do to make sure that survivors are meeting up with the Andrea and Angela's of the world, and not with the kind of special agents that McKayla had to deal with?
Rachael Denhollander: You're right. The contrast between how McKayla was treated and how I was treated is just night and day different. In my case, it led to just incredible healing because they were the first people outside of my family to ever fight for me. In McKayla's case, it led to deep retraumatization because of how she was treated. The answer to your question, how do we make sure survivors meet up with an Andrea and an Angela, we have to have more of them to start with. That means we have to pursue good education and training for our detectives and our prosecutors. That requires funding.
We have to start pursuing the stopping of child abuse and sexual assault like it actually matters, and that requires putting our money where our mouth is. Right now, most prosecutors and detectives just aren't trained. They're not compensated in a way that makes it worth their while to stay at a job that is so painful and so difficult to be immersed in that kind of trauma, as they were not putting our money where our mouth is for starters. The other layer to that is we don't have any mechanism for holding law enforcement and prosecutors accountable who do engage in gross negligence and outright corruption.
Our sovereign immunity laws in the United States put almost a complete bar to any kind of criminal prosecution and certainly any kind of civil justice for individuals who are harmed by gross negligence and outright corruption in our law enforcement. The reality is because of our sovereign immunity doctrines, we have created a situation where we are completely dependent on our law enforcement and prosecutors.
Law enforcement and prosecutors hold untenable power, almost unbridled power, and yet there is no mechanism for accountability and responsibility. We have to start having a very serious discussion about qualified in sovereign immunity in the United States and how we hold law enforcement accountable for this kind of behavior.
Melissa Harris-Perry: The FBI director yesterday spoke and talked about having dismissed the person who treated McKayla in that way and yet, also suggested, now that he's no longer a member of the FBI, there isn't much we can do. I got to say that felt a little enraging for me.
Rachael Denhollander: Yes, absolutely. Because the reality is not only with those women retraumatized, by the way they were treated, but over 100 little girls were sexually abused by Larry. In the 15 months that the FBI was not just sitting on those reports, but intentionally not pursuing those reports. As you mentioned, engaging in whining and dining with Steve Penny, the president of USA Gymnastics and an entertaining a cushy job offer and then lied about it for five years to the Department of Justice, to us, to Andrea and Angela.
If you talk to Andrea and Angela, they'll tell you what a difficult time they had in their prosecution, getting any cooperation or help from the FBI. They weren't allowed to access reports, they weren't given the information they asked for, the FBI made all kinds of promises. Even after I came forward that they were going to do certain things that they never did, including protecting a survivor's voices and just identifying a medical expert. Everything that got done got done by Andrea and Angela in this case and so while--
Melissa Harris-Perry: [unintelligible 00:11:14] One last, you have the final survivor to deliver an impact statement when Nasar was sentenced. If you had the opportunity to deliver an impact statement to the FBI about their handling of these cases, what would you say?
Rachael Denhollander: It is the same message I've been saying the entire time, how much is a little girl worth? How much is a child worth? How much is a woman or a person worth? Because, really, our behavior shows what we value and prioritize, and what the FBI has can be for five years is they do not value people. They do not value the truth, they do not value what is right. With no mechanism to hold them accountable, that puts survivors in an absolutely untenable situation. It is got to change.
Melissa Harris-Perry: As a survivor, myself and the mother of two little girls, thank you for raising that question. Rachael Denhollander is attorney, author, advocate, survivor, speaker, inspiration. Thank you so much for your voice, your work, and for joining us today.
Rachael Denhollander: Thank you for having me. I don't want another young Gymnast Olympic Athlete or any individual to experience the horror that I and 100 of others have endured before, during and continuing to this day in the week of the lairing as abuse. Sorry.
Copyright © 2021 New York Public Radio. All rights reserved. Visit our website terms of use at www.wnyc.org for further information.
New York Public Radio transcripts are created on a rush deadline, often by contractors. This text may not be in its final form and may be updated or revised in the future. Accuracy and availability may vary. The authoritative record of New York Public Radio's programming is the audio record.