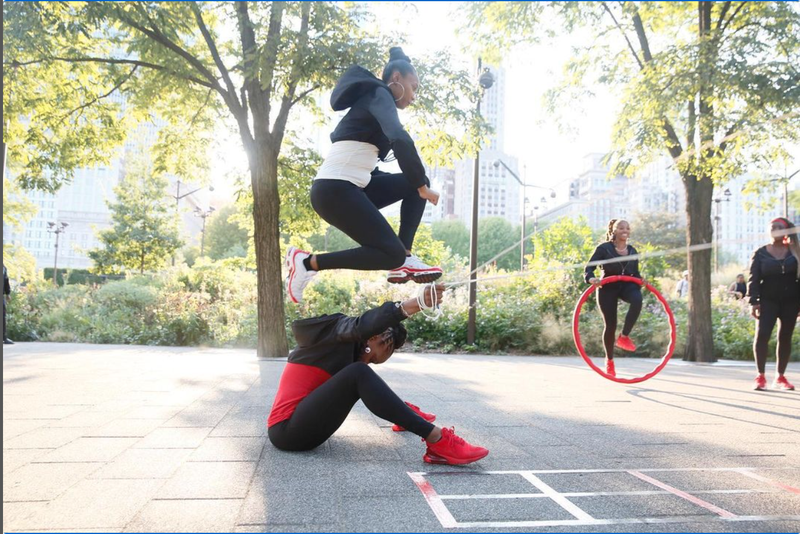 Transcript
[music]
Melissa Harris-Perry: Welcome back to The Takeaway. I'm Melissa Harris-Perry, and we're jumping right into our week of play.
Mrs. Robinson: Jack be nimble, but be quick. We're over 40 and trying to stay fit. We have a group of friends who want to stay in shape and spread the double dutch movement from state to state.
Melissa Harris-Perry: Yes, it's double dutch. You know it. The Black girl magic game from City sidewalks. Two rope turners perfectly in sync, crossing one arm over the next, jump rope smacking the ground swiftly. Now slower. Now so fast. It's a blur, and in the center, feet moving in time to skip each rope with acrobatic feats that seem hardly possible. One, two, three, four jumpers. Double dutch is talent, teamwork, rhythm song, and pure unadulterated joy, but it's also for adults.
Mrs. Robinson: My name is Pamela Robinson, and I am the founder of the 40+ Double Dutch Club.
Melissa Harris-Perry: Mrs. Robinson's Double Dutch Club is a group of women over the age of 40, who meet regularly in their local parks and playgrounds to jump, dance, and play. It all started with one group in Chicago and turned into a full fledge movement with chapters in over 30 states. Now, here's what you might hear at a local meetup.
[singing]
Melissa Harris-Perry: For our conversation, Mrs. Robinson brought along a very special member of the club, who's 76 years young.
Mrs. Pelt: Phyllis Powell Pelt, the mother of the 40+ Double Dutch movement and board member, and mother of the founder.
Melissa Harris-Perry: What does play mean to this mother-daughter pair?
Mrs. Robinson: To me, play means being able to let go of your inhibitions and just have fun outside of the nostalgia of the days when our days were filled with laughing and spending time with our friends and just enjoying life, before life got to be stressful, before husbands, and jobs, and children, and bills. Double dutch just takes us all back to a time where we didn't have any cares. We just thought about going out jumping rope.
Who can jump the longest? Who's the best turner? Who's double-handed? How do you get to jump without that person being on the ins? Those were our problems 20, 30, 40 years ago. Our problems have changed now, things have gotten a little more serious, but it's just a really good feeling to know that even in the midst of all the stresses of real life and real adulthood, we can still set aside time to play, and to do that double dutch. Back in the day, we thought all we were doing was playing, now we know we were also exercising.
Melissa Harris-Perry: We were exercising, we were building community, we were developing communication skills. All the things. Mrs. Robinson, talk to me about how you started the 40+ Double Dutch Club. It is now not just a club, it's a bit of a movement with champions in over 30 states.
Mrs. Robinson: It is. It's definitely grown into a worldwide movement now, but when I started it, I was really just looking for a happy place because I was going through a lot, just once again, life and the stresses of life had gotten to be a lot for me and I needed something to smile about. I went to my friend Katrina's house, and I told her that I thought that we should start being intentional about jumping Double Dutch.
Already we were in our 40s at the time. We would get together every once in a while at a family function barbecue, something like that. We would bring out the ropes and everybody would get excited when the ropes come out and everybody would jump, but that might be once or twice a summer. We posted something on my Facebook page, and we got a great reaction, so we created a Facebook group page. When we first made the Facebook group page, there was just a handful of us on there. We started meeting once a week to get together and jump.
We realized that it really did make us feel like kids again. Some of the ladies would come straight from work. Some of the ladies would come from taking care of their elderly parents all day. A lot of us will come after cooking dinner for our families, but we started being intentional about coming out and setting aside that time for ourselves to just let go of everything else and just have fun like we did when we were kids.
Melissa Harris-Perry: Mrs. Pelt, I want to pause for a moment on double dutch just to acknowledge your work, the ways that you have trailblazed for us, and things that maybe we didn't even know about. Talk to me about your long career as a nurse, and then we're going to backup to your play World.
Mrs. Pelt: My career as a nurse has been amazing because I started out with a Bachelor of Science degree in nursing. I decided to go into school of nursing, where you could actually work with children, children who were required to have health classes and learn about how to make good health choices. That was one of the most exciting choices that I made. I ended up being a content expert and working at the university teaching school nurses how to be leaders, working with a healthy schools' campaign to help school nurses be leaders, working with grandparents.
I worked with African American women who were trying to increase their physical activity. That was the National Institute of Health grant. When Pamela started with the double dutch, I was able to just go right into that with them and say, "Okay, we want to make sure that the women warm up because these aren't the same bodies that they were jumping with in the day. We want to make sure that we do cool down." Now right away they were saying, "Oh, warming up and cooling down. That's boring. Oh, but we're going to be doing it to music. Let's put some dance steps to that."
I really credit the way my nursing career helped me to focus on pulling out information so that you were doing the best thing for your body. Listen to your body, and keep moving. Even if you're just moving your feet, moving your arms, move something because moving matters. That's been really, really an exciting process for women of all ages. Our oldest jumper now is 87 years old. She gets out there with her 60-year-old daughters. Even if she's not jumping, she's moving and smiling.
Melissa Harris-Perry: Mrs. Pelt, are you still jumping at 76?
Mrs. Pelt: I am not still jumping, but I'm still participating because I relearned how to use a hula hoop. I can actually hula hoop through the whole song. I learned how to do the African hopscotch, and also move my feet to the music, actually in tune to the music that whatever music they're playing, which I walk around and encourage all the other people. If they're in between jumping or hula hooping or Tweedledee hand games, I'm saying keep moving, don't stop moving, and that's our chant.
[music]
Melissa Harris-Perry: The two women started their club on the south side of Chicago, where another young girl learned to double dutch, as still, you might have seen her perform during field day at the White House. I'm talking of course about First Lady Michelle Obama. Here she is back in 2012 on Live with Kelly, making a surprise appearance for a team of young double dutchers.
Michelle Obama: Turning is just as important as jumping, right?
Student: Yes, can you turn?
Michelle Obama: I can turn but not like that.
Melissa Harris-Perry: I asked Mrs. Robinson, what it meant to have had a double dutcher in chief.
Mrs. Robinson: It's amazing. It's just a testament to the fact that this is what a lot of young ladies who grew up in urban areas used to do for fun. At the time, we had no idea that some of us were going to become doctors and anesthesiologists and business owners or the wives of presidents. We had no idea. We were all just little girls, jumping rope, having fun, and building communities. Those skills don't leave you.
Even someone like my mother who's not still jumping, she still experienced double dutch, she still has memories of jumping double dutch when she was growing up. She might not still be able to do the things that she was able to do back then, but everybody who grew up in urban communities in the '50s, '60s, '70s, '80s, this is something that brings us all together. It brought us together then and it still brings us together.
It doesn't matter what your size is, what your shape is, what your income level is, what your profession is, is bringing all of us together. A First Lady can do it, just like a homeless person can do it because if this is something that you did when you were growing up, it's going to come back to you and it's going to still bring back those feelings of fun and friendship and fellowship.
Melissa Harris-Perry: Is there a way to bring back that kind of play, whether it's double dutch on the sidewalks or something else, but something that does allow that joyous cardiovascular neuro pathway building, community development, that is the genius of double dutch. When you think about both maintaining it for those of us over 40, is there also a way to grow it for the little people?
Mrs. Robinson: That's one of the things that we are trying to do through this movement. Although our meetups are for women over 40. We go out into the community, and we jump with kids, we go out to schools, we go out to different events that are focused on young people because we don't want this double dutch culture to die with us. We want it to live on. We want the next generation to be able to experience not just double dutch, but just playing outside.
We're jumping double dutch, we're hula hooping, we're playing hopscotch, we're playing Chinese rope. We're doing all of those things we did when we were growing up that the kids of today aren't doing because they have their cell phones, they have their iPads, they have their video games, but we want them to understand that you might need to put your phone down sometimes, and get out and play. That's why when we go out to the communities, we welcome younger people, we can teach them how to jump on the spot.
On the spot, and a lot of them have never been introduced, not only to double dutch but not even to regular single rope. It's just not something they do. Our members started a group called Jumping Juniors out here in Chicago and it's for girls between the ages of 4 and 18 because they want to make sure that the younger generation is getting this opportunity to play double dutch like we did. They started that here, probably two years ago and their group is growing because little girls all over the world still want to learn how to jump.
Melissa Harris-Perry: Mrs. Pelt, this is intergenerational in that you are doing this work and having this playtime with your daughter. What does it mean to you to be able to keep playing even with you're very much a grown-up, adult daughter?
Mrs. Pelt: It's amazing and I actually have adopted all of the double dutchers as my double dutch daughters and they feel quite comfortable coming up to me, sharing some of their challenges. I feel like I've been able to adopt daughters all over the world and there's a standing joke because it used to be in the old days. We had to come in when the street lights came on.
When we're playing in the evening, and the street lights come on, and they're doing after-play, and they're lingering around talking about what's going on in their job and how much they had so much fun. This was such a relief and I say, "Ladies, the street lights are on. The street lights are on." They'll say, "Mama, I got my car. I'm fine. We're good." I was like, "Oh we don't have to follow those old rules anymore. We're having a great time."
Melissa Harris-Perry: That was the rule that governed my life because I'm the youngest of five. I just wanted to ask as a final question, are you enjoying still playing with your mom as an adult?
Mrs. Robinson: Yes, I'm definitely enjoying playing with my mother as an adult, and the fact that she is inspiring so many of us to continue to play. When we see her at 76 coming out and playing, it just inspires us to keep doing exactly what we're doing.
Melissa Harris-Perry: Mrs. Pelt, I understand you're working on a book about the club and it'll be out this month. Now, how are you capturing some of these stories?
Mrs. Pelt: The title of the book is Double Dutch Diaries: The Women Behind The Ropes and we sent them a set of questions asking them how old were they. When they first jumped. What has happened differently in their lives since they started coming out to play with us. What inspires them to continue. What connections had they made as being a part of the group? The women were just sharing such critical milestones and steps that kept them going, and that gave them joy, that gave them something to look forward to.
I'm like, "You know what? My father used to say, "If you want to keep a secret from some people, put it in a book," and I'm like, "No, no, no, we don't want to keep this a secret. We're going to put it in a book and if we have to make it an ebook or audiobook or whatever, we want to get it in the Library of Congress," so we can document the impact of something so familiar, and so helpful, and that can bring friendship, fun fitness, and fellowship, something so doable. Something so inexpensive. We wanted to share that. I have over 40 testimonies from women across the nation, including our group that's in Israel.
Melissa Harris-Perry: Phyllis pelt is 76 years old and she is the mama of the 40+ Double Dutch Club and author of the forthcoming book, Double Dutch Diaries. Pamela Robinson is the founder of the 40+ Double Dutch Club and I tell you what, the next time I'm in Chicago, the next time I am there, I am coming to a meeting.
Mrs. Robinson: We are looking forward to seeing you in the ropes.
Melissa Harris-Perry: That's right. Thank you both for being here today.
Mrs. Pelt: Thank you for inviting us.
Copyright © 2022 New York Public Radio. All rights reserved. Visit our website terms of use at www.wnyc.org for further information.
New York Public Radio transcripts are created on a rush deadline, often by contractors. This text may not be in its final form and may be updated or revised in the future. Accuracy and availability may vary. The authoritative record of New York Public Radio's programming is the audio record.