The Savannah Bananas Play Ball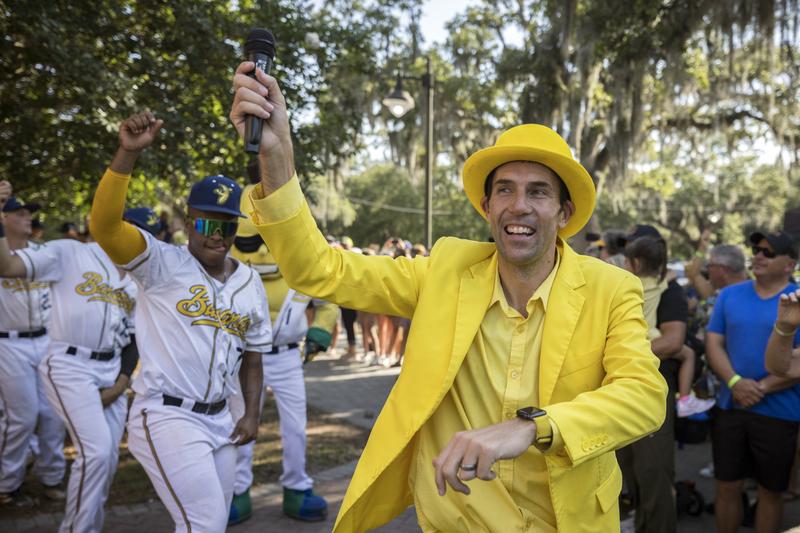 Transcript
Melissa Harris-Perry: It's The Takeaway. I'm Melissa Harris-Perry. Now, this week we've been talking about play and looking at how we can continue to play into our adulthood. Something researchers say is great for relieving stress and coping with tension. Some adults get paid to wear matching uniforms and tight pants, hit a ball as far as they possibly can, and run around in a field of dirt and grass. You know what we're talking about?
[music]
Speaker 2: Baseball.
Melissa: While the athletes are literally playing, watching Major League Baseball [yawns] doesn't always feel so playful. That might be why the MLB has struggled to attract younger fans since the mid-20th century. According to Gallup polling, baseball went from America's favorite sport to watch in 1960, to a third favorite in 2017 well below football and basketball, leaving some to wonder if America's pastime is past its time. Figuring out how to attract new fans to the game could have a lot to do with putting the play back into it.
Speaker 3: On three everyone in the stadium is going to say, "Play ball." One, two, three.
Crowd: Play ball.
Melissa: The Savannah Bananas are an unconventional baseball team that has amassed three million followers on Tiktok more than any Major League Baseball team. This wildly popular Minor League Baseball franchise has sold out every home game at their historic Grayson Stadium in Savannah, Georgia since its founding in 2016. Fans come from miles away to watch the Bananas' collegiate team in the summer, and the pro Banana throughout the rest of the year. These pros have become famous for their high energy quick-pace and quirky game of Banana Ball.
Speaker 4: This is not baseball. This is not your granddad's pastime. This is the time for all 4000 people here tonight to get up on your feet and give me your voices. Because this is the greatest show in sports. This is Banana Ball.
Melissa: As you just heard, it's not just a game, it's a show, where fans players, and coaches alike dance, sing, and play. A number of sports reporters have compared the team's fun-filled approach to the trailblazing style of the Harlem Globetrotters.
[music]
Savannah Banana games include choreographed dances during the game, iconic walk-ups players in kilts, and sometimes even a pitcher on stilts, and of course, lots of banana costumes. Before the first pitch is thrown, there's a Lion-King theme tribute to a different Banana Baby each game.
[crowd singing]
Speaker 4: Keep them going babes because it is now time to be tonight's banana baby.
[applause]
Melissa: Here with me now is Jesse Cole, owner of the Savannah Bananas. Fun fact he owns seven yellow tuxedos and wears one to every game. Jesse welcome to The Takeaway.
Jesse Cole: I am so excited to be with you.
Melissa: Maceo Harrison is the first base dance coach and choreographer for the Savannah Bananas. Maceo, welcome to the takeaway.
Maceo Harrison: Hello, I'm so excited to be here.
Melissa: Maceo, can I start with you because there's all kinds of debate about this? Are you the first base dance coach or the dancing first base coach?
Maceo: [chuckles] Well, it's either or. It's, however, you play it. Whatever you're comfortable with. I always say first base dancing coach, but dancing first base coach is fine as well.
Melissa: I love that. It's just-- I was saying to my doctor, I was like, "Is the skill that he's teaching first basing, or is the skill that he's teaching dancing." [chuckles]
Maceo: It's dancing and entertainment and goofiness, but yes, whatever rolls off the tongue the easiest for people, I just let it happen.
Melissa: [chuckles] Jesse can you tell us, and I think we're starting to get a sense of it, but tell us what makes the Savannah Bananas different?
Jesse: [chuckles] Well, it's very simple we've had a singular mission since we started and is to make baseball fun and so yes when you come to a Banana's game you will have a dancing first base coach. You will have the Banana nana senior citizen dance team. You'll have a full pep band, a banana baby, you'll have dancing umpires, and players in stilts. It's all to make the baseball fun and make-- people have fun at the ballpark and that's what we're all about.
Melissa: Wait a minute, was baseball not already fun?
Jesse: As a guy who played baseball my whole life, I absolutely loved playing the game, and I was into it as much as anyone. Then as I started to watch when my career ended, watching the game and seeing that games are getting over three hours and they were slower and attendance was declining, I started to realize that the game to many is long, slow, and boring. We try to be the opposite of that.
Melissa: What is Banana ball, Jesse?
Jesse: [chuckles] It's the world's fastest and most entertaining game of baseball. Yes, we invented a new game with a two-hour time limit, where batters can steal first, batters can't step out of the batter's box, there's no bunting. Even if fans catch a foul ball, it's an out. It's crazy.
Melissa: I love the idea that fans catching it also constitutes an out. It gives everybody with some stake in this game. You spoke a little bit here about the inspiration to make these kinds of changes, going from being a player to being an observer and suddenly having a different experience of the game, but what are the other core inspirations for you, Jesse?
Jesse: Well, seven years ago, my wife and I came to Savannah to launch a brand new team. We only sold two tickets in our first few months. By January of 2016, we overdrafted our account, we were completely out of money. We had nothing left, we were sleeping on an air bed. We knew we just had to do something that could get a bigger group of people excited to come see us play. I read every book on Walt Disney and PT Barnum and started looking at the people that have brought so much fun to the masses.
We said, "We're not in the baseball business, we're in the entertainment business." We just started asking every question, "What can we do that fans first and what can we do to entertain always?" We've been fortunate now, every game sold out and the waitlist is over 75,000 for tickets. It just blows my mind from where we started.
Melissa: It's funny, as you are saying that this is part of our ongoing segments around the issue of play. Jesse, I guess I'm wondering when you are in that moment that is sleeping on the air mattress, I've come to these kind of what feels like end-of-the-road moments in-- It can be hard to feel playful, especially if your spouse is there, if your family is there, how do you maintain a sense of experimentation and play when you're facing like, "Okay, we got to pay some bills here"?
Jesse: [chuckles] We had no other options. I wish I'd go back and say it was this clear thing that we did, but we just got up every day showed up and we believed in something. When you truly believe in something, and you believe in every game our players deliver roses to little girls in the middle of the game, every game Maceo not only does dancing and people go crazy, but he gets in the crowd, he interacts with thousands of fans in the middle the game. I knew that if we could do that, we'd break down the barriers and so it's hope, it's optimism, but it's just showing up.
I realized that, my wife and I, that if we could just get people to show up that first game and see it, we'd be okay. Luckily they came and the rest is history.
Melissa: Now, Maceo, talk to me a little bit about baseball. Baseball wasn't one of the sports that you did. Were you purposely staying off the diamond or was it just that it didn't seem like it was really for you?
Maceo: At first I was purposely staying off because I understand really the game fully. I understood some of the basics, but I wasn't fully aware of certain things like what makes a walk or what gets them to actually walk to the first base. I found out that they can decide if they want to throw to you or not. I was like, "Oh, that's interesting. That's cool." The longer I've been on Savannah Bananas, the longer and more I've learned with the team. I like to talk.
I like to talk to the team and get on that personal level. I like to learn from their experiences and also learn the game. They've been teaching me certain things. I'm like, "Oh, okay, okay." But I still cannot get the baseball talk. When they say, Oh, [unintelligible 00:08:23] I'm like, "What is that?" [chuckles] I'm like, "What is this?"
Melissa: It's true baseball does have its whole own vocabulary, and tone and speed, and all of that. It sounds like baseball has opened up to you, that it feels more like something relevant and fun for you?
Maceo: Yes, it has become more natural because it puts me outside my element. Like I did not know the sport at all. With me being a part of it actually learning the game, I'm like, "Oh, okay, I started noticing things." Same with the players, when they are brought to do the players' dance, they are outside their element, but they start to learn fully of how to move and how to count, and how to listen to the music. I think with those two colliding, it makes a wonderful show.
Melissa: Give me a story of teaching baseball players choreography. What has that been like?
Maceo: It's been a wild ride. I've seen with my background in dancing already, I've taught a lot. I teach kids from ages four, and I teach all way to adults. I've seen a lot. I've seen a lot of people that have rhythm. I've seen a lot of people that just did not have rhythm and that's okay, that's cool. I got to the point of where when I got old enough and I found out my rhythm of teaching and everything like that, I was like, "Just go out there and have fun." That's the main energy. Some of them, they don't have rhythm, they just don't have it and that's totally fine.
That's totally cool. That's just like me stepping up to home plate trying to hit a ball and I just won't hit anything. I can probably run them and steal them, but I just wouldn't be able to hit and that's totally fine. As long as I'm enjoying the game and playing the game, that's all that matters and you're entertaining the crowd. We have our times where I have to dim stuff like way down, but I dim it down to where it entertains the crowd, but also it's not too easy for them to where they feel like they're doing baby steps. I like to challenge them each and every time. Yes, it's always fun to see that.
Melissa: Jesse, in Banana land [chuckles] you were just saying that this was a fans-first. This is where fans come first. Tell me what that means in a practical way?
Jesse: Yes, of course. Well, it's the name of our company. Our company's name is Fans First Entertainment. We changed, it used to have a terrible name like Team Corner Associates, sounded like a law firm or accounting office. Didn't even make any sense, so we changed it into what our mission is. Fans First Entertainment always. What does that look like? We look at every friction point in a ballpark experience, a baseball experience, and try to eliminate.
For instance, when you come here to Banana land in Savannah, there's no ticket fees, there's no convenient fees, which are the most inconvenient fees in the world. There's no parking fees and you have one ticket and it includes all your burgers, hot dogs, chicken sandwiches, soda, water, popcorn, dessert, everything all night long for $20 total. That's the total
Melissa: Had you heard about the two-tier pricing? The way that people make money is by selling those 50 cents sodas for $5, man.
Jesse: Yes. A lot of people in the industry think we're absolutely crazy and we literally sell zero advertising at our ballpark. We took down all the ads from the outfield wall and we actually put up a fan wall. Instead of billboards, our fans get to sign the wall. We threw away hundreds of thousands of dollars, right before the pandemic in '20 2021 of the worst business decisions you could ever make.
It's all part of fans first and practically now looking forward two, three years later, our merchandise does about 10 to 12 times what we did in total sponsorships. I believe fans are starting to support us which, again, you do what you believe in. We want to create the most fans first experience on earth and that's what Maceo and our players try to deliver every night.
Melissa: This is work. I want to come to both of you all on this because, again, this is our play conversation, but Jesse, these games are coordinated, there's tons of planning, tou've got dress rehearsals. Is it still fun? Is it still a baseball game with all this work?
Jesse: [chuckles] It's funny. The work, I understand the concept of hard work and I think anybody that looks at Maceo and our team and myself and my wife and everyone, you would say we work hard. I will say this unequivocally that every single day, I get to dance with the fans, sing with the fans. We have 4,000 people doing the Hey baby dance. Every night. We put our arms around each other at the end of the night, sounds like kumbaya, but our band plays stand by me and all the fans, the players, everyone were singing stand by me. It's crazy.
You can't look around and say, "Wow, we're a part of something pretty special." For me, when I look up every day, no matter getting home at one in the morning, I have three kids under three years old, still I get inspired and excited to come to the ballpark because you get to see you're doing something special and unique. For me, I was a baseball player, but now I get to dance, sing. Maceo knows I can't dance that well, but I try my best, but I dance, I sing, I get to entertain every day and it is 100% play. I think that's what makes Banana Land special.
Melissa: I want to did in on that for just a minute, Jesse because part of play is that you're supposed to just have a good time playing whether or not the playful aspects have an end. I'm wondering if the playful aspects actually also make the players better baseball players. Are there either skills or maybe just a certain confidence or energy that might, in fact, make y'all more competitive?
Jesse: 1000%. I remember I was giving a talk to a local college three or four years ago and I said, "You know we just have more fun. That's why we win more than anyone else." I didn't realize, but the professor heard that and three months later, he said, "I remember when you said that they played better because they're having fun." Well, I've been studying this for your team and the league over the last three months and looking at every stat and you know what? We have the data that actually backs this up. You guys have better on-base percentage, better strike on the walk ratio, better, this better, that better, that versus even when you played in your college teams versus where you play now."
He goes, "It actually proves that when you have fun, you perform better." I said it tongue in cheek, just off the cuff, just here it is. It's true. When you think about when you do things that give you energy, when you do things that are fun, you will perform better, whether you're in baseball or anything else. I think that's a level of play doing things that give you energy and doing things that are fun is play.
We play every single day here at the ballpark and now we're in the championship again hopefully, win three of the six championships in the six years we've been in the league and won more games than any of our team and had more players drafted. We don't even talk about the baseball. We talk about the fun in the show, but baseball then takes care of itself.
Melissa: Maceo do you have a favorite song this summer to dance too?
Maceo: Well, I know Jesse's favorite song. Jesse's favorite song and dance totally is Sweet Loops. That was my favorite for the longest, but I feel like it has been one that has topped it this year and it went mainly viral all over TikTok, et cetera. It was Whitney Houston's, I Want to Dance with Somebody when we're in kilts. I think that was my all top favorite. Of course, if we're talking rationally, just throwing some out there, it is always Michael Jackson, always Michael Jackson hits are my favorite.
You just can't get no better showman than Michael Jackson, James Brown, Prince, people like that because you can feel it through their voice, like their energy. Definitely, when you watch them on videos and live performances and shows, you're like, "Oh my God, I want to be just like that. I want to present that type of energy to everyone." That's all I think about when I'm dancing where I'm on that field, I'm like, "Oh, this is it right here. I'm just going to hit."
They don't know what's going to happen. They don't know what's coming. Most of the time they do. When they hear the wrecking ball, [chuckles] when they hear wrecking ball, they go wild. Then definitely for the Michael Jackson, when they hear Michael Jackson. When they say I'm about to hit the moonwalk on grass, they're like, "Oh my God." I live for those reactions. If I get those reactions out, people, even the kids, it's a whirlwind right there. It puts me on the top of the mountain.
Melissa: Jesse Cole is the owner of the Savannah Bananas. Jesse. Thanks for joining us.
Jesse: Thank you.
Melissa: Maceo Harrison is the dancing First Base coach or the First Base dance coach. He's also the choreographer for the Savannah Bananas. Maceo, thank you for being here.
Maceo: Thank you so much. This was a blast. I love talking to you guys.
[music]
Melissa: We've been talking about baseball and it's a good moment to remember someone who brought the joy of play to fans of the game.
Vincent Scully: If one picture is worth a thousand words, you have seen about a million words.
Melissa: On Tuesday, the baseball world lost the great Vin Scully, Hall of Fame broadcaster for the Dodgers. Just listen to his enthusiasm while calling Hank Aaron's record-breaking 715th home run in 1974.
Vincent: What a marvelous moment for baseball. What a marvelous moment for Atlanta and the state of Georgia. What a marvelous moment for the country and the world.
Melissa: Scully called more than 9,000 games over 67 years in Los Angeles and in Brooklyn in the 1950s. He called his first world series at age 25. He went on to be the longest-tenured broadcaster for one team in the history of pro sports. He will be missed and dearly remembered.
Vincent: I have said enough for a lifetime. For the last time, I wish you all a very pleasant good afternoon.
Melissa: Thanks so much for being with us. I'm Melissa Harris-Perry. This is The Takeaway.
Copyright © 2022 New York Public Radio. All rights reserved. Visit our website terms of use at www.wnyc.org for further information.
New York Public Radio transcripts are created on a rush deadline, often by contractors. This text may not be in its final form and may be updated or revised in the future. Accuracy and availability may vary. The authoritative record of New York Public Radio's programming is the audio record.