Dr. Sammy Ramsey on What the Biodiversity of Insects Can Teach Us About Ourselves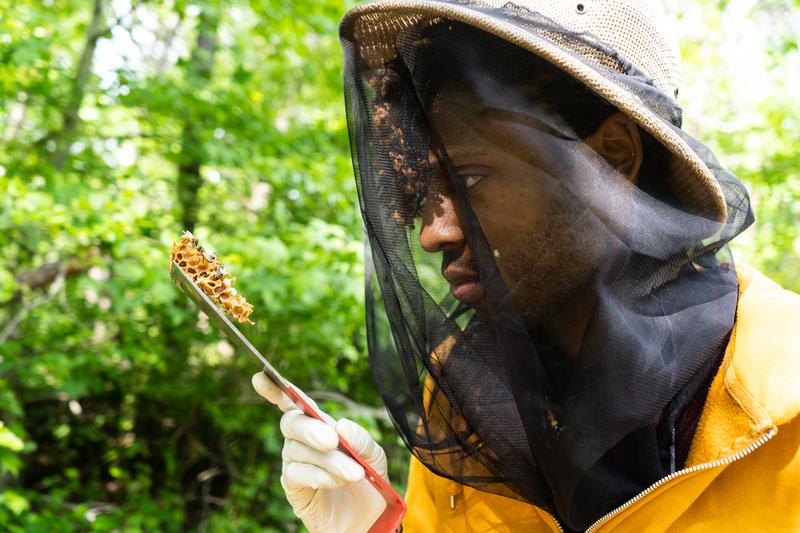 Transcript
Dr. Melissa Harris-Perry: I am Melissa Harris-Perry and this is The Takeaway. Today we've got another edition of our Black History Month Special Black.Queer.Rising.
Participant: It's been 17 years and I need to make sure she hear this.
[music]
Dr. Melissa Harris-Perry: Oh the cicada always getting a bad rap. That big eye noisy bug that sometimes emerges in mass from the ground every 17 years. Hopefully it's around every summer. Now it doesn't harm people but it captivates us with those loud chirps and swarm like movements.
[music]
Dr. Melissa Harris-Perry: As you can hear from his singing this guy loves cicadas and lots of other insects too. As he told the today show, as might all be feeling a little more connected to the cicada as a result of our pandemic experiences.
Participant: We've been in isolation for what feels like 17 years. They've been in isolation for 17 years. What do you want to do immediately if I'm leaving.
Participant: See people.
Participant: I want to see everybody. These cicadas are doing the same thing. This is cicada spring break right now.
Dr. Samuel Ramsey: My name is Samuel Ramsey. I'm the endowed professor of entomology at the University of Colorado Boulder and also the founder and director of the Ramsey Research Foundation.
Dr. Melissa Harris-Perry: What is entomology?
Dr. Samuel Ramsey: We're jumping into the big questions first. Entomology. My favorite thing to tell my students is that entomology is the study of diversity. The reason why I say this is because three quarters of the animals on this planet are insects. Entomology is the study of insects. There is no more diverse group of organisms on this entire planet than bugs. If you really want to study what diversity is you need to look at the most diverse creatures. The creatures who have learned to solve all of life's problems with as many different tools as possible.
Dr. Melissa Harris-Perry: I know there are big bugs and small bugs that there are black bugs and white bugs. Are there woke bugs and conservative bugs?
Dr. Samuel Ramsey: Oh my goodness. Are there woke bugs and conservative bugs? Insects are certainly organisms that lack an overarching sense of morality as we understand it. As best we understand their situation. We try not to anthropomorphize them too much but they do have these complex fascinating social societies. People were really shocked to find out that insects do some of the things that we do. We are very aware of as problematic behavior.
There are insects that make slaves. There are slave making ants that literally raid other colonies confiscate the workers and raise them as slaves to serve their queen.
There are insects that are mass murderers and cannibals and so there are definitely problematic elements in there. I don't think that there is a moral judgment to it. Evolution just drives things forward to make sure that species are propagated.
Dr. Melissa Harris-Perry: Dr. Sam I don't know if I'm going to be able to sleep tonight knowing that there are slave making insects and mass murdering ones.
Dr. Samuel Ramsey: I probably shouldn't have told you that.
Dr. Melissa Harris-Perry: Are there those insects whose social rules for propagation end up creating collaborative or collective networks?
Dr. Samuel Ramsey: There certainly are. Thank you for asking about those because I really would like for them to take the forefront of these conversations. I work primarily with social insects. Social insects have done something absolutely remarkable. They have developed a system where they're capable of all working together towards a common goal in which they will give up some of their own rights such that the collective is able to be more successful.
People are always really surprised when I tell them that social insects like bees and ants socially distanced when they get a communicable illness. There is an awareness that if they can get this illness that the closely related individuals all around them could also get this illness. Instead of remaining in close contact with everyone they'll go off to their own little corner for a while and if they don't get over that ailment they'll go as far away from the colony as possible and live out the rest of their days in isolation. We didn't quite get that all right during the pandemic. It's fascinating that creatures with a brain the size of a quarter of a grain of rice have already got that down.
Dr. Melissa Harris-Perry: Dr. Sammy now you got the bees over here wearing masks and getting their vaccination and boosters. Listen, you're about to turn me into an entomologist and my understanding is that there is a little bit of that goal for you that you feel like a bug ambassador. Tell me about that.
Dr. Samuel Ramsey: Oh my goodness. I developed a love of insects when I was really young. I feel like I've had a lot of time to figure out what works and what doesn't work because people always ask me, why do you want to be an entomologist? Why would anybody make that choice in life? They've been asking me that since I was seven years old. I've always had to have an answer. I've tried a bunch of different ones. Some of them didn't work but it refined my ability to communicate this kind of information.
I've learned all of these random facts that I love throwing out in different contexts and I know the ones that tend to make people's eyes widen and that spark of curiosity gets going. It makes me feel like I'm truly an ambassador for the bugs because I've learned the things that I can say to people that connect them to these organisms. That let them actually see for the very first time that these creatures aren't so different from them have similar motivations, and it allows people to feel connected to a world that they usually rarely think about.
Dr. Melissa Harris-Perry: You mentioned some of the things that we as humans did not get so right. Still are maybe not getting so right about our social and collective lives particularly in the context of communicable disease. Can you talk to me right now about the work you're doing and the pandemic that bees are facing?
Dr. Samuel Ramsey: I can talk to you about that. There is a pandemic that is currently going around the world causing organisms to have to distance from the individuals closest to them. It may sound like I am talking about COVID-19 but there is a pollinator pandemic out there. There is a pandemic of infectious parasitic mites that attach themselves to the bodies of bees and sometimes other pollinators and cause a whole range of issues by liquefying the liver of the bees.
Yes, bees have a liver and sucking that out of their bodies. As you might guess, if you were to think about this in your own life is something that is not good for these organisms. It's led to just this mass set of issues that are contributing to the fact that we see close to half of our bees in the US dying every single year. We lose about 50% of our colonies somewhere between a third and half on average every single year. That is an unsustainable amount of losses. That's the pandemic that our pollinators are currently in.
During the pandemic that we all just went through as human beings I think we did recognize something. There was a lesson to be learned there that we could have tackled this situation with much more knowledge and potentially more lives could have been saved if we had understood this virus before it showed up and caused all of these problems. When it was first emerging we thought of it as someone else's problem. It was over there it wasn't our issue.
Well, unfortunately we're doing something similar with our pollinators. There are a number of different potential emerging diseases that could become the next pandemic for our bees. We could have a twindemic where they would be suffering from multiple pandemics at the same time. We're letting that be a thing that we wait for to arrive at our doorstep before we study it. I've actually pitched this big project where we create this compendium of all the different diseases that currently exist for our pollinators in Southeast Asia.
Why Southeast Asia? Well, because that's the region of the world where there are more species of honeybees than anywhere else on the planet. Every species of honeybee that exists, exists in Southeast Asia and that's also the reason why emerging diseases show up there as well and then spread around the world. If we can better understand them there and compile all the different ways that they could potentially be managed, that set of knowledge can do so much good for us.
My goal is to compile all of that knowledge. Currently I'm in Singapore. I just left Thailand. I was in India before that, gathering data collecting these specimens. We're doing genetic testing on all of them and learning about all of the different symbiotic relationships that they have and bacteria and viruses. Then I'm going to make all of this information available open access so that everyone in all of these different countries can access this information and more healthily manage their population of bees.
[music]
Dr. Melissa Harris-Perry: Stay right there. We're going to have more Black.Queer.Rising. with entomologist, Dr. Sammy Ramsey. We're back and still talking with entomologists, Dr. Sammy Ramsey about what the biodiversity of insects can teach us. It's all part of our conversation series, Black.Queer.Rising. Now, Dr. Sammy is founder of the Ramsey Research Center, which has been looking at communicable diseases in bees and plans to make all of their findings accessible to the public. I talked to Dr. Sammy about the value of open access research in science.
Dr. Sammy Ramsey: I see it as so valuable because knowledge is power and open access publishing could help us level a playing field that currently is not level. There are dramatic imbalances in power based on the information that people have access to. Most publications are published in journals where we pass the payments on to the people who want to read that information. We put a financial barrier between people and truth.
That's a fascinating decision for us to make because all of the lies are available for free on the internet.
As a matter of fact, there is an algorithm that will funnel those lies into your face day in and day out but we make people pay for the truth. The issue there're being if individuals don't have the money to afford it, they simply cannot access that truth. This makes it difficult for individuals in developing economies, is the term we typically use, to access this kind of information. It makes it harder for them to conduct research without being able to see the papers that have already been published. It also creates distance between the general public and science.
I think that more people would be engaged with the scientific process, would trust scientists and would understand science if they can more easily access that information. There's also an issue of equity because much of this research is funded by taxpayers, but then taxpayers have to pay money to then access it. All of the work that's conducted through the Ramsey Research Foundation through my nonprofit will be available open access.
We're also gearing up to start making grants available to any other individuals who want to publish work open access to pay the huge fees on the front end that the journals pass on to the researchers if we want to publish it open access and those fees can be in the thousands of dollars. Which is why I think that this initiative will be really helpful for a lot of people.
Dr. Melissa Harris-Perry: Biology, science, this notion of what constitutes the natural, the created, it has been central to discourse and politics around queer folk. Really as a core aspect of the political fight has been this language about what is natural and what is biological, what we see in nature. I want you to do a couple of things for me. First of all, talk to me about where we see nature, queer and the queering of our notions of biology and of the natural, and talk to me a bit about maybe the surprise that some folks have to discover social, political, human lessons in scientific study.
Dr. Sammy Ramsey: As a scientist, I get this awesome vantage point where I can see all of these different things that are going on in the world around us that a lot of other people often don't get to see. I think in entomology, I get to see even more of that because entomology is the study of diversity. Entomology is literally the study of insects, but insects are the most diverse.
Something that you see is that the most successful group of organisms on this planet it's the most diverse group of organisms on this planet, and there's no coincidence there. Figuring out all of these different ways to exist in a space, this matter of diversity allows creatures to thrive because they can all specialize in different things. They can make an ecosystem work in remarkable different ways. That's something that really reflects on us as humans.
When we think about what we value, oftentimes, we want people to behave the same way.
We want to remove a context of diversity because diversity makes us uncomfortable but diversity is actually the greatest strength that we have access to because it allows us so many different ways of solving problems. When I think about the queerness of the science that I study, it is something that reminds me that when we choose not to accept the beauty of diversity we do ourselves a disservice.
One of the facets of my own diversity is something that I had a difficult time accepting myself. As a queer person raised by two pastors, it was very difficult for me to accept the fact that I am gay, that a lot of people aren't going to like that very much but also my perspective on God, my perspective on religion, my perspective on acceptance. Consistently left me with the impression that I could not accept myself and still be the kind of person that I wanted to be or accepted in the ways that I wanted to be.
I've since learned that that isn't the case. I have to be myself in order to be genuine and authentic, and I bring something to everything that I do now that is unique because of the multifaceted identity that I bring to it. It allows me to think differently about the problems that need to be solved. It allows me to see the world in a slightly different way that causes me to ask different questions and that allows me to arrive at different answers and that is valuable.
Dr. Melissa Harris-Perry: Yet that value can make for a pretty hard road. Can you tell me the extent to which you have, or maybe just talk to me a bit about-- and I'm trying to phrase it because I hate the question. Tell me about the struggle you've had and how you've overcome them. I guess what I'm looking for here is trying to understand the ways that in your pursuit of knowledge, in your commitments to things like open access, in your simple joy and infectious joy around entomology, and all of that in a black queer body and identity. What has that meant for how you do the work that you do?
Dr. Sammy Ramsey: What it means for how I do the work that I do, it means that I have learned to value accepting myself in all of the different facets that I exist in at the same time. I used to exist in a space where code-switching was such a normal thing for me that I didn't even notice that I was doing it anymore. It was just entirely natural. It would happen all the time.
Since I've learned, I just want to be all of me at the same time. That makes for a unique individual rather than someone who's simply reflecting one element of who he is and one group of people that he is talking to, and then a different element with a different group of people. If I just bring all of those together at the same time, the multiplicity of things makes me unique, and that uniqueness brings a skillset to the table that allows me to look at problems differently and manage these situations in a way that may not come naturally to other people.
It allows me to face my work in the lab. I'm able to think about problems differently and approach them from a different direction, and it allows me to reach different answers. What I discussed with you earlier about how the parasite attaches to the honeybees and sucks out their liver for decades more than half a century, we thought that this parasite was just feeding on the bees blood and it was an unquestioned conclusion in this system.
By me approaching this situation, looking at it differently, not necessarily because I'm just smarter than the people who are looking at this situation before, I don't think that's actually the case. I think it's simply that I was able to approach this as a very different person from a very different way of thinking and it allowed me to ask the questions differently and thus arrive at a different answer that's helped us see this parasite in a way that will likely allow us to manage it better in the future.
Dr. Melissa Harris-Perry: Our conversation is part of our ongoing series Black.Queer.Rising. I'll end this conversation as I do all of my conversations within the Black.Queer.Rising. Series. What does Black queer rising mean to you?
Dr. Sammy Ramsey: What does Black queer rising mean to me? Black queer rising, it reminds me of Maya Angelou's poem Still I Rise, because it reminds me that all of us have been through this. You may write me down in history with your bitter twisted lies. You may try me in the very dirt, but still, like dust, I rise. So many of us have been trodden down in this process, we have been made to feel like we're less than been made to feel like dust. Knowing that that capacity to rise to the occasion is embedded in our identity, it allows us to exist in this space in a way that makes us a consistent theme that cannot be ignored. As a Black queer person, people have tried to push my identity away, they've tried to bifurcate it, section it out, but still, I rise. I won't be quiet, I won't allow people to force me into a category that isn't fully and entirely and authentically me. No, I am going to rise.
Dr. Melissa Harris-Perry: Dr. Samuel Ramsey is founder and director of the Ramsey Research Foundation. Dr. Sammy, thank you for joining us today.
Dr. Samuel Ramsey: I'm so delighted that you've given me this opportunity to rise.
[music]
Copyright © 2023 New York Public Radio. All rights reserved. Visit our website terms of use at www.wnyc.org for further information.
New York Public Radio transcripts are created on a rush deadline, often by contractors. This text may not be in its final form and may be updated or revised in the future. Accuracy and availability may vary. The authoritative record of New York Public Radio's programming is the audio record.