How to Safely Celebrate This Holiday Season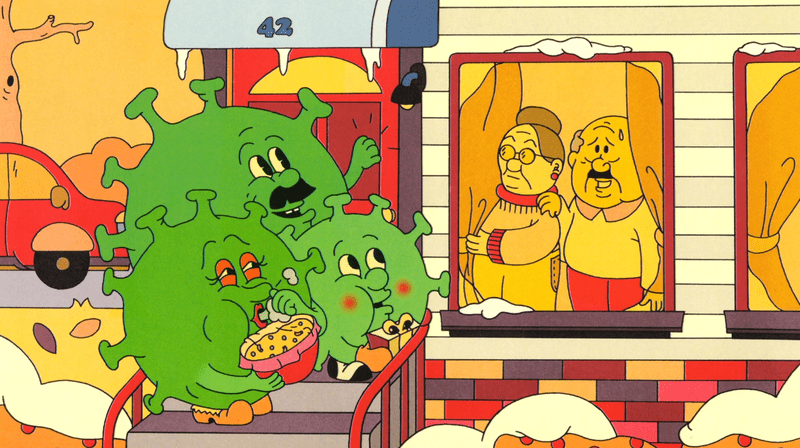 Transcript
Tanzina Vega: You're listening to The Takeaway. I'm Tanzina Vega. As we just heard, the coronavirus pandemic is exploding to unprecedented levels around the country. With the holidays quickly approaching that means people will need to decide if and how to safely celebrate with their loved ones. Public health experts agree that the safest Thanksgiving this year is one where we don't leave home. Where does that put us? Eating turkey together on Zoom. What about beyond the holidays? How do we adapt our lives for what potentially could be a dark COVID winter? Here to talk us through all this is Rachel Miller, the deputy editor of Vice Life and the author of The Art of Showing Up: How to Be There for Yourself and Your People. Rachel, thanks for joining us.
Rachel Miller: Thank you so much for having me.
Tanzina Vega: Difficult times right now. On top of difficult times, it's the holidays are quickly approaching and some folks are having some awkward conversations with their family about not to attend holiday celebrations. How do you suggest approaching those conversations?
Rachel Miller: I think the first thing to do is if you're the one who is deciding not to go home like you normally would, or you're the one requesting the change of plans, I think it's really important to give yourself permission first because it can feel really hard to have these conversations if you're not confident in what you're saying. If your partner is the one pushing for it, it can be easy to throw them under the bus versus owning your decisions.
I think it's important to think through why you're doing this and to feel really good about the choice you're making. Even if you don't feel good about it in the sense that it's not a positive thing, you're not happy about it, you should at least try to feel confident in it so that you can approach the conversation from a more grounded place and just not get overwhelmed if you get a lot of pushback.
Tanzina Vega: Imagine some of the pushback and some of the hard feelings around this are because the holidays are usually a time when we get to see people and we get to connect with people. We haven't been able to do that in so long and so many of us have been relegated to these Zoom calls or FaceTime calls. Are there any other creative alternatives to an in-person holiday gathering other than eating turkey in front of a Zoom?
Rachel Miller: Yes. I think that it really depends on your family and the traditions that you all love the most. I think figuring out how to replicate those is really important, and also talking to your family about what they're going to miss most and figure out how you can do that. If they love taking a big family photo every year, is there a way that you can replicate that outside? I edited a piece from a freelancer who suggested doing a Zoom cooking lesson with a family member who always makes the beloved favorite recipe, have them teach everyone how to make it over Zoom and walk you through all the steps.
You're seeing them make it themselves, you can record it. You all have that as a keepsake. Those are the things that make you feel more connected, maybe even more so than actually eating the meal together, it's being in the kitchen together. Figuring out what things are going to feel really special and memorable. Sometimes imitating the former thing can feel worse. It could feel strange to have a holiday with only four people there instead of 20.
If you're going to be upset by that, maybe it's time to do something entirely different and not make the traditional meal have an entirely different menu so you don't feel that sense of sadness, because this just can't hold the handle the past years. I think finding something else to get excited about helps a lot.
Tanzina Vega: Of course, public health experts are recommending not to have gatherings this holiday season. There may be folks who insist on doing it anyway, even if you yourself are not going to attend. Is it worth trying to change their mind, sending them articles, and saying, "Look at this is"? Or is that just not helpful?
Rachel Miller: I think it's worth having a conversation about it because I think you'll feel better if you say your piece. I do think it's important to go into it with the understanding that your relatives are their own people, they have agency that-- Your grandparents aren't sweet little old people who are being conned unnecessarily. They're adults who can make decisions for themselves. I think it's important to treat them as such versus condescending them and coming in with all these facts and data which might not actually move them. I think that's a really hard thing to recognize that the holidays are super emotional, super fraught. What is the more emotional argument to make here? How can you say to them, "I'm really worried that if we gather, I won't be able to relax and enjoy myself and have a good time because I'm going to be worried about getting you sick and potentially killing you."?Maybe you need to put it in terms of like, "I'm really scared about you and your health or my own health." Frame it in that lens versus these are the statistics that I think a lot of people tend to tune out. Meet them where they are and talk to them in a way that they will relate to more.
Tanzina Vega: Rachel, some folks will not have family to gather with. Some folks live alone. We know that a lot of Americans live alone increasingly. How are people who live alone going to manage this holiday season, which is really-- the past couple of months have really shone a light on isolation in particular?
Rachel Miller: It's very real and it's really difficult. I actually have a lot of experience. This will be my first Christmas not alone, I think since 2014. I've mastered how to be alone on Christmas. I think it's really important to have a plan going into it. If you wait until Christmas Eve to start making plans, you're going to realize, "Oh, I can't go to the grocery store and get food and I don't have any activities, and maybe I would have done laundry." Plan ahead, don't wait.
I think it's important to do something, even if it's not something related to the holiday. If you decide I'm going to watch movies all day and pretend this isn't happening, totally fine, but just know going into it what you're going to do. I think it's helpful to make a special meal, to have a recipe that you've picked out, it doesn't have to be a holiday recipe. I would always make this lasagna soup which takes a few hours, feels really special and fancy. Isn't really Christmassy, but always made me feel a little bit more faster and it gave me something to do. I think that was a really important thing.
Another small thing I would always do is wait to open any gifts I received until Christmas morning. If I got packages in the mail, I would just put them under the tree. Then be sure to reach out to people. You don't have to be alone-alone, you should check in with a couple of friends just because they're going to be worried about you too. It's a strange day. Let yourself be sad if you're feeling sad. This is a rough year, you don't have to be excited about it.
It can feel bad to be alone on a big holiday but know that you are not alone in the sense that a lot of other people are going through this too and have gone through it in the past. Don't feel shame about it because it is a more common experience. I think people realize, and it will definitely be common this year. Trust that you will get through it. It's just a single day. That's the other thing I think can be hard to remember. It's just that one day and then life does resume, and you will have gotten through it by the end of it.
Tanzina Vega: Of course, there's also this idea that being indoors is not ideal, which is the reason why we're having this conversation. Largely, a lot of our activities take place indoors in the colder months but we're going outdoors more. Are there any alternatives there? Are there any ideas that you have for folks to socialize safely in the winter, but outside?
Rachel Miller: I think one of the things that we can do is do our best to get warm boots, socks, gloves, if you don't have a real winter jacket with a good hood, now is the time. I think investing in things that are going to make it easier to be comfortable outdoors. Get in the habit of checking the weather and understand that maybe for a little while, you're only going to be able to see people you care about once a week on a mask [unintelligible 00:07:01], bundled up. It's going to be at a time when the sun is shining and there's no wind. That might be the best we can do for a couple of months. It's not ideal, but it's better than nothing. It's probably better than a Zoom call and it's also better than getting sick.
I think be willing to make some compromises and then get creative. Can you get an outdoor space heater? Can somebody build a fire that you can gather around? Again, these options vary depending on where you live and what access you have. Thinking about what are small things that I can do to be able to connect on some level with people. I think outdoor activities like snowshoeing and cross country skiing and ice skating are also going to be big this winter. If you've never done it before, maybe let yourself embrace it and try things like that. Just be willing to step outside your comfort zone a little bit in order to not isolate yourself.
Tanzina Vega: Holidays are hard for a lot of folks generally. As you said, this has been a particularly difficult year for so many Americans. I think it's going to be a difficult time for people whether they have people with them or not. This has been a year full of a lot of loss and a lot of difficult moments. If people are feeling lonely, overwhelmed, anxious, not just for the holidays, but with seasonal issues as far as the winter and the colder months, how should they navigate some of that in this time?
Rachel Miller: I think one thing to do is to use the time right now before it gets worse, before it gets darker, to prepare yourself both physically, emotionally, prepare your home because you're going to be inside for a while. Doing little things, whether that's creating a more comfortable workspace so you can work from home during the day or starting a workout routine, or going for a walk every day so you have something in place that gets you up and moving. Getting your flu shot, getting a thermometer, and a box of tissues and cold medicine so you have the essentials in place, should you need them. I think that really can put your mind at ease.
I think also just reaching out to people and letting them know, "Hey, I'm really nervous about not seeing you anymore this winter, can we set up a weekly Zoom hangout, or would it be okay if I gave you a call sometimes when I'm feeling lonely?" I think people are feeling it and it can feel really scary to reach out and to be honest about that. Now more than ever, people understand and I think being willing to be a little bit vulnerable and put yourself out there and ask for help when you need it. People want to help, they want to be there for their friends, they're worried. Reach out, don't feel you have to suffer in silence or that people don't care about you or don't have time for you. We're all in this together. I think everyone's really looking for ways that they can support their loved ones and their friends.
Tanzina Vega: Rachel Miller is the deputy editor of Vice Life and the author of The Art of Showing Up: How to Be There for Yourself and Your People. Rachel, thanks so much.
Rachel Miller: Thank you so much for having me. Have a great day.
Copyright © 2020 New York Public Radio. All rights reserved. Visit our website terms of use at www.wnyc.org for further information.
New York Public Radio transcripts are created on a rush deadline, often by contractors. This text may not be in its final form and may be updated or revised in the future. Accuracy and availability may vary. The authoritative record of New York Public Radio's programming is the audio record.