Russia's Ongoing Detention of Brittney Griner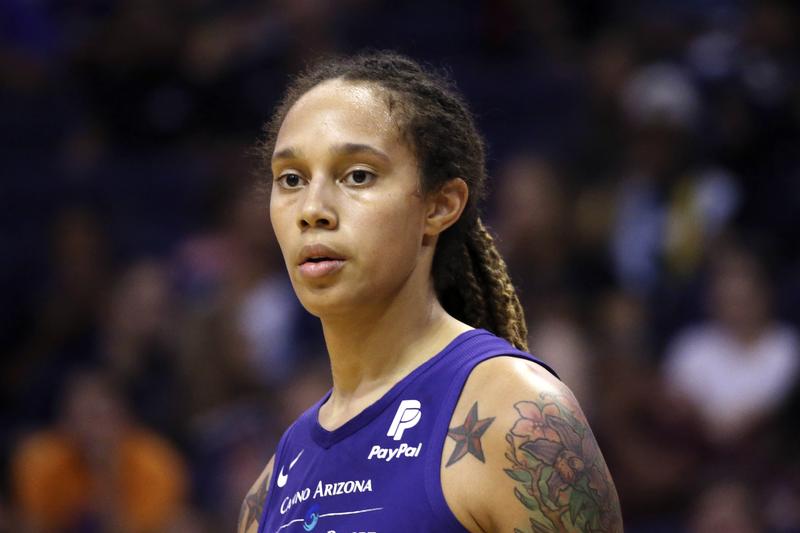 Transcript
Speaker 1: Please bring Brittney home. Help her get home. She deserves to be back with her family, her friends, the WNBA. The WNBA isn't the WNBA without BG, and just help get her home, please.
Melissa Harris-Perry: This is The Takeaway. I'm Melissa Harris-Perry. It's been more than two and a half months since WNBA star Brittney Griner was first detained by Russian authorities. That's more than 80 days that she's been separated from her family and incarcerated in a foreign nation. Griner has had to miss some significant milestones in that time. Last Friday, the Phoenix Mercury took the cord to kick off the WNBA season without their superstar center. Griner's teammate Skylar Diggins expressed her appreciation for the star player at a news conference prior to the start of the season.
Skylar Diggins: It's toughest on her family, and people that they hear these things. I just love her. I love her. I think about her every day, and I can't wait until she gets back here with us.
Melissa Harris-Perry: This past weekend, Griner missed another milestone for her family. Cherelle T. Griner, Brittney's wife graduated from law school. After the release of American Trevor Reed from Russian detention in a prisoner swap last month, Cherelle Griner wrote in an Instagram post, "My heart is overflowing with joy for the Reed Family. Do not personally know them, but I do know the pain of having a loved one detained in a foreign country. That level of pain is constant and can only be remedied by a safe return home."
News on Griner's situation has trickled out slowly from the US State Department. While the pace of these updates has frustrated many, last week, an announcement was made that could be important in her case. The State Department announced that they are now classifying her as "wrongfully detained". This means that Griner's case will now be handled by the Special Presidential Envoy for Hostage Affairs, who will work towards her release. This, unfortunately, does not mean Griner's release is imminent.
There could be many future personal and professional milestones that Brittney Griner is forced to miss. For more, I'm joined now by Dani Gilbert, Assistant Professor of Military and Strategic Studies at the US Air Force Academy. Dani, thanks so much for being here.
Dani Gilbert: Thank you for having me. It's an honor to be with you.
Melissa Harris-Perry: Now, I'll just note at the top of our conversation that your views and positions that you're discussing with us today are your own. They're not that of the Air Force Academy or the federal government. Dani, with that said, can you walk me through what it means that Brittney has been reclassified by the US government as wrongfully detained?
Dani Gilbert: Thank you so much. According to legislation that passed a couple of years ago, the Robert Levinson Hostage Recovery and Hostage-Taking Accountability Act, the State Department has the ability to classify international detentions as wrongfully or unlawfully detained. Americans are arrested abroad all the time for breaking laws and the US government doesn't always try to intervene in those cases to bring Americans home, but when the US government thinks that there's something wrong in the case.
If there's evidence that the American is innocent of their crime, if the foreign government is targeting Americans because they're Americans. Or if there's reason to believe that the justice system in that country will not treat the American fairly, that the State Department can reclassify the case as wrongfully or unlawfully detained and work to bring that person home. It means that her case is taken out of the Consular Affairs Bureau in the State Department, which is concerned for the welfare of Americans abroad, and into the office that you just mentioned.
The Special Presidential Envoy for Hostage Affairs, who is the Chief US diplomat responsible for raising cases of Americans who are kidnapped or wrongfully detained abroad. Now that the case is in the special envoy's office, he and his staff will be raising her case and working on negotiating her release.
Melissa Harris-Perry: I just want to be sure that I'm clear about this, this doesn't mean that she's officially considered a hostage. Is that right? Can you explain the distinction there?
Dani Gilbert: That's correct. I know it's tricky because the office has the word hostage in the title, but when the Special Presidential Envoy for Hostage Affairs office was created in 2015, it's the only part of the US government that handles both hostage cases where an American is held explicitly for leverage. That there would need to be concessions made for their release, and these unlawful detentions which may or may not be a hostage-taking scenario. This office might mean that she is a hostage, but we don't know that yet.
This diplomat is responsible for working on all of these kinds of cases, whether or not the United States government thinks that she's being held hostage.
Melissa Harris-Perry: Obviously, the United States is not involved in a current war with Russia. However, we have been as a nation extremely vocal about our position on Russia's invasion of Ukraine, and have implemented crucial sanctions against leadership and citizenry of Russia. How much does that diplomatic reality affect the diplomatic reality facing the envoy who will be addressing Griner's case?
Dani Gilbert: It's a really difficult moment. These ongoing tensions and Russia's ongoing war in Ukraine complicate this case a lot. What I will say is, traditionally, the cases that get referred to the special envoy's office are cases that the United States is having diplomatic trouble with anyway. The envoy is often working on negotiating the release of Americans from other countries where we might have tensions like Iran, or North Korea. Not every case is going to be with an ally.
A small exception is when the special envoy under the Trump administration worked to bring home A$AP Rocky from imprisonment in Sweden. Usually, the special envoy is working in these kinds of tense diplomatic conditions. Trevor Reed came home last week from imprisonment in Russia. He had been in prison since 2019. That actually signals to us that the United States and Russia are still able to negotiate these kinds of deals. That there might be important backchannels, despite the ongoing tensions with Russia's war in Ukraine.
Melissa Harris-Perry: When you say that, on the one hand, my heart leaps up, okay. The notion that Trevor Reed came home means that there is some possibility for continuing negotiations are still occurring, but my heart also sink as soon as you said 2019. Do you have a sense of the timeline? How would any of us have a sense of what a timeline for Griner's case would look like?
Dani Gilbert: This is my bad news, which is that these cases take months if not years to resolve. When Americans have been unlawfully detained abroad, it sometimes takes multiple years to get them home, two, three, four, five years. We can hope that Brittney Griner is going to come home any day now. That the Russians will admit that this was a mistake, and we'll see her before too long, but the track record of these cases is that they take a very long time. There's another American who is still imprisoned in Russia, Paul Whelan, who's been in prison there since 2018.
Those kinds of stories can make us quite concerned.
Melissa Harris-Perry: Do we know anything about the likely conditions that Griner is being detained under?
Dani Gilbert: I'm not an expert on that topic specifically, but what we can know is that before she was classified as wrongfully detained, that US consular services were able to visit her in prison and report a bit on what it has been like for her. That she's in good spirits, that she's in good health. All of that is good news. Typically, though, we would not imagine that Russian prison is going to be a great set of conditions for anyone, let alone an American, let alone a Black American, an openly LGBTQ American.
For those reasons alone, regardless of the accusations, the United States government would be very concerned about her case.
Melissa Harris-Perry: It has felt very quiet in these days since Griner was first detained. With this new classification, should we expect the State Department to be more open about Griner's case going forward?
Dani Gilbert: I'm not sure if we'll hear a lot more from the State Department about her case now that they've made this designation. In the past week since her arrest, this is the news that I've most been waiting for whether or not she would be reclassified, and if her case would move to the special envoy's office. We might still not expect the State Department to be quite vocal about this because I think there's always the hope that these negotiations will take place effectively and quietly behind the scenes.
There remains a fear that if anyone raises the stakes too much, that it will essentially increase Russia's leverage that they will continue to see her as more valuable. They will maybe demand more or make her release even more difficult. I imagine that even though they've changed this designation, that the State Department might continue to call for quiet around in her case. Now I think that can be very frustrating for anyone held abroad for their family, for their employer, in the case of Brittney Griner for her fans across the country.
What I might imagine is that if Brittney's family and the WNBA feels that there's no appropriate progress on the case, that they might continue to put public pressure on the State Department to stay involved, to stay active, to do everything they can to bring her home.
Melissa Harris-Perry: On this point, you just made about the possibility of artificially raising the stakes. Is there any advice you'd give journalists and news organizations about how to cover this case?
Dani Gilbert: That's a really important question. I tend to think that any way that the family wants to speak out is always going to be important, but a lot of people might say, "Oh, the family should speak out to remind the Russians the value of her life. To show that she's a human being just like they are." If the Russian government is holding her for leverage in any capacity, they actually don't need a reminder that she's worth something. Hostage takers hold humans captive because they know how valuable a single human life is.
All that to say, I think it's a wonderful reminder, not only for the Russians, but for the US government, for the American public, that she is still being held. I think that when we see interviews with her family, with her teammates, that they are extremely compelling and remind us that she's still being held. I think it also helps shine a light on the fact that there are dozens of other Americans being held unlawfully or wrongfully abroad right now, all over the world. Even if we might think it's limited, the attention that her case is getting is helping shine a light on those cases as well.
Melissa Harris-Perry: It was recently announced former Governor and former US Ambassador to the UN Bill Richardson is going to be working on Griner's release. Is that a positive sign?
Dani Gilbert: I definitely see that as a positive sign. Former UN Ambassador Bill Richardson and his staff at the Richardson Center have been working for a very long time on the recovery of Americans, wrongfully detained, or held hostage abroad. They have a tremendous track record of success. I see it as a really promising sign that they've gotten involved in the case. That paired with the classification of her case as a wrongful detention, to me are the two signs that people are on her case and working to bring her home.
There's another reason that we should see it as a good sign that the Richardson Center is involved in her case, which is that because they are not representing the US government, they might be able to do things that the US government might not be able to do. In other words, they might be able to meet with people that the United States government finds it difficult or unsavory to meet with. They might be able to arrange the kinds of concessions that the United States government might not want to make.
I always see it as a very promising sign for someone's release when ambassador Richardson and his colleagues get involved.
Melissa Harris-Perry: Dani Gilbert is an assistant professor of Military and Strategic Studies at the US Air Force Academy. Dani, thank you so much for joining us.
Dani Gilbert: Thank you so much for having me.
[00:13:34] [END OF AUDIO]
Copyright © 2022 New York Public Radio. All rights reserved. Visit our website terms of use at www.wnyc.org for further information.
New York Public Radio transcripts are created on a rush deadline, often by contractors. This text may not be in its final form and may be updated or revised in the future. Accuracy and availability may vary. The authoritative record of New York Public Radio's programming is the audio record.