Is Russia Losing The War?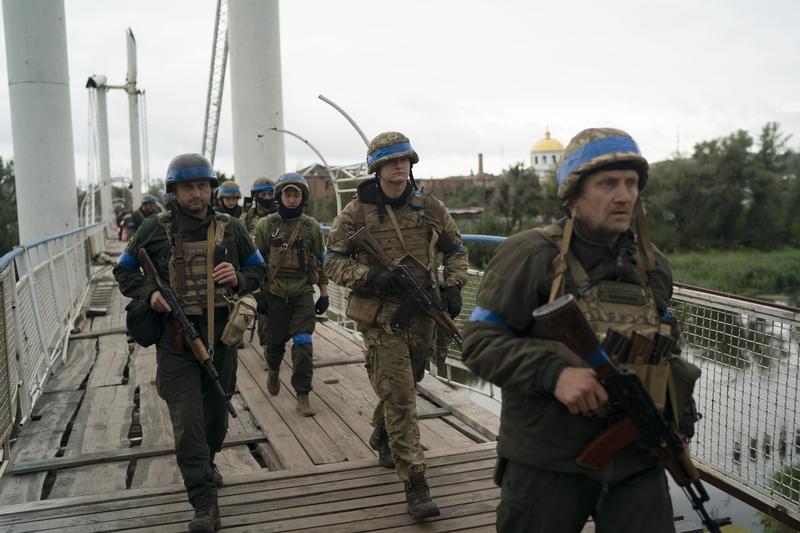 Transcript
[music]
Melissa Harris-Perry: Hi, everyone, glad you're with us. I'm Melissa Harris-Perry, and this is The Takeaway.
[music]
Melissa Harris-Perry: It's now been more than 202 days since Russia's invasion of Ukraine began. Last week, Ukraine launched a counter-offensive. The operation has reportedly been successful with President Volodymyr Zelensky claiming this week that, "Our warriors have already liberated 6,000 square kilometers of the territory of Ukraine in the east and south." He also indicated that the troop movement continues. Much of Ukraine's recent focus has been in the region of Kharkiv.
The Associated Press has reported that parts of the Ukrainian front have even reached the border of Russia. Ukraine has been backed by a large influx of military aid and weapons from the West. Just this week, the US approved an additional $2.7 billion of aid and weapons, bringing the total amount of USA aid to Ukraine to approximately $13 billion. Russian forces are reportedly fleeing rather than fighting.
[music]
Melissa Harris-Perry: Let's have a little talk about this with Nikolas Gvosdev, who is a professor of national security affairs at the Naval War College. Nick is also editor of Orbis, a journal of world affairs by the Foreign Policy Research Institute. Nick, thanks so much for joining The Takeaway.
Nikolas Gvosdev: Very glad to be here.
Melissa Harris-Perry: Is Russia losing the war?
Nikolas Gvosdev: Well, Russia is not winning the war. That does not mean that they're losing it. They're not winning it, which is that their goal was to go in, first was to try to decapitate the Ukrainian government and install a pro-Russian government over all the country, and then failing that, option two was to try to sever a good chunk of the country and exit to Russia or have it exist as a pro-Russian entity. That second option is now under doubt because of the Ukrainian counter-offensive.
Two weeks ago, we were all thinking that perhaps it looked as if Russia could hold this territory for a good long time. The counter-offensive now calls into question whether or not Russia can hold and maintain the gains it's done in Ukraine since February. If that's the case, then the question is, can Ukraine, in fact, restore the pre-February situation or, in fact, be able to regain territory, including Crimea, that it has lost since 2014?
Melissa Harris-Perry: Now, Crimea is exactly where I wanted to go next when you're talking about not only not annexing new. Is there any possibility of that restoration that's been nearly a decade now?
Nikolas Gvosdev: It's been nearly a decade since right after the Winter Olympics in February of 2014 is when we saw the dramatic revolution of dignity in Ukraine and then the operation, the little green men that separated Crimea from Ukraine and paved the way for Russian annexation, and then the first attempts to try to foment separatist activities in Ukraine South and East. Yes, this has been going on for a while, not just since February of this year.
This is the real test, Melissa. In essence, what we're seeing now with the Russian invasion of Ukraine is that there are three clocks that are ticking away. One clock is, can Ukraine, with western aid as you know, reverse or make untenable the Russian position in Ukraine to the point where, combined with western sanctions against Russia, Russia can no longer pay the costs for its operations in Ukraine?
The second clock that's ticking is Ukraine's ability to continue to field its military in the field and to dislodge the Russian position, or is there a point at which Ukraine will exhaust itself and will not be able to move forward? The third clock. Ukraine, of course, has benefited from a great deal of aid from the United States and Europe. Europe is now facing the economic shock that is coming from the disruption of its energy and commodities trade with Russia.
The Russian calculation is that, sooner or later, the ability of the West to prop up and sustain the Ukrainian effort will falter. Then if Russia can just simply hold out long enough, they might be able to freeze the conflict on terms that are more advantageous to Russia. What we're seeing now in the first week of the Ukrainian counter-offensive is, which of these clocks is going to tick down first? That will tell us a lot as we move towards the winter as to whether or not Vladimir Putin's gamble of the invasion of Ukraine will have succeeded or whether or not it will have been reversed.
Melissa Harris-Perry: If the hypothesis is that of those clocks that at least two are ticking down in a way that is likely to at least mean that the Russians are not winning the war if not necessarily, meaning that they're losing it, that's the hypothesis. Are there data that might falsify that? Are there data that might suggest, actually, things are going better than the reports, and particularly maybe the reports that we are hearing would indicate?
Nikolas Gvosdev: Some of the factors that we need to look at is from the Russian side who actually is doing the fighting. One reason why the Ukrainians have been so successful in Kharkiv over the last week or so is the Kremlin is still very unwilling to go to a general mobilization of Russia for political reasons, for economic reasons. Most of the fighting that we've seen on the Russian side is being done by militia groups, mercenaries, contract soldiers, not large amounts of regular Russian forces. Russia is stretched thin.
Russia's ability to hold its front is called into question by the manpower question. That's something that we're looking at very carefully. We're looking at losses certainly. We're looking at how many people have been taken prisoner. We're looking at how well-defended a particular area is and what Ukraine has been doing because, certainly, Ukraine is motivated. Ukrainians are motivated to defend their country in an existential way. Whereas so far, while Russian citizens may support or be indifferent about the invasion of Ukraine, there hasn't been, say, a mass flocking to the colors where lots of Russians have been volunteering to go into Ukraine.
That then raises the question, can the Russians sustain the operation with the mix of forces that they have at a time when fighting and war has potentially broken out again in the caucuses between Armenia and Azerbaijan? The Russians are still involved in Syria. The Russians still need to maintain forces in other parts of the country. After all, they have the world's longest land borders. Can they sustain the operation? We've gotten some indications over the past week that this may be proving more difficult for the Kremlin to do. The question is, can the Ukrainians?
Now, the second clock, the Ukrainians have had a week of success, but can they follow up on this either in Kharkiv or, more importantly, in the South, where Ukraine is still dealing with the fact that it doesn't really have guaranteed access to the Black Sea, which is its main way to export its grain and other commodities. That, of course, is taking an economic cost on the country. The second test that we're going to see, perhaps within the next week or so, is, can Ukraine replicate in the South what it has already done in the Kharkiv region?
Melissa Harris-Perry: All right, I want to go to that third clock, this one about the economic conditions of Europe and the capacity of the West to continue to prop up Ukraine. Is it worth it? Is it worth it to Western Europe? Is it worth it to the US to pour billions into the Ukrainian counter-offensive?
Nikolas Gvosdev: Well, that depends on who you speak to. Now, most political leaders and, in fact, most of the polling data across the western world at this point in September suggest that there is a concern that a Russia that is triumphant in Ukraine isn't going to necessarily stop in Ukraine, that this creates insecurity in Europe. For Americans, of course, this is always the secondary question, which is that perhaps the United States itself is not directly threatened but U S allies are and the US position in Europe is threatened.
So far, I think you've seen a willingness of people to support helping Ukraine maintain its independence against the Russian invasion, but where the rubber is going to hit the road is stopping Russia from moving further into Ukraine is one thing. The aid that we've given, and as you said, already up to $13 billion from the United States so far, has been largely successful. Reversing the Russian position in Ukraine is going to be a lot more expensive.
Already this week, the Ukrainian defense ministry has issued a new request saying, "We don't have the armored vehicles and other equipment that we would need to exploit further breakthroughs should we be able to dislodge the Russians and other places," so yet another request for more equipment. The question will be as we move into the winter, as the bite of the energy crisis and the food crisis, the commodities crisis begin to hit, particularly in Europe. When we start throwing around these numbers, European governments are committing large resources for the winter to help prop up their domestic energy costs.
We may see some pushback at some point to say, "We've helped Ukraine as much as we can, but we can't spare more." I think, again, this is part of the Russian calculation that perhaps if they can just hold on long enough, they might be able to force a restarting of negotiations from a position where Ukraine would still be expected to give concessions. In this regard, Germany becomes the critical actor to watch in what the German government begins to say in the coming months, both about aiding Ukraine, but also whether or not it's time to start a diplomatic process that might leave Russia with some of the gains that it has achieved since February.
Melissa Harris-Perry: If Russia is not going to succeed in this effort even if that doesn't quite constitute losing, with what you know about Vladimir Putin, does feeling as though he's losing or being backed into this kind of corner create more safety in the world or does it make the world somewhat less safe?
Nikolas Gvosdev: It's a tough question because, on the one hand, Vladimir Putin has shown that he is committed to changing the rules of the game and the structure of the international order. Invasion of Ukraine was linked to, essentially, a 15-year or so move by his government to essentially say, "We want to relitigate the end of the Cold War." That has been a problem and it remains a problem.
On the other hand, Russia is the second nuclear superpower. We've always been concerned about not only a strong Russia and if Russia is strong and aggressive, that's a problem, but a Russia that is weak and collapsing is also potentially a problem starting with the nuclear question. I think that threading this needle is, how do you push back on the Russian aggression of Ukraine?
How do you impose costs for these types of activities but, at the same time, avoiding risk, either of a collapse in Russia or of a Russia that feels it has nothing to lose if the war shifts to where Ukraine carries battle inside Russia proper? Is there a point at which Russia says, "We can't stop this or deal with this conventionally, so maybe we would like to think about using a tactical nuclear weapon," which then changes the name of the game?
I think, again, the Biden-Harris administration has been very careful in trying to balance these different imperatives. On the one hand, pushing back against Russian aggression. On the other hand, not pushing the situation in a direction either towards greater escalation or towards where there would be a problem certainly with Russia's nuclear forces. It's a difficult balance and it's one that is difficult to armchair quarterback, so to speak, but it's something that I think the administration is acutely aware of.
Melissa Harris-Perry: This is on a very different topic. Before we go, I did want to ask you about the Brittney Griner situation. She was sentenced recently to nine years in prison in Russia. Do you think that there's any hope through negotiations or diplomacy to bring her home?
Nikolas Gvosdev: I was hopeful in July and I'm less hopeful now. Part of the problem is I think that she is being sacrificed on the altar of geopolitics because it is not something that is now being handled publicly at the highest diplomatic levels. The fact that it's Bill Richardson in a private capacity, who's over in Moscow now who's trying to see what can be done, which has shades of what we had to do with North Korea at various points when there were Americans being held in the past that you have attitude as far as I can see that its people in official positions say it's riskier to engage in direct talks with the Russians on this for fear of having to make concessions.
Not talking to them is always going to be a safer aspect or having these third-party intermediaries try to handle this. It's clear that from the Russian side that there's no inclinations to want to do any favors, particularly on humanitarian grounds, or to say, "Look, for the sake of goodwill, we will commute the sentence or we will simply just expel her from the country," as we used to see in the past when some of these things would happen. I think that barring some dramatic shift where either the Russians feel that they need to release her because they are waiting for something else, sanctions relief, or something along those lines, I think she is going to remain upon in this. I think that it's not going to necessarily be as much of a priority for the US government to get her out.
Melissa Harris-Perry: Nikolas Gvosdev is professor of national security affairs at the Naval War College and editor of Orbis. Nick, thanks so much for your time today.
Nikolas Gvosdev: Thank you.
Copyright © 2022 New York Public Radio. All rights reserved. Visit our website terms of use at www.wnyc.org for further information.
New York Public Radio transcripts are created on a rush deadline, often by contractors. This text may not be in its final form and may be updated or revised in the future. Accuracy and availability may vary. The authoritative record of New York Public Radio's programming is the audio record.