Farmers Markets Build Community Across the U.S.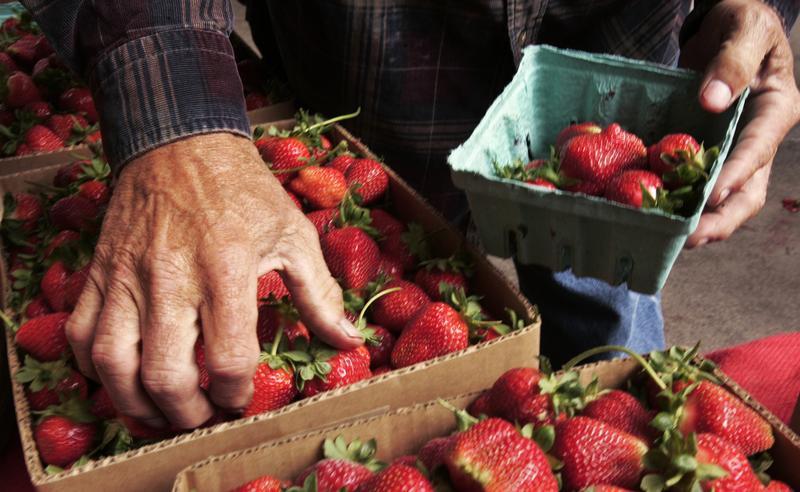 Transcript
Melissa Harris-Perry: You're listening to The Takeaway. I'm Melissa Harris-Perry. We're living in a time of extreme weather. Drought and wildfires are raging in the Western United States. Floods recently devastated communities in Europe and China and punishing heat waves have claimed hundreds of lives in recent months. These weather changes were recently confirmed in a sobering new report on our planet's future from the UN intergovernmental panel on climate change or the IPCC.
The landmark study found that human behavior is changing the climate in unprecedented and sometimes irreversible ways. According to the UN, the report is "a code red for humanity", but there is some hope. Scientists say climate catastrophe can be avoided if we act collectively and quickly. We need to do this in both big ways, yes, I'm looking at you corporations in the Biden administration, and also in small ways. For those of us without the keys to industry or public policy, one way we can mitigate our own contribution to climate change is by supporting our local farmers' market.
Farmers' markets have become staples in cities and towns all across the US. They're places where you can not only buy locally grown fruits and vegetables, but also connect with your wider community. The cobblestone farmers' market just a few blocks from my home in Winston-Salem North Carolina has long been a staple of my weekend mornings. During the pandemic, it became an open-air lifeline for food, for safely distanced neighborhood check-ins, and for a walkable weekly destination to soothe quarantine cabin fever. For more on the importance of farmers' markets, we're joined now by Willa Sheikh, deputy director of the Farmers' Market Coalition. Willa, it is so great to have you here.
Willa Sheikh: Thank you so much.
Melissa Harris-Perry: Let's start with the relationship between climate change and farmers' markets that I talked a little bit about in the intro. What do farmers' markets have to do with mitigating climate change?
Willa Sheikh: Such a great question. So many research papers indicate that by facilitating farmer-to-consumer interactions, farmers' markets shift both purchasing habits of consumers and the growing practices of farmers, which eventually leads to the adoption of more sustainable practices. 81% of direct marketing farmers incorporate cover crops, reduced tillage, onsite composting, and other soil health benefits and practices to their operations. Farmers selling at farmers' markets minimize the amount of waste and pollution they create. Many use certified organic practices, reducing the amount of synthetic pesticides and chemicals that pollute our soil and water.
A growing number are also adopting other low-impact practices such as onsite composting that help mitigate climate change and other environmental issues. We know that farmers' markets are actively contributing to the climate crisis every single day.
Melissa Harris-Perry: It was so useful for me to learn really from my local farmers' market, from cobblestone, that relative to the question of climate change, that actually buying local was more impactful even than buying organic. It's not to say that organic doesn't matter. It absolutely does, but that as a consumer, I was actually maybe doing my very best work when I walked somewhere and bought something that had not traveled on an airplane to get to me.
Willa Sheikh: Absolutely. We know that farmers' markets play a critical role in developing local and regional food systems that foster free enterprise and ethically grounded economic behavior. Markets are a great way to support the economic viability of the producers who want to operate outside of the industrial food system. We know that they help grow rural economies.
I think that understanding the context of food democracy is really useful in understanding these influences because food democracy is the idea that all people, all of us, can actively participate in shaping our food system rather than, I guess, remaining passive that we have the power to determine Agrofood policies and practices that support our natural resources like soil and water and wildlife. Many farmers have a deep desire to shift our food system in this way. Buying local is very, very important. You're providing economic opportunities for the grower and you're contributing to a resilient food system definitely.
Melissa Harris-Perry: What do you say to the critique that farmers' markets are just white people stuff, that Black and brown people don't have any opportunities to make use of farmers' markets as consumers, that they're too expensive, that they're outside of our communities?
Willa Sheikh: I think that there are some farmers' markets that don't feel inclusive when you first walk in. However, there are many farmers' markets that provide an opportunity for all communities to build a relationship with their grower, to go in and ask questions, and over time help with influencing habit change. Farmers' markets also provide accessibility and inclusivity because many offer electronic benefits transfer technology that can be used by recipients of the USDA's supplemental nutrition assistance programs. This includes low-income women, infants, children, and seniors participating in the WIC and seniors' farmers' market nutrition programs to get fresh and seasonal ingredients.
There are many markets that cater to the culture surrounding their communities. I say that yes, sometimes it feels like they might not be inclusive or accessible, but they're working really hard to incorporate everyone into the mission of being a positive equity-focused-- a space that's centered on equity.
Melissa Harris-Perry: Willa, our listeners have been calling and telling us just how important farmers' markets are to them. Let's hear a few.
Carly Hill: This is Carly Hill from Silver Lake, California. I just wanted to say that farmers' markets are a way to learn about your community through food. I go to the Hollywood farmers' market weekly and love seeing seasonal ingredients and the culture of my city. The fact that I get to meet the people who grow our food brings me closer to my city and the beautiful state of California.
Elizabeth Laurens: This is Elizabeth Laurens. I'm calling from Menlo Park, California. My daughter and I go to two local farmers' markets and have gotten to know the growers and hear their stories. We love the feeling of receiving food or honey or peaches from those who watered and cared for and picked it. Last year, we got to experience growers who were literally in smoke dealing with the coastal fire near the Santa Cruz mountains, trying to salvage their strawberries. Another time, we talked to the man who makes his own spicy olives and mixes them up for my daughter.
Liz Wilson: This is Liz Wilson from Doylestown. I look forward to visiting the farmers' market all winter long. Cooking clean, fresh, local, and in season is a joy and supporting small farmers and local economies benefits us all. It's a win-win-win.
Melissa Harris-Perry: Willa, you just heard there from some of our listeners about how they think about farmers' markets in their lives. I think part of what's interesting to me is they're not just talking about food, but also about community. How is it that farmers' markets operate in that way?
Willa Sheikh: Farmers' markets provide an opportunity for you to directly connect with your food source, to ask questions to your grower, to connect with your community, simply walking around and seeing what's available and sharing stories and sharing questions and asking each other just what's happening in your community. It serves as a cultural hub for people to come together, for everyone to come together and share and celebrate what their communities have to offer.
Melissa Harris-Perry: I was struck also by hearing the caller talk about speaking directly with a farmer who was managing, in that sense, weather catastrophe likely connected to climate crisis itself. On the one hand I'm thinking, okay, right, I actually would be less annoyed by paying more for strawberries if I'm actually talking with someone who's explaining to me how their strawberries are endangered by a fire that I understand locally. I'm also wondering about how this climate changes that we first began with, this extreme weather, how is it impacting farmers' markets and the farmers who sell there?
Willa Sheikh: At the beginning of the pandemic, we saw so many supply chain struggles. I think that farmers did an amazing job in adapting quickly to all the changes that were happening during COVID and also environmental changes that continued to occur by providing charitable food donations, creating distribution points, some even created online markets and of course, adapting to the public health requirements. I think that farmers' markets and farmers continue to just show how resilient they are and will continue to be resilient.
Melissa Harris-Perry: It feels to me like the word farmer in some ways is something we don't completely understand. On the one hand, farmers are the landowners who actually own the deed to the property that they are farming, but often farmers-- what we think of as farmers are the farmworkers. Folks who are often themselves have nutritional challenges. We know that many farmworkers do rely on those supplemental nutritional dollars from the federal government and other needs, which is wild to me. That the very people who are feeding us sometimes can't feed themselves.
How are Farmers' Markets engaged in that broader question of farm labor, as we were talking about with equity and food democracy? How do farmers' markets either help or in any way connect to those big questions?
Willa Sheikh: Of course, farmers' markets fuel local economies. 53% of farmers' market managers that responded to a 2020 USDA and a SS market manager survey said that they were paid employees. We know that many farmers' markets are directly employing their market managers and some are providing opportunities for incentive programs for them to directly purchase from the farm, because they are practicing sustainable practices, they think that farmers care about the way that their food is grown. They care about making ethical choices around the way that the growers are taking care of making sure that they're making a fair, livable wage, making sure that they have health benefits and can take care of their families and themselves.
So I definitely think that farmers' markets and farmers are contributing to creating a more equitable market for everyone to benefit from.
Melissa Harris-Perry: There is no doubt that I absolutely dislike taking my kid to the grocery store. I hate the ways that kids' food is marketed down low at kid height, I hate those aisles at the very end that's got every $4 thing that you can buy as you're checking out. I'd rather never take her to a grocery store, but farmers' markets, let's do it. Right on the weekend, let's go. I'm wondering also about kids and about schools and the ways that farmers' markets might be partnering with young people in everything from future farmers of America to just parents who want to avoid the grocery store aisles.
Willa Sheikh: I think that there are so many things that you can see at your local food markets besides food. Some offer opportunities for cooking demonstrations, live music for communities to connect with each other, composting, arts and craft. I think that these markets are so rooted in community. There are so many collaborations and innovations for problem-solving and learning and for everyone in the family to come and join and see and partake in exactly what's going on. Unlike going to the grocery store where you, sometimes, at least for myself, have to mentally prepare myself to do this-
[laughter]
Willa Sheikh: -going to a market is fun, it's engaging. It's a great way to participate in experimental learning. It's a great way to get your kids involved in the shopping portion. It's a great way for your kids to talk to the producers. Everything is tangible, everything is direct influence. It feels more real in a lot of ways. To me, it feels like a community space.
Melissa Harris-Perry: Absolutely, and even though during the pandemic Cobblestone did change the rules as they had to as a necessity, we can't bring our dogs anymore, but it often was also a place where I got to know all the pets in the neighborhood. Willa Sheikh is the deputy director of the Farmers Market coalition. Willa, thanks so much for joining us.
Willa Sheikh: Thank you so much for having me on. I really appreciate it
[00:14:47] [END OF AUDIO]
Copyright © 2021 New York Public Radio. All rights reserved. Visit our website terms of use at www.wnyc.org for further information.
New York Public Radio transcripts are created on a rush deadline, often by contractors. This text may not be in its final form and may be updated or revised in the future. Accuracy and availability may vary. The authoritative record of New York Public Radio's programming is the audio record.