What Does Right-Wing Extremism Look Like Post-Trump?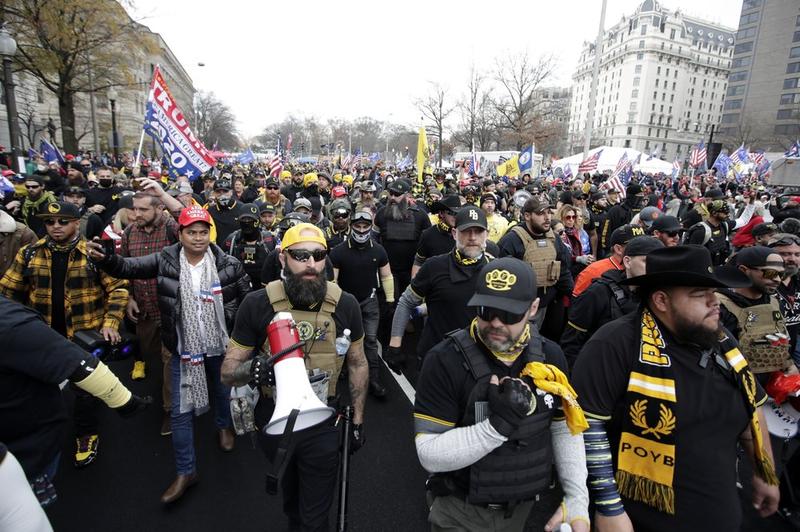 Transcript
[music]
Tanzina Vega: Last Saturday far-right demonstrators, some of them armed and wearing bulletproof vests protested the results of the presidential election in Washington DC and in state capitals around the country.
[protest]
They burned Black Lives Matter banners from two historic black churches in Washington DC. And some of the protesters also incited violence for people in DC were stabbed and one person was shot in Washington State. These instances are just some of the latest in the intensifying rise of right-wing violence in the United States. Just this week, a Republican mayor in Kansas resigned after receiving death threats for putting forward a mask mandate. Throughout his presidency, Donald Trump has wavered between outright disavowal and support of these groups, but this statement at the first presidential debate was a direct appeal to a group called the Proud Boys, one of the protesters in DC over the weekend.
President Donald Trump: Stand back and stand by but I'll tell you what, I'll tell you what, somebody's got to do something about Antifa and the left.
Tanzina: Just this week, a social media account for the Proud Boys claimed "there's been a proud boy at the White House for four years." Now as President Trump's administration nears its end, these violent groups show no signs of slowing down when President-Elect Biden takes office. I'm Tanzina Vega and the rise of right-wing violence after the election and its future is where we start today on The Takeaway. For more, I'm joined by Heidi Beirich, co-founder of the Global Project Against Hate and Extremism. Heidi, welcome back to the takeaway.
Heidi Beirich: Thanks for having me.
Tanzina: Ryan Devereaux, is a Staff Investigative Reporter at The Intercept covering Homeland Security. Ryan, welcome to the show.
Ryan Devereaux: Thank you for having me.
Tanzina: Heidi, we're calling these groups far right. What are we-- I mean, how should we be defining these groups? Who are we talking about when we talk about far-right extremist groups?
Heidi: Well, this has been an agglomeration of groups, for example, from armed militias, as well as out now white supremacist, and then at times, supporters for Trump that may not align with those same views. There's a mix when you talk about, for example, the Proud Boys they're anti-immigrant, anti-Islam, misogynistic, often have white nationalists in their ranks. This is a whole host of all different kinds of extremism. I think far right is the fairest term to apply.
Tanzina: Ryan, you have reported on one of the groups that we're looking at today, the Proud Boys in Portland, what are their protests like? We should note here that one of their leaders is not white. I think that's something that requires a little bit of examination. Ryan, tell us about them.
Ryan: Yes, as Heidi mentioned, the Proud Boys are a group that exists among a larger ecosystem of far-right groups. I attended a rally that they held in Portland, which has been a repeated site of a lot of their violent attacks on the city for several years now. That particular protest late September was held as a demonstration, they build it on countering domestic terrorism. The way in which this group in particular couches their politics is that they see themselves as an auxiliary of the state.
In a city like Portland, which had become the site of so much political contention over the protests, they're following the killing of George Floyd. Their argument was that they were there to support the police who were either unwilling or unable to do their jobs because of the leftist Democrats that were controlling the city. They held this rally, which turned out to be a bit of a flop, where they gathered basically in a muddy field and drink hard seltzers and chanted about Antifa and walked around carrying their guns and their tactical gear.
Thankfully, for the City of Portland, it didn't devolve into violence, but that has been the state of affairs in that city for several years now under Donald Trump, probably when he's coming to town, mixing about in a city confronted by anti-fascist violence ensues. I think in terms of their leader, Enrique Tarrio, a gentleman who you mentioned not being white, he's Cuban, and he is from Florida.
He was there at the protest, discussing his politics with reporters. Something that he mentioned that comes up a lot with the Proud Boys is that is a couple of political cores, which is anti-leftism, and they really rally around being anti-leftists. They were these patches with the letters RWDS, which stands for Right-Wing Death Squads. Some of them have that tattooed on their bodies. They see themselves as an extension of that history, which is I think frankly, quite chilling. The other core that they rally around is guns. Guns are central to these guys, huge part of their movement, and idea that the Second Amendment is under attack really comes up in a lot of their rhetoric.
Tanzina: Heidi, everything that Ryan just laid out there, and particularly the RWDS, the Right Wing Death Squad, connection is pretty terrifying in terms of who is deputized these folks who are largely men, largely white men, to see themselves as a self-appointed militia, who's really given these groups, the idea that they have the right to roam the streets indiscriminately with guns, pointing them any which way they please?
Heidi: Well, I mean, look, we have to lay a lot of the blame here at the feet of President Trump. You played a clip earlier of Trump speaking directly to to the Proud Boys in one of the debates, and also talking about how somebody needs to do something about Antifa. Well, as Ryan just explained, the Proud Boys and similar groups view Antifa as their enemies, the main group of people that they need to confront a lot of the activities we saw in DC at the Proud Boys rally, which also involved other folks was about a bunch of chanting against Antifa and against the left, and that Right Wing Death Squad idea goes right to the heart of that.
We have now suffered for years of a president who has encouraged, retweeted supported everything from QAnon conspiracy folks to Right Wing extremists. That's what's really ginned this movement up and made it much larger, better organized, more street-savvy than it was four years ago. This is a really unfortunate legacy one of the worst legacies of this particular administration.
Tanzina: Heidi, are we actually seeing a rise in I don't know, I would loosely say membership here, or affiliation with groups like this, or is it just that these groups have become more public?
Heidi: Yes, well, I think both things have happened. I think there's a lot more supporters, especially when you start looking in the online space, and you can actually count the individuals involved in different networks and forums. There's also been a rise according to the Southern Poverty Law Center of about 50%, the number of white nationalist groups between 2018 and 2019, I'm sure that's going to continue to go up. These are real-world effects, but they're also more public. They're more on the streets than they were four years ago. These two things are happening at the same time.
Tanzina: Ryan, a lot of people, obviously, it's no surprise that this country is polarized politically right now. How much of that is connected to the radicalization of largely white men in these groups?
Ryan: I think it's intimately connected to the rise of these groups. I think that beyond the membership in organizations like the Proud Boys, I think there's a broader cultural problem with young men in general, finding themselves feeling alienated, angry, full of grievances, and building communities in online spaces, or diving into algorithm fueled rabbit holes online, that just further fuel their perception of persecution, vast conspiracies arrayed against them and political correctness that is challenging them or making them feel as though they are attacked, and they dig in deeper and deeper in these worlds.
The results can be really dangerous for them and for the rest of society and communities. You add into that mix two decades of endless war in this country, really intense, and entrenched gun culture, and you have an extremely volatile mix.
Tanzina: Heidi, I want to talk about the use of the word radicalized is something that we heard many years ago when we-- At least politicians would use this term to talk about Muslim-Americans and Muslims from abroad and make that connection to terrorism. Now, we don't tend to hear that word used as directly with white militias and white Americans who themselves are becoming radicalized by these conspiracy theories and ideologies, whether it's the media or politicians. Why is that?
Heidi: Well, there has been a reluctance to look at white supremacy, and being radicalized into white supremacy as a serious a threat as people getting sucked into Islamic extremist movements. I think that's starting to shift now, but really in the air since 911 all the way through the Obama administration. This was not something we talked about. The facts now are there are more domestic terrorist attacks by white supremacist in this country than by, for example, ISIS supporters.
This is no longer something you can turn away from and in the last year, DHS, FBI, the State Department, they've all issued reports of some sort or another saying that white supremacy is the main place to look for our future terrorism problems. We got to look this right in the face. We can't act like our backyard isn't what's fueling the El Paso attack, the Tree of Life attack and so on, but that reluctance to deal with this issue for so long has left our national institutions a little hamstrung with dealing with this particular threat.
Tanzina: Ryan, you work on this. This is your beat. What are your thoughts on that, on the use of words like radicalized and other parallels, really, to domestic terror? Should the media in your opinion and politicians, in particular, be much more direct about what we're talking about here?
Ryan: Yes, I do think the media and politicians should be more direct in what we're talking about here. It gets quite complicated when we start talking about terrorism and how we talk about terrorism in this country, coming nearly two decades out from September 11th. The Obama administration spent a lot of time covering the manifestations of the war on terror at home and how it was directed at Muslim communities and the incredible power that our federal law enforcement investigative agencies have in the realm of counterterrorism and how that was wielded against communities of color, particularly Muslim and immigrant communities.
It's a little unnerving sometimes when we talk about domestic terrorism in the context of Trump, you'll hear arguments that the government doesn't have the tools that it needs, that it needs more authorities and power to do these sorts of investigations when the problem seems has not been a lack of authorities and powers. I do think that language matters a lot here and the road that I was going down is-- The argument I was making is that in the case of what we tend to call domestic terrorism in the United States when we're referring to far-right groups, at times this argument crops up that the authorities don't have the powers that they need to target these groups, when in fact, they have extensive powers.
The problem that we've seen historically has been a will to use those powers against groups on the right and that could be shifting a bit now, but I do believe that there's a lot of work to be done and it doesn't necessarily and perhaps should not involve expanding the powers of the investigative agencies because the expansion of those powers historically has led to them being used against Muslim communities, communities of color, immigrant communities. What we need is a change in will to target the groups on the far right.
Tanzina: How are your thoughts on that because part of the struggle, I think, in terms of finding these groups and rooting them out is also sometimes the connection between right wing extremists and law enforcement itself.
Heidi: Yes. I generally agree with everything Ryan said there. I think that the authority that federal law enforcement has to deal with these issues is there. It's a matter of willpower, a wish to look at these things and I don't think, for example, the idea of a new domestic terrorism statute is a good idea for exactly the reasons Ryan said. We tend to see these things boomerang back and actually harm communities of color, violate civil rights.
Now, that said, I think there are things that need to be done, for example, extremists have to be rooted out of the military, we have to take a look at what is happening in law enforcement agencies and who they're allowing to serve as police officers and perhaps change some of that. We need to look at hate crimes and what is being done on that front, how are we collecting the data? How serious are hate crimes taken? In other words, there are a whole host of measures that can be used to solve or at least attempt to solve the problem of white supremacy in this country and its connection to violence.
Tanzina: We have a new presidential administration coming in Heidi and I think a lot of folks are thinking, "Well, we'll just turn the page from the past four years and go into a new chapter of American culture and history." Frankly, I suspect that Pandora's box has been opened by the Trump administration when it comes to a lot of these far-right groups and I don't think it's going to be easy to close it regardless of whether or not Joe Biden is president. Your thoughts and Ryan, I'd love to hear from you as well on what happens next.
Heidi: I think what you're saying is exactly right. These groups are now emboldened, larger, organized. The internet has provided a huge area to radicalize more people into these ideas. The President's rhetoric about the election being stolen or being a fraud has been very, very ginned up, we're hearing talk about civil war. I'm very worried about what January 20th is going to mean as a flashpoint. These people aren't going to go away. They're going to be here all through the Biden administration and they're going to be a problem. At least we won't have a president who is directly speaking to them and riling them up, but these formations and forces aren't going to disappear.
Tanzina: Ryan, we've open Pandora's box. Where does the federal government go from here? Where do Americans go from here with this?
Ryan: Yes, I completely agree with everything Heidi has said and yes, in a sense, Pandora's box was opened with Trump's inauguration in 2017, but I think it's also important to look back to the inauguration nearly a decade before Barack Obama and understand that the forces that we're talking about right now and the movement that we're talking about right now preceded Donald Trump. Donald Trump largely rode in on a thing that was there before him and percolating before him in the face of the election of the first Black president, there was an uptick in organizing activism in these faces.
The Department of Homeland Security, its top analyst researching these issues warned about this at the time, warned that there are groups mobilizing issues like immigration are bringing them together, they're recruiting in the military and really, you can go back even before the Obama administration, there have been these waves, these moments in history often associated with wars abroad, they come boomeranging back domestically into this country and it's that sort of feedback loop of militarism abroad that really helps to drive the militarism that we see at home. This problem is just so much deeper and so much more entrenched than the administration of Donald Trump being or not being in power.
Tanzina: Gabriel Sterling, the Georgia Secretary of State, a couple of weeks ago made some pretty passionate appeals in the Georgia State House to stop this, stop threats, and stop the radicalization.
Gabriel Sterling: It's all gone too far. All of it. Joe DiGenova today asked for Chris Krebs, a patriot who ran CISA to be shot.
Tanzina: Is it too late for the GOP in particular or people like Sterling to say things right now? Is it too little too late?
Heidi: It's unfortunate that the people in the GOP didn't take a harder stand beforehand. What Sterling said is somebody is going to get shot and unfortunately, I think that's right. They've unleashed something by discrediting this election that is going to be with us for a long time. They've also ginned up conspiracy people like the QAnon folks, who are actually involved in a lot of the targeting of poll workers and people who work on voting machines here in Georgia. At this point, 50% of Republicans think that QAnon is a good thing for the country. Those forces are not going away.
Tanzina: I've seen people, Heidi, who I've known for many, many, many, many years who are now-- I've heard from friends and acquaintances about the concerns about QAnon. How is it that this conspiracy theory has been able to penetrate so many people's lives?
Heidi: It's a bizarre development because it's a ridiculous conspiracy theory about child sex trafficking by Democrats. It's absurd, but it has gained the kind of level of an attachment that it has because Trump has tweeted out QAnon material repeatedly, people in the larger MAGA Movement have pushed these ideas. We have a Congresswoman Marjorie Taylor Greene here in Georgia who was just elected and who has worked with QAnon.
This has been an orchestrated effort by conservatives up to and including the President to push these ideas build their movement. As a result of that, they gave these crazy ideas sanction. This is a movement that the FBI says is terror-inducing. That's the kind of ugliness we've seen out of the GOP. We're going to build our base even with a movement that has a deep connection to violence. Now, the Republicans have an entrenched constituency of QANoners in their base, and the rest of us have to deal with the fact that this stuff has been highlighted and people have been radicalized into it.
Tanzina: I don't know where the party goes from here, but according to Parlor a couple of weeks ago, they were saying, "Down with the GOP." Has this arm of the Republican support body, will it untimely break off into its own thing?
Heidi: I think there's going to be a bit of a war over control of what the GOP is going to be. Is it a Trump right nationalist conspiracy-laden xenophobic entity? Or is it something like never Trumpers want? Going back to the old vision of low taxes, smaller government. This is a big question and it's important for the country because we don't want a political party that's motivated by extremist forces in this country. That would be a disaster. I guess we'll just have to see how it plays out.
Tanzina: Heidi Beirichi, is the co-founder of the Global Project Against Hate and Extremism, and Ryan Devereaux is a Staff Investigative Reporter at The Intercept covering homeland security. Thanks to you both for being with us.
Heidi: Thank you.
Ryan: Thank you.
Copyright © 2020 New York Public Radio. All rights reserved. Visit our website terms of use at www.wnyc.org for further information.
New York Public Radio transcripts are created on a rush deadline, often by contractors. This text may not be in its final form and may be updated or revised in the future. Accuracy and availability may vary. The authoritative record of New York Public Radio's programming is the audio record.