Is Rest Possible for Black Bodies Past Death?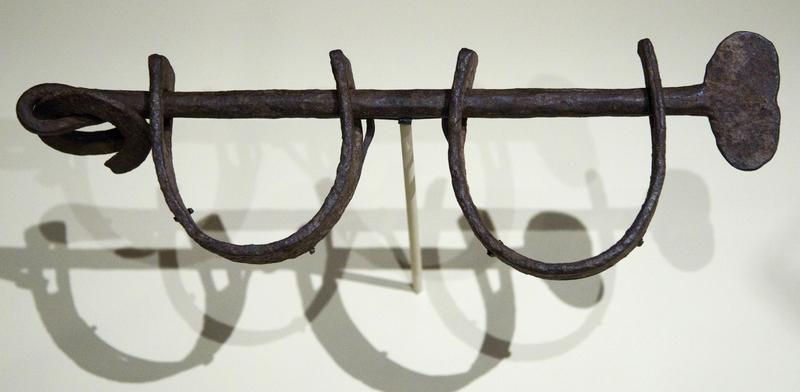 Transcript
Melissa Harris-Perry: I'm Melissa Harris-Perry. This is The Takeaway. In 1850, a Harvard professor commissioned photographs of enslaved Black people. He sought to use photography, a cutting-edge technology at the time to gather evidence for his scientific theory. It was a theory claiming Black and white people were descended from different origins. You see, he believed the measurements and features of Black faces and bodies indicated they were not the same kind of humans, that white people were. In short, this hard Harvard professor was collecting photographs of Black people to support the righteousness of intergenerational child bondage.
In 2019, Tamara Lanier discovered that her ancestors were two of the enslaved Black people who were forced to submit to these photographs. The images of her ancestors, initially collected by this racist professor, were still owned and used by Harvard University. She asked Harvard to grant her control of the images. The university said no. In the dark underside of representations of slavery, a recent piece for the Atlantic, journalist Latria Graham writes about Tamara's ongoing legal action against Harvard and reflects on its connection to a larger struggle for Black autonomy. She asks, "Are Black people ever afforded the opportunity to rest in peace?"
Latria Graham: Back in 2010, after her mother passed, she wanted to get a better picture of her genealogy. She spoke with a couple of acquaintances and started pulling together what she knew of her ancestry. A colleague helped her find this photo of a man named Renty. She'd been told about stories about Renty since she was child and found this photo and they were able to trace it back to Harvard's archives. She found out that photos of her ancestors resided within this institution.
Melissa Harris-Perry: Okay. How is it that Harvard ended up with pictures of tomorrow was basically great, great-grandma, and grandpa?
Latria Graham: There was a professor and scientist at Harvard in the 1800s. His name was Louis Agassiz. He was well known as a scientist and zoologist. He commissioned these photos from Joseph T. Zealy, who was a photographer, [unintelligible 00:02:45] studio in Columbia, South Carolina, in order to try to prove some scientific theories that he was working on.
Melissa Harris-Perry: We should probably put scientific in quotes if you can see them.
Latria Graham: Right. We now call it pseudoscience but at the time he believed there was, this theory just like we have evolution, he believed in something called polygenism which was the idea that Black people were created as a separate race from white people. Those theories in that pseudoscience became the foundation of, how do we say this, a justification for slavery and some of the things that were eventually perpetuated to Black people.
Melissa Harris-Perry: Latria explains the details of the inhumanity Renty, Delia, and other enslaved Black people endured during this process.
Latria Graham: In order to prove this theory, he was taking a lot of measurements of heads and things like this. He had several enslaved people. He was very interested in enslaved people from Africa. He had their heads measured. He had them stripped naked and took-- This photographer took photos from multiple sides of their bodies in order to describe them differently from white people like him.
Melissa Harris-Perry: Perhaps even worse is what happened after the images were created.
Latria Graham: They go into a drawer after that and someone rediscovers them again about 50 years ago. Then they start grappling with what these photos mean, what to do with these photos. They go into the archives where you have to sign documents in order to look at them.
Melissa Harris-Perry: The defiance and non-consent in the faces of these enslaved people is clearly visible. Returning their images to a direct descendant seems like at least one way to set right this wrong that was committed, but Harvard has declined to do so.
Latria Graham: There's a certain and amount of prestige to these photos that I don't think that we can ignore. These are some of the first images of enslaved people that we know of, that exist in Harvard being a school that has cache, I went to an [unintelligible 00:05:16], I understand prestige and cache. That means something to them. There is a great reluctance to let them go also, perhaps because they believe that they can store them better than other institutions and things like that but that's not what happened.
Harvard says, in some ways, that these photos reside in our collection, you don't have any right or any interest to these photos and thus, she decided to put together a lawsuit hoping to have some agency over the photos. I think it's important to note, it's not like she wants to take these photos of Renty and Delia home and sit them on the mantle, she wants them to go to another institution, preferably in, my conversation with her, a Black institution that she believes can be a better steward of this legacy and history and find a way of separating it from the white supremacy that is the foundation of some of these institutions like Harvard.
Melissa Harris-Perry: I asked Latria whether or not Harvard University is profiting from the licensing of these images.
Latria Graham: In her lawsuit, Lanier alleges that they are profiting off of the [unintelligible 00:06:33] of Renty and Delia and that, in some ways, because their images are trotted out to be put on the front of conference pamphlets and they're put on the front of books, that her ancestors are still working. We don't know if Harvard declined to comment on some of the questions that I asked about the policy around licensing and the photos pre-2010 when this case starts to ramp up and come to light. We don't have an answer about whether or not they were profiting off of these photos, but there is, again, this prestige and cache conversation that we have about them having these photos.
Melissa Harris-Perry: I get the sense that this case for Tamara Lanier is about more than money.
Latria Graham: When I spoke to her, the conversation in many ways was about reparation and finding a way to make peace with a terrible thing, a predatory thing that had happened to her family because if it was simply about dollars and cents, there were ways that this could have been handled. It seems to be mostly about actual control over the images.
Melissa Harris-Perry: Control autonomy. Those are interesting concepts. When you look at what's been taken from Black people without consent in the United States. Just take the case of Henrietta Lacks. She's a Black woman who scientists took cells from her body, and those cells, over the years, have led to major medical breakthroughs but none of the prophets from those achievements have come back to her descendants or even to her broader geographic and racial community. It all made me wonder whether Latria was surprised by Tamara Lanier's story.
Latria Graham: This is just one case in a series of examples of times that Black people have been exploited and that attributes or assets that they had are still working for a larger, mostly white-centric community. There are a couple of different examples like that. This is just one case.
Melissa Harris-Perry: If the Black body is constantly doing work well past death, how does it ever rest? Especially in an age of digital anxiety when so many things like images are very easily manipulated.
Latria Graham: It's a little horrifying to think about. There's a lot of digital anxiety, at least on my part, in thinking about this, because it's not too far to think about the Whitney Houston Hologram, that's going to start performing, the Tupac Hologram. People were really freaked out about the Anthony Bourdain voice technology is moving so much faster than we can. We're already seeing instances of this, in some ways, with my heritage's deep nostalgia technology, where you're able to take photos of people and make them move, whether it's from the side, their eyes moved from side to side, or you feel like you have some connection.
Technology is being used as a tool to try to keep people around in some ways or forge some emotional connection, through movement, through performance, things like that and right now, there's no legislation or anything that really gives the Black body rest. It's horrifying to think of, as a creative, in some ways, the only thing that I can hope is that I leave behind enough portraits and enough audio and video that maybe people don't try to resurrect me in some ways, or that I'm not being called on to perform or become an emblem for a movement or a moment beyond the one that I'm living in.
Melissa Harris-Perry: Creation should be a joyful process. What we make in this world should live beyond ourselves, but this is difficult to accomplish when there isn't consent to create or willingness to leave these things to the world.
Latria Graham: In this piece, I talk about Renty and Delia and their lack of consent, and on the other hand, I talk about Sojourner Truth and Frederick Douglas and how they use their images as formerly enslaved people that then emancipate themselves in order to move things forward. The difference is there is very much is consent. They are choosing how they want to be seen.
Gender truth used to sell small portraits of her in order to fund some of her abolition lectures and her tours and that is a decision that she made whereas someone that has decided to create a portrait or a painting of someone that was a victim of police brutality and then sell it and keep the money or gain notoriety and fame. Again, nothing is going back to that family or those descendants, nothing is changing for the immediate family members of these people, the folks that are the closest to the trauma and the terror in many cases.
Melissa Harris-Perry: For me, I actually think some public figures are larger than the control of just their genetic family and descendants. Many of us feel like we have a stake in the legacies of our larger ancestors Sojourner Truth, Harriet Tubman, Martin Luther King Jr, or Frederick Douglas. I asked Latria about Harvard's argument for keeping these images and whether it's centered around this story of going beyond genetic descendants.
Latria Graham: They have allowed historians to start talking about what they believe the lives of Renty and Delia. Again, these are only two of a number of enslaved people that were photographed by Zealy. It's just that this particular dissident has come forward. In some ways, it does open up Pandora's box, if this descendant claims the rights or believes they have a right to these photographs, what if the sentence for these other photographs come forward, and in some ways, possibly depletes a collection.
Again, they may see themselves as a steward or trying to make recompense in their own way. I know that Harvard is doing some of that soul searching that the rest of America is doing. I think it will take time. It will take a number of years for all of this to be untangled.
Melissa Harris-Perry: Pandora gets a bad rap. Sometimes you got to open up the messy stuff in order to get to the truth and I feel like in so many ways, that is what your piece did, journalists, Latricia, Graham, thank you for joining us and bringing us some hard questions.
Latria Graham: Thank you. Those questions were hard for me too. [laughs]
[music]
Copyright © 2021 New York Public Radio. All rights reserved. Visit our website terms of use at www.wnyc.org for further information.
New York Public Radio transcripts are created on a rush deadline, often by contractors. This text may not be in its final form and may be updated or revised in the future. Accuracy and availability may vary. The authoritative record of New York Public Radio's programming is the audio record.