Responses to DaBaby's Homophobic Remarks Show Push and Pull of Progress in Hip Hop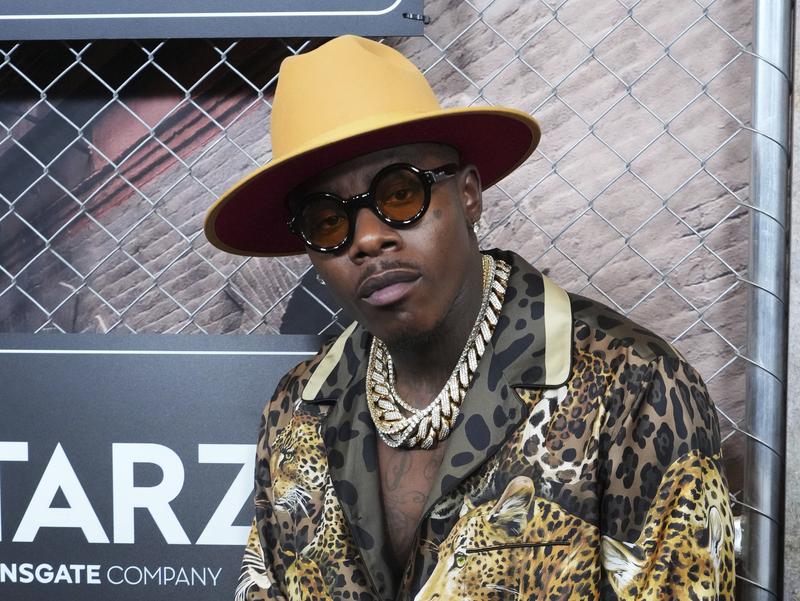 Transcript
[music]
Melissa Harris-Perry: You're listening to The Takeaway. I'm Melissa Harris-Perry. At the end of June, Queen Latifah ended her BET Lifetime Achievement Award acceptance speech with a shout-out.
[applause]
Queen Latifah: "Ebony, my love. Rebel, my love. Peace. Happy Pride."
[applause]
Melissa: This moment was the first time Latifah publicly acknowledged her partner Ebony, after many years of keeping her personal life private. In many ways, this moment was a sign of the ways that hip-hop has changed since Latifah first insisted on Ladies First back in the late 1980s. Today, the landscape includes highly successful artists who openly embrace their LGBT identities. Artists like Frank Ocean, ILoveMakonnen, Young M.A, and Lil Nas X.
[music]
I told you long ago on the road
I got what they waiting for
I don't run from nothing, dog
get your soldiers, tell 'em I ain't layin' low
Melissa: Despite these changes, some things remain troublingly the same. Rolling Loud Festival headliner DaBaby sparked widespread criticism after his homophobic onstage comments in Miami last month. DaBaby initially doubled down on his comments but then he issued multiple apologies, but that hasn't stopped festivals, including Governors Ball and Austin City Limits, from dropping the rapper from their lineups. Just when Black queer hip-hop fans were feeling safe, embracing the music they love, the Baby moment is a reminder that some of their favorite artists see them as less than human.
Michael Jeffries is dean of academic affairs and professor of American Studies at Wellesley College, and author of Thug Life: Race, Gender, and the Meaning of Hip-Hop. Thanks for being here, Professor Jeffries.
Michael Jeffries: Thanks for having me.
Melissa: First I want to start just with what I read as hip-hop having always been queer in various ways. Maybe this is sort of my attachment to New Orleans hip-hop and to bounce and folks like Katey Red and Big Freedia, but I don't want to pretend that there hasn't always been important, openly queer artists and queer musical forms within hip-hop.
Michael Jeffries: I think that's a really great place to start. This notion that we're just now getting to talking about the politics and performance of queerness in hip-hop is a false notion because as you said from the very beginning, we know there have been folks involved in the culture who, if not publicly declaring themselves queer have played with gender and performance in ways that we certainly can read as queer with the knowledge that we have today.
Melissa: Right. I love that language that you've just used, the "Playing with queer identities, the performance of it." I think about Nicki Minaj, who literally had different gendered identities and characters. Like she could become a woman, and she was just willing to say that she might take your girl from you as she might take your man from you.
Michael Jeffries: Absolutely, and then if you look at people like Missy Elliott, is another one, for example, where not only what she said on the track, the audio, but the visual. Some of the visual performances that Missy had in her videos were pathbreaking, and clearly kind of playing with the division between not only gender divisions but also the division between human and machine and present and future. All of those kinds of experiments are truly queer experiments if you take the broad definition.
Melissa: Of queerness here. In part, starting with Latifah, talking about Katey Red and Big Freedia, going to Missy Elliott, I'm wondering if that capacity to move across those narrow gendered binaries is something more available to women within hip-hop, or to femmes within hip-hop, than it is for men. Is there something particular about policing Black male queerness?
Michael Jeffries: Absolutely. I think there are a couple of conversations to have here. One is why is it that the folks we're able to cite as commercial successes - Latifah, Missy - why is it they happen to be women or femmes? The answer is because when they move across gender lines or destroy gender assumptions they're tilting toward masculinity, which is a more acceptable and publicly sellable version of hip-hop identity. They're moving toward what the established commercial norm is.
Which is why when you have someone like Frank Ocean, who's really hip-hop adjacent - he's not really a rap artist - or Lil Nas X, who I would define as more of a pop artist than a rap artist, doing some really radical and subversive things, they may be accepted as artists. But folks who are truly embedded in rap and hip-hop communities, straight folk who are embedded in rap and hip-hop communities, seem less quick to celebrate them as the dominant artists that Missy or Latifah were. Absolutely, we can't just talk about queerness without talking about what specific gender formations folks are moving toward and playing with, and masculinity remains the standard.
Melissa: André 3000 is the one counter-example I feel like I can bring out here, but I'm wondering how André was able to do that. If that was also about playing with regional identity, with Southern identity.
Michael Jeffries: Absolutely. Some of his aesthetics were certainly queer aesthetics when you look at the way he did his hair, the way he presented his body in videos, but from the very earliest moments of his career, his sexuality was already established. He came in as a Southern player from Atlanta, and that kind of early music, that Southernplayalisticadillacmuzik that he produced, was clearly rooted in a lineage of masculinity, and in many ways misogyny if you look at some of the language on their earliest music. By the time he started to get a little bit more experimental and courageous with gender, he already had a foundation and he was working from where he was beyond question.
Melissa: Now, as much as I am a hip-hop head and want to celebrate all of these ways that queerness has always showed up, the truth is vile and violent homophobia has also long been a part of hip-hop lyrics, music, and community.
Michael Jeffries: Oh, no question. I think part of it is just-- and this isn't to make an excuse of all. Part of what hip-hop performance is doing, especially lyrically, is exaggerating to give oneself power through lyrical performance. The exaggerated forms of hyper-masculinity that we see play out in all kinds of ways, certainly suggesting you have the capacity for violence. Part of that violence is dominating other folk, and that form of hegemonic masculinity of course demands and includes denigrating gay folk, denigrating queer folk of other gender identities, and denigrating women. We shouldn't be surprised that it's part of that history of exaggeration we see in these performances.
That is not to excuse the violence at all, because this isn't just lyrical violence. We know that part of the reason this is so troubling is the real violence that LGBTQ+ folk are facing as a result of comments and beliefs like those articulated by DaBaby.
Melissa: We're talking about the lived experience of violence for particularly queer and trans people of color, and I just kept thinking about the 2017 moment when Janet Mock, the author, the producer, had gone on The Breakfast Club, talked about her new book. Then two days later the artist Lil Duval is on and makes a point that if he were so-called "tricked" by a trans woman into having a sexual relationship, that he would be willing to kill her and, in fact, require to kill her the next day. Janet's book was used as a prop in that conversation. I think for me that is one of those stomach-turning moments that I've really never gotten over with hip-hop.
Michael Jeffries: I don't think we have to go through the litany of statistics when it comes to Black trans folk who have been assaulted, especially Black trans women who have been killed. When you look at the rates of Black trans' homelessness or problems with shelter security, housing security, food insecurity among those populations, we know empirically that this is one of the most vulnerable populations we have right now. The reasons for that are varied. I think we have to start with poverty as a whole. When you look at some of the challenges that Black LGBTQ+ folks face, you can't separate them from the poverty that Black communities are dealing with on a day-to-day basis.
Then when you overlay that with the emphasis on politics of respectability when it comes to gender, when you overlay that with masculine anxiety around sexuality, that's when you get some of the really devastating reactions and violent attacks on folks who belong to those communities.
Melissa: Is there any reason to think that hip-hop is more homophobic than country music, rock music, or heavy metal?
Michael Jeffries: I'm always slow to make that comparison because we know that hip-hop is often held up as a target so that America doesn't have to face the institutional reasons for ills like homophobia, transphobia, gun violence. Hip-hop is an easy scapegoat; it's part of a racist moral panic, so if we can put it all on hip-hop, if we can put it all on the cultural pathology of Black folk, then America doesn't have to face its institutional responsibility. We have to acknowledge that all these issues are institutionally rooted.
Having said that, there's also some evidence. Like if you look at Black bourgeosity, and the relationship between Black religious beliefs and beliefs about LGBTQ folk, LGBTQ+ marriage, et cetera, that there is a link between Black cultural practices and at least the expression of anti-LGBTQ+ politics and political beliefs. I think we have to be able to have both conversations. Not allowing it to turn into a racist, moral panic that Black folks are fully responsible, but also not shying away from what we know are real problems in Black cultural institutions, whether it's the music industry or the Black church.
Melissa: The Black church, of course, like hip-hop. An institution that is queered in multiple ways, not only performatively but relative to the folks who are laboring in those religious spaces, and yet also not always or often not only not acknowledging, but not being able to manage the realities of people's lived experiences.
Michael Jeffries: No question. We have so much research on this that I know you know well. Folks like Cathy Cohen, Riley Snorton, who've written wonderful books and essays about the really vexed relationship between queerness and the Black church. We have a failure historically in this country; a failure of the leadership of the Black church to take this issue head-on in a political sense. Then culturally, we have the dissonance of the experience of being in Black religious spaces where Black queerness is celebrated, as you noted, performatively in so many ways.
Black queer folk are given positions of prominence, and those people are celebrated conditional on the fact that they don't allow their gender and sexuality to come out too publicly, too proudly. There's a lot to unpack there, and we're fortunate to have colleagues who are working on the front lines of those issues.
Melissa: Sometimes when I go back and listen to the hip-hop that I grew up on-- I do like to make fun of young people and the terrible hip-hop they have now, but sometimes when I go back and I listen, I hear a level of homophobia that I don't even think I heard. That it did not register to me at 15, at 16 when I was hearing that. Basically, all you had to do was to call someone gay. All you had to do was to call someone a punk, and that itself was the full dis. It feels like that is generally and genuinely different now in the music. That someone like DaBaby, who makes the kinds of ignorant comments that he made, does get policed in important ways. Am I being too optimistic about the trajectory?
Michael Jeffries: I think we want to be careful here. I actually agree with you. I think that the reason I agree with you is just taking stock of the number of commercially successful artists who have been able to declare more publicly their LGBTQ+ identity. We already ran some of them down, but also folks like Young M.A, Tyler, the Creator. You don't have to go very far within commercially successful hip-hop to find a more broad acceptance. Having said that, I think we want to be careful not to discount the lived experience of LGBTQ+ folk who are embedded in hip-hop communities and may feel very differently about it.
That commercial success that I recognized might not mean much to those folk who are going to the concerts, who are engaging in discussions through social media or on message boards online, and are really embedded. They might not want to hear about my impression of the progress we've made. They may have a very, very different experience.
Melissa: Not only for the artists, but for those of us who love hip-hop, this has always been the challenge of hip-hop feminism. I both grew up on the music, I adore the music, and sometimes there are days I just have to turn it off because it actually is too much for me to have to listen to the violence displayed against Black women. Again, not just lyrically, but in lived experiences like Megan Thee Stallion's experience. I'm wondering about fans, about listeners, and what it means to love something that doesn't love you back.
Michael Jeffries: I think this is something that folks, at least within rap and hip-hop, have been wrestling with for decades, for generations, for all the reasons that you mentioned. Unfortunately, I think we have so many more choices and ways to access music today. That we can actually seek out choices and artists that don't force us to deal with the guilt, the pain of engaging with that music, and in some cases enjoying the misogyny. For those of us who grew up, it became very, very difficult to separate that high that you would get from the music you would listen to from the high that you would get from indulging in a really dangerous and hurtful form of masculinity.
I think that we've all got to be more careful. We have choices now on the commercial side, or at least on the consumer side, that mean we can go out and pick and choose things a little bit better than we could. You're right. For many of us, these are still day-to-day choices, and breaking the habit is hard. It's the fish who doesn't realize that they've been swimming in water their whole life. We've been breathing this stuff in from the time we first listened to music. This is socialized into us.
We absolutely have to take on the responsibility of breaking out of these habits. Not only breaking out of them like achieving a kind of neutral position, but speaking out against it unapologetically when folks like DaBaby violate the principles that we stand for.
Melissa: Michael Jeffries is dean of academic affairs and professor of American Studies at Wellesley College, and author of Thug Life: Race, Gender and the Meaning of Hip-Hop. Thanks so much, Professor Jeffries.
Michael Jeffries: Thanks for having me.
Copyright © 2021 New York Public Radio. All rights reserved. Visit our website terms of use at www.wnyc.org for further information.
New York Public Radio transcripts are created on a rush deadline, often by contractors. This text may not be in its final form and may be updated or revised in the future. Accuracy and availability may vary. The authoritative record of New York Public Radio's programming is the audio record.