House Republicans Face Off With Democrats Again Over Raising the Nation's Debt Ceiling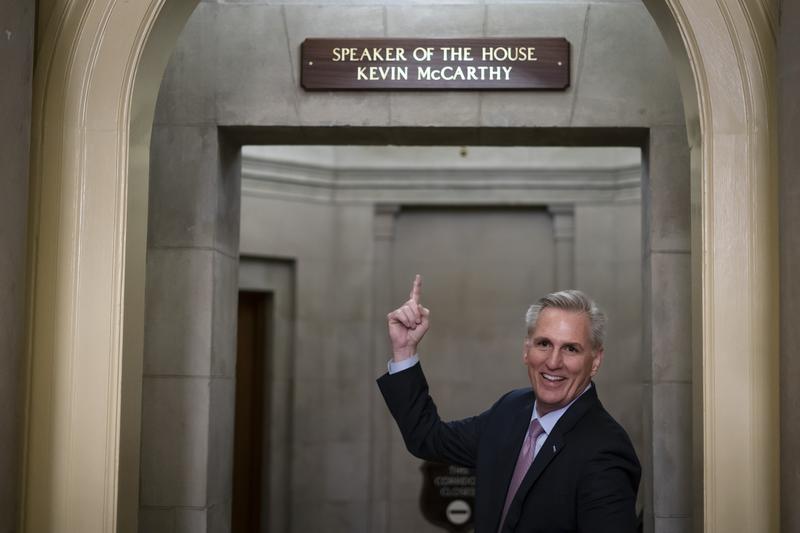 Transcript
[music]
Melissa Harris-Perry: Hey, y'all, it's The Takeaway. I'm Melissa Harris-Perry. It's good to have you with us.
[music]
Melissa Harris-Perry: In December, Congress avoided a government shutdown by passing a bill that would fund the government through the fiscal year, but when one crisis is averted, another one comes knocking. Lawmakers in 118 Congress now face a clash in the House of Representatives. They could bring the American economy to the brink of crisis. It's a fight over raising the debt ceiling.
In a letter sent to House Speaker Kevin McCarthy last week, Treasury Secretary Janet Yellen warned that the government will reach its debt limit of about $31.4 trillion on Thursday, January 19, which is today.
Unknown: Time's up.
Melissa Harris-Perry: After that moment, the Treasury Department will have to start taking "extraordinary measures" to prevent the US from defaulting, but those measures will be exhausted by early June. House Republicans are using their new majority and the threat of the debt default to leverage the Biden administration and Democrats to make some deep spending cuts. Here's what the New House speaker told the press earlier this week.
Kevin McCarthy: I don't know if you have any children, but if you had a child and you gave them a credit card, and they kept raising it, and they hit the limit, so you just raised it again, clean increase and again and again. Would you just keep doing that, or would you change the behavior? We're six months away, why wouldn't we sit down now and change this behavior?
Melissa Harris-Perry: The White House says they will not negotiate to raise the debt ceiling.
Karine Jean-Pierre: As President Biden has made clear, Congress must deal with the debt limit and must do so without conditions. Congressional Republicans are threatening to hold the nation's full faith and credit, a mandate of the Constitution, hostage to their demands to cut Social Security, to cut Medicare, and to cut Medicaid. Brinksmanship that threatens the global economy.
Melissa Harris-Perry: Since it is getting really real today, we spoke with Jeff Stein on Thursday morning. He's the White House Economics reporter for the Washington Post. Jeff, thanks for being here.
Jeff Stein: Thanks so much for letting me on.
Melissa Harris-Perry: Is the credit card example an appropriate metaphor for the debt ceiling?
Jeff Stein: No, it's really not. I want to give Speaker McCarthy his due in the sense that congressional Republicans are unified, at least now, if not during the Trump administration, about the need to leverage the debt limit to extract spending cuts. The key thing for people to understand is that the debt limit is really about authorizing spending that Congress has simultaneously already approved.
This is not about taking away the credit card for future expenses, as the analogy from the speaker suggests. This is about preventing bills already accrued from being in default and being in non-compliance. It's as if the teen in the metaphor had already gone out and spent all the money, and then when the bill came due from the pizza place and the bar and the movie theater, the parents said, "Well, we shouldn't pay back the money that you've already gone out and spent on our family credit card." That's a more appropriate analogy because what is happening here is not about any future expenses.
If there's a discussion that Republicans want to have about cutting the debt, the time to do that, many experts say, should be when-- about the government shutdown, we can have a fight over the government shutdown that does not threaten the full faith and credit of the US government and potentially plunge the US economy and world markets into an absolute panic. That is exactly what's happening right now, and the implications are quite scary.
Melissa Harris-Perry: It also seems to me the other part of what happens if your teenager does overrun the credit limit, for example, one possibility is not only to cut expenses but, of course, also to raise revenue. Getting after school job kid. I'm wondering about, on the one hand, what does seem like a bit more hawkishness on the part of Republicans relative to cutting spending, but the other side of it is revenue. They do continue to be quite interested in revenue cuts in tax cuts. Isn't that part of the solution here as well?
Jeff Stein: It's funny. I was on a radio program yesterday discussing this, and the host, who I won't name, said, "Everyone knows that the only way out of this is to cut Medicare or Social Security to some level to balance our budgets." Of course, that's not true. You look at almost every country in the industrialized world has much higher tax revenues as a percentage of GDP than we do.
If we were to increase our tax revenues as a percentage of GDP, we could quite easily close much, if not all, of our Federal deficit problem without touching the retirement programs that seniors are depending on to live with dignity into their later years.
Melissa Harris-Perry: If those of us who earned the highest incomes paid all 12 months into the system-- We're not talking about massive tax-- raising the taxes on ordinary families. We're talking about just you keep paying into the system all 12 months rather than at that current limit.
Jeff Stein: Republicans will say, and this is accurate, that tax revenues as a percentage of the overall economy are higher than they've been in American history right now. That is actually true but what it doesn't account for is that America is a historically low-tax country, and that actually is not just about taxes on the rich. We really don't have a broad-based tax like they do in the European countries of broad-based VAT, VAT on consumption that funds most of the welfare states that are much more generous than ours.
We, in this country, have made a decision that we would rather enable tax-free consumption and really, and to a large extent, lower income taxes than they have in other places and no wealth tax. You add those things up, is much more difficult to fund these programs. They are right that there is extremely large deficit. There's, obviously, debate about the extent to which it is actually a real emergency given that the US government is in this unique hegemonic position in which our debt is a super safe asset and regarded as the bedrock of the global financial system, which makes it easier, historically, at least for us to borrow at low-interest rates.
Of course, the Federal Reserve increasing interest rates to tamp down on inflation is complicating that plan because it means that the cost of borrowing may go up. That's forcing this question a little bit. The debt limit itself is an arbitrary reason for having this debate right now, but as interest payments go up with the higher interest rates from the Fed, it could lead to the existing $31 trillion debt becoming a bigger problem. How you solve that, though, is really not something that should be taken for granted without further interrogation.
Melissa Harris-Perry: It looks like Auntie Janet is going to help out the teenager for at least six months, sort of do a little bit of backstopping here in order to ensure that there's not an immediate default, but help us to understand what are the consequences for an ordinary family for Americans and for the nation at large if, in fact, we go into a circumstance where we have the US government's credit score being downgraded.
Jeff Stein: I was thinking of a different metaphor for this situation. I recently had my appendix removed, and I think the analogy there is quite apt because most experts don't really understand why it's there, but if it blows up, it could become a really life-threatening event. Basically, the problem here is that if the US stops making interest payments on the debt, that could trigger a loss of faith in the US treasury market, which is, again, the benchmark rate for millions, if not billions, of transactions every month across the globe.
That could wreak complete havoc on global financial markets. Throw them out of whack because the main pricing point for how people are making trades on all kinds of things, bonds, equities, other parts of global financial plumbing will be completely haywire. The economist I speak to say that that could cost somewhere in the order of 15 million jobs, 8, 9, 6% of gross domestic products, so an economic contraction on the order of the Great Recession.
The real impacts of this for average families could be significant. Now, I think most people think we'll avoid that outcome, and it's a difficult place to be in as a reporter where you're trying to let people know that if this thing happens, that might be low probability, it would be really bad. Of course, we in the media run the risk of crying wolf and getting ourselves into trouble where people start-- they hear this over and over again, and they tune it out.
That said, and I might sound dumb in five months for saying this, this is the debt ceiling fight-- I've covered maybe four or five of these. This is the one that I see the hardest time figuring our way out of it. Just seems like the White House, for good reason, is saying, "Look, we did well in the midterms. We believe that Social Security, Medicare should be protected. We have no small democratic imperative to cut spending in response to these demands. Moreover, if we do so, we are rewarding Republicans for holding a gun to the head of the American economy."
Yet, at the same time, Kevin McCarthy has premised his speakership on this promise to do this to the House conservative backbenchers who held up his bid for speaker. How this gets resolved, I'm frankly quite confused, and I just don't see the path forward, and that is making me and many others quite concerned.
Melissa Harris-Perry: Okay, we're talking debt ceiling, but we need to take a quick break. More with WaPo's Jeff Stein right after this.
[music]
Melissa Harris-Perry: We're back with Jeff Stein from the Washington Post talking debt ceiling. There perhaps is no political incentive for either party to lower the credit rating to defaulters to hit that ceiling, but it does sound like there are very real political reasons for both parties not to give in, and six months gets us six months closer to a presidential election. Each moment, I'm wondering, even as you say you see it as tough, are there any incentives for either side to blink here?
Jeff Stein: I think what we could see over time is the Republican allies on Wall Street and the business community and maybe some of the more moderate "Republicans" increasingly getting agitated about this threat and putting pressure on McCarthy to not go down this road.
I think really this could come down to whether Kevin McCarthy personally would rather be responsible for a huge configuration in the American economy or whether he'd rather keep the coveted leadership position that he's worked for the last few decades to hold.
It could be a deeply-- I think we don't like to view historical events necessarily as turning on the decisions of one single individual, but that might be what we're looking at here. Will McCarthy put country over personal ambition? It could be a very interesting story to follow.
Melissa Harris-Perry: It's not just McCarthy, like really any person that-- I'm a political science professor, and we were just talking about the founding and the sense in the enlightenment that you create government that presumes that people do not have the best and broadest, most patriotic interests at heart. Rather you try to create a system so that following selfish pursuits will create a common good. When I hear you saying that we got to rest on goodwill, that feels distressing.
Jeff Stein: That's a very interesting frame for the story. The institutional framework that the founders set up to force an agreement here. It is also interesting that the debt limit is not in the constitution. It's not part of what the founders set up. It's not woven into the fabric of America's constitutional system. It is really this weird thing that came in the early 1900s.
It's not supposed to be. Not something that we have this disparity bias, recency bias where we think that's something that we've been dealing with for a few decades really or less than half of American history is this immutable object that we can't do anything about. I've never heard more Democrats than I have right now, just privately and publicly, saying like, "What do we do-- This is just a self-inflicted wound."
We have climate change and a housing crisis, and a healthcare crisis, and we're going to spend the next year not dealing with any of the major substantive problems in American life but preventing a new one from being inflicted. I think that's a sad commentary on the system that we're dealing with.
Melissa Harris-Perry: Jeff Stein is economics reporter at the Washington Post. Jeff, thanks so much for joining us.
Jeff Stein: Hey, thanks so much, Melissa. Real pleasure.
Copyright © 2023 New York Public Radio. All rights reserved. Visit our website terms of use at www.wnyc.org for further information.
New York Public Radio transcripts are created on a rush deadline, often by contractors. This text may not be in its final form and may be updated or revised in the future. Accuracy and availability may vary. The authoritative record of New York Public Radio's programming is the audio record.