Republican Lawmakers in Texas Attempt to Reduce Access to Voting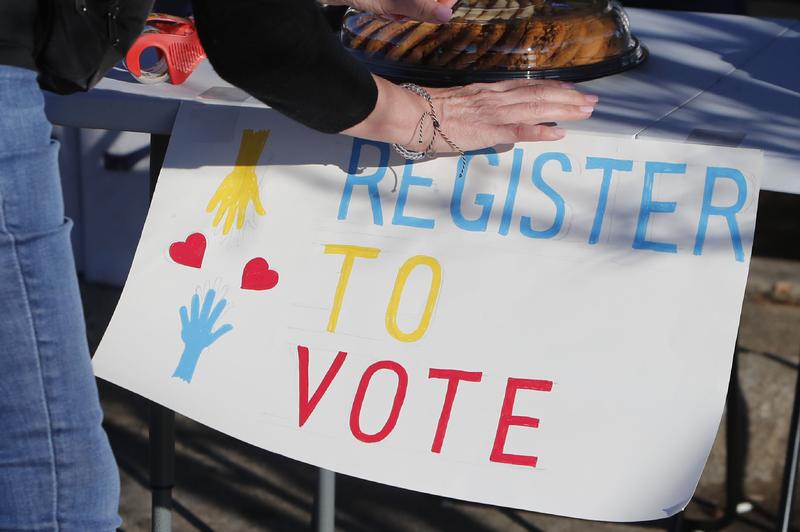 Transcript
Kai: I'm Kai Wright, host of WNYC's The United States of Anxiety in for Tanzina Vega. This is The Takeaway. Since former President Trump lost the general election in November, a number of high profile Republican lawmakers have repeated his unfounded claims that the election was stolen. Using these false claims of widespread voter fraud as an excuse, Republicans across the country have introduced more than 250 bills that would make it harder to vote. Even though Texas already has some of the strictest voting rules in the country, Republican lawmakers in the state have proposed two dozen bills that aim to take it a step further.
At the federal level, Democrats in the House of Representatives passed HR1, which would make it easier to register to vote and stay registered to vote, curb gerrymandering and franchise former felons and more, but it is not likely that such a comprehensive bill will make its way through a 50-50 senate. Joining me now is congressman Colin Allred, who represents Texas's 32nd district. Congressman, thanks for joining me.
Congressman Colin Allred: Thank you so much for having me on Kai.
Kai: Republicans in Texas have sponsored more than 24 election bills aimed at restricting access to voters. Walk us through some of the changes proposed by state lawmakers?
Congressman Colin Allred: Well, I think what we're seeing is an effort to target the types of voting that Democratic voters disproportionately took advantage of, and particularly in Harris County, where they did some fantastic things to try and expand the hours available for voting and the ways that people could vote. They're trying to ban, for example, counties from proactively sending out absentee ballot applications. They're trying to restrict early voting hours just to a certain window, from seven to seven. Harris County, for example, had a 24 hour voting location. It was a big deal, it drew a lot of attention to the fact that the election was going.
While not a lot of folks were voting at four in the morning, it created a lot of interest. They also are getting rid of things like drive thru voting, which some counties implemented to try and protect folks during the pandemic and allow them to vote from their car, which was also taken advantage of. These are all efforts, really, to target the expansion of voting hours and locations and to make it more accessible for folks to vote.
Kai: Harris County is Houston, we should say. Are you suggesting there that these rules will differentially impact those larger cities, and therefore also Black and Latino voters?
Congressman Colin Allred: Well, absolutely. What we see in the voting rights space, and I was a voting rights attorney before I came to Congress, is that efforts like this, it's like a hydraulic system where if you press on one section of the system, all you do is squeeze pressure onto other sections of it. If you restrict vote by mail, if you restrict early voting, then you push more pressure onto election day. What we've seen historically in Texas, is we already have extremely long lines on election day. We certainly did in 2020, and in 2018, and we've had in every election that I have done voting rights in in Texas.
We try to ameliorate that through expanding early voting, through trying to get as many folks as possible voting by mail who are eligible. These restrictions will put more pressure on Election Day, which will disproportionately impact Black and Latino voters in our big cities. Of course, if these laws go through, and there's nothing done to federal level, you will see extremely long lines in Texas, and you'll see folks who will not be able to wait that long.
Kai: Each branch of state government in Texas is controlled by Republicans, it seems like these laws will certainly pass then, right? Are there republicans in the state who would break ranks on this and say, "This is bad for democracy?"
Congressman Colin Allred: I would certainly hope so and I'll tell you why, Kai. We had 11 million Texans vote in 2020. It was enormous turnout for us, we still have a lot of room to grow in terms of getting to the numbers where we want to be. The republicans still won in Texas. If you're at the senate level, they won by nearly 10 points. President Trump won by five and a half points out here, with enormous turnout. I don't think the Texas Republicans should be afraid of turnout, I think they should embrace it and of course, that's, in my opinion, the way democracy should work in general.
I do hope there are some voices in the republican party who will say, "Listen, this turnout wasn't just democrats coming out to vote. We still won these elections and we can be confident that when everybody comes out, we still have a chance to win."
Kai: That is a head scratcher you raise though. What is this actually about, given that Republicans won widely in Texas, President Trump won by more than five points as well? What exactly is the frenzy to change voting rules? I guess it would suggest that Republicans are saying, "There really is a problem."
Congressman Colin Allred: Well, there's a few things going on. Number one, there's an effort to not appear to be not part of the club when every other republican state is passing restrictive voting laws. Texas republicans don't want to be left out of that. We have some with presidential ambitions, we have some who want to just appear to be the most "conservative" in the country. They're also, of course, looking at the demographic numbers here in Texas and knowing that, at some point, it's going to be very difficult for those numbers if they continue as the trend is now, for them to keep winning statewide by these same margins.
I think there's some concern that while they may have done well in this election, that they may not do so well in the future. That's not a legitimate reason to restrict the right to vote. We have attorney general here and a governor who have been talking about voter fraud for their entire careers, and who spent enormous amounts of effort and energy trying to find voter fraud and could not find any. It's really a solution in search of a problem.
Kai: I mentioned HR1 earlier this month, you and your colleagues in the House passed this bill. How would this bill impact what's happening in Texas? If that were to become law, what would it change there?
Congressman Colin Allred: It would change everything, because HR1 is really about setting national standards. When you think about the firmed of voting expansion that we do in HR1, it's really about setting standards of what states can and can't do, and then trying to create a floor so that our democracy isn't radically different from one state to another. HR1, as you I think mentioned, ends things like voter purges and partisan gerrymandering. It also sets up national standards around early voting hours, vote by mail, availability, and so that would really target what we're seeing here.
It would try to prevent those kinds of attacks on the right to vote. This is something that's within our power in the Congress to set these national standards, and for states to then have flexibility within those standards to do what they always do, which is to administer the election. This is something that we need to do, because what we're seeing now is really unprecedented and I would want to stress that. This is not a normal level of voting changes and laws around voting that's being passed not just in Texas, but in states across the country. This is really unprecedented, we have not seen this level of restrictions coming forward since the Jim Crow era.
Kai: Congressmen, with the 50-50 split in the Senate and a 60% threshold to get HR1 to the President's desk, it's not very realistic that that bill will become law in its current iteration at least. Does that frustrate you?
Congressman Colin Allred: Well, I disagree a little bit with the premise there. I don't think that we should necessarily just say that this is going to have to go through 60 votes to get to the Senate. I think that President Biden and Keith sSanders have already discussed changes that may need to be made to the filibuster to allow a bill like HR1 to get to the President's desk. I think they should be considered because when you look at the history of the filibuster, and the way it was used to prevent civil rights legislation, anti lynching legislation from passing for a century post Civil War era, this is something that the legacy of the filibuster directly impacts, also voting rights, and I think in a way that specifically it needs to be dealt with.
The Senate has created exceptions to the filibuster for nominations, now for judicial nominations for the Supreme Court. I think they should do as well for voting rights, or as President Biden has suggested, change the nature of the filibuster so that it's not just you declare that you're going to have one, but what you actually have to stand up and talk and try to get them up the works in that way. I think that would allow HR1 to have a better chance of getting through the Senate.
Kai: How far would you be willing to go? Would you support abandoning the filibuster? I know you're not in the Senate, but would you support abandoning the filibuster altogether?
Congressman Colin Allred: Well, in my opinion, I think the current structure of the filibuster is unconstitutional. I don't think it's consistent also, with the traditional way it has been used in the Senate for most of our history. It has now become a super majority on every piece of legislation that comes to the Senate, and that really was not the case for most of our history. The filibuster was used very sparingly and, as I said, uufortunately, it was usually only used to block civil rights legislation. The fact that it's now used on every single piece of legislation by both Democrats and Republicans has really changed the nature of the Senate and made it a much less efficient and functioning body.
That being said, I don't think that we will see the filibuster entirely gotten rid of in this Congress. I think we will see adjustments made to it. That's what I'm advocating for here. I think that there need to be certain adjustments to allow critical legislation to get through because they impact the fundamentals of our democracy. If you think a Supreme Court justice is a fundamental tenet of our democracy, and that has to be able to get through without a super majority, I would argue that voting rights legislation should as well.
Kai: You are a moderate Democrat who won a seat that was held by a Republican for 15 years. A lot of the national conversation, at least inside the democratic party, is that the party has to be careful not to put people like you and your seat in danger by doing too much, by doing things like abandoning the filibuster or changing the filibuster too much. What can you tell us about the tension there?
Congressman Colin Allred: Well, first of all, I don't think I have very many constituents who are aware of what the filibuster rule really is and how it's been used to restrict how things are happening in Washington. What they see mostly is gridlock and dysfunction and they don't like that. I can tell you that that's the number one thing I hear, which is, "Why can't you all just get together and get something done?" Of course, we do pass a lot of legislation in the house that doesn't even get a hearing in the Senate. Legislation that's very popular that has the overwhelming support of the American people, that even gets bipartisan votes in the house, but because it can't get a super majority in the Senate, it doesn't get through.
That, to me, is less of a concern. We have to meet the needs of the American people in this moment and respond to what is an unprecedented crisis, in terms of our democracy. I was on the house floor on January 6th, when the insurrectionists tried to get in. I saw us barring the doors using furniture and having to be escorted to a secure location and really not even knowing at that time just how close we came to an extreme violence event. Our democracy is very fragile right now. The answer to that is sunlight. The answer to that is to expand the right to vote.
The answer to that is to affirm our belief in our democratic principles. The opposite of that is happening at the state level across the country. If we don't address these bills and this legislation, it's not going to be seats like mine that are going to be in danger, it's going to be our very democracy and that, to me, is much more important.
Kai: Congressman, thank you for taking the time to join me.
Congressman Colin Allred: Thanks so much Kai.
Kai: Congressman Colin Allred represents Texas 32nd district.
Copyright © 2021 New York Public Radio. All rights reserved. Visit our website terms of use at www.wnyc.org for further information.
New York Public Radio transcripts are created on a rush deadline, often by contractors. This text may not be in its final form and may be updated or revised in the future. Accuracy and availability may vary. The authoritative record of New York Public Radio's programming is the audio record.