In Remembrance of bell hooks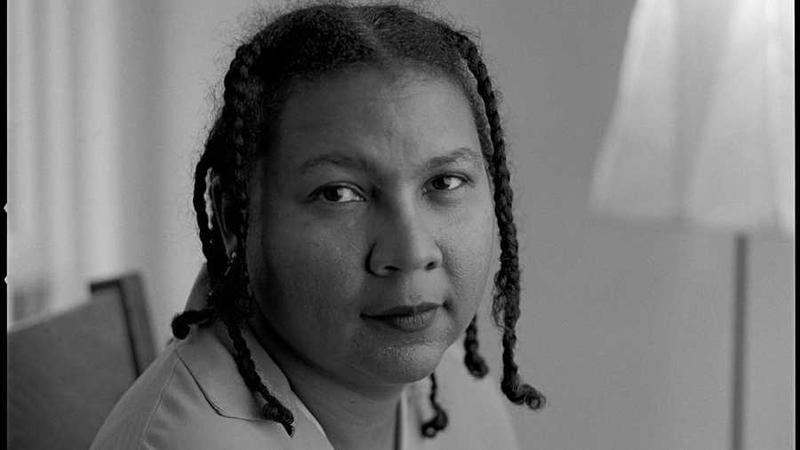 Transcript
[music]
Melissa Harris-Perry: Welcome to The Takeaway, I'm Melissa Harris-Perry. Today I'm grieving along with whole communities of women, of writers, of readers, of thinkers, of teachers, and students. I am mourning the devastating loss of a diminutive giant. At the age of 69, Gloria Jean Watkins, who wrote under the pen name, Bell Hooks, as a tribute to her great grandmother, Bell Blair Hooks, made her final transition to the ancestors.
Bell Hooks: One of the ways that you can work for freedom is to change your mind and to move away from the space of binaries, of simplistic either, ors, both, and, and to be able to look at the picture that offers us complexity.
Melissa Harris-Perry: Hook spelled her name with all lowercase letters, it was a literary insistence, that it is the work, not the author that occupies the center.
Bell Hooks: I came up really out of nowhere. Little Bell Hook's writing, Ain't I a Woman? Black Women and Feminism. That, sometimes I do feel like wow, there is this audience that reads Bell Hooks, and that tells me how my work has affected their life. I think as a Black woman writer, that is so amazing. I think that to be a Black woman writer of nonfiction, and to be read, is to be blessed and highly favored.
Melissa Harris-Perry: In that moment there that we just heard. Hooks is speaking at the New School in 2013. It is the one time I shared a stage with this author and thinker whose writing altered the trajectory of my life. It was the feminism of Bell Hooks that created space, and then challenged so many of us as just emerging Black girl thinkers to fill it, to transform it, to expand it. As I told her on that night, none of us come to Black feminism except through you.
Writer and filmmaker, Dream Hampton remembered Hooks in an obituary for Time Magazine. Writing, "When I was 19, and began talking back to hip hop in my own essays and articles, I'd cite her again and again. I fought to have my name published in lowercase letters like hers. I wanted to be incisive, and battle-ready when I wrote." Hooks was incisive and battle-ready, but she was also deeply human.
She was committed not only to exploring the full range of the scholarly, academic, and intellectual. She was also determined to plumb the depths of the interior, the emotional, and the sacred. It was the entire messy reality of humanity that engaged her. Hooks is among the most prolific writers of our age, leaving us her legacy, more than 30 books. Books that will be discovered by the young and by the old, who are groping and curious, distressed, angry, and ready to make a more just an whole world.
There were years when Bell Hooks wrote more books than most people read in a year. In her 1999 text, remembered rapture: the writer at work. She wrote, "No Black woman writer in this culture can write too much." Indeed, no woman writer can write too much. No woman has ever written enough. Bell Hooks is gone but her books live.
With me now is Alondra Nelson, the Harold F. Linder Professor of Social Science at the Institute for Advanced Study. Alondra, welcome back to The Takeaway.
Alondra Nelson: Thanks for having me, Melissa.
Melissa Harris-Perry: Let me just start. How are you feeling? Where were you when you heard about Bell's passing?
Alondra Nelson: I'm feeling a little gutted actually. I'm quite surprised by how profoundly and deeply I feel the loss. I'm not surprised that I feel her loss in sadness, but I think it took me by surprise how emotional I felt about it. It also took me back immediately to the first time that I read Bell Hooks. I grew up in San Diego. I think I was 18, I was outside at Balboa Park among the trees reading her, and I just remember my world opened up. I've read a lot of books, we read a lot of books, but I can't say that there are many that I remember the day, the moment when I read this person's words and that they transformed my world and how I think about the world.
It is a big loss for all of us, but as you said so beautifully, she left so much, and she was so intentional about the fact that writing and intellectual work is taken from women writers and Black women writers in particular. Were distracted by other things and tasked with doing all too much. To have published almost 30 books and to leave behind all of this work is just extraordinary. I also feel sadness. I feel like she did leave so many gifts behind for us, that's extraordinary.
Melissa Harris-Perry: This point that you make about being tasked with so many other things, whether they're domestic in nature, community in nature, institutional building. Yet, Bell wasn't completely outside of those relationships, she was deeply embedded in her family relationships. Had quite a tight-knit community of sister scholars and activists around her. Of course, taught right up until the end, was an active teacher at a small school in Kentucky where she was born. I wonder if you have any insight into that decision.
She wasn't at Harvard or at Princeton, I think of the huge fight that the country engaged in really around Nikole Hannah-Jones, a substantial scholar and journalist herself around the University of North Carolina position. I honestly don't know, if Bell was ever offered a position like that. Was she given the space to be free of the other duties?
Alondra Nelson: I think so. Let's not forget that so much of her writing is about freedom in the margins. She writes about the openness of being in the margins. She really, I think, understood, certainly could have had a job at any leading institution in the world, frankly, not just in the United States. The radical possibilities, the ability to do one's work and have more freedom.
Being at a small college in Kentucky, I think, certainly must have been top of mind for someone who wrote about there being power and openness and possibility in the margins. I would love to think of that as a very deliberate strategic choice on her part. I also think, how extraordinary it was that she went home, she went back to Kentucky, 15 or 20 years ago. Not only did she make different choices about where she wanted to be also as a theorist of location, and speaking from location in space, she also went home.
Melissa Harris-Perry: I appreciate you using the word that I wanted us to dig into a bit, which is radical. It is a word so many, and particularly so many in academy today would shy away from because of the connotations within it. What it might mean for one's careerism, and one's capacity to move into the center in a very particular way. Yet, she not only embraced it, she showed us what it meant to live into radical values and to write into radical values. Can you talk a little bit about that?
Alondra Nelson: Yes, in so many ways. I mean, first one way we can think about it as just genre. I think the world tells us particularly now you've got to have your brand and your platform, and it's got to be this thing, and you've got to be disciplined about it. She was willing to explode genre and to write across genres. For me, one of the reasons she was so impactful in part for me was that she was so forthright and bold in her writing. She said what she thought and also that she wrote so clearly and passionately. She was able to do that in memoir, in poetry, in media theory, in feminist and gender studies, in children's literature. Both the form of how she wrote and the genre, were quite radical.
Then in addition, just her insistence. For me, one of the things that second came to mind thinking about when I heard the news of her loss yesterday was about love, and how much loves sat in the middle of her work always, but particularly in the last two decades. That in this moment, in this world that we live in is radical. It was not [unintelligible 00:10:05] the way she spoke about it, it was an insistence. Something that was necessary for life and for living and tied very much to all of the things that other people who would call themselves radicals. That it was very much tied to things that we might often think as tied to people who think themselves as radicals, justice and freedom fighting and the like.
For her really the center of that was love and I've been thinking quite a lot since yesterday about, the ways that in her work she placed a love before justice and before freedom. She says to us, there can be no love without justice. That's quite a radical thing and also a shift in some ways in the civil rights tradition of thinking about, justice as extending from love. She says to us that the inverse is true, that love comes first and without it, there can be nothing else, including justice.
Melissa Harris-Perry: I so love that you give us love and yet make the point that this is not a sentimental love. To know, or encounter Hooks even casually. She was also pretty radically honest. She would say, and assess you in a moment with truth, not meanness, but just absolutely what she actually saw. Sometimes people got their feelings hurt by Bell Hooks, by her writing or by her thinking, but she was so committed to it that you really couldn't take it personally. It always required you to pause and think about whatever critique she leveled.
Alondra Nelson: Yes, I think that's right. One of the other gifts that she left us is this idea that now has become quite common place, that love is in action. Precisely to your point that it's not sentiment, it's not a feeling. That what it means to love others may not always feel good, may not always make you come off the page to the reader in a warm and fuzzy place. It is a commitment to a clarity about what it means to live in a world in which all people have rights and justice and are regarded as equals.
I think she could be sharp on the page. Those who encountered her in person knew she could also be sharp in person, even though she was diminutive as you say. That kind honesty and I'll use again the word forthrightness is rare, and it is a model. It does make one wonder if sentimentality and niceties are maybe not love. I think there are political thinking that helps us to understand what Hooks was trying to teach us. Which was that, niceties can be a gas lighting and underneath that is not love. Don't expect love to feel the way you want, to expect it to look like a world in which that is lived out in action.
Melissa Harris-Perry: As you use the word teach, what she tried to teach us. Among her text to which I return regularly are her pedagogical text, Teaching to Transgress: Education as the Practice of Freedom and Teaching Community: A Pedagogy of Hope. I find it's important to sometimes pause in the course of grading and lecturing and all of that to actually think about our pedagogy. I'm wondering if there are texts of hers, whether her books about the interiority of Black women's lives, her early work, her pedagogical work, her poetry, maybe even her children's books. I'm wondering if there's anything that you find yourself returning to.
Alondra Nelson: I find myself returning to-- I went back immediately to Ain't I a Woman, which was the first book of hers that I read. I used it in my senior essay in college. That's a book that's been intellectually meaningful and also really transformative for me. Also, I love her essays. I love her essays on popular culture, love Black Looks. I love Yearnings. I think Yearnings is where she writes to us about the power in the margins, about speaking from particular places. I love any of her essays on writing and on being a writer.
Melissa Harris-Perry: I will say if anyone out there is still looking for holiday gifts for the readers or thinkers or students or teachers or lovers in your life, there are 30 books to choose from. Pull together a Bell Hooks box set of your own for the people that you love in your life. Alondra Nelson. Thank you so much for joining us.
Alondra Nelson: Thank you for having me, Melissa,
Melissa Harris-Perry: Alondra Nelson, the Harold F. Linder Professor of Social Science at the Institute for Advanced Study.
[music]
Speaker: Hi, my name is [unintelligible 00:15:09] I am calling from Seattle, Washington. For me, it all started with Ain't I a Woman. Her phrase that burned into the zeitgeist of Black feminist languaging that would become the mantra of millions of feminists around the world, and that would be white male capitalistic patriarchy. Growing up Black in a place like Colorado Springs, I didn't often see feminist thought written by Black women in the library that I was part of. It wasn't until I started going to Colorado College, that I actually discovered Bell Hooks, and she changed the game for me. I am the feminist today in large part because of Bell Hook's early writing.
Beck: This is Beck calling from Anacortes, Washington. Reading Bell Hooks changed the way I understood my whiteness and my responsibility for it. She influences my daily work as an educator. Her teaching is in everything and we will never stop learning from her.
Mary: Hi, my name is Mary pool. I'm calling from Safety Harbor, Florida, which is a part of Tampa Bay. Bell Hooks was extremely influential and meaningful to me. I met her once at a bookstore in Tampa Bay where she lived for a short time. Her books and her pedagogy were influential in shaping my own and her take on feminism in particular as a woman of color helped me to shape my own form of inclusive feminism and looking at the world. She was a major contributor and I'm saddened to see her passing today.
Kate: This is Kate Michael, and I'm from Denver, Colorado. I am a part of a group message that talks about books quite a bit, and we send each other our favorite books after you read them. Last year, two of the women read All About Love by Bell Hooks and just loved it and said it was pretty life changing for them in a drastic way. I was excited to get it in the mail and then I read about three pages and I had the most intense panic attack of my life. Just reading her words about her childhood felt similar to reading words that I could have written about my own childhood. That was a frightening thing.
Catherine: Hi, this is Catherine Queens from Portland, Oregon. Bell Hooks means everything to me. I absolutely would not be here doing this work without her. She was with me all through my education and she's with me every day in the work that I do. She's a big part of the reason that I bring my full heart to the work and encourage others to lead with love. Such a loss, and also such a gift.
[00:18:28] [END OF AUDIO]
Copyright © 2021 New York Public Radio. All rights reserved. Visit our website terms of use at www.wnyc.org for further information.
New York Public Radio transcripts are created on a rush deadline, often by contractors. This text may not be in its final form and may be updated or revised in the future. Accuracy and availability may vary. The authoritative record of New York Public Radio's programming is the audio record.