Reinaldo Marcus Green on Directing "King Richard"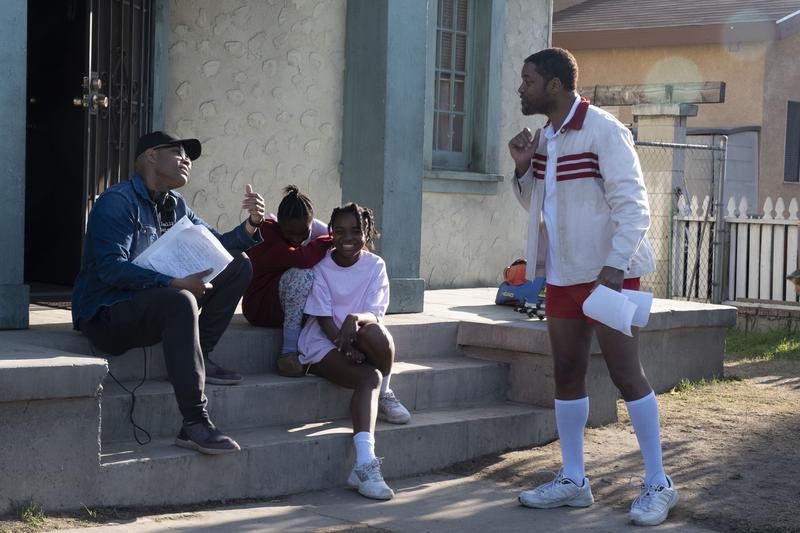 Transcript
Melissa Harris-Perry: This hour we've been exploring race, power, and media storytelling, as we discussed a documentary film and an investigative podcast dealing with issues of race, policing, and incarceration, but it's wrong to imagine the stories of race in America are all centered in systems of inequity and violence. Latinx and Black folk are far more than the sum of the structural disadvantages affecting our lives. We turn now to a story of grit, grind, triumph, and tennis.
Venus Williams: I'm very confident.
Interviewer: You say it so easily. Why?
Venus Williams: Because I believe it.
Melissa: That's the radiant, confident 14-year-old Venus Williams in a television interview back in 1995. When the reporter kept pushing the self-possessed teen to explain why she was confident, well, daddy Richard Williams was not having it.
Richard Williams: Cut right there, if you don't mind, and let me tell you why. What she has said, she said it with so much confidence the first time, but you keep going on and on.
Interviewer: Listen, we can't keep interrupting. If you want--
Richard Williams: You got to understand that you're dealing with the image of a 14-year-old child, and this child gone be out there playing when your old ass and me gone be in the grave. When she says something, we done told you what's happening. You are dealing with a little Black kid and let her be a kid. She done answered it with a lot of confidence. Leave that alone.
Melissa: Now, that exchange from an ABC broadcast captures so much about the Williams family patriarch. His abiding love for his daughters, and his keen understanding that as Black girls in a very white sport, he would have to do more than train them as fantastic athletes, he would have to ensure they had an unshakable grounding of self-love and community connection. In the new film, King Richard, which is currently in theaters and on HBO Max, Will Smith plays Richard Williams, revealing complex layers to a man who's often been depicted by the media as overbearing. Here he is in a scene when a neighbor calls Child Services on Richard and his wife.
Will Smith: Now, I understand you got to do your job even if some crazy-ass neighbor do call talking foolishness. I don't even mind you saying we holding these kids, you know why? Because we are. That's our job to keep them off these streets. You want to arrest us for that? Fine, but what you're not going to never do is come knock on this door talking about you have to blow their damn brains out in them streets because they running with hoodlums and doing drugs and things. That's what you're not never gone say in this house.
Melissa: Now, Smith is getting some very well-deserved recognition for his performance in the film, but the movie wouldn't work without a clear vision behind it. That's where director Reinaldo Marcus Green comes in. King Richard is just his third feature-length film, but Green was the right man for the job, in part, because of his own experience playing sports as a kid.
Reinaldo Marcus Green: Baseball was my primary sport. It was the sport that my father wanted my brother and I, my brother, Rashaad Ernesto Green, who's also a filmmaker-- Ironically, we both turned out to be filmmakers and not baseball players, but my dad, very much like Richard Williams, thought he was raising two major league baseball players. We spent the first third of our lives essentially on a baseball diamond. We played everything, obviously little league, and travel ball, and intramurals, and then played high school baseball, and continued to play at a college level.
I had two major league tryouts, I didn't make it, and so [chuckles] I wound up choosing a different profession, or it wound up choosing me when I was no longer able to play, but I knew what it was like being a highly competitive athlete, and working really hard for something and spending countless hours on a court with a dad that wore short shorts, very similar to Richard Williams. I had a very centered father, one that also taught us, hopefully, to be well-rounded human beings, and that included getting an education and an education was something that he put at the forefront, together with sports.
My brother went to Dartmouth, and he certainly was trying to mold good citizens, I guess, if you will. It was hard because we grew up in a single-parent household. Although our mom remained in our lives, we were really at home with dad, and dad was quite unique in the way that Richard was. I had a very unique sort of upbringing, and I thought that that was a perspective that I could bring to the film.
Melissa: I will say this film absolutely reversed my understanding of who Richard Williams is. It's not that I ever spent much time thinking that much about it, but certainly, I was obsessed with Venus as a young person growing up. I have adored watching Serena become the greatest of all time, but I thought of Richard as being precisely how he was represented by mass media as someone slightly obsessed, kind of a crazy tennis parent, and someone who was maybe mean and harsh, and in today's parlance, just did too much all the time, then this film altered that for me in some really critical ways. For you, as you came to this story, how did your understanding of Richard Williams develop?
Reinaldo Marcus Green: I didn't know much about Richard Williams at all, and I didn't grow up watching tennis. Everything I knew about tennis was because of Venus and Serena. Growing up as a young black man, of course, you know about Tiger Woods, you know about Venus and Serena because they played [inaudible 00:05:37] [crosstalk]
Melissa: Is there more to tennis than that? I don't know.
Reinaldo Marcus Green: [chuckles] Yes, exactly. Sadly, we didn't know, but we rooted for them regardless, because we had to. It was like, of course, you're going to root for these two girls from Compton, who are arguably the greatest athletes of all time. We were just fans from afar. Then when I found out about the film, of course, I went down the rabbit hole to find out everything I could about Richard Williams. I read his book, and yes, look, he's a complicated man. It wasn't something that I thought we could sugarcoat, but we only have two and a half hours to show that side, and there was a lot that was already portrayed about Richard Williams in the media.
The side of Richard Williams that we, as a filmmaking collective, I felt like from the producers to the family, we got access to Serena, Venus, Oracene, and we were able to sit down with them and prep, and hear their version of who they thought their dad was. The one thing that was consistent, because everybody's memory is very different, especially at eight and nine, you forget things, was how much love Richard and Oracene gave to those girls. It was incredibly rich to hear their love and admiration of their parents, what they gave to them, how much respect they have for them. I think this is their love letter in a lot of ways to their father.
Melissa: There's also a bit of a love letter to Compton. Again, in the same ways that we have a complicated Richard Williams, we also have a pretty complicated community that you've given us. Talk to me about the decisions you were making about how to portray the difficulties and the support that came out of that community and the way that all of the Williams daughters are made from where they are from.
Reinaldo Marcus Green: It was important to not make it a get out of Compton story, it's a, "I come from Compton," story. You wear that with pride where you're from. I know being born in the Bronx was so important for my father, literally where we were like, my mom went into labor in Jersey, and he drove us to the Bronx to make sure that both of his kids were going to be born in the Bronx. That was the insanity that was my father, but in his mind, his kids had to be from that place and the pride that he had from being from the Bronx.
I think for them, Compton is that. They are so prideful from where they are from, they still have roots there. Yes, I'm sure that they were in some ways happy to have moved on to another level, but that Compton is a part of who they are. It's a part of their journey, and it's part of why they have been as successful as they are in life. I think where you're from is such a sense of pride, especially if you love that community and you love the people that you grew up and those memories there.
For them, look, you would hear the stories about Richard getting beat up on the court, you would hear the stories of the girls playing tennis, and there'll be a drive-by shooting, all the girls would drop to the ground, wait for the bullets to stop, and then get up and continue practice, and you're like, wait, what? [chuckles] It's insane to think about, but when you're from that neighborhood, it's normal. These are the things that happen to your community all the time. You don't really look at it as a dangerous place, although you know that it is.
There's a certain awareness and there's a certain level of armor that you have from coming from a certain community. Having grown up in a similar sort of environment on the East Coast, I understood that. That my home is part of who I am. It's not to look down upon or look bad at, it is part of who we are. Venus and Serena were mentoring all along while they were still going up.
Even as young kids, we show that in the film, even at Rick Macci's that they were mentoring, they didn't wait to become famous to then give back to the community. They were doing it all along. That's just a testament to who they are, where they're from. Compton is a true fabric of-- it's part of their journey. It's not an addendum to their story. That's why we spend so much time on it in our film.
I think our film really benefits from a longer first act, from us getting to know the girls, where they live, the street where they grew up on, but also paying homage to the community that helped them get to where they are. It's not just looking at this community as this place that you'd never wanted to go to, or that we should never be. It's like, "No, we exist." There are plenty of Venus and Serenas out there. If we put a little pride in our community, we can nourish a lot more talent from these places. I hope that our film shows that it's possible.
Melissa: Let's talk about mama. It is certainly about Richard Williams at the center, and in certain ways, even the characters of Venus and Serena are secondary to us understanding King Richard. Right there at the heart of it is, Oracene Price. Talk to me a bit about, as you said, doing the long first act, getting to know folks, how was that partnership which I thought was so fabulously and interestingly, and originally represented in the film. How did various members of the family remember that partnership?
Reinaldo Marcus Green: Well, I think they fought for it in a way that was beautiful. The film's obviously called King Richard, but I've heard from a few people that maybe it should be Queen Brandy too, and it so is. I think she's so critical to our story. She's so critical to the success of the girls, but also to their faith. She was really there, not just as a mother and support, which we all are. It's like she was there coaching full-time, working full-time. Not only putting food on the table, but providing the food that went on the table. I think that's an important thing for us to have learned about.
When I met Oracene, I was with Zach Baylin, the writer, Tim White, the producer, we flew down to South Florida to meet her. This is before I had cast the role. One of the first things she said to me was, "Don't make me a chump." That's the one-- Well, she definitely was no chump. I can tell from the moment I went into that room, she was a tough woman that had been through a lot.
What I respected most about her was although things didn't work out with Richard, that she was very respectful in the memory of him. She just wanted to make sure that she was being represented in a way that felt authentic and not pushed to the side. If you just google her, you'll see her in the stands, but you don't really understand how integral of a part she was in not only the development of the girls, but open stance really came from her.
That was something that she, because when she was pregnant, she couldn't get her hips around, so she wound up staying open. Although Richard exploited that and was like, "Wait, we can use that to the girls' gain, he learned it from Oracene. We've learned these little things in the conversation with the family, and it was just little pearls that we can put into the film.
Oracene has such a presence. She has such a poise about her, and those were probably the words that I would communicate with Aunjanue the most. First of all, I have to say a word about Aunjanue Ellis, who is absolutely at the height of her game. She is an incredible actress. She brought such depth and dimension to the role, which I don't know if everyone can do what she did.
She really, really gave a gravitas to each and every scene that she was in. She stole moments in a way that is just-- she was such a formidable force, to go toe to toe with Will in those scenes. It's a testament to her performance, but hopefully, we provided that space where she could find moments and she could really deliver within the real estate that she had.
The movie is called King Richard, and for her to have such a presence in the film, it really was a testament to her fighting for each and every word, each and every line. Us making sure that we were as respectful to her role as the matriarch of the family as humanly possible. I just couldn't say enough great things about her. I hope she gets everything and more, for this and beyond.
Melissa: It is absolutely lovely to speak with you. Thank you so much for this film, which, again, was such a big part of my Thanksgiving holiday with my family. So many conversations were had about parenting, about marriage, and definitely about that open stance. Reinaldo Marcus Green is the director of King Richard, thank you so much.
Copyright © 2021 New York Public Radio. All rights reserved. Visit our website terms of use at www.wnyc.org for further information.
New York Public Radio transcripts are created on a rush deadline, often by contractors. This text may not be in its final form and may be updated or revised in the future. Accuracy and availability may vary. The authoritative record of New York Public Radio's programming is the audio record.