The Refugee Orchestra Project Will Perform This Memorial Day Weekend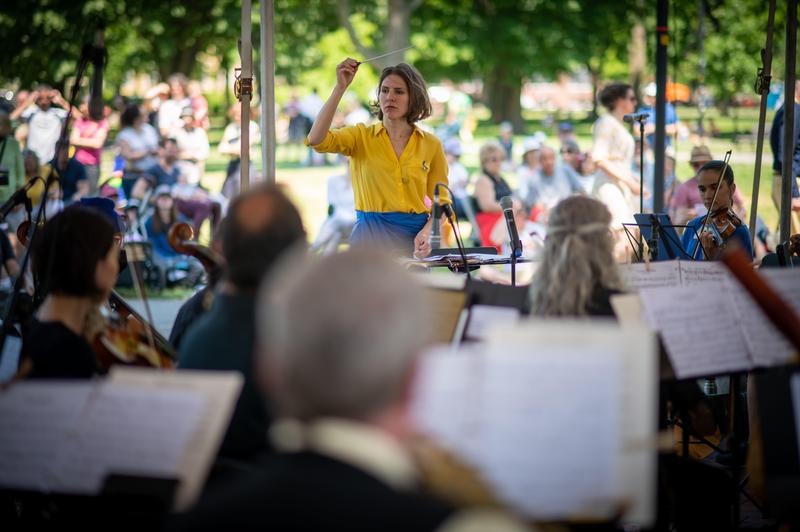 Transcript
[music]
Melissa Harris-Perry: Welcome back to The Takeaway. I'm Melissa Harris-Perry. The Ukrainian refugee crisis continues. The United Nations estimates that 14 million people have fled their homes since the Russian invasion began, 6 million of them have left their country, becoming part of a global refugee population of over a hundred million people.
This Memorial Day weekend, there's a special benefit concert in Cambridge, Massachusetts to raise funds for Ukrainian refugees. The performance will feature an orchestra composed primarily of refugees or descendants of refugees, performing music by refugee composers.
Lidiya Yankovskaya: The Refugee Orchestra Project was started initially as a way to raise money for refugee aid during the Syrian refugee crisis.
Melissa Harris-Perry: This is Lidiya Yankovskaya, founder of The Refugee Orchestra Project.
Lidiya Yankovskaya: The Refugee Orchestra Project showcases music by refugee composers throughout history and today, and showcases living refugee artists from across the world and from various refugee crises around the world.
Melissa Harris-Perry: As a group, refugees living in the US are ethnically, religiously, and linguistically diverse, but many have similar experiences of persecution, trauma, and loss. When the talented musicians of the Refugee Orchestra Project come together, what they create is magnificent.
[music]
Melissa Harris-Perry: Oh, my homeland, she sings. I shall never see you again. Conductor Lidiya Yankovskaya came to the US in the mid-90s when she was nine years old after spending her early childhood in St. Petersburg, Russia.
Lidiya Yankovskaya: Russia, in the '90s, in general, was really falling apart. After the fall of the Soviet Union, there was not a clear system or transition put in place, so overnight, there was this complete economic collapse. Any time that there is a societal and economic collapse of the sort, people tend to want to blame somebody, and often, that somebody is whoever represents the largest ethnic minority.
In Petersburg at the time, about 30% of the population was Jewish. I don't mean that as a religious designation but as an ethnic designation, so passports would say on it under nationality, Jewish, not Russian, no matter how many hundreds of years your family had lived in that part of the world.
I remember as a child, for instance, going to choir rehearsals several times a week and passing by Catherine Square, which is this beautiful big square right in the middle of the city, and there would be demonstrations there with Nazis flying swastikas on giant flags and handing out brochures that said kill all the Jews on them. The Jews are to blame for all of our problems, kill all the Jews.
It was very easy for educational institutions to bar Jews from participating in various opportunities. My mom realized that as a child and growing up that I would've continued to face certain barriers and we chose to relocate to the United States.
Melissa Harris-Perry: We also spoke with the pianist and composer who wrote one of the pieces the orchestra will perform on Monday.
Milad Yousufi: My name is Milad Yousufi and I'm the composer of the [unintelligible 00:03:52].
Melissa Harris-Perry: Milad arrived in the US more recently, having spent his childhood in Afghanistan.
Milad Yousufi: I grew up back in Chora, Afghanistan, and the situation there was civil war and it was like the city was almost 90% destroyed. We were lucky to be among survivors, and everything when the Taliban were ruling, music and art and everything banned. I was very artistic at that time so my father realized that and, unfortunately, I could not do anything about it then, but I think I had an imagination. I used to play piano on piece of paper and pretend to play and I used to play drums on my pillows every day, and lock myself into my room, and that was my world.
Melissa Harris-Perry: After the Taliban was weakened during the US war in Afghanistan, Milad was finally able to start true piano lessons at age 13. He began playing with the Afghan Youth Orchestra and made his first trip to the US in 2013, and then again, in 2014. Each time he played concerts in auspicious venues like Carnegie Hall, The Kennedy Center, and The New England Conservatory, but during a concert visit to the US in 2015--
Milad Yousufi: Unfortunately, the day that I wanted to go back, the airport was bombed in Kabul, and I got a call from my family and friends encouraging me to stay because the situation got real worse at that time. They encouraged me and told me that I have to seek asylum because my life will be in danger otherwise, so I had a couple of hundred dollars with my tuxedo, and my laptop and applied for asylum and since then, I'm waiting.
I've been waiting for nearly seven years now and I still don't know when will be my interview. What happened in Ukraine also affected the refugee world and the crisis that's going on around the world. We who applied in 2015 are still waiting and they prioritize other cases. For example, when the regime changed and people came from Afghanistan, I think six months ago, they also prioritized their cases, so we are still in backlog. Luckily, I applied for the extraordinary ability visa, which worked, and I'm hoping to have my interview soon.
Melissa Harris-Perry: Milad feels the Ukraine crisis at a deeply personal level.
Milad Yousufi: I also have some friends in Ukraine who came to Afghanistan for workshops to teach us music and we collaborated, that when I think of them I shed tears. I think it's really painful because it also triggered a lot of memory recently for me as a refugee. That's why when I hear the news or see the news, both Afghanistan and Ukraine, it's just heartbroken because I know what it feels when you see the deaths in front of your eyes and you feel like, "Okay, next, I'm going to be next."
It was wonderful to meet new people and to come to a safe place, but I think internally, I feel like I'm in a hotel room and tomorrow I'm going to go home. I've been living with wonderful families throughout these years who have hosted me, but still, it's just like, as much as one tries to feel settled or centered, but a part of me subconsciously is just longing for home, but I have a dream, my dreams are all in my childhood house.
[music]
Melissa Harris-Perry: Whew. Okay. Let's take a quick break. More with the Refugee Orchestra Project in just a moment.
[music]
Melissa Harris-Perry: I'm Melissa Harris-Perry. As always, thank you for spending part of your day with us on The Takeaway.
[music]
Melissa Harris-Perry: That's Russian-born, Zhanna Alkhazova, singing "Manon", the lyrics, "Lonely, lost, abandoned in desolate land." We're continuing our conversation about the Refugee Orchestra Project as the orchestra prepares for its Memorial Day benefit concert to raise funds for Ukrainian refugees.
Still with me is conductor Lidiya Yankovskaya. She told us about the upcoming Memorial Day performance in Cambridge, Massachusetts.
Lidiya Yankovskaya: All of the composers whose work were performing were themselves refugees, and that includes well-known Italian composers who were political refugees from various Italian city states throughout their lives. We also have music by Béla Bartók. We have music by Irving Berlin who came from Eastern Europe to escape the pogroms at the turn of-- going into the 20th century and who's really seen as, in many ways, as a father of much of contemporary popular music.
We, in addition to this, will feature music by Ukrainian composers, a number of Ukrainian composers, including [unintelligible 00:09:36] Katomovskyi, whose opera is [unintelligible 00:09:39], speaks about themes of refugees and different ethnic groups that come together in Ukraine. Ukraine is very much a multiethnic society and culture.
[music]
Melissa Harris-Perry: All of the soloists and most of the musicians performing on Monday are refugees themselves. As Lidiya explained, there are also some performers, like one singer who, while not a refugee himself, has four grandparents who were, and he exists only because they were able to get to the United States as refugees.
Lidiya Yankovskaya: One of the beautiful things about music is that you don't need to come from the same cultural or linguistic background, or even the same musical background to perform together as a group. A music more than even most art forms can bring people together in a way that most things cannot. We are able to mix musical styles and bring people from really varied backgrounds who are all professional musicians functioning at a very high level, but who bring that richness of experience to our music-making.
Through music, we are able to not just bring people together in the orchestra but to expose those who are coming to our concerts to a wide range of experiences, to a wide range of emotions. It's very powerful to see someone who is of a different culture, of a different background from across the world sing or play in a powerful way about their experience and because it is solely focused on that emotional journey, I think audiences are much more receptive to sympathize with the person they see on the stage even if that individual is nothing like them.
[music]
Melissa Harris-Perry: Lidiya has seen the power of these connections since the very beginning of The Refugee Orchestra Project.
Lidiya Yankovskaya: I was really blown away by the reaction we received to our first concerts. At the very beginning, we thought it would be a one-off fundraising concert and maybe people would be excited about it and then that would be that. The reaction from the audiences and from the players was just overwhelming. First of all, within the players themselves being joined in a community of other refugees making music because many of us have our own refugee communities of people who come from the same region, but few of us get an opportunity to come together with others who are from totally different communities from across the globe, but who have experienced a similar kind of journey.
Also among the audience members, we had people who maybe came because they were from a region that was represented on the concert, or because they had interest in a style of music that was specific to some region around the world. Because the audience itself is so mixed in terms of people's musical backgrounds, their cultural backgrounds, their ethnic backgrounds, their linguistic backgrounds, we have a much richer experience in terms of audience interaction than is often the case in any kind of concert. Our audiences are so enthusiastic. They're also so glued to what is happening.
[music]
Melissa Harris-Perry: For Lidiya, who was a young child in Russia before coming to the United States as a refugee at just nine years old, this concert is especially personal.
Lidiya Yankovskaya: The fact that this current project is tied to the war in Ukraine is, of course, very personal for me. I spent all of my childhood summers in Ukraine. I still have so much family in Ukraine scattered all over the country now trying to get out. For me, this particular concert and this moment hits home more than any other concerts that we've done. Always there's that personal side of it, but a lot of what we've been doing has also been my way of giving back to the many musicians who are experiencing very current refugee crises.
With this concert, I feel a much closer link to what is happening and to the impact of the war and, of course, in many ways, actually, that makes it much more difficult to perform because, as an artist, you have to find this balance between throwing yourself into the art, but also having a slight distance from it and perspective so that you can give the most to the audience because what we do is about giving to the audience, not just doing it purely for ourselves. I find that that is a challenge with this current situation.
Melissa Harris-Perry: While the crisis in Ukraine is personal Lidiya, she hopes the concert is a reminder that these crises are indeed personal for all of us.
Lidiya Yankovskaya: Through this concert, there's an opportunity for us to put faces to the crises. Often we see the news channels, or we think of war as something that happens far away across the world, but here, we will have an opportunity for audience members to see an actual person, to hear that person pour out their soul through music, to hear that person also speak about their experience from the stage, and that, in itself, that very close personal link, that connection, that thing that we all missed so much throughout the pandemic is essential. That is the thing that can help us prevent war, I believe.
[music]
Melissa Harris-Perry: Our thanks to Lidiya Yankovskaya and Milad Yousufi. You can find out more about the upcoming performance at refugeeorchestraproject.org.
[music]
Melissa Harris-Perry: Okay, that's it for today's show. We appreciate you spending part of your day with us. As always, if you miss anything or you want to listen back again, check out our podcast, it's available wherever you find audio, and be part of our social media conversations as well by following us on Twitter or Instagram @TheTakeaway. Be sure to join us on Monday for our special Memorial Day edition of The Takeaway. I promise you don't want to miss the terrific conversations we have planned for you. Thanks so much for listening. Am Melissa Harris-Perry, and this is The Takeaway. Be safe and be kind to one another. We all need it right now.
[music]
Copyright © 2022 New York Public Radio. All rights reserved. Visit our website terms of use at www.wnyc.org for further information.
New York Public Radio transcripts are created on a rush deadline, often by contractors. This text may not be in its final form and may be updated or revised in the future. Accuracy and availability may vary. The authoritative record of New York Public Radio's programming is the audio record.