The Rebellious Life of Mrs. Rosa Parks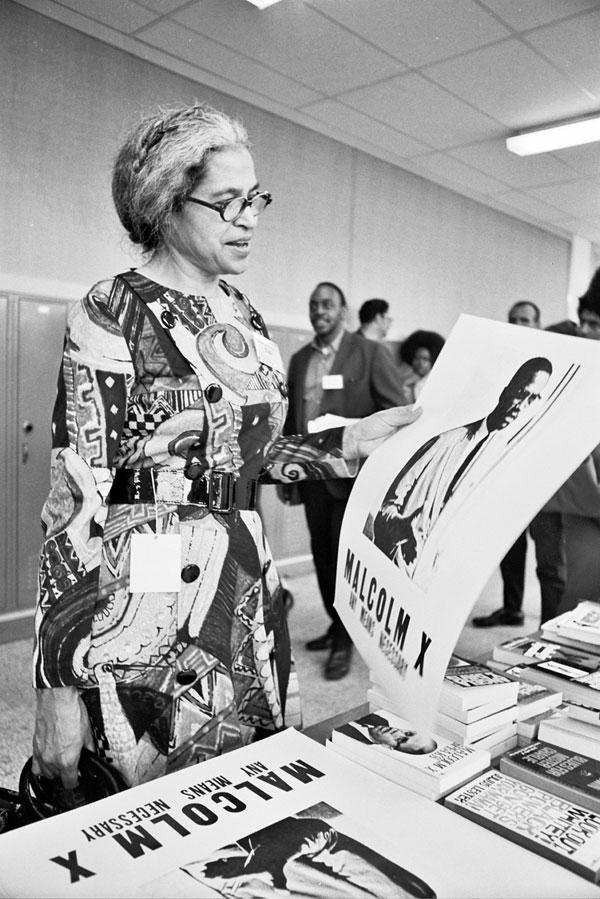 Transcript
[music]
Brigid Bergen: We're back with The Takeaway. I'm Brigid Bergen in for Melissa Harris-Perry. Quick, when you hear the name Rosa Parks what comes to mind? For most of us, it's the moment, in 1955 when she refused to give up a seat on a Montgomery bus. Here she's talking about it with ABC news in 1995.
Rosa Parks: I didn't feel that it was helping me as an individual like us as a people for me to stand up just because he said get up off the seat.
Brigid Bergen: That moment has come to define the legacy of Mrs. Parks. It sparked the Montgomery bus boycott and galvanized the civil rights movement, but that one moment doesn't even begin to tell the story of the work she did in her lifetime.
Film Narrator: If they could see her out there with the Panthers in Oakland if they could see her in all of these fragrant varieties of her personality, then they would understand the real Rosa Parks, but they might have been just a little bit frightened.
Brigid Bergen: That sound is from the new documentary, The Rebellious Life of Mrs. Rosa Parks, and Melissa recently sat down with two people behind the film.
Yoruba: My name is Yoruba Richen, and I am the executive producer and co-director of the new documentary, The Rebellious Life of Mrs. Rosa Parks.
Jeanne: I'm Jeanne Theoharis. I'm a distinguished professor at Brooklyn College and the author of The Rebellious Life of Mrs. Rosa Parks, which has been made into this new documentary, which I am a consulting producer on.
Melissa Harris-Perry: This story, the way you tell it, starts off in a maybe somewhat surprising place, the old TV show to tell the truth. Why did you start there?
Yoruba: Well, one of our producers found that clip, and when we found that clip, we thought it was so really crystallized how Ms. Parks was not-- Everyone knew her name but no one knew what she looked like and no one knew who they could identify her. This is in the '70s, it wasn't that many years later after the boycott, and except Nipsey Russell, [chuckles] who says I was with her. She is not only a great Black hero but an American Hero, and that just crystallized to us what's this film, what we were going to say in this film.
Melissa Harris-Perry: Jeanne, of course, you've long known the ways that Mrs. Rosa Parks has been erased from our collective memories or at least distorted in them. Talk a bit about the nature of those distortions to the extent that many people now can call her name but often don't know the story behind who she really was.
Jeanne: I assume everyone listening to us today knows who Rosa Parks is, has heard her name. I bet most people listening would have trouble calling up her voice, and one of the things that I think the film is going to do is not just give us Rosa Parks' story in her own voice but Rosa Parks' politics in her own voice. The title of my book in the film is actually taken from a quote from Rosa Parks herself where she talks about a life history of being rebellious. This is how she describes her own life and in very much it's true. She has a feisty side even as a young person.
Her activism begins in 1931 with the Scottsboro case when she meets and falls in love with, who she calls the first real activist I ever met, that's Raymond Parks. Her activism begins more than two decades before her historic bus stand. She's doing work around what we would call criminal justice issues, voting issues, segregation. She is a long-time activist before she makes her bus stand, and part of what is incredibly courageous about her bus stand is she's made stands before other people have made stands before. There's nothing to suggest on this day that taking a stand will do anything but bring further trouble on her which it does, and yet she still does it.
Then, we're going to see this in the film, she has another 40 years of activism in the North in Detroit, in what she calls, "The northern promise land that wasn't," in and alongside a growing Black Power movement in the city and across the country. Again, we don't tend to associate Rosa Parks with Black Power with issues like reparations, with issues like the need for school desegregation, not just in Montgomery but in Detroit, the need for Black history in every part of the curriculum, so many issues that she's pressing till the end of her life in 2005.
Melissa Harris-Perry: You brought us all the way to the end of her life in 2005, but I want to go back to her childhood just a bit, Jeanne, this rebelliousness that she self-describes, began in part with her grandfather. Can you tell us a little bit about that?
Jeanne: One of her first what we might say political memories takes place in 1919. She's six, again, where we are in history? World War I is over and Black soldiers who have fought valiantly in the war are coming home many people will know this is Red Summer because there is a huge uptake of white violence against Black people across the country. What that means in Alabama, where the McCauley family is, is there's an uptake of clan violence. Her grandfather will take to sitting out at night with his shotgun ready to protect the family home that McCauley's will sleep in their clothes at points because there's so much violence.
At times, a six-year-old Rosa will sit with him as she puts it because she wants to see him shoot a Ku Kluxer, so that commitment to self-defense, to respect and respect in the McCauley's doesn't mean the way you act towards others, but the respect you demand of your person begins at that very, very young age as a six-year-old, as a five-year-old, and we will just see that again and again and again.
Melissa Harris-Perry: You [unintelligible 00:06:25] many may also not know about the work that she did around sexual assault. You chose to include the case of Rece Taylor. Can you start there?
Jeanne: Rece Taylor was a young woman walking home. She was raped by a group of white boys, white men and they said they would kill her if she said anything. She did, she reported it, and the folks who are working on the Scottsboro case, folks in communist party white and black people, they decided Rosa should go down and investigate and take testimony from Recey. Of course, this is in the 1940s of terrorism is all around, and for her to do this and to risk this is very, very dangerous work.
Recey's case, justice was never-- unfortunately, no one ever got justice, white was held accountable for Recey's rape, but she did this investigative work of sexual violence against Black women, which wasn't something that was really talked about even in our own community.
Melissa Harris-Perry: Jeanne, you also write about the ways that patriarchy operates even within the movement. Talk a bit about, for example, the March on Washington and what role Rosa Parks did or did not in this case play.
Jeanne: If we get to the March on Washington, there's a couple of people we might want to lift up. One of the lead organizers around the March on Washington is the woman by the name of Anna Arnold Hedgeman. She's a Black woman, she's working for the National Council of Churches at this point. She is responsible for the large percentage of white people at the March, but she's also raising questions about how there are no women scheduled to speak at the March on Washington. She's protesting, Pauli Murray is protesting, Dorothy Height is protesting, and the compromise that A. Philip Randolph and Bayard Rustin come up with is that it's too hard to pick one woman to speak.
What they're going to do instead is they're going to call the names of a number of women freedom fighters, and they will get to stand up and be recognized. One of the women whose names are called is Rosa Parks. Gloria Richardson tells this story about how Lena Horne and her, in the early morning of the March, start to take Mrs. Parks around to international journalists, international broadcasts that are there to say she's the real story, you should interview her. Lena Horne and Gloria Richardson get sent home early from the March on Washington, and Gloria Richardson believes it's because they were doing this work.
They missed Dr. King's speech. Gloria Richardson said she's in a cab when Dr. King speaks. The March on Washington, many women help to organize it and yet no women get to speak. No women get to go to the White House to meet with Kennedy afterwards. Women are doing the work, women are doing the organizing, women are doing the vision and yet this is one of the moments where we see most clearly that vision, that leadership, that organizing, that work not being recognized.
Melissa Harris-Perry: Her experience with Malcolm X was different?
Jeanne: Yes. They meet, for the first time, in November of 1963. Malcolm has come to Detroit and he puts out the word among mutual friends that he wants to meet Rosa Parks. When I was doing research for the book, I learned a couple of things. One was from Peter Bailey, who many people may know was one of Malcolm's lieutenants, particularly in many forms, the OAAU. Mr. Bailey told me that there were two women in the civil rights movement that Malcolm would speak about in awe and that's Fannie Lou Hamer and Rosa Parks. I think thinking about Malcolm X wanting to meet Rosa Parks, that courage needs courage, that activists need other activists.
That we often think about Malcolm as being some kind of lone ranger when, in fact, he is also drawing courage and inspiration from other people. Then in other interviews I did, I learned that Rosa Parks would later call Malcolm X her personal hero. They meet for the last time about a week before he's assassinated. She's getting award that night, he's giving the address, and she gets him to sign her program, so a fan moment too, and they have their longest conversation. I think, in my mind, seeing Malcolm X and Rosa Parks together changes a number of things that we think about the Black freedom struggle. Mrs. Parks had a both-hand philosophy.
It wasn't King or Malcolm, Ella Baker or Queen Mother Moore. It was King and Malcolm and Ella Baker and Queen Mother Moore. I think the second thing is, again, that activists need each other for inspiration, for courage, for vision to keep going. One of the people that Malcolm looked to was Rosa Parks, and one of the people that Rosa Parks looked to was Malcolm X.
Melissa Harris-Perry: I want to talk about some of the film-making decisions, Yoruba. Talk to me about the intention to create a nonlinear narrative here.
Yoruba: Our task as filmmakers is not only to tell the story accurately but also how do we make it alive? Especially, with historical films, because it's basically archival footage and sit-down interviews. What can we do to bring the story, the heartbeat, to bring vision? We use all different kinds of tricks. Music is a big part of it. Obviously, how we cut it, and how we structure the film. We felt that if we could look at these moments in her life and see the long haul of what she was working on like self-defense and that concept that she always embraced. If we could see these moments in her life where we were seeing that, we're seeing scenes that show that. We thought that was the way to go.
Melissa Harris-Perry: In what ways do you hope the documentary works to preserve the legacy, and what legacy is it that you hope to preserve? I'll start with you maybe, Jeanne.
Jeanne: One of the things that I have been particularly sad about over the years is the ways that Rosa Parks gets trapped on the bus in the past. It's that Black and white picture of her looking out the bus window. When she has so much to give us for today in terms of what it means to be discouraged and yet to still keep going. I think the biggest thing I hope for is the ways that the film shows her lifelong commitment to criminal justice. Her lifelong commitment to Black history and the need to preserve and teach Black history. Her lifelong commitment to anti-poverty work to global human rights to reparations.
All things we need to be working on today and are working on today, and that she shows us how we do so and how we continue to do so amidst years and decades.
Yoruba: I think Mrs. Parks' story shows us about the long haul, the long freedom struggle, and how even in the midst of-- She says people didn't think segregation was ever going to end. They didn't think it was going to end. The hopelessness and the violence that was going on that she talks about that people never talked about, that you never saw in the newspapers, but through all of that, you keep going and you keep fighting, and you keep demanding and standing up for justice. I think that's where if we can take from the film and if younger people younger than me can take that from the film then maybe we do have some hope about changing the dire situation that we are in in this country.
Melissa Harris-Perry: Yoruba Richen and Jeanne Theoharis. Thank you both for joining me today.
Yoruba: Thank you for having us.
Jeanne: Yes. Thanks for having us.
[music]
Copyright © 2022 New York Public Radio. All rights reserved. Visit our website terms of use at www.wnyc.org for further information.
New York Public Radio transcripts are created on a rush deadline, often by contractors. This text may not be in its final form and may be updated or revised in the future. Accuracy and availability may vary. The authoritative record of New York Public Radio's programming is the audio record.